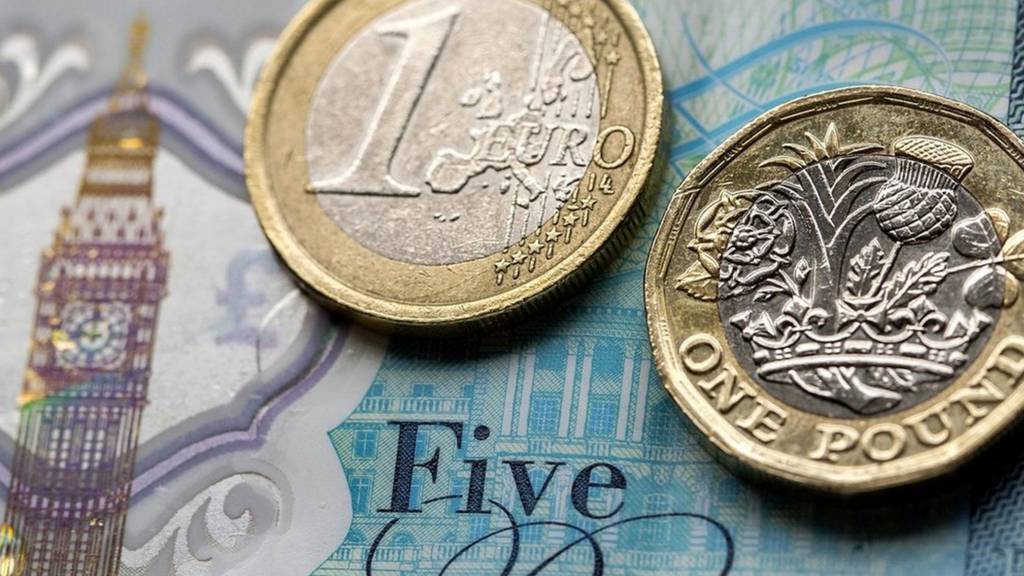 Business Live: Laura Ashley appoints new boss
Market data: FTSE 100, Pound/Dollar, Pound/Euro, Dow Jones, Oil prices
That's your lot for another day. Join us tomorrow from 06:00 if you please. And do get in touch: bizlivepage@bbc.co.uk

A wobbly old day for the main index the FTSE 100, which features a lot of miners, oil companies and other international types.

It closes down 0.3% at 7,436.64. The damage was done in the last half hour of trading. Luxury companies such as Imperial and Burberry led the falls, as well as homebuilders after a strong showing yesterday.

BoE boss tells Times: Cummings may be right

Andy Haldane, chief economist at the Bank of England, backs Dominic Cummings' plans to reorganise government and policy making around the prime minister, the Times reports.

He told the newspaper he thinks it would mean better policy and co-ordination. More here.

Shares in the US's Domino's Pizza rose 25%

Shares in the US's Domino's Pizza rose 25% to a record after it beat sales and profit estimates.

Sales at restaurants open at least a year rose 3.4% in the fourth quarter. Analysts had projected a rise of 2.3%.

Wall Street has opened somewhat lower in early trading, but is recovering some ground. The Dow Jones is now up a mere 8 points to 29,356. Looks like 30,000 this week is a long shot.

Sky: business network faces axe

Nigerian nightlife on the up

Barclays scraps 'Big Brother' staff tracking system

Barclays has scrapped a system that tracked the time employees spent at their desks and sent warnings to those spending too long on breaks.

The bank introduced the computer monitoring system last week, but had faced a staff backlash.

Barclays said scrapping the system was a response to "colleague feedback", but would not say if it was permanent.

The software, Sapience, claims to create "unprecedented transparency" within companies.

Efforts being made to improve internet access in Nigeria

While access to the internet is still patchy across the African continent, the last decade has seen great strides in improving telecommunications in the region.

Nigeria in particular is one of Africa's largest telecom markets, benefiting from being the second largest economy on the continent.

Today over 100 million Nigerians are now connected to the internet, with 250,000 new subscribers logging on in the last quarter of 2019, according to data from the Nigerian Communications Commission.

One player in the telecommunications market is electrical engineer Funke Opeke, who founded West Africa's leading communications services and network solutions provider MainOne in 2008.

Victoria's Secret changes hands

L Brands Inc is selling 55% of Victoria's Secret in a move that will take the business private.

Investment firm Sycamore Partners is buying the stake in a deal valuing the lingerie brand at $1.1bn.

L Brands keeps a 45% share.

US jobless claims rise a shade

US unemployment rose a shade last week.

Initial claims for state unemployment benefits increased 4,000 to a seasonally adjusted 210,000 for the week ended 15 February, the US Labor Department said.

That's bank on estimates of economists surveyed by Reuters.

What's the weirdest thing you've ever had to do for a boss?

Facebook boss Mark Zuckerberg has faced jibes on social media over claims he has staff blow-dry his armpits before public appearances.

The claim is from a new book, Facebook: The Inside Story by Steven Levy, that will be released later this month.

A Bloomberg review included the anecdote about Mr Zuckerberg having a member of his communication team dry his "anxiety sweat" before a speech. A Facebook spokesperson said she doubted the story's accuracy.

What's the weirdest thing you've ever had to do for a boss?

Get in touch and let us know on bizlivepage@bbc.co.uk

How technology is aiding Malawi's music industry

In the past, it was very difficult for music artists in Malawi to find a place where they could record their music, as studios were few and far between.

Just a decade ago, artists would have to wait for their turn to get the chance to use the few production studios that were available. But the industry has evolved, thanks to technology.

Small production studios outfitted with Apple personal computers and recording software are making it easier for artists to create new work and release it online.

Technology has definitely had an impact on Afro soul singer Faith Mussa's career.

Mark Carney visits an art gallery

The BBC's personal finance correspondent Simon Gompertz tweets from an important financial event at the Tate Britain...

Pollution monitors fail around chemical plant

Pollution monitors around the Mossmorran chemical plant in Fife have been failing, the environmental watchdog has admitted.

Figures from Sepa show at least one of its three monitoring sites was not working during 13 days in January.

There are air pollution monitors at Auchtertool, Donibristle and Lochgelly.

The plant is being restarted following a shutdown in August. Sepa said there were 10 full days when monitors in Auchtertool and Donibristle were down.

Sepa reports show faults with the monitors' analysers.

What will the budget herald?

HSBC reckons new chancellor Rishi Sunak might stick with his old boss Sajid Javid's balanced budget approach in the forthcoming budget, splurging less than expected.

Mr Javid wanted to balance the books after three years.

"Still, borrowing is clearly going to increase meaningfully," says the bank in research led by Elizabeth Martins, senior economist. She estimates a deficit - more spending than collecting - of up to £55bn for the financial year.

By Szu Ping Chan

Business reporter, BBC News

FT: Climate campaigners turn sights on financiers

The FT has taken a look at the aftermath of the protest in Paris where Youth for Climate barricaded themselves in BlackRock's office.

Sales helped shoppers, but maybe not shops

Quote Message: Despite a stuttering economy, consumers have enjoyed a positive start to the year, in part due to heavy discounting in the January sales. "The challenge for retailers however remains significant. Customer satisfaction is at its lowest level since 2015, as customers are becoming increasingly discerning in their purchasing choices and punishing brands that fall short. Torrential rain, strong winds and worries over coronavirus all conspire to keep shoppers at home, the challenge for High Street retailers and restaurants is not to lose focus about the reasons to visit. Excellent personal service matters because it locks in return custom, building loyalty and trust to deliver better financial results and improved productivity. from Jo Causon CEO at the Institute of Customer Service

London shares are now flat, as positive earnings results were offset by investor fears after China cut its benchmark lending rate and minutes from the latest US Federal Reserve meeting showed policymakers were cautiously optimistic on the economy.

The FTSE 100 is now just 7.1 points or 0.01% higher to 7,464.43, led by NMC Health, jumping 8.9% to 852.6p.

On Wednesday, a a Czech activist investor said it would not be taking a state in the business unless founder and co-chairman Bavaguthu Raghuram Shetty re-joined top management.

The FTSE 250 is currently 67.8 points or 0.3% up to 21,918.86. Top of the winners is Moneysupermarket, soaring up 9.8% to 340.3p after the price comparison site reported a 10% jump in full-year pre-tax profits.