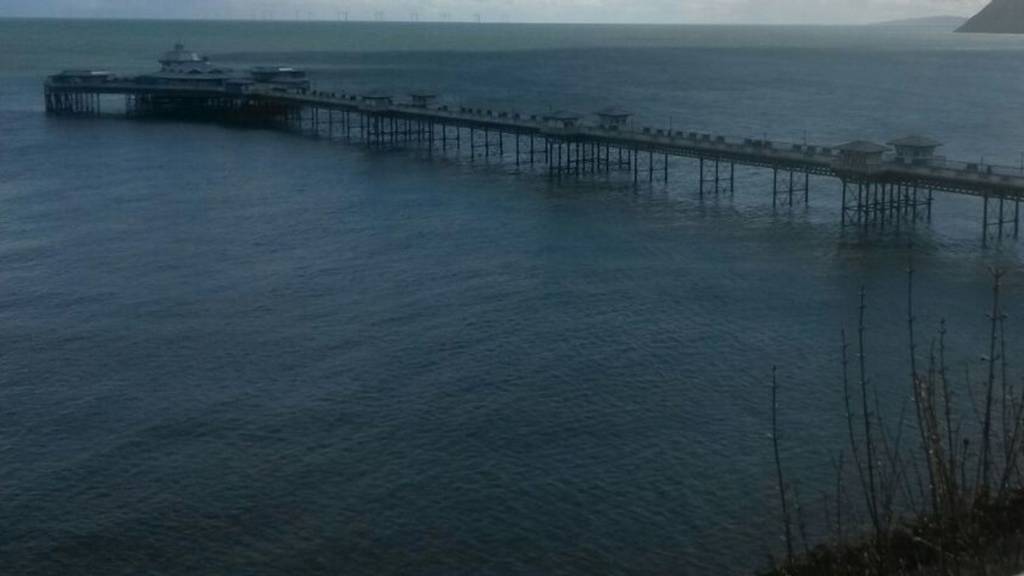 As it happened: Election tour day 5
Summary
BBC Wales hits the campaign trail in Llandudno for day 5 of our election tour
Just 8 days until polling
Voters are having their say on what matters to them
Throughout the day, online, television and radio are broadcasting live
And that's it from Llandudno. Thank you for following our reporters Nick Bourne and Sophie Gidley.

Sera Williams, 23, from Conwy Valley, is still deciding who to vote for.

"I'm undecided but really don't want the Conservatives to get in. I think we need a change, see what Labour can do to make the country better.

"I don't think the live election debates have helped me to make a decision. They are just trying to score points against each other."

'Had to pay to go private'

Health and public transport are big issues for Harry and Gwyneth Ward.

Pain and "long delays" waiting for a knee operation on the NHS forced Mrs Ward to go private, costing her over £11,000.

"I spoke to the GP who said there was a two or three year wait. I didn't feel like I had another option. The pain was so bad," she said.

The couple lives in a village in Conwy county which has just lost its only GP practice.

After Mr Ward was taken ill and admitted to hospital, she spent £70 on taxi travel to visit him, saying "it would have taken days using public transport".

Hilary Turner, from Llandudno, wants to see an end to the so-called bedroom tax.

"It is the cruellest," she said.

"It is so badly thought out. They are targeting helpless people. It is wicked."

Texan tourist Jimmy Clark has been in the UK visiting London, Bath and north Wales.

He says he has hardly heard a mention of the general election, apart from seeing a few signs from prospective parliamentary candidates.

"Government and politics is a mess back home," he said.

Trader Ann Turner, from Llandudno, is voting Tory but thinks they need to crack down on immigration.

"The thing is, I would not want a Labour government because the SNP might get in - that's big no no for me," she said.

'Plaid understand people'

Gwennan Jones, 34, is from Llangwm but works in Llandudno.

She said: "I will probably vote for Plaid.

"I'm Welsh, Welsh speaking, and feel they are the ones that are most in touch with issues in rural areas of Wales.

"I just feel that Plaid understand the people a bit better."

'I like the Greens' manifesto'

Jasmine Cawthray, 23, from Llandudno, says the government needs to change and is voting Green.

"I like their manifesto," she said.

"I think it's really good because there's a lot about animal rights which I am pro. I'm a big animal activist. The Greens are very different to all the other parties."

Rona Irwin, from Manchester, on the right, doesn't want to see any more council and social housing sold off.

"You need these properties for people who cant afford to buy," she said.

Shoppers in Llandudno say they need more money in their pockets to make ends meet.

One woman said a £2.50 a week top up on her £150 weekly pension was derisory.

"That will only get you a loaf and some milk," she said. "The pension doesn't go far enough.

"The parties mention children but the pensioners don't get a look in.

"Pensioners are struggling."

Another shopper said: "It's better the devil you know.

"But no matter who gets in they have got a mess to sort out."

Tourist Jean Thomas, from Worcestershire, favours the Conservatives and wants to know that the NHS is in safe hands.

"When you get older these ailments creep up on you. Everyone needs to use the NHS. It needs to be looked after," she said.

Ice cream seller Lorraine Siddall said she remains undecided on who to vote for, claiming she has not trusted politicians to keep their promises.

"They are all saying different things and are they going to go through with them? I don't trust them," she said.

'Little interest in politics'

Shopkeeper Keith Tingle doesn't have any faith in politicians, but does vote.

He sells clothing from a store on a "windy corner" that is reliant on passing trade off the main shopping street in the resort.

"I have a low rent. I don't have to pay rates. The election doesn't make a difference to me. I don't take a lot of interest in politics."

BBC Wales Today presenter Jamie Owen goes live

Trina Wooderson, 65, from Llandudno, will vote Tory.

She said: "How do politicians expect a pensioner to live on £127 a week, on a state pension, having contributed all their life? I have worked since I was 14. That is my main concern."

Julie Milo, 53, is also concerned about pensions for older people but said she will be voting Labour.

"My mother is 78 and is on a widow's pension. She still has to have her business here on the pier at her age because she can't afford not to.

"I was brought up voting Labour when I was a girl. I'm not even politically minded in the slightest but my dad was a Labour man and that's who I've always voted for."

'NHS buckling under pressure'

Simone Brown, 49, is from Rhyl but works in Llandudno. The NHS is her main priority in the election.

"The NHS has gone down drastically. They need to plough money in to the NHS. The staff go in to the profession to help people but there are cut backs after cut backs. They're under so much pressure.

"It's the biggest concern for me and that's why I'm with Labour."

Mark Fleet, 24, has recently moved to Llandudno from Manchester. He is not going to vote.

"I don't vote because of the things politicians say on TV, they are trying to make people happy so they vote for them. But once they're in power everything changes. Their promises are all false."

Eira's husband Robin Pritchard, 61, agreed it was time for a change.

"I don't like the political mud slinging that goes on in politics. Farage is a good thorn. He stands up and is honest that there needs to be more controls. He speaks on behalf of the shrinking violets in society."

Trader Eira Williams, 54, is voting UKIP.

"From everything I have seen on the news, I have decided to vote for UKIP. They are saying things that the other parties aren't. That's my reason."

Llandudno trader Averil Jones, 62, said: "Health is a big issue for me. The NHS needs to be improved, especially the baby unit at Glan Clwyd Hospital, that needs sorting out.

"I'll be voting Labour."

Sue Broadhurst, 76, from Llandudno, said immigration control is her main concern.

"At this moment in time I just don't know who to vote for - it's between two parties.

"There is plenty for everybody if it's kept as it is, but if we keep bringing people in to the country there won't be enough to go around.

"I'm a pensioner so it doesn't affect me so much; it's the future generation I'm concerned for."

Trader Steve Dobson, 54, said he will be voting Conservative.

"The last Labour government left the country in a mess. Under the Conservatives things have started to improve. They have five years experience now.

"I would not have liked to have been a stall holder under the previous Labour government."

'I've not been brought up to vote'

But Jaymie Williams, 21, said she won't be voting.

"It isn't something I've ever really thought about," she said.

"My mum doesn't vote so I haven't been brought up in a household that voted."

'Tourists are our staple'

Shop worker Emily Thursfield said business in the resort has been mixed over the last year due to the economy.

She said coach-loads of people on short breaks are a staple for the town, although there's a 50-50 mix with local shoppers.

And here is St George's Hotel where many of our programmes will be coming from today

'Devolution is confusing'

Floating voter Chris Fosbury said he still hasn't decided who to vote for because the parties have been offering new policies closer to the election. Chris says they're getting "desperate" for votes.

He said he felt Plaid was offering local or Welsh policies unsuited to a role in a Westminster and that the "crusades" over the NHS between the UK and Welsh governments had confused people because of devolution.

Brian and Wendy Cropper, from the Wirral, are on a break in Llandudno.

Brian said: "We were discussing who to vote for this morning - we're nearly decided."

Wendy added: "We normally vote for the local person - not the party - who has done the most work."

We've had to pack the BBC tent away because the wind is too strong, but online, TV and radio are continuing to broadcast. Programmes will be coming from St George's Hotel on the prom

Good afternoon from sunny Llandudno in Conwy. Rain had been predicted but the sky is blue and the sea is sparkling. Your reporters today are Nick Bourne and Sophie Gidley. They'll be out and about, finding out what the big issues are for Llandudno and what's important to you in this general election - which is just 8 days away.