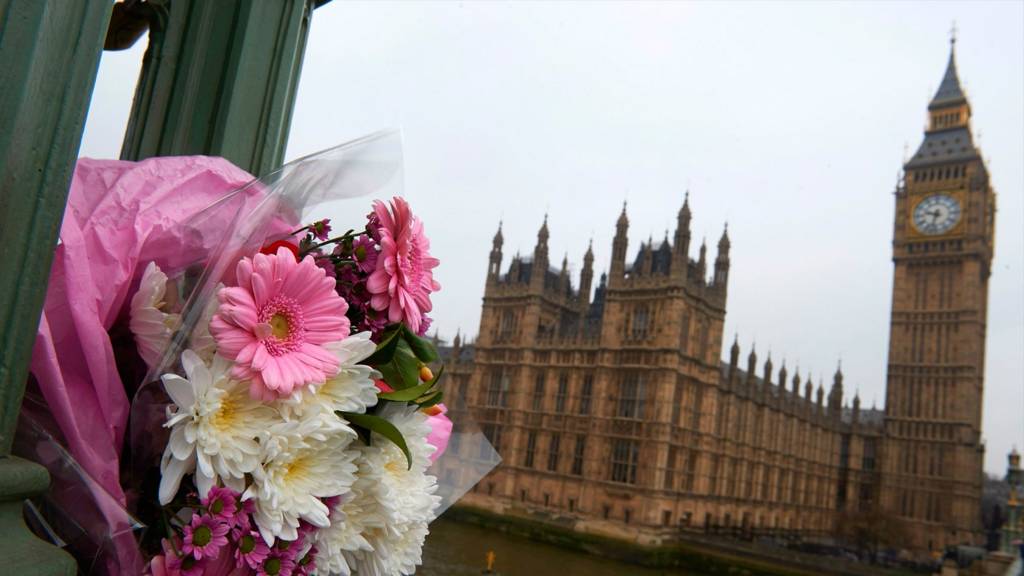 As it happened: Coverage of London attacks
Round-up of Friday's developments

It's been a day that has seen a portrait of the attacker Khalid Masood start to emerge. His reputation in his early years was of an "all-round-nice-guy". Fatherhood followed, then violence and prison.

The police have pressed on with their investigations as they try to establish whether Masood acted alone or was directed by others. They are now questioning just four people, down from 10. Another person has been bailed.

Two of the injured are still critical and one has life-threatening injuries.

Masood's fourth victim was named as Leslie Rhodes, a 75-year-old retired window cleaner from Clapham, south London. His neighbour, Michael Carney, who had known him for 40 years, played Queen songs at his hospital bedside. "He had no one. You can't have someone dying on their own," he said.

We are ending our rolling coverage on this live page but you can continue to follow the latest developments via our news story .

Six people released 'have no link to attack'

The six people released a short time ago from custody "fully co-operated with officers working on the investigation", West Midlands Police say.

Assistant Chief Constable Marcus Beale, who leads the West Midlands Counter Terrorism Unit, said: "As a result of their co-operation and our enquiries, we are completely satisfied that they are not connected in any way to the terrorist attack in Westminster on Wednesday.

"We are very appreciative of their co-operation and support."

Injured PC's family: Celebratory day ended in tragedy

The family of PC Kristofer Aves, who was badly injured when Khalid Masood's hired car mounted the pavement on Westminster Bridge, make a public statement for the first time:

Quote Message: Kris went to work on Wednesday full of pride as he was receiving a commendation for his exceptional work as a police liaison officer during a demonstration in 2016. What started as a celebratory day, ended in tragedy. Kris is now being treated in hospital, and as a family we remain at his bedside. We thank his colleagues and the public who have sent us messages of support.

England and Germany under-21s hold minute's silence

Players in an international friendly between Germany and England's under-21 sides observe a minute's silence in tribute to those who died and were injured in the London attack. The teams are playing in the German city of Wiesbaden.  

Violent past made 'jump' to jihadism much smaller

Rajan Basra, a research fellow at the International Centre for the Study of Radicalisation at King's College London, considers how typical is Khalid Masood's past of those who go on to carry out acts of terror: 

Quote Message: In one crucial respect Masood does fit the picture of the criminals-turned-jihadists that we have examined - he was familiar with violence. If a terrorist has a criminal background, it is very often a violent one. Stabbings, assaults, and violent behaviour are recurrent patterns amongst perpetrators of terrorist attacks with existing criminal records. This violent group is disproportionately represented when compared with those convicted of non-violent crimes. For Masood, this familiarity with personal violence may have made the "jump" into ideologically motivated violence that much smaller than it would otherwise have been.

Read more from Rajan here.

Four people are still being questioned, says Met Police

The statement from the Metropolitan Police says there are now four people who remain in police custody pending further inquiries. 

They are: 

 A 58-year-old man arrested on Thursday morning at an address in Birmingham
A 27-year-old man arrested late on Thursday, also in Birmingham
A man of 35 arrested in the early hours of Friday at an address in Manchester
And a 32-year-old woman arrested on Friday morning at a location in Manchester

All four were arrested on suspicion of preparation of terrorist acts.

Breaking

Six people released from police custody, says Met

Six people arrested as part of the investigation into the attack have been released from police custody, Scotland Yard says.

They are: 

A 21-year-old woman and a 23-year-old man who were arrested at an address in Birmingham
A 26-year-old woman and three men, aged 28, 27 and 26, arrested at separate addresses in Birmingham

Another woman, aged 39, arrested at an east London address on suspicion of preparation of terrorist acts, has been released on bail until a date in late March.

Donors raise £600,000 for PC Palmer's family

An update on some of the fundraising pages set up:

One set up to raise funds for the family of PC Palmer, the police officer stabbed to death, has passed £600,000  
A Muslim-led campaign - Muslims United for London - which is asking for donations to support the victims and their families, has raised more than £24,000

'Hero' MP Tobias Ellwood appointed to Privy Council

"Hero" MP Tobias Ellwood, who battled to save the life of PC Keith Palmer in the Westminster terror attack, has been appointed to the Privy Council, the historic group that advises monarchs.

The appointment was made in recognition of his role in responding to the attack, Downing Street says.

Mr Ellwood, a Conservative MP and former Army officer, performed mouth-to-mouth resuscitation on PC Palmer in New Palace Yard, Westminster.

Read more of  the story here.

Security minister Ben Wallace has also been appointed to the Privy Council for his response.

'It's easy to adopt a new name'

Khalid Masood - whose birth name was Adrian Russell Elms - had numerous aliases, complicating matters for the police investigation into the attacker.

But Tony Imossi, of the Association of British Investigators, says it's easy to adopt a new name.

"I can sign a document this afternoon and change my name through all official sources," he told BBC Radio 4's PM programme. "Passport, driving licence or bank accounts."

He adds: "Any record of me as Tony Imossi can disappear and I can become a different person."

Masood 'popular' with students in Saudi

Khalid Masood spent a number of years working in Saudi Arabia teaching English as a second language at the General Authority of Civil Aviation in the port city of Jeddah, the BBC understands. 

He arrived there having already converted to Islam in the UK. 

He was described as not having interacted socially with other teachers in Jeddah but as being popular among students and a keen weight trainer. 

He was said not to have shown signs of extremism, the BBC has learned.  

Saudi embassy: Masood not on Saudi security services' radar

The Saudi Arabian Embassy in London releases a statement saying it "strongly condemns" the terrorist act.

It said Masood was in Saudi Arabia working as an English teacher from November 2005 to November 2006 and April 2008 to April 2009. He was there on a work visa, the statement said.

In 2015, he obtained an Umra visa, which covers pilgrimages for Muslims, through an approved travel agent and was in the kingdom from 3 to 8 March. 

Quote Message: During his time in Saudi Arabia, Khalid Masood did not appear on the security services' radar and does not have a criminal record in the Kingdom of Saudi Arabia.

Pictures: 'More in common than apart'

People attending vigils are tweeting banner photos

Birmingham holds peace vigil in show of solidarity

The people of Birmingham are out on the streets this evening holding a peace vigil.

Fawn Goodwin, 20, who is from the city, helped organise the event. 

"It's really important that we show solidarity with the people who are affected by it, but also that we are anti-racist and that's the main reason why I'm here," she told the BBC.

"I don't want the attack that happened to reflect badly on the Muslim community. I think it's really important that we all stand together."

Masood in his schooldays was 'really nice chap'

Stuart Knight was in the same class as Masood at Huntley's Secondary School for Boys in Tunbridge Wells, Kent, nearly 40 years ago. 

Mr Knight said Masood, who he knew as Adrian, was a likeable lad and completely different from the deadly attacker he became.   

Quote Message: He was a really nice chap. He was always fun; always having a laugh with the lads; a great sportsman; and I haven't got a bad word to say about him, which is probably what a lot of people don't really want to hear. They want to hear bad things about him but I can't give you that because he was genuinely a nice guy and I was upset today to think that he would have turned the way he has and upset to think what he's done to these poor families. It was just so out of character for the guy that I knew nearly 40 years ago."

Imam: Muslims are united in grief

Qari Asim, Imam at Leeds Mosque, has been telling the BBC how hundreds of thousands of Muslims across the country have been saying "special prayers" today.

"Muslims are united in grief, in sadness and in shock with the rest of the community in Britain," he said. 

He said there was a "natural anxiety" following the attack but praised the tone of the response from the police and the prime minister, who referred to a "perversion of Islam". 

Cardinal Vincent Nichols, the Archbishop of Westminster, who shared a platform with the Imam at a special service earlier today, said it had been "a privilege to stand alongside the major faiths of this country".  

He called for people to resist any instinct for targeting the Muslim community.

"If we start making enemies out of people who want to be our friends then we are doing the terrorists' work for them," he said.

'Very unlikely Masood was lone wolf'

Tom Wilson, of the Henry Jackson Society think tank, tells the BBC he thought it "very unlikely" that Masood had acted alone. 

Even in a single-handed attack, they are usually still part of a wider network or have communicated with them online, he says, adding that only 10% of cases his group has looked at involved "lone wolves".

He says Masood, who was 52, did not fit the stereotype of a terrorist  - the average would be in his early 20s. 

The crude method of attack, which bore similarities to attacks in Nice and Berlin, suggested Masood did have a connection to the so-called Islamic State group, he goes on to say. 

The group's message has been to use whatever tools you have available to you, whether a knife or a car, says Mr Wilson.

In contrast, al-Qaeda put an emphasis on aviation bomb plots, he points out.