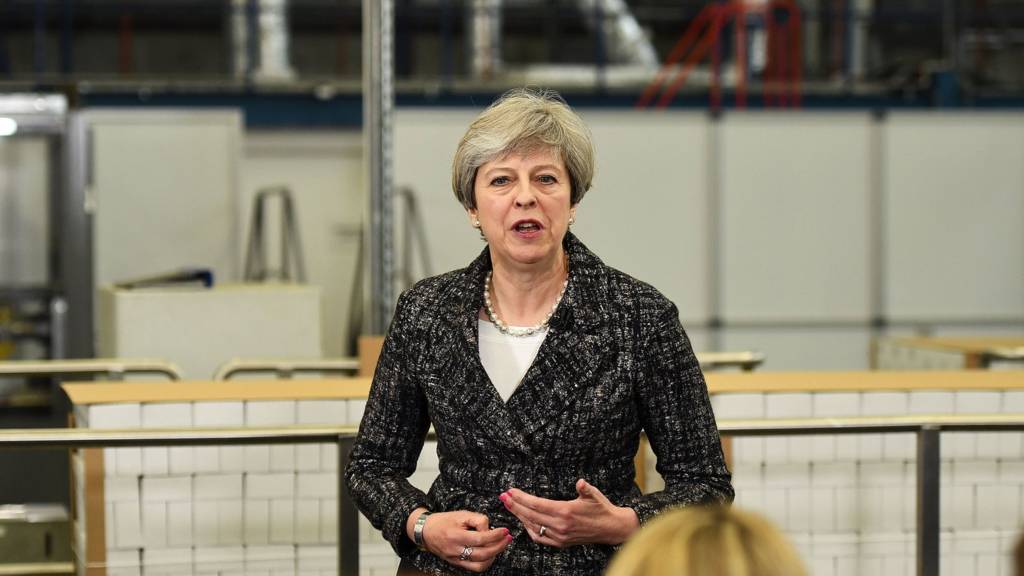 Live
Election campaigning latest
By Alex Hunt & Brian Wheeler

BBC News

We're going to bring our coverage of the second full day of general election campaigning to an end now. Here's what you need to know:

Theresa May ruled out cuts to the UK foreign aid budget if she wins the election but doubts were cast on other existing Conservative pledges, including the guarantee to match existing spending on state pensions
Chancellor Philip Hammond hinted that a pledge in the 2015 Conservative manifesto not to raise income tax, VAT or National Insurance before 2020 could be abandoned
Labour focused its election campaign on education with Jeremy Corbyn attacking the Tories over "super-sized" school classes
Len McCluskey was re-elected as Unite's general secretary after defeating anti-Corbyn candidate Gerard Coyne by more than 5,000 votes
The Liberal Democrats said it had raised £500,000 from individual donors since the snap election was called, with leader Tim Farron saying activists and donors were attracted to the party's anti-Brexit message
SNP leader Nicola Sturgeon launched her council election manifesto, portaying both the local and general elections as a battle between her party and the Tories in Scotland

Corbyn in first Wales election event

Jeremy Corbyn has visited the constituency of Cardiff North on his first general election event in Wales since the poll was declared.

Labour is hoping to recapture the marginal seat from the Conservatives after losing it in 2010.

The Labour leader urged voters to join him on a journey of "hope and excitement" in the general election.

But Welsh Tory leader Andrew RT Davies claimed the Welsh Labour team would be "gritting its teeth" during the visit.

Read more: Jeremy Corbyn visits Cardiff

Corbyn congratulates McCluskey

Labor leader Jeremy Corbyn says he is looking forward to working with Len McCluskey, following his re-election as Unite's general secretary. 

"The democratic process has taken place in the union," he said.

"I look forward to working with him and indeed I've already sent him a message of well done."

Corbyn's man 'still standing'

Chris Mason

Political Correspondent

This result matters because Jeremy Corbyn's man won.

The Labour leader still has an ally in the figurehead at the top of the country's biggest union.

Unite's deep pockets have helped bank roll the party.

Len McCluskey's passionate support helped buoy up Mr Corbyn when most of his MPs decided he was useless.

Mr McCluskey's principal opponent, Gerard Coyne, had argued Unite should stop "playing Westminster politics" and " failed to collect a penny back" from its donations to Jeremy Corbyn's leadership contests.

But Gerard Coyne lost.

And so Mr Corbyn's man is still standing.

The big question now is, if Labour lose the election, whether Len McCluskey will change his mind and call on him to go.

Close Unite result 'sends serious message'

Defeated Unite general secretary contender Gerard Coyne says the result of the vote had been "very close" and the result sent some "very serious" messages to the union.

"Unite needs to change, and it needs to put its focus back where it belongs, on looking after the real interests of the members of the union," he said.

He claimed to have faced "bullying and intimidation" by the "union machine" during a hard fought and at times bitter campaign.

Len McCluskey won 59,067 votes to Mr Coyne's 53,544.

The result will be seen as a boost for Labour leader Jeremy Corbyn as Mr Coyne was seen as the anti-Corbyn candidate and Unite is the party's biggest donor. 

Probe into referendum spending of Leave.EU group

The Electoral Commission has launched an investigation into the European referendum spending return of Leave.EU, the campaign group fronted by UKIP funder Arron Banks.

The commission says it is acting after "an assessment which concluded that there were reasonable grounds to suspect that potential offences under the law may have occurred".

Corbyn goes back to school

Photographs of Jeremy Corbyn reading to school children in Bristol have inspired a bit of a caption competition on social media.

Several commentators tried to make light of Mr Corbyn's battles with his MPs in their suggestions although the shadow chancellor brought the election campaign back into it.

Snap poll brings forward ban on MPs employing relatives

A ban on MPs employing spouses and other relatives is to come into effect within weeks as a result of the election. 

The Independent Parliamentary Standards Authority has confirmed the 8 June poll means it will not approve the use of taxpayers' money to pay MPs relatives or close business associates as new staff members after that date. 

The change had been announced in March and was expected to take effect from 2020.

Almost a quarter of the 650 MPs at Westminster employ family members, including 84 Conservatives, 50 Labour and 10 SNP MPs.  

Existing staff members will not be affected but in future members of staff who begin a relationship with an MP while working for him or her will have their contract ended after two years as partner or spouse. 

Ipsa's chair Ruth Evans said the employment of close relatives was "out of step with modern employment practice, which requires fair and open recruitment to encourage diversity in the workplace". 

A limit of one family member of staff in the wake of the expenses scandal was introduced in 2010. 

 Many MPs argue partners are uniquely placed to do the jobs expected of them.  

McDonnell warns of 'Tory tax bombshell'

Watch: What do the opinion polls say?

Jo Coburn

Daily Politics presenter

Watch: Will Labour block or disrupt Brexit negotiations?

Len McCluskey re-elected as Unite general secretary

Len McCluskey has been re-elected as Unite's general secretary following a bitter leadership battle, he has said.

He defeated Gerard Coyne, seen as the anti-Jeremy Corbyn candidate, in a ballot of the union's members.

He won 59,067 votes, Gerard Coyne 53,544 and Ian Allinson 17,143, in a turnout of just over 12%, the Unite union said.

May 'has every reason to be afraid of the Liberal Democrats'

The Liberal Democrats are "the only route through which Theresa May has a single thing to be afraid of", party leader Tim Farron told supporters in Manchester.

"She has every reason to be afraid of the Liberal Democrats," he said.

He said Labour will "lose dozens and dozens"of seats in the election, while the Conservatives already "assume a coronation".

"Let's get out there and make the change ours," he said.

Len McCluskey wins Unite leadership election

Hammond hints tax pledge may be dropped

Kamal Ahmed

Economics editor

The chancellor has given a major hint that he is no fan of the 2015 Tory manifesto pledge not to raise income tax, National Insurance or VAT.

After the embarrassing U-turn on the attempt to raise taxes for the self-employed, Philip Hammond told me the government needed "flexibility" on taxes.

The manifesto is not yet final, so no irreversible decisions have been taken.

The chancellor said he didn't come into politics to "increase taxes".

But it is the clearest hint yet that Mr Hammond would like to see the 2015 manifesto promise on taxes significantly amended if not abandoned all together.