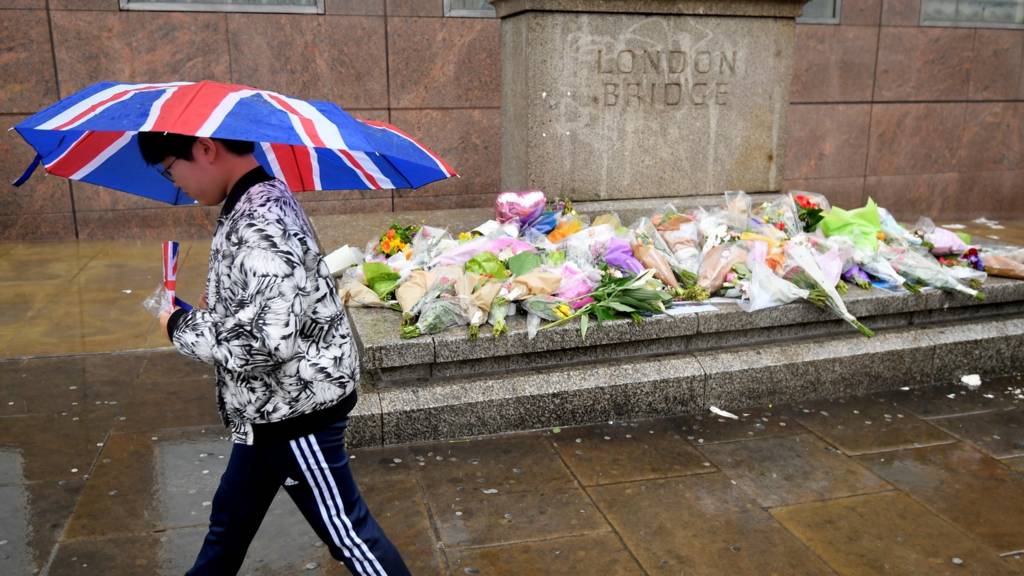 Live
Latest updates: London attack
Fundraisers are urging people to take to the capital's restaurants and bars on Saturday night in a show of "unity and resilience" a week on from the terror attack.

The British Red Cross is calling for people to come together in a "Saturday Night for London" where they can take a "ride for London, eat a dish for London and say cheers to London."

Restaurants, including those in the area of the attack, will donate money from a chosen dish, while cafes, pubs and bars will ask for donations of the price of a drink.

Donald Hyslop, Borough Market chairman of trustees, said: "Borough Market is not just a collection of stalls, restaurants and pubs; it is a community of people.

"Never has that been more apparent than it is now, in this darkest of hours.

"This community has been shaken to its core by Saturday's horrific events, but bolstered by the love, togetherness and defiance of this vibrant, diverse city it will carry on doing what it has always done - celebrating the pleasures of good food and conversation."

Mayor: Rise in hate crime since attack

Nick Beake

Home affairs correspondent, BBC London

There's been a five-fold increase in Islamophobic incidents since the attack, the mayor of London has said.

There were 20 incidents reported yesterday - the 2017 daily average is 3.5.

There's also been a rise in hate crime reported to the Met since the attack, with 54 reports yesterday - the daily average in 2017 is 38.

Sadiq Khan said: "Just as the police will do everything possible to root out extremism from our city, so we will take a zero-tolerance approach to hate crime."

Victim of terror attack confirmed as Sara Zelenak

One of the victims of Saturday's terror attack has been confirmed as Sara Zelenak.

In a statement, her family said: "We are deeply saddened at the tragic loss of our beautiful daughter and sister of Harrison and Scott.

"Sara's family and friends are devastated.

"We would like to thank our friends and family who are helping us through this very difficult time."

Death toll from attack rises to eight

Police say the death toll from the attacks on Saturday night has now risen to eight after they recovered a body from the River Thames on Tuesday evening.

They were searching for missing French national Xavier Thomas.

Mr Thomas's next of kin have been told, police said, but formal identification has not yet taken place

Attack victims still missing

The BBC understands Australian Sara Zelenak is among those who were killed.

Sebastien Belanger 36 and Ignacio Echeverria, 39 are both still missing.

By Hannah Richardson

BBC News education and social affairs reporter

Further arrest in attack probe

A 30-year-old has been arrested for terrorism offences after a search warrant was carried out at a property in east London in the early hours.

The Met said officers entered the address in Ilford at 01:30.

He has been taken to a south London police station for questioning.

Areas reopen following attack

A large part of the police cordon around the scene of Saturday night's attack has been lifted this morning.

Borough High Street and the roads and area east of the high street have reopened to the public, although Borough Market and a small surrounding area remain closed.

Latest on the London terror attack

All three attackers have now been named as Khuram Butt, Rachid Redouane and Youssef Zaghba
Two more of the seven victims have been named - Australian nurse Kirsty Boden, 28, and French national Alexandre Pigeard, 27
NHS England says 15 people remain in a critical condition in hospital
A further arrest has been made in the Irish Republic - a man in his 30s - related to Redouane. Another man also arrested in the Irish Republic earlier on Tuesday has been released without charge
Theresa May has said she will change human rights laws if they "get in the way" of tackling suspected terrorists
Opposition parties accused her of another u-turn and reducing freedom
Borough Market will remain closed on Wednesday

Wednesday's papers: 'Vote May or we face disaster'

Australia confirms two nationals among dead

Full official statement:

"The Australian Government is deeply saddened to confirm that two Australians have been killed in the London terrorist attack.

"We continue to work with the United Kingdom authorities who have asked that we await official confirmation of the identities of the victims, and for the families to be officially notified, before we release their names.

"The Australian Government has remained in close contact with the families who have requested privacy. We ask the media to respect their request at this difficult and harrowing time."

Wednesday's papers: 'MI5 was warned attacker 'wanted to be a terrorist''

Ashdown: Beating terrorists needs 'careful, proportionate action'

The former Lib Dem leader responds to the PM's speech...

Wednesday's papers: 'I'm going to be a terrorist'

Wednesday's papers: 'May vows she'll tear up human rights law'

Wednesday's papers: 'The nurse who ran towards danger'

May ups the ante on terror

Laura Kuenssberg

BBC political editor

Enough was enough, on Sunday.

On Tuesday night, it seems the prime minister has concluded that in terms of her message on terror, enough was not in fact enough.

In one of her last few appearances in this long campaign she has done more to outline her plan for combating terror.

Breaking

Man arrested in Ireland linked to London attacker

A man is in his 30s has been arrested in Ireland in relation to one of the London attackers.

The man was arrested under the Theft and Fraud Offences Act, 2001, and is being detained under Section 4 of the Criminal Justice Act at Wexford Garda Station.

The force said its inquiries were ongoing, but said the arrest was related to attacker Rachid Redouane.

It follows an earlier arrest of a man in Limerick, Ireland, over the discovery of ID documents in Redouane's name.

He was later released without charge.