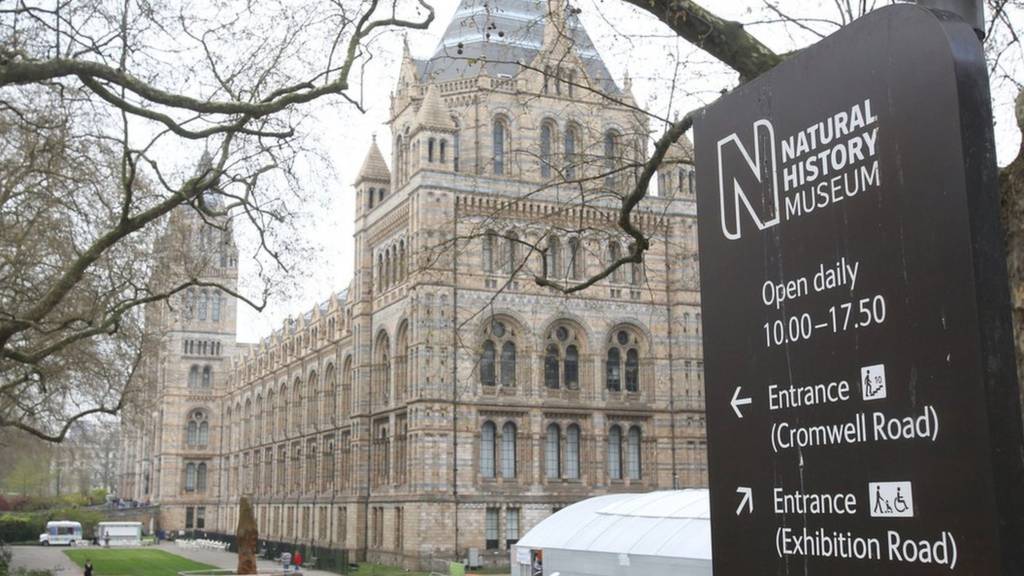 Latest on London museum crash
'Thoughts with injured'

The prime minister tweets...

Sadiq Khan thanks emergency services

Mayor of London tweets...

The Metropolitan Police have released a statement confirming that a "road traffic investigation" is under way.

The force said the injuries sustained to the 11 people were "not believed to be life-threatening or life-changing".

The detained man is under arrest, the police said, and is in custody at a north London police station.

Breaking

Incident 'not terror-related'

Police have confirmed that the incident in Exhibition Road was not terror-related.

'Eleven treated for injuries'

A statement from the London Ambulance Service says 11 people have been treated "mostly for leg and head injuries".

Nine were taken to hospital.

Corbyn: 'Very concerning reports'

Labour leader Jeremy Corbyn says his thoughts are with those injured amid "very concerning reports".

Dominic Casciani

Home Affairs Correspondent

We've been to the south end of Exhibition Road nearest the Tube and the area, normally a busy destination for Saturday afternoon dining by locals and tourists, is deserted.

Eyewitnesses told us that police came rushing into each bar and restaurant and told people to get out.

We can see coats on chairs - some knocked over - half-eaten meals and half drunk glasses of wine.

Police helped one restaurant owner to recover staff belongings, like house keys, because its unclear when the area will reopen.

Image caption: Deserted restaurants in Exhibition Road

'I heard a couple of loud bangs'

Eyewitness Ellie Mackay, who lives opposite South Kensington Tube station, said she heard "a couple of loud bangs" after a car hit people near the Natural History Museum.

She described the speed of the emergency services' response as "amazing".

Forensic officers gather evidence

Image caption: A forensic officer gathers photographic evidence

Forensic officers are at the scene - which has been cordoned off - gathering photographic evidence.

Map shows where South Kensington crash happened

People 'reassuring families'

BBC journalist Tim Stokes is at the scene:

"On a normal Saturday this area is packed with tourists but this afternoon the road is empty except for dozens of police vehicles and officers.

"Behind them, two officers stand holding guns while a police helicopter circles overhead.

"Onlookers wait with TV reporters, uncertain about what has happened.

"An Irish couple who have travelled to London for the day speak to their family on their phones, reassuring them everything is fine."

Mayor of London tweets...

'Screaming' and 'confusion'

Connor Honeyman, who was in the queue for the museum, said he heard a "horrible thudding noise" before people started screaming and running inside.

He said: "We ran in, everyone was following us, and then all the security guards ran out and they closed the main entrance.

"There was much confusion before the police got there."

Damien Hackett was on his way to the Natural History Museum and witnessed the aftermath of the incident.

He said: "Everyone was instructed to get out of there now"

This was the scene a short time ago outside the V&A Museum, which is close to the scene of the crash.

Police awaiting further information

The Met Police has not indicated any more details about the nature of the incident, saying they will make another statement only when they have "accurate" information.

Science Museum still open

The neighbouring Science Museum is open but, on advice from the Metropolitan Police, additional visitors are not being admitted.

'I thought it was gunfire'

An eyewitness said: "We were walking near the Science Museum and heard a bang, bang... at first I thought it was gunfire.

"Then we walked past the scene of the accident and saw a guy pinned down by other men and lots of people calling the police.

"There didn't appear to be many people hurt - a few sat by the side of the road but more looking shaken than anything."

V & A Museum remains open

The Victoria and Albert Museum tweets...

Man pinned to floor outside museum

Witnesses filmed police pinning a man to the ground near the museum.