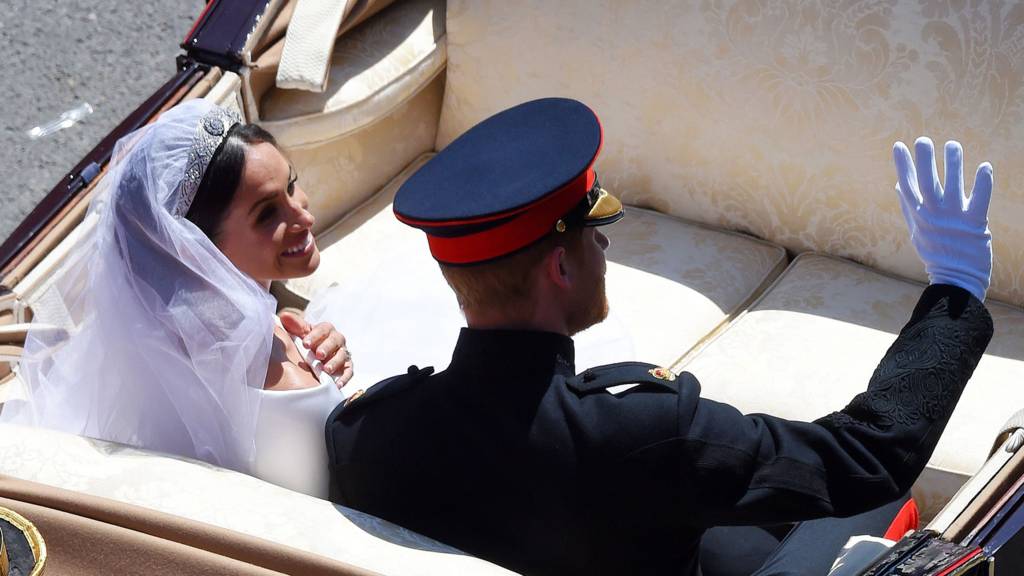 Live
Couple cap happy day with private party
Breaking

Duke of Edinburgh to attend the wedding

The Duke of Edinburgh, Prince Harry's grandfather, will be at the wedding.

Prince Charles 'stepped up before'

Image caption: Prince Charles will give his future daugher-in-law away

The Prince of Wales isn't a novice to the role of walking a bride down the aisle.

In 2016, he stepped up for the daughter of his close friend, Lord Brabourne.

Alexandra Knatchbull's father was a celebrated film producer and married to the Duke of Edinburgh's cousin, the Countess Mountbatten of Burma.

He had passed away in 2005.

Interested but not that interested?

If you've been following the coverage but your interest is waning, we've got you covered with eight ways to avoid the wedding mania.

Although if you're invited to another wedding, we can't help you there.

Meghan's dress: Traditional or quirky?

What don't we yet know about the Royal Wedding? The dress.

All eyes will be on Meghan Markle as she steps out to wed Prince Harry tomorrow.

She's broken moulds by wearing trouser suits to royal engagements. And she has a strong personal style.

So will she favour a more traditional look or surprise us all?

Despite the real thing being a closely guarded secret, five young designers have created the dress they think best represents Ms Markle.

Meghan's mother will still arrive with bride

Copyright: Getty Images/AFP

Meghan's mother, Doria Ragland, is still set to arrive at St George's Chapel, Windsor Castle in wedding car with her daughter.

Ms Markle has always insisted she wants her mum to have a big role in the wedding.

Prince Charles 'pleased' to take role

Copyright: Kensington Palace

Here's the Kensington Palace statement on Prince Charles' role tomorrow.

It had been planned that Meghan's father Thomas Markle would carry out the traditional father-of-the-bride duty.

But he was caught in controversy over apparently staged paparazzi pictures and there were concerns about his health.

On Thursday, Ms Markle confirmed he would not be there, and would focus on recovering.

Breaking

Prince Charles to walk Meghan down the aisle

The Prince of Wales, Ms Markle's future father-in-law, will walk the bride down the aisle.

In a statement, Kensington Palace said Meghan had asked Prince Charles to accompany her, and he is pleased to welcome her to the family in this way.

The question of who will walk Ms Markle down the aisle is still to be answered.

Her father, Thomas Markle, had planned to take on the role.

But Meghan has confirmed he will not attend, due to poor health.

Among the alternatives are Ms Markle's mother, Prince Charles, or even her beagle rescue dog Guy.

200 lemons and 10 bottles of cordial - what am I?

We've had more details this morning on that all important item - the wedding cake.

Claire Ptak, owner of Violet Bakery in east London, was chosen by the couple to bake it.

She has created a layered lemon and elderflower cake.

It will be a "slight shift from tradition" she says. And she has been baking for five days with a team of six cooks in the Buckingham Palace kitchens.

Asked whether she had made a spare in case of any mishaps, Ms Ptak said no: "It's cake. It can't go that wrong".

Meghan's mother to meet Queen

The bride's mother, Doria Ragland arrived in the UK from her home in the US this week and has already met many of the Royal Family.

On Wednesday, she took tea with Prince Harry's father, Prince Charles, and Camilla at Clarence House in London.

On Thursday, Ms Ragland spent the afternoon with the Duke and Duchess of Cambridge and their eldest children – Prince George and Princess Charlotte - at Windsor Castle.

Later on Friday, she is expected to meet the Queen in Windsor, alongside Ms Markle and her future son-in-law.

Good morning and welcome to live coverage of the final build up to the Royal Wedding.

Meghan Markle, 36, will marry Prince Harry, 33, at St George's Chapel in Windsor Castle tomorrow at midday in front of 600-or-so guests.

Bunting is up, security is tight and some royal fans are already taking their places, ready to catch a glimpse of the newlyweds.

All the timings to help you plan your Saturday are here alongside a selection of places you can perch to get the best seat in the house.

We'll have the latest from the town in Berkshire leading up to the big day.