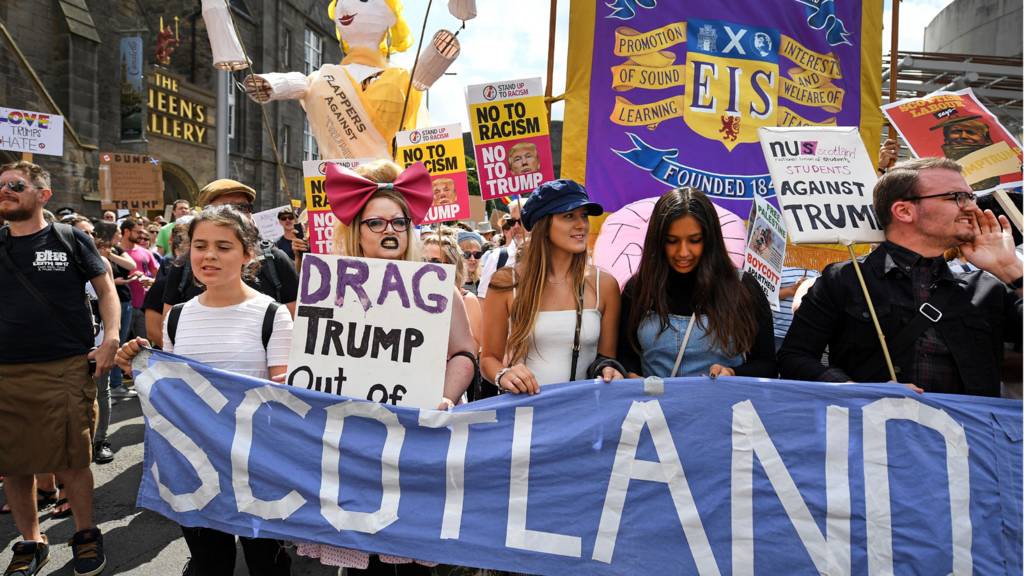 A day of golf and protests

That is the end of our live coverage of President Trump's visit to Scotland.

Mr Trump played golf at his family's Turnberry resort
He waved an acknowledgement to protesters who jeered from the side of the course
Police Scotland are attempting to find a Greenpeace paraglider who flew over the hotel
The main demonstration, in Edinburgh, attracted thousands of people
First Minister Nicola Sturgeon, who is not meeting the president, led a Pride march in Glasgow
On Sunday, Mr Trump is expected to fly to Helsinki ahead of a meeting with Russian President Vladimir Putin

Departure of Trump baby balloon

BBC Scotland's Martin Sharkey tweets

Edinburgh protest in numbers

Thanking those who took part for their "good behaviour", Police Scotland estimated that 9,000 people were at the Edinburgh anti-Trump demonstration. Organisers think the true number was up to 60,000.

Sturgeon: 'I've not refused to meet Donald Trump'

Nicola Sturgeon has denied that she has refused to meet the US president during his visit to Scotland.

The Scottish first minister, who earlier took part in Glasgow Pride, said her disagreements with Mr Trump were "not personal - it's about policies".

She said: "If the opportunity arises to meet the president I will do that and I'm sure if the opportunity arises in the future we will have lots to talk about, including the close and very important links between our two countries.

"In democracies, it's also important to be able to focus also on where we perhaps disagree, and lots of people disagree with the policies of the Trump administration.

"It's not personal, it's about policies. "Policies like pulling out of the climate change treaty, the treatment of minorities, the language about women, but also, and I think most importantly recently, the policy of separating migrant children from their parents.

"As in any relationship, it's important to have the ability to be honest as well and I think most people in America, just as most people in Scotland, would agree with that."

Seeing double

Trump baby tweets...

What can we take from President Trump's visit?

James Landale

Diplomatic correspondent

This is how it works in Trump world. The US president arrives at a party, causes a fuss, breaks some crockery, and leaves everyone stunned.

Then as the dust settles, he declares what a good time he has had, how it's all been a great success, while offering a few words of apology for the disruption caused. So it was at the Nato summit, and so it was during his visit to Britain.

Read more from James Landale here.

Sturgeon is 'tickled' by Trump reports

Nicola Sturgeon says she is a "wee bit tickled" by comments made reports that Donald Trump has been "bitching" about her to Theresa May.

Earlier this week the Huffington Post quoted a former UK government aide who said the US president "spends lots of his time bitching about Sturgeon" in phone calls to Mrs May.

Image caption: Nicola Sturgeon is the first honorary grand marshal of Glasgow Pride

Speaking after heading Scotland's largest Pride march in Glasgow, Ms Sturgeon said: "I find it hard to believe that the president of the United States with all the big important issues that he has to deal with on a daily basis, finds the time to rant about me on the telephone to Theresa May

"If it is true, I suppose I should take it as a compliment. I certainly don't spend that much time talking about him."

Organisers say 60,000 people at Edinburgh protest

Tweet from BBC Scotland's Angie Brown

Scottish Labour leader joins Edinburgh protest

Quote Message: We want to send out a message to the people of America who are watching this, to the people right across the world who are watching this that the people of Scotland do not consent to Donald Trump's visit and we stand for values of hope, common humanity and the ideal of world peace. We want a very different kind of world than the one that Donald Trump seems to envision." from Richard Leonard Leader of Scottish Labour party

Trump's UK visit in nine key moments

Donald Trump's first visit to the UK as US president has not been without its drama.

From an explosive interview with The Sun to the protests and an inflatable Trump baby, there have been some memorable moments.

Read more about how the visit panned out here.

In pictures: Trump supporters at US Embassy in London

Supporters of Donald Trump are demonstrating outside the US Embassy in London during the US president's visit to the UK.

Trump and Scotland - the story explained

Donald Trump is no stranger to protests in Scotland.

Here's a look back at the story of his business ventures in the country:

Trump waves to protestors

Handmaids spotted at Turnberry

President Trump is out on the fairway at Turnberry, and plenty of protestors have gathered on the edge of the course.

Among them are two children dressed as handmaids from Margaret Atwood's Handmaid's Tale.

First Minister Nicola Sturgeon has tweeted her pride at leading, well, Pride.

Aberdeenshire protest begins to wind down

BBC Scotland's Rebecca Curran tweets

Ruth Davidson has some advice for those marching in Glasgow and Edinburgh today:

Trump is booed as he plays golf at Turnberry

The US president has been heckled by protesters as he played golf with his son, Eric.

Mr Trump waved as protesters surrounding the perimeter of the Ayrshire golf course booed him.