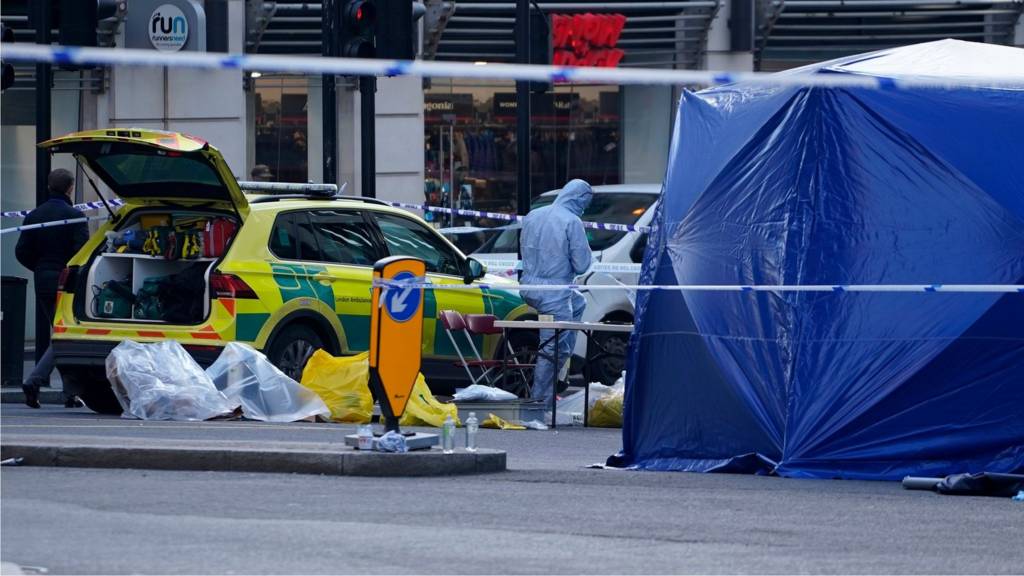 Watch: PM praises 'incredible' response

'Makes you proud'

BBC correspondent tweets:

Can prisoners be deradicalised?

Our correspondent looks at the schemes

Danny Shaw

BBC Home Affairs Correspondent

Usman Khan's murderous action raises questions about the extent to which terrorist prisoners can be deradicalised - there's been concern for some time about their participation in such schemes and whether they have any impact.

In June, there were 218 such inmates in jails across England, Scotland and Wales.

Khan was subject to probation supervision on release, one of 51 inmates with terror links let out of jail in the 12 months to the end of March 2019, so it's inevitable that the role of those monitoring him will now be scrutinised.

Questions over attacker's sentence

Danny Shaw

BBC Home Affairs Correspondent

Some of the early debate about the London Bridge attack has focused on the sentence imposed on Usman Khan.

The sentencing judge thought he should be freed from prison only when it was safe to do so, but the Court Of Appeal replaced that an indeterminate penalty (IPP) with an extended sentence, which, at the time, required his release at the halfway point of his 16-year custodial term.

Legislation now exists for the Parole Board to determine when offenders on extended sentences should be let out, but at the time of Khan's conviction it did not.

The IPP regime was scrapped in 2012 - a decision that was widely supported at the time.

Attack raises questions

Our correspondent looks at the questions in the aftermath of the attack

Danny Shaw

BBC Home Affairs Correspondent

Did the authorities pick up any warning signs about Usman Khan? Was he meeting people he shouldn't have done or plotting the attack?

If no signs were detected, why not? And if the authorities did spot concerns, what did they do?

Resources and staffing for the state-run National Probation Service may became an issue, though it's too early to draw any conclusions.

Friday's horrific attack was the second fatal stabbing at an offender rehabilitation event this month, after Hakim Sillah died at a knife awareness course in Hillingdon, west London.

It's likely to fuel concerns about safety at such venues and whether checks need to be strengthened.

London mayor pays tribute to EU citizen

Mayor of London Sadiq Khan spoke to journalists near the scene of the attack in London Bridge a short time ago.

He paid tribute to the members of the public who intervened to stop the attack, saying there were many examples of the best of humanity.

"When I say the best of us, I include EU citizens," he says.

Video footage posted online shows attacker Usman Khan being taken to the ground as a man, reportedly a Polish citizen, lunges towards him with a narwhal tusk.

"What we saw yesterday was ordinary citizens, including Londoners who are of Polish origin, who acted in an extraordinary way," the mayor continued.

Mr Khan said police have told him the incident was not very sophisticated and by a lone attacker.

London Bridge attacker had links to Cardiff

Copyright: West Midlands Police

Image caption: Usman Khan (fourth from the left), pictured with his accomplices in Roath Park, Cardiff on 7 November 2010

Usman Khan, who carried out Friday's stabbing attack at London Bridge, was a convicted terrorist with links to Cardiff.

He was convicted in 2012 after plotting with a group from Stoke-on-Trent, London and Cardiff, to attack pubs in Stoke and the London Stock Exchange.

The group met in Roath Park, in Cardiff, in November 2010, to discuss their ambitions.

A month later they met at Cwmcarn Country Park, near Caerphilly, on 12 December 2010, when the Stock Exchange bomb was discussed.

Dick: 'We saw best and worst of human kind'

Metropolitan Police commissioner Cressida Dick has said officers will be at the London Bridge crime scene "for quite some time to come".

Ms Dick visited the scene of yesterday's attack along with the City of London Police Commissioner Ian Dyson.

She told reporters: "Our teams are incredibly professional and have all the equipment and skills they need to find out exactly what happened here and indeed what led up to the events here yesterday.

"I'd like to thank people in the local area and Londoners in general for their perseverance in accepting that we must do our job properly at a scene like this.

"But we have opened roads and London Bridge station is running.

"We will of course be here for some time to come examining the crime scene.

"I also want to repeat my comments from yesterday. As well as all that horror, we witnessed the most extraordinary courage by members of the public and other police officers.

"We saw some wonderful examples of quick thinking and compassion and it is a terrible thing that people found themselves in that position.

"While we saw the worst in human kind, we also saw the very best of human spirit and of London.

"Investigation teams are working very fast. We do believe this person was acting alone and we will continue to investigate the circumstances which led to this moment."

'Members of the public spontaneously risked their lives'

While visiting the scene at London Bridge this afternoon, Prime Minister Boris Johnson talked to police chiefs and thanked volunteers who have been offering food to those at the scene.

He praised the "sheer bravery" and "spontaneous" reaction of the members of the public who wrestled with attacker Usman Khan.

He said: "I have been down to talk to the emergency services and pay tribute to their incredible response.

"They were on the scene within four minutes. I also want to pay tribute - as I'm sure the whole country does - to the sheer bravery of those members of the public who put their own lives at risk.

"I have been talking a bit about the scene and trying to understand how this man came to be in Fishmonger's Hall

"I think that the practise of automatic, early release where you cut a sentence in half and let really serious, violent offenders out early simply isn't working, and you've some very good evidence of how that isn't working, I am afraid, with this case.

He said of the London Bridge and Borough areas and London more widely: "I really hope it can be business as usual as fast as possible.

"People and business want to get on with their lives, people are out on the streets shopping and that's great.

Attack raises 'huge number of questions'

Daniel Sandford

Home Affairs Correspondent

Daniel Sandford says the attack by a convicted terrorist raises "a huge number of questions".

He says: "A lot of people were convicted in the 2000s after the 11 September 2001 of terrorist offences.

"But some of those are now coming out of prison and the key concern now is what is the appropriate way of dealing with those people?"

He says Usman Khan had taken part in counter-terrorism deradicalisation courses while in prison, and continued them after he left, but they had failed to change his mindset.

This is why, he adds, politicians are saying they want to revisit the sentences those convicted of terrorism offences get, and whether the whole system needs to be changed.

Breaking

Prime Minister wants to 'toughen up sentences'

Prime Minister Boris Johnson says he wants to "toughen up sentences" for serious and violent offences.

Speaking after visiting the scene of Friday's incident at London Bridge, Mr Johnson said people convicted of terrorism offences should not be put on early release.

Listen: This week's Any Questions?

Chris Mason

Political Correspondent

Listen back to this week's Any Questions, recorded in the hours after the attack at London Bridge.

The panellists this week include Brexit Party MEP Ben Habib, Plaid Cymru AM Delyth Jewell, Labour candidate Stephen Kinnock, and Grant Shapps for the Conservatives.

They look at the policy questions the attack raises, with presenter Chris Mason.

Attacker took part in government offender programme

London Bridge attacker Usman Khan was released on licence in December 2018.

As part of his conditions, the 28-year-old had to wear a GPS tag, the BBC has been told.

He also had to take part in the government's desistance and disengagement programme, which rehabilitates people who have been involved in terrorism.

After leaving prison, Khan initially lived at a Stafford property on the "approved premises" list.

Borough Market 'open for business'

BBC reporter Katharine Da Costa, who is at London Bridge, can see several buses and vehicles which were abandoned during yesterday's attack.

Despite the increased police presence and the public being advised to avoid the area, Borough Market is still "very much open for business" she says.

"There is a large number of tourists and visitors in the area carrying on with their normal lives."

Prisoner scheme was on BBC programme

Friday's attack started in Fishmongers' Hall, where a Cambridge University conference on prisoner rehabilitation, called Learning Together, was taking place.

The Learning Together scheme, which featured in the BBC's Law in Action programme earlier this year, allows university students and prisoners to study alongside each other.

Dr Ruth Armstrong, co-director of the scheme, said there were 25 prisons working in partnership with 24 higher education institutions across the country. She said there were nearly 600 students and inmates taking part in the scheme this year.

Breaking

Johnson to appear on Marr's show

Breaking

London Bridge attacker was wearing a tag

The London Bridge attacker - Usman Khan - was wearing a tag at the time he carried out the series of stabbings yesterday afternoon, it is confirmed.

PM and Home Secretary at scene of the attack

Home Secretary Priti Patel is also at the scene of the attack on London Bridge with Prime Minister Boris Johnson and Metropolitan Police Commissioner Dame Cressida Dick.

Convicted murderer rushed to help

Cambridge election hustings cancelled

A hustings event which was due to take place in Cambridge today with all the city's election candidates has been cancelled.

Great St Mary's Church church added that a service of remembrance will be held at midday instead.

Labour's parliamentary candidate for the city Daniel Zeichner called an immediate halt to campaigning in Cambridge and said the attack had "shocked everyone".

He added: "It seems to have been targeted on an event being held by the Institute of Criminology in the University of Cambridge, an event focused on rehabilitation.

"We do not yet know the full details, but it will clearly have had a devastating and traumatic effect on people from, in and around Cambridge, those organising the event and attending in particular.

"All our thoughts are with those who have lost their lives and have been injured, and our thanks go to the emergency services and those who intervened at considerable risk to themselves."

The Cambridge branch of the Liberal Democrats said it had also suspended campaigning.