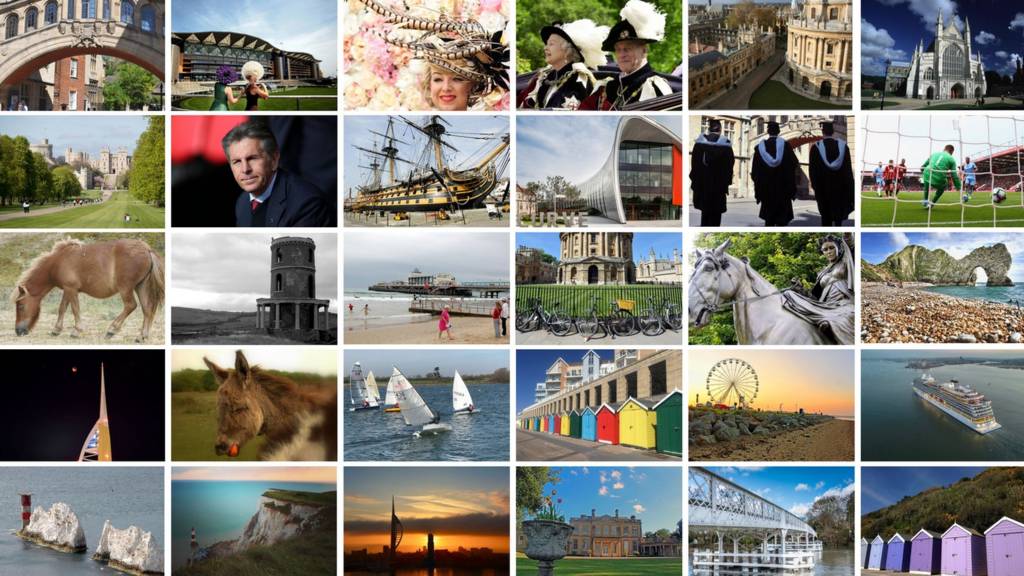 South Live: Thursday 25 May
You can get in touch by email, on our Berkshire, Oxford, Hampshire and Dorset Facebook pages or on Twitter @BBCBerkshire @BBCOxford @BBC_Hampshire and @BBCDorset.
Summary
Soldiers placed at nuclear sites in Berkshire
Three arrested in teen sex offence probe
Hunt for dashcam footage of Baby M mum
'Huge monster' wasp nests found in Basingstoke loft
Thanks for joining us today

One-minute silence in Oxford

Paul Jenner

BBC Radio Oxford

Oxford joined the rest of the country by holding a one-minute silence today.

Football: Crewe hunting Hollands' replacement after Eastleigh swoop

The Crewe Alexandra manager says he's now searching for a new midfielder after Eastleigh signed Danny Hollands from the Alex.

The ex-Bournemouth, Charlton Athletic and Portsmouth man, 31, joined Crewe on a free transfer in August.

But he's turned down a new contract with the League Two club as he still lives down in Hampshire and Eastleigh's offer was too good to turn down.

Quote Message: He's moving back close to his Portsmouth home. But that's football. It means I've got to look for another midfielder now from David Artell Crewe Alexandra manager

Drinking coffee 'could stave off liver cancer'

Increasing coffee consumption may help to stave off liver cancer, a new study from Southampton University researchers suggests.

They found that people who drink more coffee are less likely to develop hepatocellular cancer (HCC), the most common form of primary liver cancer.

Even decaffeinated coffee can have a protective effect, they found. Experts examined data from 26 studies involving more than 2.25 million participants.

Compared with people who drank no coffee, those who drank one cup had a 20% lower risk of developing HCC, according to the study, published in the journal BMJ Open. Those who consumed two cups had a 35% reduced risk and for those who drank five cups, the risk was halved.

Oxfordshire golfer Eddie Pepperell looks to future

Leigh Park teen sex probe suspects released

Three men arrested on suspicion of sex offences against three teenage girls in Hampshire have been released from custody but remain under investigation, Hampshire Constabulary has said.

The alleged offences took place in Leigh Park in Havant between Monday and the early hours of Tuesday.

Hampshire Constabulary is carrying out searches at a property on the housing estate in Park Parade.

The suspects are aged 20, 36, and 43, and are from Havant.

Man killed in motorcycle crash

A motorcyclist has died following a crash in Penwood, near Basingstoke, at about 19:30 yesterday.

Hampshire Constabulary said the 21-year-old man from Thatcham was pronounced dead at the scene on Foxs Lane.

His next-of-kin have been informed.

He was riding a Yamaha motorcycle, and Sgt Jon Bates, from the joint roads policing unit, said investigators were looking for anyone "who may have seen the collision or saw the motorcycle prior to the incident".

Two men charged with Southampton murder

Two men have been charged with the murder of Albanian man Shkelzen Dauti, who was found in a Southampton street with a stab wound to the chest.

The 21-year-old, known as Genny, died in hospital after he was found in Gilpin Close in the early hours of Saturday 11 March.

Copyright: Hampshire Constabulary

Christopher Jones, 27, of Denbigh, Denbighshire, Wales and Lee Marc Williams, 27, of Lixwm Village, Flintshire, North Wales have both been charged with murder.

They are due before Southampton magistrates tomorrow.

Renewed appeal after hit-and-run on cyclist

Police have renewed an appeal for witnesses after a man suffered serious head injuries when "deliberately" knocked down in an apparent hit-and-run.

The 30-year-old was struck by a silver Vauxhall Astra on Colewell Close in Southampton, on Monday.

The man, along with another cyclist, was followed through the Shirley Towers estate by the car, with several people inside, at about 22:00 BST.

The car is believed to have been driven on to a grassed area where it struck the cyclist then drove off.

"We believe this was a deliberate act and as such are investigating the incident as a serious assault," Hampshire Constabulary said.

The drivers of a red VW Polo and a grey Vauxhall Astra may have valuable information about what happened, it added.

Severe disruption: M25 Buckinghamshire clockwise

BBC News Travel

M25 Buckinghamshire clockwise severe disruption, between J16 for M40 and J17 for A412.

M25 Buckinghamshire - One lane blocked on M25 clockwise between J16 M40 and J17, A412 (Maple Cross), because of a broken down car. Traffic is coping well.

To report traffic and travel incidents dial 0330 123 0184 at any time

British Transport Police to patrol trains

Specialist firearms officers will patrol trains nationwide after the UK's terror threat level was raised to , British Transport Police has announced.

Chief Constable Paul Crowther said: "By having firearms officers on board trains we're ensuring that trains remain as safe as possible for passengers.

"Our patrols will be highly visible and passengers should feel comforted by their presence."

Guilty plea in Oxford murder

A man has admitted stabbing a father to death on Valentine's Day.

Domingos Ramalho, 35, from Oxford, was attacked on 14 February in Windmill Road in the Headington area of the city.

Egidio Da Silva Alves, 28, of The Slade, Oxford, has now admitted his murder.

Da Silva appeared at Oxford Crown Court earlier and was remanded in custody.

He will be sentenced on 23 June.

Family 'heartbroken' after woman's death in car crash

The family of a Berkshire woman killed in a car crash have paid tribute to a 24-year-old who "had so many dreams".

Elisha Clarke, a student from Derwent Road, Thatcham, died on 22 May following the crash on the A303 near Andover, Hampshire on 12 May.

In a statement her family said they were "heartbroken at the loss" of "lovely Elisha".

Ms Clarke had been a passenger in one of the cars. Police are still investigating the cause of the crash.

RNLI demonstrate floating survival technique

The RNLI has released its annual casualty figures for coastal areas and issued advice on what to do should you fall in water.

Sudden immersion in cold water puts people at severe risk of suffering cold water shock, which triggers the instinctive but life-threatening reaction to gasp uncontrollably and swim hard, which can quickly lead to drowning.

Instead, the charity recommends laying back in the water and floating for more than a minute.

More armed police to guard Reading v Huddersfield at Wembley

Extra armed police officers will be deployed for Reading's playoff final at Wembley on Monday, according to the Metropolitan Police.

The UK terror threat level was yesterday raised to 'critical' following the bomb attack in Manchester.

Indy Almroth-Wright

BBC South

A vicar in Portsmouth has created a cathedral-like space in his garden shed.

The Very Reverend Julian Kent started converting his shed into a place of worship five years ago.

It's been kitted out with statues, pews and even an organ and it's been nominated for Shed of the Year.