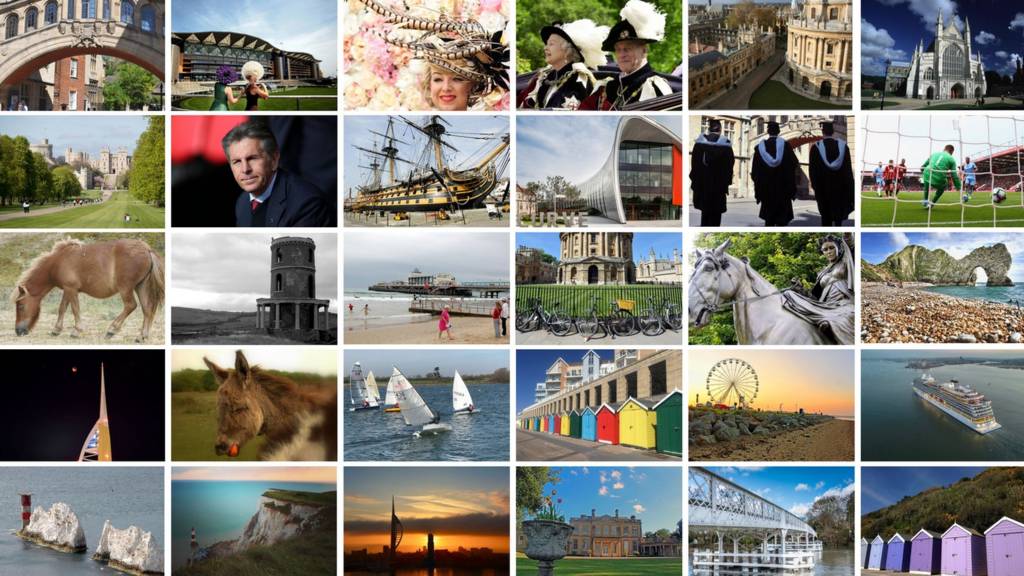 South Live: Friday 2 June
You can get in touch by email, on our Berkshire, Oxford, Hampshire and Dorset Facebook pages or on Twitter @BBCBerkshire @BBCOxford @BBC_Hampshire and @BBCDorset.
Summary
Man suffers 'possible neck injury' as car flips on M27 near Portsmouth
New calls about girl's arson death in Reading in 1997
Motorsport fans celebrate 40th anniversary of Oxfordshire's F1 team Williams
Dorset Blind Association receives Queen's Award for Voluntary Service
Updates from Friday 2 June
Oxford professor: Africa's newborn twins at risk

One in five children born as a twin in sub-Saharan Africa dies before their fifth birthday, research has found.

Copyright: Science Photo Library

The Lancet Infectious Diseases study is the first to analyse death rates among twins in the region.

The report suggests improvements in survival for twins is lagging far behind other children.

The death rate among single-born children aged under-five halved between 1995 and 2014. For twins, the rate came down by a third.

Co-author, Prof Christiaan Monden from Oxford University, said: "So far, the poor fate of twins has gone largely unnoticed."

LIVE: Election debate in Oxford West and Abingdon

Hunt for missing 15-year-old from Fareham

Marcus Alderson, 15, was last seen in The Avenue area of Fareham at 10:20 on Friday.

Hampshire police say they are concerned for his welfare and have urged anyone who knows where he is to contact police immediately.

Copyright: Hampshire Constabulary

He is white, about 5ft 9ins tall, of medium build, with short black hair and small eyes. He was last seen wearing a grey/green polo shirt, black jeans, and black trainers with white soles.

Marcus has links to Portsmouth, New Milton in the New Forest, and the Isle of Wight, and is believed to have recently travelled through Petersfield.

Severe accident: A2030 Hampshire southbound

BBC News Travel

A2030 Hampshire southbound severe accident, at Burrfields Road.

A2030 Hampshire - A2030 Eastern Road in Portsmouth closed and slow traffic southbound at the Burrfields Road junction, because of an accident involving bike and van.

To report traffic and travel incidents dial 0330 123 0184 at any time

David Cameron puts his feet up for wedding anniversary

While the election campaign rages at home, the former prime minister and Witney MP David Cameron and his wife were enjoying a holiday in Andalusia, Spain.

Mrs Cameron posted the picture on her Instagram account on Thursday to mark their 21st wedding anniversary.

Copyright: INSTAGRAM @SAMMACAMERON

Knife-point taxi driver robbery linked to two others

Between 12:30 and 01:00 on Sunday a 46-year-old man picked up a man and a woman in his taxi from the rank opposite Ye Harte Garter on Thames Street in Windsor.

They entered the taxi and asked to go to St Mary's Road in Slough.

The driver was asked to stop at the Chestnuts pub in Langley and he turned the taxi around in the car park and asked for the fare.

The male passenger grabbed the driver and put him in a headlock. He then shouted at him demanding money, and threatened him with what is believed to be a knife.

The woman then jumped onto the front seat of the taxi, and searched the front of the vehicle. She took the victim's money bag which contained a quantity of cash.

Both offenders then exited the taxi and ran down an alleyway close to the Chestnuts pub.

The woman is described as Asian, around 25-to-30-years-old, with a slim build and dark eyes. She was wearing a black head scarf and full plain black dress. She was also wearing light grey trainers with white soles.

The second offender is described as an Asian man, around 25-years-old and 5ft 10. He has a slim build, straight black hair and was wearing a light grey jumper, possibly a sports top.

The terminally ill woman ringing bells in Dorset's abbeys and minsters this weekend

Election board - what is the point?

Old Gaffers return to Yarmouth

Travel update: Congestion easing on M4 after accident

Over 300 volunteers in Dorset recognised for their hard work by the Queen

The Dorset Blind Association has been given the Queen's Award for Voluntary Service. The charity was chosen from more than 500 other nominees.

Bernie Sanders at Oxford Union: Trump 'stupid' for climate deal withdrawal

Donald Trump's withdrawal of the US from the Paris Agreement was "stupid, short-sighted and foolhardy", former presidential hopeful Bernie Sanders has said.

The former Democratic contender for the White House accused the American president of making a "backwards decision", during a speech to Oxford students attending the launch of his new book.

The politician told the Oxford Union: "Yesterday, President Trump did something which I think is incredibly stupid, short-sighted and foolhardy."

"It was an incredibly backwards decision which will hurt the United States and hurt the whole world.

Mr Sanders was introduced by his older brother Larry Sanders, who is contesting the Labour-held Oxford East seat for the Green Party on June 8, and was warmly welcomed with rapturous applause from the crowd.

Hampshire steadily accumulate

Hampshire 202-3 v Warwickshire

Clive Eakin

BBC Coventry & Warwickshire Sport at Ageas Bowl

Hampshire got through the middle session at Southampton without losing a wicket as Warwickshire's bowlers struggled to get life out of a slow pitch since taking three wickets in the first hour.

The batsmen have looked comfortable although timing shots hasn't always been easy with the ball not coming onto the bat.

Sean Ervine has been impressively productive under the circumstances, reaching his first century of the season.

Warwickshire are missing Jeetan Patel, who's with New Zealand's Champions Trophy squad. That leaves Sunny Singh as their main spinner with Andrew Umeed and even Rikki Clarke offering support.

Motorist killed pedestrian after being advised not to drive

An elderly driver who killed a pedestrian after being repeatedly advised by her GP not to drive has been handed a suspended sentence.

June Cox, 80, admitted causing death by careless driving after the fatal crash involving an 83-year-old woman in the Northbourne area of Bournemouth in November.

Cox, who was not injured in the crash, was handed a four-month sentence, suspended for 18 months and banned from driving for five years.

Travel update: Queues on M4 after accident

There is queuing traffic and two lanes closed due to an accident on the M4 westbound between junction 5 for the A4 at Langley and junction 6 at the A355 for Slough and Windsor.

Have you changed who you intend to vote for?

We've asked members of the BBC's election panel in the south if their voting intentions have changed over the course of the campaign so far.

These are the responses they gave us:

"No. I've always known I will vote Conservative. Theresa May is the only leader who will get a good Brexit deal."

Roger, Bournemouth

"I always used to vote Lib Dem but since they joined with the Tories last time, I am now voting Labour."

Mickie, Dorchester

"No, I still believe Theresa May is the best person to be prime minister and will get the best Brexit deal. Conservatives may be squeezing everyone's finances at the moment but Labour give away too much of taxpayers money to the wrong people and have not come up with any plausible ways of funding their ideas."

Alison, Southampton

"I'm leaning towards Labour more, the Conservatives are becoming more and more off-putting."

Mike, Southampton

"It hasn't as I am a long-term Conservative party supporter and believe aspiration is crucial to life."

Dave, Portsmouth

Reading Abbey exhibition opens this weekend

The Reading Abbey Quarter: Then and Now exhibition officially launches tomorrow, telling the story of the site from prehistory to the present day via artwork and artefacts.

Copyright: Reading Museum

It was founded by Henry I in 1121, but following the dissolution of the monasteries in 1539 only two complete buildings remain.

Sarah Hacker, Reading Borough Council's lead member for culture, who is opening the exhibition alongside Mayor Rose Williams, called it a "fascinating new exhibition illustrating the immensely rich history of the Abbey Quarter".

She added: "This is just a small part of the overall works to regenerate, what was the heart of Reading and I would like to encourage residents to visit the exhibition when they have an opportunity to realise such an important part of the heritage of the town."

Moped riders snatch bag and knock off cyclist in Reading

Police are appealing for witnesses after an attempted robbery in Reading.

At about 18:30 on Tuesday a 50-year-old woman was cycling on Redlands Road with her bag in the front basket of her bike, secured with a bungee cord.

Between the junctions with Allcroft Road and London Road, two people on a black moped drove close to her and snatched her bag, causing her to fall from her bike.

They left on the moped in the direction of London Road and the woman sustained injuries to her face, hips and hands, and was assisted at the scene by passers-by.

She was taken to Royal Berkshire Hospital for treatment and has since been discharged.

The moped driver was wearing dark-coloured clothing with long sleeves and long trousers, which was possibly a tracksuit, and a black helmet. The passenger was wearing similar clothing.