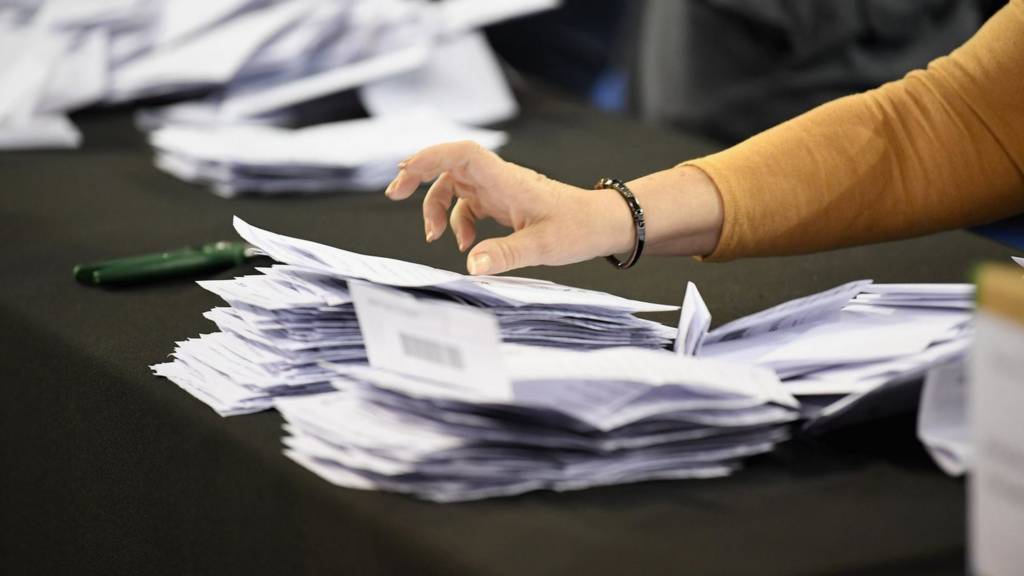 General election 2017: First shock came late on in Staffordshire

Well, for those of you waking up, it hadn't been a night of any upsets in Staffordshire or the south part of Cheshire until after 05:00.

We saw plenty of MPs holding their seats, some with increased or decreased majorities.

But then, after 05:00, came the first big shock - when Conservative Jack Brereton took the Stoke-on-Trent South seat from Labour.

We are still waiting on two more seats where the races are tight and ballots are being recounted - Crewe and Nantwich and Newcastle-under-Lyme.

Follow our election coverage throughout Friday

Stoke-on-Trent Central: Labour hold

Dudley North: Counting restarts

There's just 23 votes in it for the Dudley North seat, counting is back underway.

Shropshire North: Conservative hold

BBC forecasts hung parliament

Stoke-on-Trent North: Labour hold

Halesowen: Conservative hold

Newcastle-under-Lyme: Result expected soon after recounts

We could be getting a result in Newcastle-under-Lyme soon.

And there are some very tired-looking counters there after two recounts.

Ludlow: Conservative hold

Crewe and Nantwich: Third full recount with margin less than 50 votes

We're onto a third full recount in the Crewe and Nantwich constituency with the returning officer reporting the margin appears to be less than 50 votes.

Stoke-on-Trent South: Narrow victory for Conservatives

Conservative Jack Brereton has taken Stoke-on-Trent South from Labour with a majority of just 663.

He defeated Rob Flello, who held the seat since 2005.

Stoke-on-Trent South has returned Labour MPs since well before 1945.

Warwick and Leamington: Labour's Matt Western 'exhausted' after win

Labour's Matt Western has spoken of his exhaustion from the campaign after taking the Warwick and Leamington seat from Tory Chris White with a majority of 1,206.

Matt Western said after the count: "I'm so exhausted, five weeks ago I was standing in this hall and it was the county council elections and I was re-elected after a very tough fight.

He said: "But tonight is a different matter. The numbers are just beginning to sink in. It is an extraordinary, astonishing result," adding it represented an increase of about a 40% in Labour's vote over two years.

He believed it was mainly due to the voters "disillusionment" with the Tory government and belief in Labour's manifesto.

Herefordshire North: Conservative hold

New bride has election 'baptism of fire'

Mark Pritchard who held onto The Wrekin for the Conservatives got married during the campaign. His wife did not get the honeymoon she expected.

First female Sikh to be elected

Eddisbury: Conservative hold

Labour cheers after Warwick win

Matt Western for Labour takes the seat from Chris White who held a 6,606 majority in 2015.