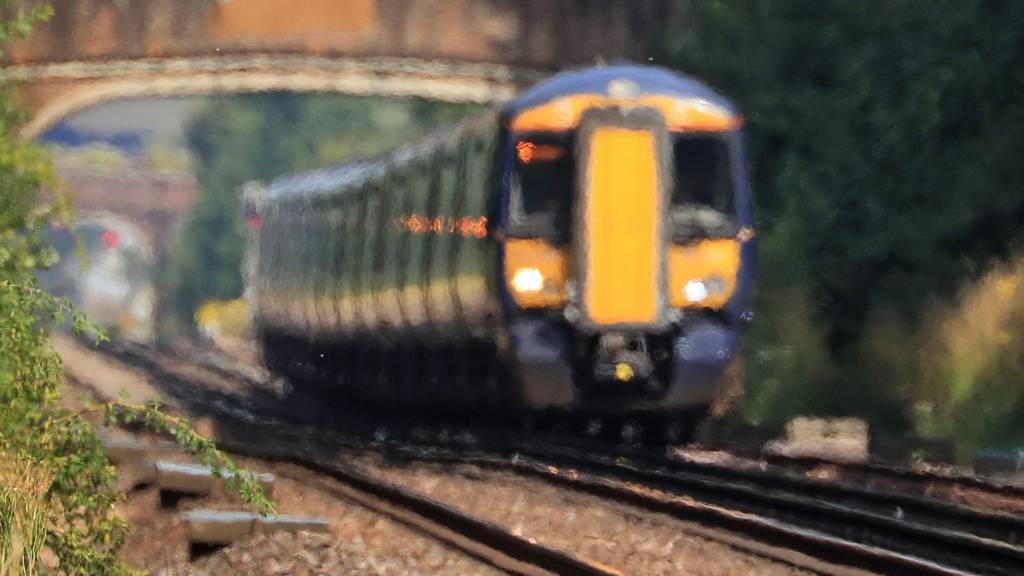 UK heatwave: As it happened
Jennifer Meierhans

BBC News Online

That's the end of our live coverage of today's heatwave.

It did not quite reach the expected record-breaking 39C but at a high of 38.1C in Cambridge, it certainly felt hot enough for many and was a record for July.

The heat caused widespread disruption on the trains - you can see the latest from National Rail here.

Thank you for all the pictures of you, your families and pets enjoying or enduring the heat.

To finish, here is Ezra chilling in Rutland and Erin in Kent being lovingly protected from the sun's rays by her thoughtful friends and family.

Electric wire 'snaps and hits train'

Adam Bruce said he was on a train outside St Pancras when an overhead cable snapped and hit the carriage.

"It banged along the side of the train then we came to a halt in the tunnel," he said.

"[We were] stuck in there for many hours with very little air conditioning.

"Eventually the train was evacuated. No windows were broken thankfully and nobody hurt."

Network Rail said that "damage to the overhead electric wires between Luton and London St Pancras International is resulting in all lines being blocked".

Major disruption continues on trains

Major disruption is continuing on the trains.

National Rail is reporting problems until the end of the day including:

Is it OK to take my USB fan on the bus?

Earlier we showed you the ingenious way one Southampton bus traveller was keeping cool on his way to work.

But before you rush out to do the same, we thought we'd share the official advice of Stef's bus operator.

Quote Message: We appreciate the need for everyone to stay as cool as possible in this extremely hot weather and this is incredibly resourceful thinking from one of our customers. However, these USB ports are designed for charging mobiles and tablets, so we suggest not plugging in anything too big. from Richard Tyldsley General Manager, Bluestar

Shamaan Freeman-Powell

BBC News

Meanwhile, in the park...

Although the heat is causing misery for many people on trains, elsewhere across the country people have been enjoying the weather.

The Sidor family from Southampton spent a day in the sun in their local park.

Miroslav Sidor sent us this picture showing a relaxing day with his wife Darja, daughter Sofia and dog Gucci.

Copyright: Miroslav Sidor

Overhead line damage hits East Coast mainline

Passengers are reporting chaos on the East Coast mainline and National Rail says it's because overhead wires have been damaged just north of Peterborough station.

Major disruption is expected to trains on the line until the end of service.

Great Northern and Thameslink services will be cancelled or amended to not run between Huntingdon and Peterborough
LNER services are currently suspended to and from London Kings Cross
East Midlands Trains and CrossCountry services will be delayed by up to 20 minutes
Hull Trains services will run between Doncaster and Hull only
Customers are advised not to travel between London and Doncaster
Grand Central will be delayed, cancelled or revised with no trains at London Kings Cross

Train evacuated and ambulances arrive

Zoe Greenfield was travelling from London King's Cross to Glasgow when the train stopped outside Peterborough due to a line failure

The train was evacuated and Ms Greenfield saw five ambulances and several people taken ill.

She said passengers were in good spirits but the heat was "unbelievable".

There was an "excellent response from train staff who were clearly under a lot of strain," she added.

Temperatures start to drop

The Met Office says it's "unlikely" the UK's all-time heat record will be broken today as temperatures have started to drop.

It reached 38.1C at Cambridge at about 16:00, 0.4C less than the current record of 38.5C set in 2003.

Eurotunnel hit by long delays

Eurotunnel journeys have been hit with delays of up to two-and-a-half hours after earlier cancellations.

Roger Piepenstock, from Hitchin in Hertfordshire, tweeted this picture.

"Eurotunnel booked for 3:30pm, it's now looking like we'll leave at 7pm," he said.

"A lady collapsed with the heat and it took 30 mins for an ambulance to come.

"The terminal was completely overcrowded."

A statement on Eurotunnel's website said: "In these exceptionally hot conditions, we remind our customers that toilet facilities, free wifi and air conditioning are available in our passenger buildings"

Did I hear you ask for more dogs? 🐕

Duncan Leatherdale

BBC News Online

Go on then, here is one last update of some dogs, starting with Spud from Solihull.

Lewis Murch said his dog Rocky has not left this spot in front of the fan all day.

And this dog in Broughton, Hampshire, has taken to wearing a wet cloth to try and cool down.

Train problems 'could last until weekend'

Severe disruption on the railways caused by "extremely high" temperatures could affect services on Friday, the Rail Delivery Group (RDG) has warned.

The RDG, which represents train operators and Network Rail, said there was "severe disruption" across the country but particularly around London and the South East of England.

Director Robert Nisbet said the heat was affecting metal track and overhead cables, with 20 out of 26 operators impacted.

He said: "We believe there could be roll-on impacts tomorrow, because many of the trains will be in the wrong places, many of the rail staff will be in the wrong places and it will take time to re-set, to stabilise the timetable again.

"We could see disruption up until the weekend."

Heat hits 40.5C in BBC edit truck

And this, ladies and gentleman is why you don't leave pets in cars. At least Lucy can keep the door open...

Is this a perfect commuter #lifehack?

Redditors have been sharing some fairly ingenuous ways to keep cool during this hot weather.

Stef Miernik shared this idea of using a USB powered fan on the bus.

Quote Message: I saw the USB ports on the bus and thought instead of charging my phone, I could plug my fan in here. I gave it a go and it worked. I also noticed that I could hook the stand over the back of the seat if no one was using it. from Stef Miernik Life-hacker

Before you rush to plug in other USB powered devices, it's best to check with the bus driver first.

Dion Dublin caught in Euston chaos

Footballer turned presenter Dion Dublin tweeted this picture of crowds waiting for delayed trains at London Euston.

Things are looking up for Sarah...

Sarah Wyatt was all hot and bothered earlier going up and down ladders and crawling to reach boxes in the archives at the National Motor Museum at Beaulieu in the New Forest.

She's since picked a better task for the conditions. Stay cool Sarah.