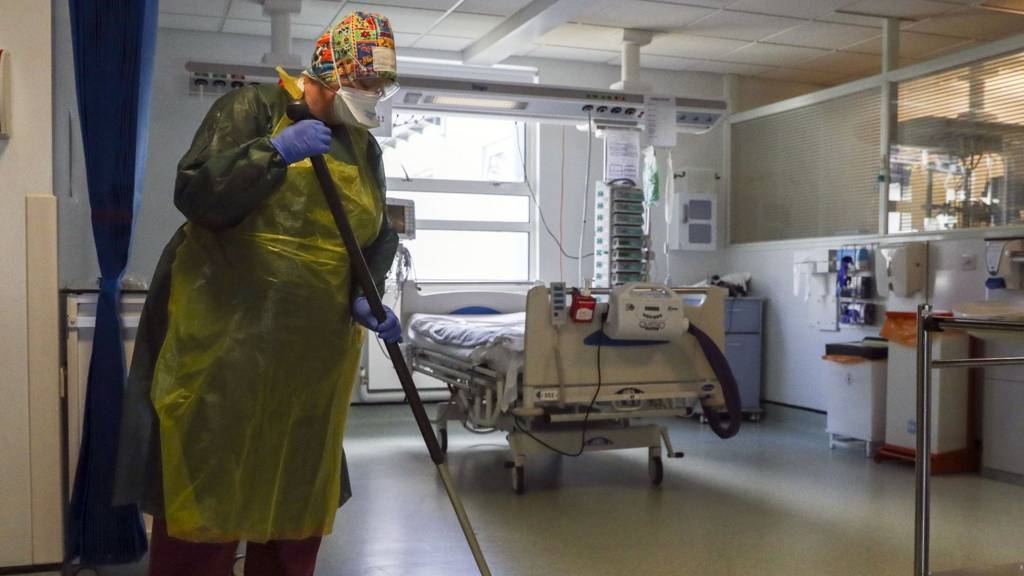 Coronavirus in England: Latest updates
That's it for our updates on the coronavirus pandemic in England today.

We'll be back at 07:30 BST on Friday bringing you the latest from across the country.

Don't forget to head to your doorstep/window for the final Clap for Carers at 20:00 BST.

Thanks for your company and have a good evening.

Police officer spat at in 'repulsive' attack

A police officer was subjected to a "repulsive" attack when someone spat at him and ripped his face mask off.

Craig O'Leary, chairman of the Thames Valley Police Federation, said the attack was just one of the "horrific Covid-19-related assaults" on officers.

Mr O'Leary has called for a "harsher line on sentencing" for people who assault emergency workers.

The BBC previously reported 50 assaults on police in the Thames Valley area during the coronavirus pandemic.

Figures show there were a total of 198 assaults on officers between March and April, an increase of 40 for the same period in 2019.

Chief Constable John Campbell said attacks on his staff were "despicable".

Oxford Street to get cycle lanes and wider pavements

Cycle lanes and wider pavements will be installed in London's Oxford Street following the coronavirus outbreak, it has emerged.

Regent Street and Piccadilly Circus will also give road space to shoppers to help with social distancing measures, Westminster Council said.

The temporary measures will also see streets around Covent Garden shut off to vehicles.

"Oxford Street, Regent Street and Piccadilly will, from this weekend, see measures to widen pavements, change traffic lanes into pedestrian walkways, install signage and guidance on social distancing as well as establishing pop up cycle lanes," a council spokesman said.

Tamar Bridge and Torpoint Ferry tolls restart on Monday

Drivers will have to start paying to cross the River Tamar from Cornwall to Devon again from Monday.

Tolls were suspended at the start of the Covid-19 lockdown, but as restrictions continue to be eased, bosses said it was time to begin charging again from 1 June.

Contactless cards can be used on the bridge but not yet on the Torpoint Ferry.

Drivers who have to use cash are asked to have the right amount to hand so as to minimise contact with staff.

Newcastle Airport announces flights will return

Scheduled flights are to resume from Newcastle Airport from 1 June, it has announced.

To help this, there will be a number of measures to provide a safe environment for passengers and staff.

These include social distancing, face masks worn in the terminal, an intensive cleaning regime, and there will be no shops or restaurants open.

Copyright: Newcastle International Airport

Initially, there will be Loganair flights to Aberdeen and KLM flights to Amsterdam, and in the second half of the month Easyjet flights to Belfast and Air France to Paris.

Further routes are scheduled to begin operating throughout July and August.

Deputy mayor investigated over lockdown gathering

Copyright: Liverpool Echo/Instagram

Lynnie Hinnigan "voluntarily and temporarily" steps down while footage of a birthday gathering is investigated.

Foundation year doctor describes life on the frontline

Copyright: Barts Health NHS Trust

A foundation year doctor at Royal London Hospital has been describing what it has been like to work on the front line during the pandemic.

Alex, who was trained at St Barts and the London medical school, said it had been "a challenge adapting to all the changes that Covid-19 has brought".

"I have seen how incredibly difficult it can be for our patients who are not allowed the usual comfort of visitors, even at the end of life."

However, he added it had been "fascinating" to be on the front line during the pandemic and he had "learnt so much", particularly given it is his first year as a doctor .

"I have seen our collective knowledge of Covid-19 evolve so rapidly. Which has in turn, guided ongoing improvements in care, week by week."

Lineker: Football's coming back

Dan Roan

BBC Sports editor

More on the news that the Premier League season is set to restart on 17 June with Aston Villa v Sheffield United and Manchester City v Arsenal.

A full round of fixtures would then be played on the weekend of 19-21 June.

There are 92 matches still to play, and the first to take place will be those the four teams involved have in hand.

Match of the Day presenter Gary Lineker is one of a large number of people who are excited about the return of English football's top flight.

Clubs are still discussing the plan to resume play at a meeting which will conclude later on Thursday but it is understood all have agreed in principle at this stage.

The Premier League was suspended on 13 March because of the pandemic and it will be 100 days after Leicester City's 4-0 win over Aston Villa on 9 March that competition will resume, with games now behind closed doors.

Closure order placed on 'street rave' house

A house in Peterborough has been shut to anyone who doesn't live there, after about 300 people gathered there for a street rave on Monday night.

Copyright: Cambridgeshire Police

Cambridgeshire Police issued a 48-hour closure notice on the property in Sheepwalk, Paston, on Wednesday, meaning only the legal occupants can enter until Friday evening.

The force said it would apply to magistrates on Friday for a full closure order to be granted, which could prohibit access to everyone, including the current occupants, for a period of up to three months.

The notice states "there are reasonable grounds" to suspect the premises could be the scene of "parties, disorder and drug-dealing".

Insp Ian Lombardo said: "There is a line between organising community events to build morale in this challenging time and the events of Monday night. This was very clearly not acceptable and caused significant concern to local residents and put a strain on police resources."

My new skill as a contact tracer

Rory Cellan-Jones

Technology correspondent

It could be the most important job of our times. And now, after receiving a 95% pass rate in my final exam, I can proudly say, I am a qualified contact tracer.

What is not clear is just how well trained most of the people undertaking this vital task in the UK will be.

A contact tracer does the detective work of calling up people known to be infected with a disease and working out where they have been in recent days and who they might have met.

The idea is then to track down those with whom they have been in close proximity and tell them to go into quarantine. Read about my contact tracing training here.

Metro driver says trains are 'eerily quiet'

A driver on the Tyne and Wear Metro has described working during lockdown as "very strange", and paid tribute to key workers who have to rely on public transport.

The network recently received a second government bailout to keep it running while passenger numbers are low due to coronavirus.

Craig Pearson, who has been driving trains for seven years, said the past few weeks had been "challenging but also rewarding because I feel like I am playing my part in helping the country at a time of crisis".

The 37-year-old, from Gateshead, said: "There are many NHS staff and other essential workers relying on the Metro... we get a lot of supermarket workers still travelling too."

However, with people being told only to travel when it is essential, he described it as "eerily quiet".

"It's a strange thing for us to see."

How will contact tracing app work?

The government hopes a free NHS smartphone app will work in tandem with manual tracing which launched today.

The app was originally due to be rolled out nationwide in mid-May, but ministers now say it will be ready ''in the coming weeks''.

Everyone with a smartphone will be asked to download the app, which will run in the background of their phone, provided Bluetooth is switched on.

If a user develops coronavirus symptoms, it is up to them to let the app inform the NHS.

That message may trigger an anonymous alert to other users with whom they recently had significant contact, potentially asking them to go into quarantine or be tested. You can read more here.

Eid street prayers a 'serious lockdown breach'

A gathering of worshippers on a street to observe prayers during Eid was a "serious breach" of lockdown measures, a council has said.

Footage of the gathering shared online showed a group of men praying in Whalley Range, Blackburn, on Sunday.

Blackburn with Darwen Council's Sayyed Osman said "no permission" was given for such a gathering.

The council is working with Lancashire Police to "take action" against organisers, who have not commented.

Three Charlton players choose not to train

Image caption: Lee Bowyer's Charlton are in the Championship relegation zone

Charlton Athletic manager Lee Bowyer says three players have not returned to training with the rest of the squad because of the coronavirus pandemic.

Several Championship clubs have been back in training since Monday, although there is no confirmed restart date for the 2019-20 season.

Bowyer spoke to BBC Radio 5live before the English Football League published results of the latest round of testing.

Three people, including two players from Fulham, tested positive from a total of 1,030 tests carried out.

Those tests were conducted between Monday and Wednesday, with tests last week returning two positive results from a total of 1,014 carried out - both of them at Hull City.

Bowyer said: "I met the players on Saturday before we'd done our first test and I asked them all individually 'it's your choice, do you want to come back and play the remainder of the season?'

"All but three have said yes, so that's a good number for me."

Eight ways school is changing

Some schools in England are due to reopen from 1 June.

Exact rules will vary, but head teachers have been working out how best to minimise risks for pupils, staff and parents.

Plans include keeping classroom doors and windows open to encourage air flow, and introducing one-way systems around school buildings.

Here are eight other things that could look different when children return.

Spitfire to fly for Clap for Carers

Katy Lewis

BBC News Online

A Spitfire fighter plane from World War Two is due to fly over south Cambridgeshire tonight as part of the weekly Clap for Carers event.

Clap for Carers - which originally began as a one-off to support NHS staff - has taken place every Thursday at 20:00 for the past 10 weeks of lockdown.

Tonight's, however, could be the last as Annemarie Plas, who is credited with starting the nationwide applause, said it has "had its moment" and should end.

The first event on 26 March, three days after the UK went into lockdown, proved very popular, and it was eventually expanded to cover all key workers and has continued every week, with people peering out of their windows or standing on their doorsteps to show their appreciation by clapping, cheering, banging saucepans and playing instruments.

Swedish firm donates masks to health visitors

A Swedish paper manufacturer has donated 300 safety visors to Redcar and Cleveland Borough Council to support health visitors and school nurses going into families' homes.

The face shields have been donated by Andrew Robinson, originally from Redcar but who is managing director at Oppboga Bruk. Mr Robinson's sister, Vicky, is a health visitor working with families and when her brother heard she and colleagues were on the front line, he arranged the donation.

Copyright: Redcar and Cleveland Borough Council

Alison Barnes, cabinet member for children, said: "We can't thank Oppboga Bruk enough. It's made a real difference to our front-line workers as these face shields are helping make sure everyone is safe.

"I would also like to thank all our wonderful staff out there who have been doing all they can, right through the lockdown, to keep our babies, children and young people safe, healthy and protected."

What a post-lockdown pub could look like

Perspex table dividers, one-way systems and social distancing are likely to be part of pub life.

The Betsey Wynne near Milton Keynes has shown how things could look with a trial service with furloughed staff and their families.