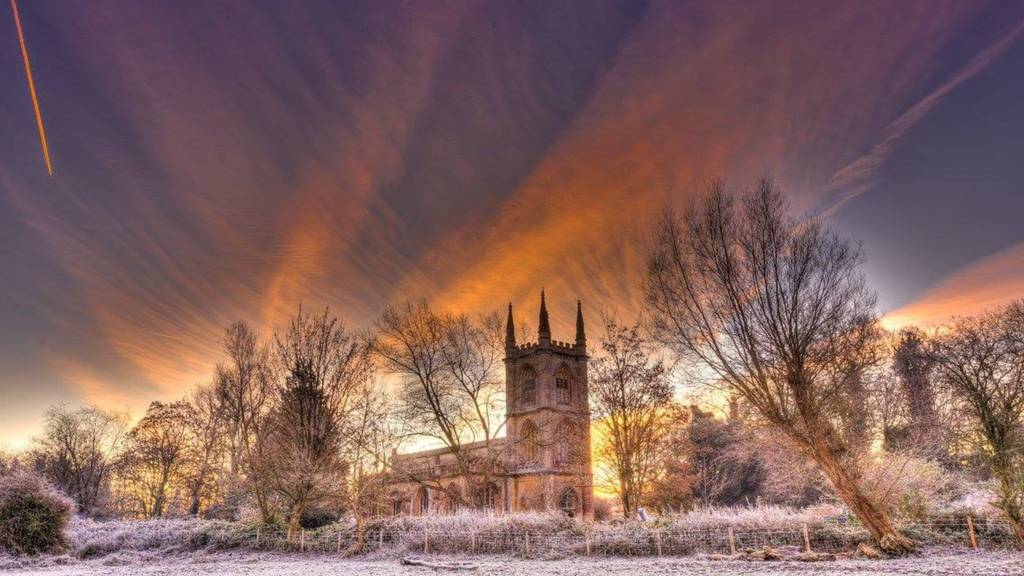 Berkshire live: Tuesday 21 February
You can get in touch by email, on our Facebook page or on Twitter @BBCBerkshire.
Take a walk with the wolves

The UK Wolf Conservation Trust, based in Beenham near Reading has opened its doors to the public.

It is the only wolf conservation in the UK and offers opportunities to walk with wolves and learn more about them.

Tzar Palmer, Director and Founder of the UK Wolf Conservation Trust said:

"We are open every Wednesday so people can turn up without making an appointment which is great.

"We're lucky enough to have very knowledgeable volunteers who can give groups or individuals tours around.

"Nowhere else in the UK offers this and so we get a lot of veterinary students and it is a hugely interesting and unique place."

Hare Hatch Sheeplands businesses lose High Court battle

A garden centre that has been the focus of a long-running planning dispute has lost its High Court battle.

Hare Hatch Sheeplands (HHS), near Twyford, had been fighting enforcement action for four years for its use of green belt land.

Wokingham Borough Council said the centre had failed to rectify a list of planning breaches.

The authority first issued an enforcement notice in 2012 after the centre expanded its business into buildings that were on green belt land.  

Owner Rob Scott said he had launched an appeal after the council refused to consider two planning applications.

But after a lengthy battle, a High Court judge ruled on Monday that retailers and others occupying the land in breach of planning control have until May 1, to move on.  

Huddersfield v Reading: Match facts

Here are a few keys stats ahead of tonight's match between Huddersfield and Reading:

Huddersfield have won their past two home league games against Reading, netting three goals in both matches.
Reading conceded two or more goals in each of their four meetings with Huddersfield in all competitions last season, but secured a 1-0 victory in the reverse fixture this term.
Huddersfield have won 10 of their past 12 Championship contests (D1 L1), scoring two or more goals in each of the last five.
The Royals are unbeaten in six league games since losing consecutive matches against QPR and Derby (W4 D2).
Since David Wagner took charge in November 2015, only three Championship teams (Brighton 123, Sheff Wed 108, & Leeds 98) have won more points than Huddersfield (97).

Appeal after attempted distraction burglary

Police are appealing for witnesses after an attempted distraction burglary in Reading. 

At around 5pm on Monday, February 13, an offender knocked on the door of a house in Coldicutt Street, Caversham and said he was there to read the water meter. 

The offender gained entry to the kitchen and then left shortly afterwards.

No items were stolen.

The offender is a white man in his late twenties to early thirties, he was around 5ft 9ins tall of a medium build with short dark hair. 

He was wearing a fleece top with zip up neck, cargo style trousers and steel toe cap work boots.

Which Hollywood flick is being filmed in Slough?

It's home to more than 160,000 people and boasts a chocolate factory and a stuffed dog on the station platform.  

No - unfortunately the cast of The Office are not reuniting.

But one of the biggest movie franchises of the moment is rumoured to be filming in Slough.

Apparently bosses at a Slough business park have been sent a letter saying filming will take place there on Thursday for the latest instalment in the Jurassic Park series.

And according to the letter published on Jurassic Outpost, another 11 days of filming are set to take place there before the end of June.

Can Maidenhead stop the stumble?

Jack Winstanley

BBC Berkshire Sport Reporter

Maidenhead United will return to the top of the National League South table tonight if they avoid defeat when they face Eastbourne Borough at York Road.

They go into tonight's match second in the table by virtue of an inferior goal difference to leaders Ebbsfleet, who have won their last seven league games in a row.

In the same time frame Maidenhead have only won three, drawn two, and lost two as their lead at the top has been eroded.

Win, and they'll go three points clear, but any breathing space over the chasing pack would be welcomed by the Maidenhead fans right now.

Boy is spied on through hole in toilet

A 13-year-old boy was spied on in a toilet cubicle in House of Fraser, Reading.

The suspected incident of voyeurism happened at about 5.30pm on Thursday 19 January this year. 

The boy suspected someone might be watching him through a hole in the wall to the neighbouring cubicle.

The victim then saw a man looking through the hole, police said.

The man is described as white, about 30-years-old, bald with curly hair on the sides which was dark-coloured, of average build, with blue eyes and shorter than 5ft 10ins.

Less than 24 hours to apply for Reading half marathon

What the Russians gave to Tilehurst

Girl 'tried to put out car fire' and needed oxygen therapy

A 'brave teenage girl suffered an asthma attack' after attempting to tackle a rampant car fire on Monday, the Reading Chronicle reports.

Royal Berkshire Fire and Rescue Service confirmed a crew was called out around 18:00 to Don Close in Tilehurst, where a small vehicle was on fire. 

Caversham Road Fire station attended and provided oxygen therapy at the scene, before handing over treatment to South Central Ambulance Services.

Five arrests after Heathrow protest

Five people have been arrested on suspicion of obstructing a highway following protests at Heathrow Airport, police have said. 

The disruption caused widespread delays, as traffic was diverted to the outbound tunnel at the airport.

A spokesman for the Rising Up campaign group said it was protesting against the impact a proposed third runway could have on climate change and the local area.

A Heathrow Airport spokesman said: "Heathrow supports the right to peaceful protest within the law, but the safety and security of our passengers, aircraft and colleagues together with the smooth running of the operation is paramount."  

Frank Bruno to come to Reading for University Mental Health day

Huddersfield v Reading: Analysis

Tim Dellor

BBC Berkshire sport editor

Reading and Huddersfield are two clubs who've never been far apart in the last couple of seasons.

Last season Huddersfield finished a point and two places worse off in the Championship table. Going into this game, Huddersfield are a point and a place better off than Reading.

They even met in the FA Cup last season, as well, and that was eventually settled in a replay. Last season was a struggle for both sides, but it has been a very different story this time round.

Whichever team wins will be third in the table after the game. Neither team has given up on automatic promotion, and both would need a dramatic capitulation in form to miss out on a play-off spot now.

Don't be surprised if these teams meet again in May, either in a play-off semi-final, or even at Wembley on 29 May.

Read a full preview here. 

Gusts of 60mph to hit the south on Thursday

Although southern England is expected to miss the worst of Storm Doris on Thursday, strong winds are still forecast. 

Heathrow tunnel reopens after protests

This morning's headlines: Heathrow protest, hospital plans and bereaved mum's plea

Sue Kinnear

BBC Radio Berkshire newsreader

A protest demonstration in one of the inbound tunnels to Heathrow Airport this morning is causing delays for passengers travelling to the airport.
Hospital closures and downgrading A & E facilities are in almost two thirds of local plans to reshape NHS services
A mother is raising money to buy a cuddle cot, to help other bereaved parents in West Berkshire. The cribs allow babies to be brought home after they've died, so family members can spend a little time with them.

Known for long tailbacks, there have also been a number of high profile fatal crashes on the A34 between Winchester to Bicester recently.  

BBC South would like to know what questions you have about the 62-mile route.

Click here to find out more. 

Allow extra time to get to Heathrow today, advises airport

Actions of Heathrow protesters 'selfish'

Responding to the actions of protesters at Heathrow today, a Back Heathrow spokesperson said:

"The actions of these protestors are selfish, short-sighted and counter-productive. Most local communities living near Heathrow support expansion and passengers simply want to be able to use the airport in peace.

"This pointless protest will merely aggravate thousands of ordinary people, many of whom simply want to get to work or catch a flight."

Back Heathrow is a group of residents, businesses and community groups who campaign for a "secure future" for Heathrow Airport.