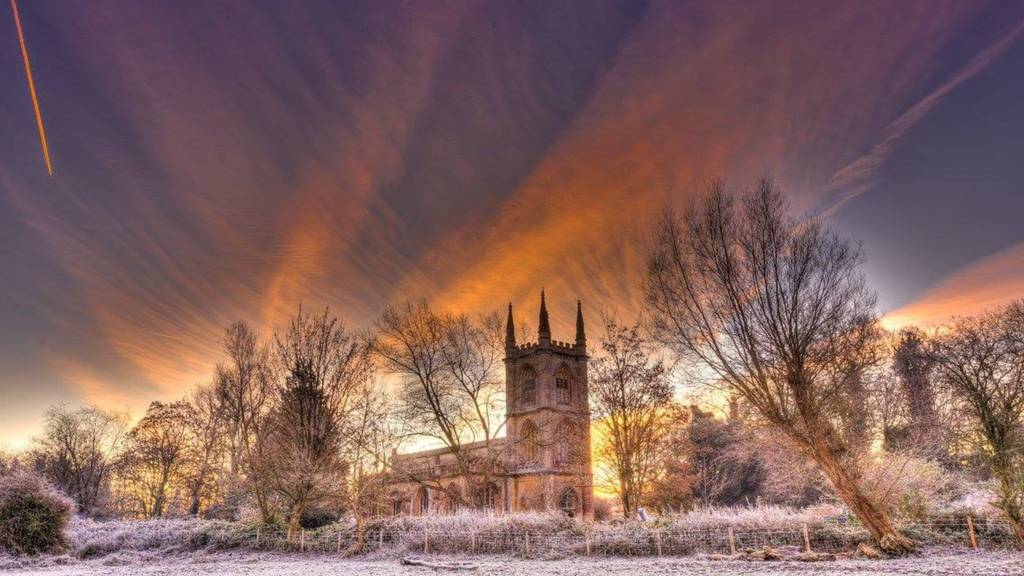 Berkshire live: Wednesday 22 February
You can get in touch by email, on our Facebook page or on Twitter @BBCBerkshire.
Met Office urges people to prepare for tomorrow's storm

Stam: We will keep faith with style

Reading manager Jaap Stam has vowed to keep faith with his side's playing style as a difficult period approaches.

The Royals are fourth in the Championship, but face four of the top six sides in their next six fixtures.

Stam's side lost 1-0 to promotion rivals Huddersfield on Tuesday, ending a six-match unbeaten run, but the Dutchman remains confident.

"The players believe in the system that brought us to the point where we are now today," the 44-year-old said.

Breaking

Berkshire head resigns over school funding crisis

A head teacher has resigned over the school funding crisis, telling parents she had not gone into teaching to cut the number of teachers or increase class sizes.

Mary Sandell, head of the Forest School in Winnersh, Berkshire, has written to parents about "bleak" funding problems.

Head teachers across England have been warning of budget shortages - with threats of cutting school hours.

The Department for Education has said schools have record levels of funding.

Cressida Dick appointed as first female Met Police chief

Cressida Dick has been named as the new Metropolitan Police Commissioner and becomes the first woman to take charge of London's force.

The former Thames Valley Police superintendent succeeds Sir Bernard Hogan-Howe, who led the force from 2011 until announcing his retirement last year.

Ms Dick, previously the national policing lead on counter-terrorism, said she was "thrilled and humbled".

But her appointment was criticised by the family of Jean Charles de Menezes, who was wrongly shot dead during an operation she led in 2005.

Brothel manager told: 'Pay up or go to jail'

A man convicted of running two brothels in Maidenhead has been ordered to pay more than £100,000 or be sent to prison for a year.

Michael Emmanuel Adekoya, 36, was found to have benefited from running illegal sex establishments in the town between 2009 and 2013.

He was handed a suspended sentence in January, but last week a judge told him he would be put behind bars unless he paid the £116,270 he made from his crimes within three months.

Det Insp Gavin Tyrrell, of Thames Valley Police, said: "The defendant had clearly benefited as a result of his criminal lifestyle, in his part in the running of these two brothels.  

"The Proceeds of Crime Act enables us to deprive criminals of what has been obtained from their crimes on top of any sentences imposed by the courts."

1 in 30 £1 coins are 'fake'

By the end of next month we'll have a new £1 coin in circulation.

Looking rather different to the one we're used to, it'll be 12-sided and made from two metals.  It's the first time in more than 30 years that £1 coin has been changed - and it's all because our current one is vulnerable to being forged.

Earlier BBC Radio Berkshire's Andrew Peach spoke to Phillip Mussell, Director of Coin News.

Do members of the black community know the signs of a stroke?

Why are people from the black community have a higher risk of suffering a stroke?

A new campaign from Public Health England is aiming to raise awareness of the symptoms, and also how members of the Black and Asian communities can look after their heart.  

BBC Radio Berkshire's Bridgitte Tetteh met Charles, he suffered a stroke himself - and Gloria, she's a Stroke Nurse Consultant. 

Ladders installed to help toads escape holes

Thousands of toads may be saved from drowning as a result of specially designed toad ladders being set up in roadside drains. 

Many toads will attempt to cross busy roads during migration and are at risk of falling into drains and drowning. But a small group of amphibian enthusiasts is rolling out a new scheme to give the animals a leg up. 

Friends of Deerswood has launched a project in Maidenhead and Cookham - consisting of 118 special ladders. 

The ladders will go below the drain cover so that any toads that may fall in can climb out by themselves. 

Cllr Diment said: "Toads usually migrate in February and March from land all around the lake north of Ray Mill Road East. 

"The council has a statutory duty to protect biodiversity in the borough and I was pleased to be able to use my budget for this project."   

Reading council tax bills to go up

Patrick O'Hagan

BBC Berkshire political reporter

Reading Borough Council has confirmed at a meeting last night that council tax bills will rise by just under 5% from April, with the average household now having to pay more than £1,500 a year. 

Despite the extra cash this will raise, the Borough's warning it still needs to save another £44 million by 2020.

A wide range of services will be scaled back including £27,000 going from the budget to cut back grass verges. Drivers will also have to pay more to park in council owned car parks at evenings and weekends.

Reading boss still proud after Huddersfield defeat

Following Reading's 0-1 loss to Huddersfield last night, Royals manager Jaap Stam told the BBC he believes his side can still reach the play-offs.

He said: "I am very proud of what we have done. It's disappointing that we did not get at least a point.

"All the teams in the top six are playing each other and if we can keep winning we will get there. 

"We have played against a good side in Huddersfield and there is not a lot of difference between two teams who want to play good football."  

What would you like to know about the A34?

Do you use the A34? If yes, then the BBC wants to hear from you. 

We're running a special programme set to be broadcast next Tuesday where we will put your questions about the 62-mile route to a panel of interested parties and experts. 

Image caption: Known for long tailbacks, there have also been a number of high profile fatal crashes on the A34

The Abbey ruins have been sealed off since 2009 ....

The Grade I listed Abbey Ruins are the resting place of Henry I, and date back to the 12th Century.

The area was sealed off to the public in 2009 over safety concerns. 

Reading Abbey is currently the focus of a £3 million conservation project, Reading Abbey Revealed, which plans to re-open the ruins to the public next year.

Conservation work finally begins at Reading Abbey!

At Reading Abbey conservation work has finally begun. Scaffolding has been rising up around the South Transept of the Abbey Ruins, according to the Reading Abbey Quarter Facebook page.

Copyright: Reading Abbey Quarter

Weather latest: Winds picking up ahead of Storm Doris

After a dull and overcast start, much of the same is forecast for this afternoon. 

And it will remain blustery as the day progresses ahead of Storm Doris's arrival tomorrow, when gusts of up to 60mph are expected. 

Could curling be coming to Bracknell?

Plans have been submitted to convert a former piggery near Hayley Green Farm in Warfield to create a curling rink for Bracknell.  

If the plans are given the green light, the existing barn on site will be converted into a three lane curling rink with a viewing gallery, plant room, changing room, office and reception.   

It would only be the second curling ring in England.

We'll get back to you tomorrow with the results of the planning meeting.

Controversial levy on workplace car parking to be pondered by council

A controversial levy on workplace car parking is being looked into by Reading council, in the hopes it could reduce the town's congestion and pollution. 

The proposal to charge firms a fee per employee car parking space has been cricitised as an "unfair tax" on businesses by one councillor.

Reading Borough Council voted to look into how much it would cost to replicate a similar scheme in Nottingham.

Oxford set aside £100,000 to look into a similar proposal at a council meeting last year. 

Reading's Green Party, which put forward the motion, said money from the scheme could be invested in sustainable transport for the town. 

Labour's Tony Page said a better way of reducing pollution would be a low-emission zone for Reading, which could generate revenue to pay for a third bridge. 

Quote Message: It would be an unfair tax on businesses and on hard working people from Simon Robinson Conservative councillor

Tie down the garden gnomes

The wheels on the bus... aren't doing much at the moment.

Met Police Commissioner: Who will be Britain's next top cop?

The UK's next top police officer will be chosen on Wednesday.

The final four candidates for Metropolitan Police Commissioner will face interviews with Home Secretary Amber Rudd, Mayor of London Sadiq Khan and Policing Minister Brandon Lewis.

Candidates include former assistant chief constable of Thames Valley Police - Sara Thorton.