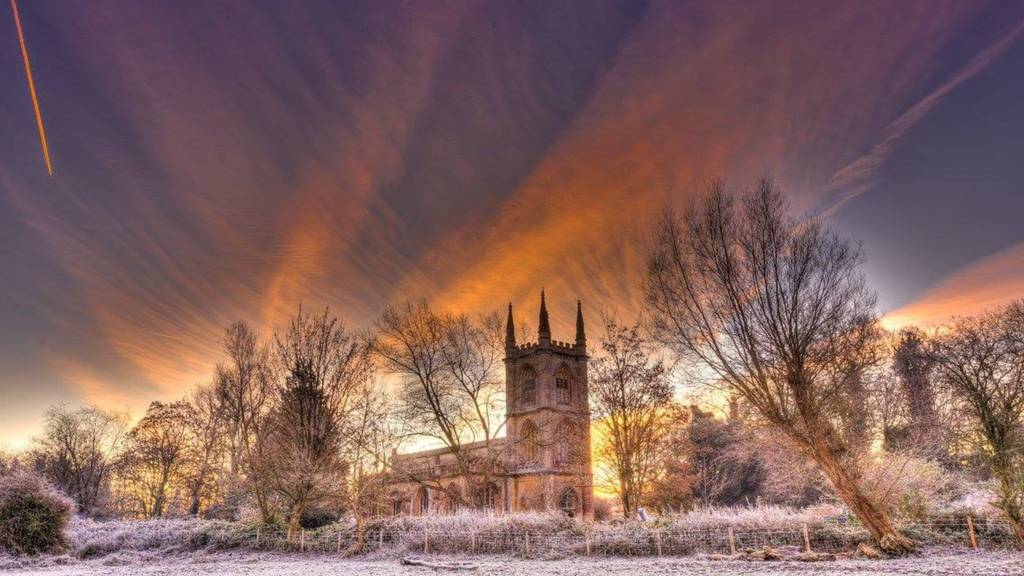 Berkshire live: Thursday 23 February
You can get in touch by email, on our Facebook page or on Twitter @BBCBerkshire.
Power cuts across Berkshire

The high winds are continuing to cause disruption this evening, and SSE is reporting that there are 89 postcodes in our area which have suffered power cuts. 

Here is a list of some of those postcodes impacted. 

Train line reopens after being blocked by tree

Chris Browning

BBC Radio Berkshire

The train line between Reading and Guildford has re-opened.

Services were suspended for more than an hour because the line was blocked by a tree, blown over by high winds.

The line between Reading and Bedwyn is still blocked, though, and Great Western Railway say services are likely to be cancelled or delayed by up to an hour.

Disruption on that line is expected until 19:00. 

Man jailed for historical child sex offences

A 78-year old man has be jailed for nine years for historical child sex offences. 

Roger Colgate, formerly of Percy Place, Datchet, Windsor, appeared at Reading Crown Court on 10 February in relation to eleven counts of indecent assault and one count of making indecent photographs of children.

He pleaded guilty to the offences.

Between 1972 and 1979, Colgate indecently assaulted a girl in Berkshire.

Between 2001 and 2003, he sexually abused a second victim also in Berkshire.

Colgate was arrested on 5 August 2015 and was charged with three offences of indecent assault on 27 October 2016.

As part of the investigation, Colgate's laptop was seized and was found to contain 90 category C indecent images.

Following the sentencing, Det Con Luke Simms from the Child Abuse Investigation Unit said: "Both victims suffered a terrible ordeal by Colgate, and I would like to pay tribute to their courage and support throughout this complex investigation."

Berkshire trainer heads for Dubai

Ady Williams

Sport presenter, BBC Radio Berkshire

West Berkshire trainer Brendan Powell leaves Lambourn for the sunshine of Dubai today.

The former jump jockey has runners at Meydan Racecourse this afternoon looking to scoop some of the decent prize money on offer.

Elsewhere Berkshire's most high profile owner, Her Majesty the Queen, has a runner at Huntingdon, also trained by a West Berkshire trainer Nicky Henderson.

Storm Doris results in 'higher than usual' number of 999 calls

Thames Valley Police has issued a statement reminding residents only to dial 999 in an emergency. 

The statement said: "With Storm Doris moving across our region, Thames Valley Police is experiencing a higher than usual number of calls. 

"We are working with our emergency services partners to respond to all enquiries but remind the public only to dial 999 in a genuine emergency."

Here are today's wind gusts from Storm Doris

Alexis Green

BBC South Today weather presenter

Some of the highest wind gusts were this morning. The highest wind gust was at the Needles (No surprise). Widely there were wind gusts of 50-60mph across the south. 

Wind gusts today:

Brize Norton: 51mph

Benson: 58mph

Boscombe Down 60mph

Bournemouth Airport: 54mph

Charlwood: 52mph

Heathrow: 60mph

Odiham: 64mph

Larkhill: 58mph

Middle Wallop: 60mph

Needles, IoW: 82mph

Shoreham: 53mph

Southampton: 60mph

St Catherine's Point, IoW: 63mph

George Cole's Minder hat and coat fetch £11,500 at auction

A camel hair coat and trilby worn by actor George Cole in popular comedy-drama Minder have fetched £11,500 at auction. 

The props, which had been left in a wardrobe at his family home, became synonymous with Cole's character Arthur Daley. 

Copyright: Special Auction Services

Cole, who died in Reading in 2015, played the wheeler dealer on the ITV series between 1979 and 1994.

The coat and hat went for around 10 times their £800 - £1,200 estimate when they were auctioned earlier by Special Auction Services in Newbury. 

Train disruption Reading to Guildford

ReadyBike announces first sponsors

ReadyBike has announced its first two sponsors – David Lloyd Health Club and Thames Valley Park (TVP).

The future of the scheme had been in doubt since Reading Borough Council announced it had to remove its subsidy for ReadyBike due to severe budget pressures.

The group behind the scheme said that TVP and David Lloyd have shown their support by choosing one of the sponsorship packages that puts their branding across 20 bikes at high footfall areas in Reading.

Cllr Tony Page said: "The fact that ReadyBike has successfully secured its first two sponsors is good news for the scheme as it moves towards a new funding model hopefully intended to make it commercially sustainable in future years."

Copyright: READING BOROUGH COUNCIL

Storm Doris results in Heathrow disruption

Heathrow has flagged 77 flights as cancelled on its website and says its schedule has been reduced by 10% because of the weather.

The airport has advised passengers to check their flight status before travelling to the airport.  

A spokeswoman said: "With Heathrow operating at more than 99% capacity, there are no gaps in the schedule that can be used for delayed flights and as a result some passengers travelling may experience disruption to their journeys."   

Read more about Storm Doris here. 

Breaking

Kaden Reddick inquest: Till barrier 'hit 10-year-old on head'

A coroner in Berkshire has opened and adjourned the inquest into the death of 10 year old Kaden Reddick who died when a display barrier at a Topshop store fell on him.

In opening the inquest the senior coroner Peter Bedford said Kaden's parents were aware of the hearing but were away on a much needed break.

Giving evidence Det Insp Dave Turton told the court that Kaden had attended the Topshop store in the Oracle shopping centre on 13th February. 

He said "It was late afternoon and he went with his siblings and mum and grandmother. Mum was at the cash point and doing a transaction. Kaden was around the area when a display queue barrier fell over and hit him in the head. It resulted in injuries that were fatal."

He also said it was Kaden's grandmother who had identified the child at the Royal Berkshire Hospital after his death.

The Thames Valley officer also praised Topshop owners Arcadia saying  it had reacted quickly in relation to in excess of 400 stores with the same queue barriers. 

He said all had been closed here and abroad and did not reopen until the barriers were removed.

Watch out for the fallen tree!

TVP are looking for more officers

Ladybird artwork unveiled at University of Reading

Illustrations taken from more than 100 years of Ladybird Books are being exhibited for the first time. 

The gallery at the University of Reading's Museum of Rural Life Life contains more than 20,000 pieces of original artwork. 

It will be revealed for the first time on Thursday a month after the release of a new book co-authored by Prince Charles. 

The free exhibition will be open to the public from 11 March until 2 July. 

Bobby Wilkinson signs new contract at Hungerford Town

Jack Winstanley

BBC Berkshire Sport Reporter

The Hungerford Town boss Bobby Wilkinson has signed a two-year contract extension with the club.

After gaining promotion from the Southern Premier League last year, Hungerford have exceeded expectations this season and currently sit in the play off places in the National League South.

The club hope that it will add some stability as Wilkinson and his coaching team start to plan for next season.

Copyright: Hungerford Town Football Club

Second tree on line at Earley

Appeal after taxi driver sexual assault

Police are appealing for witnesses following a sexual assault in Thatcham at the weekend.

At around 2am on Sunday, a woman in her thirties got into a taxi with some other unknown passengers.

The other passengers were dropped in the Broadway and the victim was then driven to a house on the outskirts of the town.

Once at the property, she went into the house to get some money to pay the driver.

The driver then followed the victim into the house and placed his hand up her skirt and into her underwear.

The taxi was believed to have six seats but there is currently no description available of the driver.

Specialist Investigator Tracy Cole said: "We would urge anyone who was in a taxi matching this description in the early hours of Sunday morning to please come forward, as they may be able to help us to identify the taxi company.

"We'd also like to speak to anyone who may have been standing outside of the Slug and Lettuce or Document House at around 2am on Sunday, who may also be able to help with the investigation."