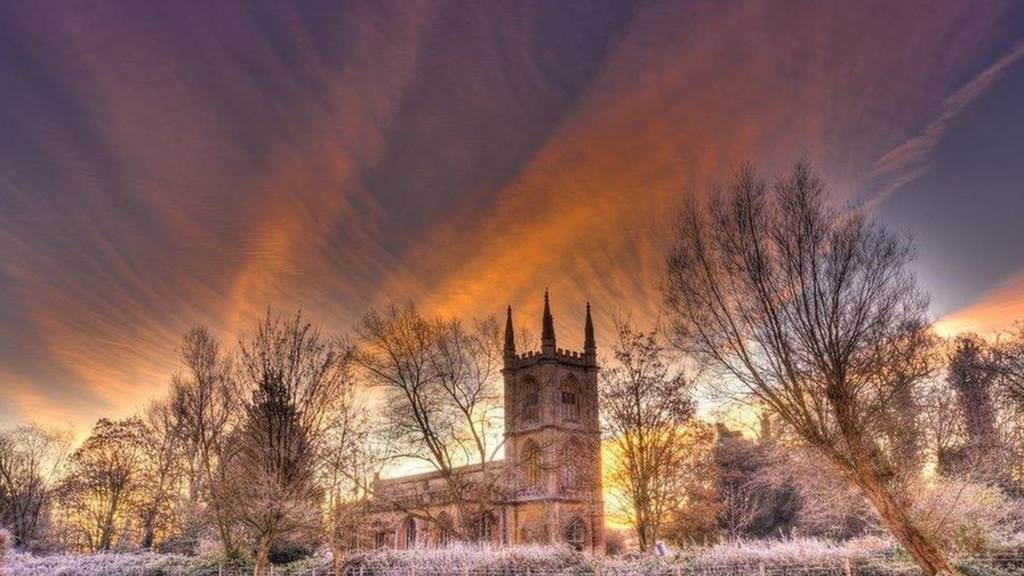 BBC Local Live for Berkshire returns tomorrow at 08:00.  

Weather: 'Cloudy, with showers'

It will be rather cloudy this evening, with further showers which may be occasionally heavy. 

Towards dawn it will become mostly dry, and clear spells will lead to a chilly night, especially in prone spots around Swinley Forest. 

Minimum temperature 5C (41F).

Fatal Reading flat fire under investigation

A man has been found dead following a fire at a flat in Reading. 

Emergency services were called to Luscinia View, Napier Road, at 9:50 BST and were able to extinguish the blaze, but the man was declared dead at the scene.

Royal Berkshire Fire and Rescue Service said the fire is not believed to be suspicious. 

A cordon is currently in place by Thames Valley Police, and the cause of the fire is under investigation. Formal identification is yet to take place. 

'Frightening' robbery of elderly man

An elderly man was robbed in the village of Datchet on Sunday.

He was walking on Fairfield Avenue at about 10:30 when he was robbed by four male teenagers. He was knocked to the floor and had his wallet, cash and mobile phone stolen.

The attack left the man, who is in his 70s, with cuts and bruises, and he required hospital treatment. Police said his attackers possibly left the scene in a silver-coloured vehicle and were all wearing hooded tops. 

Det Sgt David Ireland called it a "very frightening robbery for the victim which occurred in broad daylight".

Kennedy excited ahead of play-offs test

London Irish director of rugby Nick Kennedy is relieved the Championship promotion play-offs have finally arrived.

Irish finished top of the Championship table in the regular season, losing just once in their bid to make an immediate return to the Premiership.

They face Doncaster Knights in the first leg of the play-off semi-final on Sunday and Kennedy told BBC Radio Berkshire they will be ready for the test.

Mel C to play Henley Festival

It has been announced that former Spice Girl Mel C is to play at this year's Henley Festival.

Joining her at the event, which runs from 5 to 9 July, are Jess Glynne, Pet Shop Boys, Chaka Khan, Goldie and All Saints.

Afternoon weather: Cloudy with light rain

The cloud will tend to thicken through the day, bringing some light and patchy rain during the afternoon. 

We could see the odd heavier burst by the early evening too. 

Maximum Temperature: 11C (52F).

For the full forecast where you are, visit BBC Weather.

Men arrested following stabbing

Two men from Reading have been arrested on suspicion of attempted murder after a man was stabbed in the town.

Thames Valley Police said the attack happened at about 17:55 on Tuesday on Ambrook Road, when man in his late 20s was involved in an altercation with three other men. 

He ended up with several stab wounds, and was taken to the John Radcliffe Hospital in Oxford, where he remains with serious but non-life threatening injuries.  

A 25-year-old man has been released on bail, and a 38-year-old man remains in police custody.

Det Insp Dave Turton said: "We have arrested a number of people, but would appeal to anyone with information to come forward.

"As a result of this incident there will be an increased police presence in the area to investigate and provide reassurance to the public."

Man found dead after Reading flat fire

Severe disruption: M4 Berkshire westbound

BBC News Travel

M4 Berkshire westbound severe disruption, between J14 for A338 and J15 for A346 Marlborough Road.

M4 Berkshire - One lane closed on M4 westbound between J14, A338 (Hungerford) and J15, A346 (Swindon East), because of a broken down vehicle. Traffic is coping well.

To report traffic and travel incidents dial 0330 123 0184 at any time

Severe accident: M25 Surrey clockwise

BBC News Travel

M25 Surrey clockwise severe accident, between J13 for A30 and J14 for A3113 Airport Way.

M25 Surrey - One lane blocked and queuing traffic on M25 clockwise between J13, A30 (Staines) and J14, A3113 (Heathrow Terminal 4), because of an accident.

To report traffic and travel incidents dial 0330 123 0184 at any time

Less parking good for Madejski Stadium development

Losing the Madejski Stadium car park will force fans to use public transport for games, the Reading Council's deputy leader claims. 

Councillor Tony Page said that the Elm Park development will decrease the use of cars around the stadium. 

Mr Page added he hopes that bus travel will be included in match ticket prices as a further incentive to use public transport. 

He said: "Tickets will be sold with inclusive travel on the buses, that is the way to shift people. 

"We will make it as such that people will not take cars [to games]."

Diesel tank fire brought under control on M4

A large fire was averted this morning after a diesel tanker's tyres caught fire on the M4. 

Royal Berkshire Fire and Rescue Service were called at 04:00 on the M4 westbound to the blaze, which was quickly brought under control. 

Listen again: Have you ever met the Prime Minister?

There are just seven weeks to go until the General Election, with party leaders already out campaigning across the country. 

That prompted BBC Radio Berkshire's Anne Diamond to ask whether you've ever met the Prime Minister in her Maidenhead constituency?

Man suffers serious head injuries in Reading

A man has been taken to hospital after being knocked unconscious in Reading. 

The 53-year-old suffered serious head injuries after being assaulted by a man outside the PFC chicken shop in St Mary's Butts.

It happened after an argument in the chicken shop. 

Police have released CCTV footage of a suspect and are appealing for witnesses. 

Travel update: Delays on A34 northbound

Al Ryan

BBC Oxford travel presenter

We're getting reports there's been a collision on the A34 northbound before Beedon, which is causing congestion up to junction 13 for the M4 and Chieveley. 

And in Burford there are reports of a broken-down lorry before the bridge on the A361. This is causing delays of 20 minutes or more. 

Your views on Chiltern Edge School closure

Yesterday we brought you the breaking news that Chiltern Edge School in Sonning Common could close, depending on a consultation by Oxfordshire County Council. 

The school was recently put into special measures after Ofsted found the school was inadequate. 

On BBC Berkshire's Facebook page, Michael commented: "This is dreadful, how can you even consider closing a school. 

"Fine I get things need improvement (which I can't comment on more) but support the school, parents and students."

Duncan wrote: "My son is in year 10 there and we just received an e-mail yesterday from the school. 

"Pupils to be informed at school today. This just pushes a resource problem onto neighbouring schools. 

"Meeting first week of May to decide direction."

But Tony disagreed, and said: "Wow what a surprise must be 60 years old now." 

Reading FC housing development given green light

Sam Clayton

BBC Radio Berkshire newsreader

Copyright: RFX Prop Co Ltd

Plans for a large new housing and leisure complex next to Reading's Madejski Stadium have been approved. It will see six hundred flats and a convention centre built as well as shops and an ice rink. 

The application was unanimously approved by Reading Borough Council's planning committee last night - subject to the club's Thai owners. 

The plan is to transform a huge chunk of land alongside the stadium mainly used for car-parking at the moment.  

Accident on M4 London-bound

Mandy O'Neale

BBC Berkshire travel presenter

Drivers are advised to take care after an accident on the exit slip road of the M4 London-bound at junction 8/9 for Maidenhead. 

Do take extra care and we'll bring you the latest once we have it.