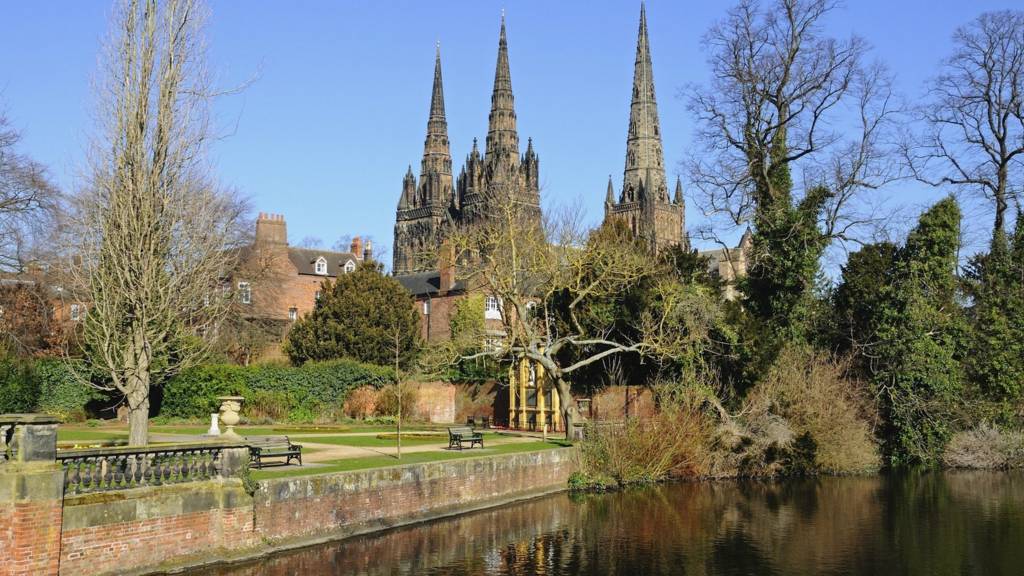 BBC Local Live: Birmingham & the Black Country
Summary
Updates from Thu 20 Nov 2014
More from 08:00 on Friday
Thursday's Local Live updates have now finished. The service will resume at 08:00 tomorrow.

Shefali Oza

BBC Midlands Today Weather

Dry conditions will persist through the evening and overnight although there'll be plenty of cloud and hill fog. It will stay generally mild, and winds will be light.

The 10 leaders and mayors of Core Cities UK, the "Core Cities Cabinet'" met with William Hague MP, chair of The Cabinet Committee for Devolved Powers, this afternoon to discuss a plan to drive forward devolution to the UK's cities.

They demanded that devolution is delivered in the same time frame as Scottish devolution. It comes after Birmingham and Black Country councils announced their intention to form a combined authority.

Sir Albert Bore, Labour leader of Birmingham City Council and Core Cities lead on transport, said: "The Core Cities are the UK's engines of growth and prosperity - the argument to devolve powers to the regions is beyond doubt."

Walsall have successfully appealed against the red card given to captain Adam Chambers in Tuesday's 1-0 FA Cup first-round replay loss to Shrewsbury.

The 34-year-old could have been facing a three-match ban, but is now available for his team's League One meeting with Fleetwood Town on Saturday.

Mary Rhodes

Presenter, BBC Midlands Today

A concert is being held in Birmingham tonight to remember the 21 people who were killed in the notorious pub bombings in the city in 1974. Tomorrow marks the 40th anniversary of the attack, which was carried out by the IRA.

Our reporter Amy Cole will be at Birmingham Town Hall where the concert is taking place. Tune into Midlands Today on BBC One at 18:30.

Rob Mayor

Journalist, BBC WM

Aston Villa Football Club have announced plans to pay tribute to the victims of the Birmingham pub bombings at their game on Monday night against Southampton.

There won't be a minute's silence to mark the 40th anniversary, but the names of the 21 people who died in the explosions will be displayed in a roll call on stadium screens.

The club also said it "supported the initiative" for applause in the 21st minute of the game and it had invited representatives of the Justice 4 The 21 campaign to the fixture.

Video: Nursery pupils 'devastated'

Teachers at a Wolverhampton nursery school say pupils are "devastated" after it was broken into.

Pupils had collected £900 for the BBC's Children in Need appeal.

The licence for local TV in Birmingham has been given to another group after City TV went into administration without broadcasting any programmes.

Regulator Ofcom said it had agreed to transfer the licence to Kaleidoscope TV Limited, which has until 28 February to get on air.

The group's commitments include 41 hours of new local programmes a week.

One lane is closed and there is queuing traffic on the M42 northbound between J5, A41 for Solihull and J6 by the A45 for Birmingham Airport because of an accident, warns BBC Travel.

'Mystery' death after surgery

Michele Paduano

BBC Midlands health correspondent

Tracey Bannister died aged 29 when her health worsened rapidly following gall bladder surgery at Walsall Manor Hospital.

One of the nurses involved in the procedure, Stuart Beddows, later committed suicide. It was cited at his inquest that this had played a part.

Dr Mark Cox told today's inquest at Smethwick Council House that he could not account for Ms Bannister's quick deterioration on leaving hospital and said her death remained a mystery.

Jo Tidman

Journalist, BBC WM

Two sketches have been released by police to try and trace a man in connection with the attempted abduction of a schoolgirl in Shirley.

More on this and other stories in our 17:00 bulletin.

Alan Irvine says Jonas Olsson (Achilles) is definitely out while Sebastien Pocognoli (hamstring) is doubtful for Saturday's Chelsea trip.

Action on 'failing' schools

Jo Tidman

Journalist, BBC WM

At 16:00 Midlands Today's health correspondent Michele Paduano tells us Walsall Manor Hospital has changed its procedures after a 29-year-old woman died after deteriorating rapidly following gall bladder surgery.

Listen live here.

Stephanie Barnard

BBC Local Live

Ms Bentley says 40 years on she still can't make any sense of what happened. "There is no sense in innocent people enjoying themselves, being killed. It was a premeditated crime. It's senseless.

"I could've been in the pub that night but I wasn't. Who can say? I do and don't feel guilty. I should've been there with my friend but you just can't say what would've been."

Soldiers finally honoured

Post update

Plane crash 'fell like a stone'

An inquest have heard that an aircraft, which crashed in France killing a father and son, fell from the sky "like a stone".

Roger Hayes, 75, from Devon and son Andy, 39, from Birmingham, died when their twin-seat plane crashed into woodland at Pierre-Buffiere in 2012.

Our top story at 15:00 is:

A doctor has told an inquest that the death of a young woman released from Walsall Manor hospital after gall bladder surgery remains a mystery.

Pub bombings: 'My best friend died'

Stephanie Barnard

BBC Local Live

Pat Bentley (pictured left) was 17. She was due to go out with her friend Jane Davis (pictured right) on the night of 21 November 1974 but after an emotional day breaking up from a boyfriend she was "fed up" and decided to have a night in front of the TV rather than in the pub.

That night, her friend died, and became the youngest victim of the bomb attack.

Scott Golbourne will be assessed tomorrow to see if he has recovered from a foot injury. Dave Edwards (pictured) remains out with a knee ligament injury. The likely length of his absence is still unclear.

Image caption: Edwards made his international debut against the Republic of Ireland in 2007

Nouha Dicko has been having treatment for a tight hamstring after returning early from international duty with Mali.

Birmingham Updates shared our feature asking if people loved or loathed the Frankfurt Market, and it has been getting a lot of reaction.

A recurring theme is whether or not the theme of the market itself should change every once in a while.

Neil Turrell suggested a Jamaican market sounded fun while Sue Corbett and Laura Barker favoured a Victorian market. Send us your thoughts over email, Twitter or Facebook.

In our 14:00 news, a doctor tells an inquest that the death of a young woman released from hospital after gall bladder surgery remains a mystery.

Pub bombings prompted proposal

Stephanie Barnard

BBC Local Live

Les was reeling from a broken heart after splitting with his girlfriend, who was also in the pub, and says his first worry was to find her.

"It's no exaggeration to say the Birmingham pub bombings - it's the best thing that ever happened to me." One year after the bombing, Les proposed to his girlfriend.

Protest over 'super-council'

Giles Latcham

Presenter, Midlands Today

A doctor has told an inquest that the death of a young woman released from hospital after gall bladder surgery remains a mystery.

Dr Mark Cox said he could not account for Tracey Bannister's rapid deterioration on leaving Walsall Manor Hospital. Our Health Correspondent Michele Paduano is at the hearing.

Tune into Midlands Today on BBC One at 13:30.

Birmingham City Council is rejecting allegations of racism over injunctions handed out banning six Asian men from approaching girls under 18.

More on this and other stories in our 13:00 bulletin.

Blues new short-term signing Guy Moussi was a free agent after leaving Nottingham Forest in May,.

Image caption: Guy Moussi made a total of 18 appearances in all competitions last season for Nottingham Forest and Millwall

He will be splitting his wages between the Birmingham City Disabled Supporters Club, Stop Ebola, a church in Paris and the TEV Soma Charity.

Read more about him here.

Post update

Police appeal for witnesses

Police have released CCTV images of a man they want to trace in connection with the sexual assault of a woman as she sat upstairs on a bus.

Copyright: West Midlands Police

The assault took place on 10 September between 19.15 - 19.30 on the number 16 bus in Birmingham city centre.

Pub bombings: 'It filled everything'

Stephanie Barnard

BBC Local Live

Like many who were affected by the bombs which went off in Birmingham in 1974 - they were having a couple of drinks after work.

Les Robinson was playing the arcade game Pong with his friends and drinking a pint - "within a few minutes I was 11-4 down. I punched the machine in anger and I walked away. As I walked back to the machine and put my hands on the controls there was a massive bang.

"It filled everything. It filled you."

Black Sabbath studio may move

The famous recording studio in Selly Oak, where Birmingham musical legends like Black Sabbath, ELO, Slade and Robert Plant jammed, could be moving after 30 years.

Jay Vydelingum

Journalist, BBC WM

The NSPCC says Birmingham City council has broken important new legal ground to protect vulnerable children who may be victims of sexual abuse.

Listen live to our 12:00 bulletin for more on this.

Blues pub bombings tribute

Birmingham City tweets it has planned a number of tributes to honour those who lost their lives during the Birmingham pub bombings including the names of all the victims being read out and displayed on the club's big screen at half-time.

Bridge wall fall to death

A man who died after falling onto rail tracks and being hit by a train had tried to climb a bridge wall, an inquest was told.

Jeevan Singh Dhanda, 18, of Walsall, fell onto tracks at Birmingham's New Street Station and died on 13 August, six days later.

Copyright: Jeevan's family, via transport police

Police told the inquest it was their hypothesis he thought he could find a way back into a nightclub.

Rare mementos auctioned off

Three rare football medals owned by ex-West Bromwich Albion player Stan Amos are expected to fetch more than £800 when they go under the hammer later.

Amos was part of the Baggies team which won the Football League Championship in 1920.

Richard Wilford

BBC WM Sport

Birmingham City have signed French midfielder Guy Moussi on a short-term contract until 18 January - and the player will not receive a penny for himself.

The 29-year old has decided to donate his wages to four charities, including the Birmingham City Disabled Supporters Club and the Stop Ebola campaign.

Moussi, who had a week's trial at St Andrew's earlier this month, will be in contention to make his Blues debut at Rotherham on Saturday.

Jay Vydelingum

Journalist, BBC WM

Simon Barry explains how West Midlands Fire Service brought a blaze in Bilston High Street under control in our bulletin at 11:00.

Listen live for more on this and other stories.

'No quick fix' for agencies

The government has warned there will be "no quick fixes" to the organisations criticised in the wake of the death of Christina Edkins, as her family call for a fresh inquiry into her killing.

Christina was stabbed to death by Philip Simelane while she was on a bus travelling through Birmingham to Leasowes School in Halesowen on March 7 last year.

David Lumb

BBC News, West Midlands

Antony Vanes, who runs scrapyard Stag Metals, one of the firms affected by the fire, estimated up to £50,000 damage had been caused.

"I know there has been damage but I can't be sure exactly because they won't let me on site," he said.

"I live round the corner and came down when the security alarms started going off. I'm going to have to buy a new crane, new guillotines. It's a huge setback."

Michelle Dawes

Journalist, BBC WM

The fire at an industrial estate on Bilston High Street is now out.

I've been catching up with Simon Barry, an operations commander for West Midlands Fire Service, who said two units were affected by the blaze but the quick actions of crews- who were on the scene within five minutes - saved three units there and a "significant part of the building".

Jay Vydelingum

Journalist, BBC WM

New research suggests that obesity is a greater burden on the UK's economy than armed violence, war and terrorism - at an annual cost of £47bn.

It comes as a special programme has been launched in Castle Vale in Birmingham where a third of 11 year olds are obese.

At 10:00 we will hear from Adrian Phillips, the Director of Public Health for Birmingham. Listen to the bulletin here.

David Lumb

BBC News, West Midlands

My 06:00 shift started with a bang this morning when I saw a tweet from West Midlands Fire Service saying 10 crews were tackling a blaze in Bilston.

We put calls in to the press office and were told the fire was actually in High Street in Moxley. I've been told by a spokesperson for the service the cause is unknown but there's no evidence so far to suggest it's suspicious.

Student tried to re-enter Snobs

Expected to last most of today

Jay Vydelingum

Journalist, BBC WM

David Janes, a station commander at Handsworth Fire Station, is among the firefighters tackling the blaze in Moxley.

He said he expects crews will be at the scene for the best part of the day.

People living nearby are being advised to keep doors and windows closed.

David Lumb

BBC News, West Midlands

No-one was injured in the blaze in Moxley this morning, according to a West Midlands Fire Service spokesman.

Copyright: West Midlands Fire Service

He said the cause would be investigated but added: "Nothing has come back to suggest it's suspicious."

Jay Vydelingum

Journalist, BBC WM

The names of six of the seven Birmingham men banned from approaching girls under 18 have been released despite objections from West Midlands Police.

The force was concerned it would put the men at risk but we will hear from Jon Brown from the NSPCC at 09:00 explaining why it supported the decision.

Listen live here.

'Plebgate' row was 'trivial'

Danny Shaw

Home affairs correspondent, BBC News

A policeman who witnessed the so-called "plebgate" row has said he considered it a "trivial" incident of a "gentleman on a bicycle who had the hump".

Ian Richardson said he did not make detailed notes of the argument after Sutton Coldfield MP Andrew Mitchell was stopped from riding through Downing Street's main gates.

Ash dieback found in Birmingham

The A41 Oxford Road in Bilston is partially blocked and there is slow traffic because of a building fire on the Stag Industrial Estate. There is also slow traffic between the B4163 Loxdale Street junction and the A4098 Great Bridge Road junction, warns BBC Travel.

Three businesses in blaze

David Lumb

BBC News, West Midlands

More than 100 firefighters are tackling a blaze at a building containing industrial units in the West Midlands.

Copyright: West Mids Fire

A "number of calls" from members of the public alerted crews to the fire in High Street, Moxley, just after 02:30 GMT.

A West Midlands Fire Service spokesman said three businesses in the one-storey building had been affected: a bed manufacturer, a fridge firm and a car repair workshop.

Charlie Slater

Weather Presenter, BBC Midlands Today

Some early morning mist and murk ahead of another largely dry but cloudy and settled day. There's still some brightness to be had but again this will be limited.

Highs of 8C (46F). More information about the outlook for the rest of the week is here.