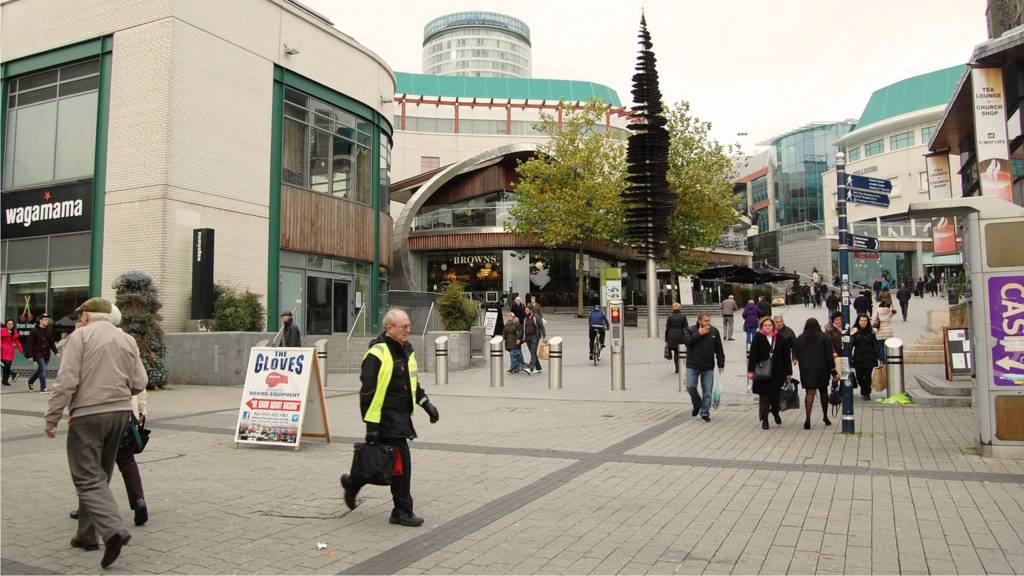 BBC Local Live: Birmingham & the Black Country
Summary
Updates for Wednesday 4 February 2015
News, sport, travel and weather updates resume at 08:00 Thursday
That's all for today's BBC Local Live. The service will return at 08:00 tomorrow.

Shefali Oza

BBC Midlands Today Weather

Clear skies overnight will allow temperatures to fall giving a widespread sharp frost.

The odd wintry shower is possible in the far east of the region, leading to icy conditions on untreated surfaces. Lows -1C (30F)

Coming up on Midlands Today

Sarah Falkland

BBC Midlands Today presenter

I'll be live in Bartley Green for tonight's BBC Midlands Today at 18:30 for more on an apparent carjacking that was caught on camera.

Footage was shared showing the incident where a woman was dragged along the floor by her own car.

West Midlands Police says the victim suffered a fractured finger and "significant bruising" in the Bartley Green robbery.

A 25-year-old man from Weoley Castle has been arrested and bailed.

Tom Richardson

BBC News Online

You may have noticed it's been rather cold out today - but spare a thought for Birmingham's Floozie in the Jacuzzi, whose usual watery home was completely frozen over earlier.

'Sham' claim over job loss consultation

Unite the union says a consultation over 180 job losses at a Wednesbury manufacturing firm is "a sham".

Car Parts Industries UK, which refurbishes steering units and brake callipers for used cars and vans, is planning to move some of its work to Poland.

Former West Bromwich Albion defender Daryl Burgess says he doesn't believe the signing of Darren Fletcher (pictured) will significantly improve the Baggies' midfield.

Burgess said he thinks the former Manchester United player is very similar to midfielders already at the club.

Rob Mayor

Journalist, BBC WM

A 20 year scheme costing £600m is launched today to turn the Snowhill and Colmore areas of Birmingham into a globally recognised business hub.

For more details, listen live at 17:00.

Empty shops: Council hits back

Councillors in Walsall say the local economy is improving - despite more than quarter of shops there being empty.

The Local Data Company-has compiled a national top 10 - West Bromwich and Walsall have some of the highest rates of empty shops on their streets in the country.

Sandwell Council tweets: Engineers are trying to fix the problem with the traffic lights at J1 M5, but they may not be fixed before rush hour. Major delays expected.

Blues trio in England squad

Birmingham City midfielders Karen Carney (pictured), Jade Moore and Jo Potter have been named in the 23-woman England squad for the forthcoming friendly with USA.

The game is due to take place on 13 February in Milton Keynes.

Rob Mayor

Newsreader, BBC WM

A 20 year scheme costing £600m is launched today to turn the Snowhill and Colmore areas of Birmingham into a globally recognised business hub. Listen live to the news at 16:00

Gavin Bevis

BBC Local Live

Council team to head to Cannes

Tom Richardson

BBC News Online

Birmingham City Council leader Sir Albert Bore says he hopes to source much of the money for the Snow Hill Masterplan from the private sector.

The council is sending a group to the MIPIM conference in Cannes, home of the famous film festival, later this year in a bid to woo potential global investors.

Sir Albert says he also hopes to encourage companies already working on developments in the city to put their money into further projects.

Rob Mayor

Journalist, BBC WM

A man has been arrested after a Birmingham woman was dragged into the middle of the road trying to stop her car being stolen from her driveway.

Copyright: Nikki Law-Priddey

Hear the latest in my 15:00 bulletin.

Berserk drunk stabbed man in Halesowen flat

A drunk savagely stabbed a man after trashing a Halesowen flat during an uncontrolled frenzy.

Philip Grainger lashed out at Lee Giles - who thought he was going to die, court heard.

Grainger admitted wounding with intent to cause grievous bodily harm and was jailed for eight years.

Rob Mayor

Journalist, BBC WM

Thousands lined the streets of Wolverhampton yesterday as the city said farewell to Sir Jack Hayward.

The former Wolverhampton Wanderers owner died on 13 January, aged 91.

A West Midlands building firm has gone into administration - the second in two weeks.

52 jobs are being lost at Anglo-Holt construction in West Brom.

BBC Sport's football gossip column mentions speculation Wolves have their eye on teenage Aston Villa winger Jack Grealish.

Child has wheelchair stolen

Thieves stole a car containing a disabled child's wheelchair, police have said.

It is thought the thieves grabbed the car keys from a hook by pushing something through a letterbox at the home, in West Heath, on Saturday.

Rob Mayor

Newsreader, BBC WM

Council leader, Sir Albert Bore is defending a £600m project to transform part of Birmingham city centre. More in the news at 13:00.

Community stands strong against Dudley EDL demo

The Dudley community is showing a united front ahead of an English Defence League rally to protest against plans for a new mosque in the town.

More than 100 borough politicians, trade unionists, and faith group members have signed a 'unity statement' voicing their concerns about the hundreds of EDL supporters set to descend on Dudley on Saturday

Midland Metro tweets: Due to Heavy traffic on the Bilston Road the Metro we are terminating at Priestfield until further notice updates will follow.

Women rescued after crash

Gavin Bevis

BBC Local Live

An 18-year-old woman was left hanging by her seatbelt after her car overturned in Sutton Coldfield this morning.

Copyright: West Midlands Ambulance Service

An ambulance crew had to pull the woman out through the rear window following the accident, in Halton Road in New Oscott.

Gavin Bevis

BBC Local Live

Steve Hermon

Journalist, BBC WM

In my 12:00 bulletin, I'll have more on those plans to transform part of Birmingham city centre over the next two decades.

Private cash plan for Snow Hill revamp

Tom Richardson

BBC News Online

This morning I went along to the public unveiling of Birmingham City Council's Snow Hill Masterplan - a 20-year project to revamp the Snow Hill station area and Colmore business district.

I asked council leader Sir Albert Bore how the authority - which is facing severe government cuts to its budget - can afford to fund the scheme.

He said the cost to the city's taxpayers would be minimal, and the plan is to fund improvements by attracting investment from the private sector.

Carjacking video: man bailed

A 25-year-old man has been bailed after being questioned about the theft of a Mini from a woman's driveway in Bartley Green.

Copyright: Nikki Law-Priddey

CCTV footage showed the car's owner being dragged onto the road as she tried to stop it being taken on Friday. The car was found in Old Hill the following day.

Steve Hermon

Journalist, BBC WM

In my 11:00 bulletin, I'll have more on a £600m pound plan to transform part of Birmingham city centre into its own version of Canary Wharf.

Photographer stabbed by gang

Children's centre closure plan defended

Walsall Council insists support for families won't be reduced by its plan to close eight children's centres.

Assisted travel to respite centres for children with disabilities could also be scrapped as the authority looks to cut £29m from next year's budget.

More than £1bn is to be spent transforming Snow Hill and Colmore. The plans include:

Snow Hill station's car park being replaced with office buildings
A new concourse area and walking routes through the station
4,000 new homes in the Steelhouse Lane area
A boulevard on the A38 Great Charles Street connecting the the Jewellery and Gun Quarters with the city (pictured)

Copyright: BIRMINGHAM CITY COUNCIL

Steve Hermon

Journalist, BBC WM

In my 10:00 bulletin, a project to create up to 10,000 jobs in Birmingham city centre is being launched.

An accident has closed the junction of Furnace Grange Road and Dimmingsdale Road in Wolverhampton.

Video: Left for dead by car thief

A woman has shared a video showing the moment she was dragged along the road by a thief who stole her car from her driveway.

Copyright: Nikki Law-Priddey

Nikki Law-Priddey, from Bartley Green, said she hopes the footage can help to track down the thief.

Festive firm 'only has £585'

A much-criticised festive park designed by Laurence Llewelyn-Bowen has just £585 to pay off its £875,000 debt, according to financial documents.

Copyright: Paul Currie Photography Ltd

Documents published after The Magical Journey's parent company went into liquidation last month show the balance as its only current asset.

Steve Hermon

Journalist, BBC WM

There are delays on the M6 southbound between J10 and J9 because of a broken down vehicle.

Empty shops blight town centres

Gavin Bevis

BBC Local Live

Walsall and West Bromwich are among the English towns with the highest number of empty shops.

New research from The Local Data Company showed the towns had vacancy rates of 26% and 27% respectively.

Snow Hill transformation plan

Plans have been unveiled to transform a Birmingham business district and revamp a station in a £1bn-plus scheme.

Copyright: BIRMINGHAM CITY COUNCIL

The council said with time it wanted to replicate the success of Canary Wharf in London, as it revealed the proposals for the Snow Hill and Colmore areas.

Charlie Slater

BBC Weather

A cold and icy start to the day and while some occasional showers are possible, it should remain mainly dry and at times bright.

Any snow's likely limited to higher ground but a cold northerly breeze will limit temperatures to 4C (39F) which will feel more like -1C with wind chill.