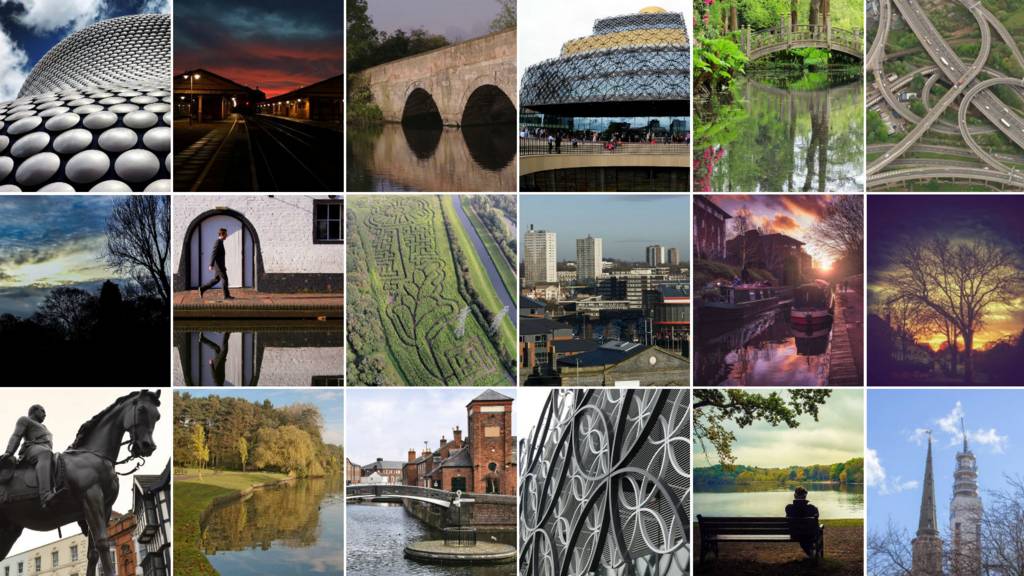 BBC Local Live: Birmingham & the Black Country
Good evening from Local Live for Birmingham and the Black Country

That's it from us on Tuesday.

We're back from 08:00 on Wednesday but look out for more news, sport, travel and weather updates here until then.

Nick Owen

Presenter, BBC Midlands Today

We will have more on the attack at a halal butchers in Walsall and the impact of the EU Referendum on businesses.

And, in a move that has been described as foolish and political correctness gone mad, a school in West Bromwich says it should no longer be called Guns Village Primary because people might associate it with gun crime. 

More on these stories and others on Midlands Today on BBC One at 18:30.

Victim of halal butcher's attack in Walsall says he's 'lucky to be alive'

Peter Wilson

BBC Midlands Today Special Correspondent

The victim of a fire bomb attack which gutted a shop in Walsall says he is in "a state of shock" and "lucky to be alive".

I spoke to Bashir Hussain at the scene of the attack in Wednesbury Road in Pleck. His brother Jamil owns Kashmir Meat & Poultry but was not there at the time.

West Midlands Police is keeping an open mind about the motive for the attack, but says it is investigating the possibility that it was "racially-motivated".

Latest weather forecast for the West Midlands

Rain clears eastwards through the evening to leave a dry and mostly clear night for most.

Lows of 10C (50F).

Get Inspired: Young referee Joel Richards remembered

Simone Stewart

BBC Get Inspired

A year on from the Tunisia beach attacks, friends have been remembering Joel Richards, an inspiring young referee.

The 19-year-old from the Black Country was passionate about football and, after deciding to pursue a career in refereeing, was able - because of his age - to relate to players "on the right level".

His role as chair on the Birmingham County Football Association's Youth Council enabled him to facilitate and participate in workshops aimed at supporting and encouraging more young people to get into refereeing.

Latest: Halal butcher attacked; parents objects to school name change; terror-accused in court

If you are just catching up on Tuesday, here are our headlines:

- A halal butcher in Walsall has a bottle of flaming liquid thrown at him in what an MP has dubbed an 'horrific attack'

- Parents are objecting to plans to change a historic school name linked to the area's manufacture of gun parts

- A Birmingham man accused of preparing to carry out acts of terrorism has appeared before magistrates

Walsall halal butchers attack: Description issued

Officers are looking for a man, described as white and about 6ft tall, who was seen on CCTV entering a halal butcher's in Walsall before a shopkeeper had "ignited liquid" thrown at him.

'Horrific' Walsall halal butcher attack 'could have resulted in serious injury or death' - MP

Valerie Vaz has spoken out on the "horrific" attack we reported earlier at a halal butcher in Pleck, where a shopkeeper had "ignited liquid" thrown at him.

The Labour MP for South Walsall said police were keeping an open mind about the motive for the attack but there since the referendum there had been a surge of racially motivated incidents nationally.

"This increase in hate crime is deeply disturbing," she said.

"I have offered my support to the owners of Kashmir Meat & Poultry at this difficult time for them."

West Midlands Police said it had 20 reported hate crime incidents over the weekend, in line with its average of 10 such reports each day since the new financial year began in April.

The A4148 Broadway in Walsall is blocked with queuing traffic in both directions at the A34 Birmingham Road junction, because of an accident, BBC Travel reports.

Traffic chaos expected as Tamworth Road in Sutton Coldfield to close for rail bridge works

Royal Sutton Coldfield Observer

Warwickshire's Woakes singled out for praise for skittling Durham

Warwickshire's Chris Woakes's career-best nine wickets for 36 runs against Durham has been selected as the county performance of the month by The Cricketer magazine.

'Better, more frequent services' for Bromsgrove railway station

Bromgrove's new railway station, which was set to open eight months ago, will open in July, officials say.

Quote Message: A more reliable signalling system is being installed and the line between Bromsgrove and Barnt Green will be electrified, which will provide passengers with better, more frequent and reliable services. from Martin Ball Area director for Network Rail

Wolves: Ongoing hopes to sell could hamper transfers - Jackett

Steve Hermon

Journalist, BBC WM

Wolves head coach Kenny Jackett says the club still being up for sale will affect their ability to bring in new players. 

It's been nine months since owner Steve Morgan announced his desire to sell, but Jackett says they are still scouting potential talent to improve his squad.

Guns Village School: New name shot down

Ben Godfrey

BBC Midlands Today

Parents have been giving their view on plans to change a school's name which has stood since 1878.

The proposal is for for Guns Village Primary School in West Bromwich.

Critics have pointed to the history of the area and its proximity to Guns Lane, which is not set to be renamed.

Speedway: Birmingham Brummies crowned champions

Steve Hermon

Journalist, BBC WM

Birmingham Brummies have been named the 2016 National Trophy Champions after a 47-43 win at Kent.

The same score as last Wednesday's home leg secured a 94-86 aggregate victory for the Perry Barr team.

Terror-accused Birmingham man appears before magistrates

A 28-year-old Birmingham man has appeared in court charged with terrorism offences. 

It is alleged Zahid Hussain was preparing to carry out acts of terrorism.

He appeared by video link at Westminster Magistrates Court before Judge Jeremy Coleman who remanded him in custody. He will next appear before the Central Criminal Court on 15 July.

County Championship: Last two Warwickshire wickets fall

Clive Eakin

BBC Coventry & Warwickshire Sport

Warwickshire's Mark Adair and Boyd Rankin have both been dismissed to leave the Bears all out for 311, in their Division One clash against Nottinghamshire.

Follow the action here.