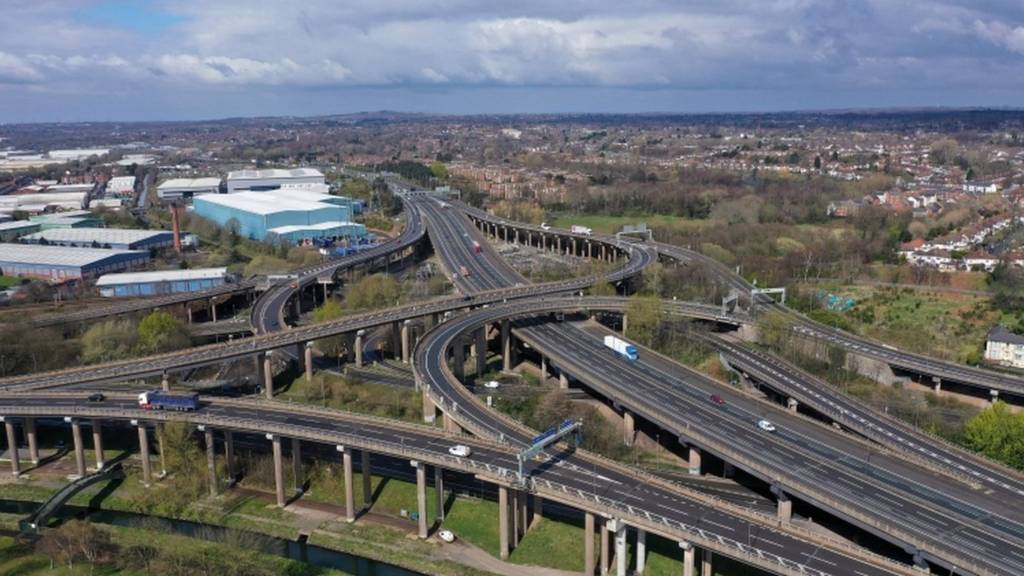 By Lora Jones, Daniele Palumbo & David Brown

BBC News

By Benjamin Butcher & Joel Massey

Reality Check

Our coverage across the day

That's all for our coverage today.

We'll be back from 08:00 on Tuesday with more updates on the impact of coronavirus across the West Midlands.

'Hot hub' assessment centres set up

Medics in Staffordshire dealing with the Coronavirus pandemic have set up a network of nine centres for assessing patients with symptoms of Covid 19.

Known as "hot hubs", they're focused specifically on people with underlying health problems, such as asthma or diabetes who are isolating at home.

Staffordshire GP Dr Paddy Hannigan said it was a system introduced to allow doctors to see patients in "safe environments to protect patients and staff."

"We can increase the capacity of the hot hubs if we need to, we can change the way they're run and eventually we can stand them down when they're no longer required."

Pop-up tent designed to protect front-line staff

A disposable plastic pop-up tent has been designed by a team at the University of Birmingham in a bid to help prevent the spread of coronavirus in hospitals.

The Disposable Resuscitation, Intubation and Nebulisation Kit Shield (DRs INK Shield) aims to provide a barrier between medics and patients.

Copyright: University of Birmingham

It includes access points to make it easier to insert and remove breathing tubes and other procedures.

The team behind it say it's gone from design to test and production in less than a week.

Testing centre plans for Ricoh Arena

Plans are under way to turn Coventry's Ricoh Arena into a coronavirus testing centre.

The region's weekly resilience briefing has heard the arena would be the next of the region's testing centres.

The plans are at an "early stage," it said.

The foreign secretary urges people not to give coronavirus another chance to 'hurt our country'.

Nightingale hospital 'may not take patients'

The Birmingham Nightingale hospital should be ready to take patients on Friday, but may not need to.

The chief executive of University Hospitals Birmingham Dr David Rosser said there was still capacity at the city's hospitals.

The peak of patients with Covid-19 who need the help of a ventilator is lower than feared, he told the weekly regional resilience briefing.

But he reiterated that there could be another surge in cases if people disregard advice and start socialising this weekend.

Police 'not interested in contents of shopping'

The use of police enforcement powers in the West Midlands will be the "exception, not the rule," according to a chief constable.

The government has said police will have its "full support" in ensuring people follow its advice around social distancing during the coronavirus lockdown.

West Midlands Police Chief Constable David Thompson said officers would be "nudging" people to follow the rules.

He added: "I can genuinely say to the people of the West Midlands, they can go about their business at the weekends.

"If they are out shopping they can be absolutely certain I have no interest what's in their shopping basket whatsoever, and neither have my officers."

School teacher thanked for delivering visors

A design and technology teacher has been thanked for delivering 50 visors to Russels Hall Hospital in Dudley.

Copyright: The Dudley Group NHS Trust

James Western from South Bromsgrove High School delivered the visors that had been laser cut and assembled by hand in the school's workshop, said the local NHS Trust.

"James wanted to personally say 'a big thank you to all our NHS staff from everyone at South Bromsgrove High! You are truly amazing!'" said the Dudley Group NHS Trust.

RSC extends threatre closures

The Royal Shakespeare Company has announced that all performances, events and activities have been cancelled until the end of June.

Copyright: Royal Shakespeare Company

The company said it would review any reopening dates in line with government advice.

As a result of the financial impact of the Covid-19 crisis, the Swan Theatre will be closed until the autumn.

The theatre company has made 17 productions available to watch online.

Children's mental health site free during coronavirus

Local Democracy Reporting Service

Mark Cardwell

An online children's mental health platform is being offered for free to help school pupils cope with the coronavirus pandemic.

The Birmingham-based MindSafe site allows children to privately express and manage their feelings and access support.

Prior to the pandemic, the service was offered to primary schools at a price related to pupil numbers with an average-sized school paying about £2,000 to £2,500.

Wolves thanked for 'six-figure' NHS donation

A "six-figure donation" has been made to the local NHS trust by Wolves' first-team squad, manager and technical staff.

The donation to the trust, which runs New Cross Hospital, West Park Hospital, Cannock Chase Hospital and several community and primary care sites, will aid the work being carried out by front-line services across the city, said the team.

"The money will go towards buying essential equipment for our new wards that are currently being built," said the Royal Wolverhampton NHS Trust.

"This investment will make a huge difference to us, and our patients."

Around the web: Thugs threaten to infect police

These are some of the headlines from news sites across the West Midlands:

Blues and twos birthday surprise for boy

A young boy has received an unusual birthday gift from local emergency workers.

Knowle, Dorridge and Balsall Common Police tweeted they had surprised him with a visit and present.