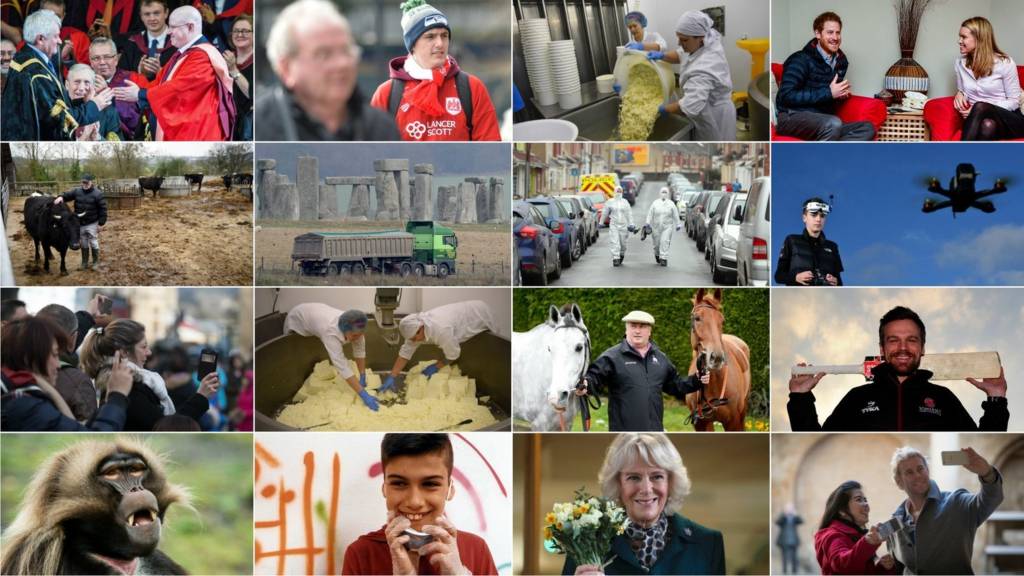 Summary
News, sport, travel and weather updates from across the West of England on Friday, 24 March 2017.
Good night and have a great weekend

Well that's it from us tonight and this week.

Have a great weekend and please join us again from 7am on Monday for more news, travel, weather and sport updates.

Silverware for Cherry and Whites

FT: Bristol 14-32 Gloucester

Gloucester claim five Premiership points, but also the Rifles Cup.

Willi Heinz is all smiles as he collects the trophy and that'll be a happy Friday night for everyone connected with the club.

Post update

FT: Bristol 14-32 Gloucester

Gloucester hooker Richard Hibbard gets the man of the match award for that sterling display in the front row.

They climb a place up to eighth, two points behind seventh-placed Harlequins who are in action tomorrow.

Try (May, con Burns)

Bristol 14-32 Gloucester

Well, there is a bonus point securing try, but it's not for Bristol, but Gloucester.

Counter-attacking move from one end of the field to the next opens up Bristol and the ball finds Jonny May with acres of space to cross over with ease and put a perfect seal on this game for the Cherry and Whites.

Billy Burns puts the cherry on the top of their performance with a final conversion.

Discovery enables 'mass produced blood'

James Gallagher

BBC News Website, Health Editor

Scientists say they have made a significant leap towards mass-producing red blood cells suitable for donation.

Red blood cells can already be made in the lab, but the problem is scale.

A team at the University of Bristol and NHS Blood and Transplant have developed a method to produce an unlimited supply.

The artificial blood will be far more expensive than conventional donation. So it is likely to be used for people with very rare blood types.

Try (Ludlow, missed con Burns)

Bristol 9-25 Gloucester

Eventually the pressure tells for Gloucester.

No stopping that maul this time for Bristol and Lewis Ludlow is the man who's got the ball under his arm as they barge their way across the line.

Billy Burns not on target with his boot though for the first time tonight.

Post update

Bristol 9-20 Gloucester

Gloucester go hunting for a third try to really kill this game off, but once more Bristol hold them off inches from the line.

Richard Hibbard and Willi Heinz looked destined to get on the scoresheet, but somehow they're held up.

Eventually it's forced out of touch in the corner.

Dog faces destruction after court rules it safe

Sky the dog was left abandoned at some kennels in Bristol after her original owner went off to Australia. 

Kennel volunteers fell in love with her and tried to adopt - but because she had an owner, they had to go to court to apply for ownership. 

Sky shares similar characteristics with dangerous dogs, but was ruled exempt from Breed Specific Legislation at Bristol Crown Court. 

However, Defra disagreed with the ruling so Sky could still face destruction. 

Now a judicial review could take place to decide her fate.

Try (Burns, con Burns)

Bristol 9-20 Gloucester

A long wait before that Gloucester score was confirmed, but the uncertainty was over whether or not Jonny May had slipped out of touch as he intercepted a grubber kick from Willi Heinz through to Bristol's 22.

Replays show he did just stay the right side of the whitewash and offloaded to Billy Burns to run in unapposed for Gloucester's second try.

Burns adds the conversion and now it's a long way back for Bristol.

School pupils write a song for Comic Relief

Pupils at Commonweal School in Swindon have written and performed their own song for Comic Relief.

They wrote the song 'I Got You' using a piano given to them by jazz singer Jamie Cullum. 

About 120 children were involved in the fundraising. 

They've managed to create a whole album with the proceeds going to Comic Relief.

University student dies after car crash

A "wonderful young lady" has died after being involved in a two-car crash on a main road.

Rhiannon Smith, 21, was involved in a collision between a black Range Rover and a grey Toyota Yaris on the A48 between Newport and Chepstow last week.

The trainee teacher, who was studying at the University of Gloucestershire, has since died.

Her family said she was "the life and soul of a party" and had ambitions to work as a teacher in London.

Rescued seals released after rehabilitation

Four seals cared for by the RSPCA in Somerset have been released back into the wild.

Bengali, Rafael, Garfield and Gargamel were rehabilitated at the West Hatch wildlife centre before being released back into the sea in Devon.

Penalty (Burns)

Bristol 3-13 Gloucester

And Billy Burns successfully kicks his 18th Premiership attempt in succession to extend Gloucester's lead to 10 points.

Jeremy Corbyn: 'Either my nose has got bigger or red noses have got smaller'

Labour leader Jeremy Corbyn was in Bristol today, launching his party's campaign for the West of England mayor election. 

Voters in Bristol, Bath and North East Somerset, and South Gloucestershire will go to the polls in May.

Post update

Bristol 3-10 Gloucester

So Tusi Pisi goes off for Bristol to be replaced by Jack Tovey for what looks like a head injury assessment and now Gloucester's David Halaifonua is receiving attention as he becomes the latest to take a knock.

Not one for the faint-hearted this match so far...

Post update

Bristol 3-10 Gloucester

Break in play after Bristol were building some phases as Gloucester centre Andy Symons goes down injured.

Looks like an achilles injury for the former Worcester man on only his third Premiership start.

Teacher banned for groping pupil on trip

A teacher who sexually touched a pupil on a school camping trip has been banned from teaching indefinitely.

Nicholas Bartlett, 28, was a science teacher at Clarendon Academy in Trowbridge, Wiltshire.

During a school summer camp in June 2015 he stroked the pupil's thigh, squeezed her bottom and subsequently contacted her on social media.

A conduct panel concluded his actions were sexually motivated and amounted to professional misconduct.

Post update

Bristol 3-10 Gloucester

Been a cagey passage of play since that Sharples try, but Bristol are still causing some problems for Gloucester.

Gloucester's discipline is letting them down at the breakdown and Billy Searle finds touch from a penalty towards the Gloucester five-metre line.

Try (Sharples, con Burns)

Bristol 3-10 Gloucester

He might only be on the pitch temporarily, but Charlie Sharples wants to make an impression while he's out there.

Opening try of the game comes Gloucester's way after Sharples races to the line wide right from 15 metres out after a lovely offload from Tom Marshall.

Billy Burns adds the extras with a tricky attempt with his right boot.