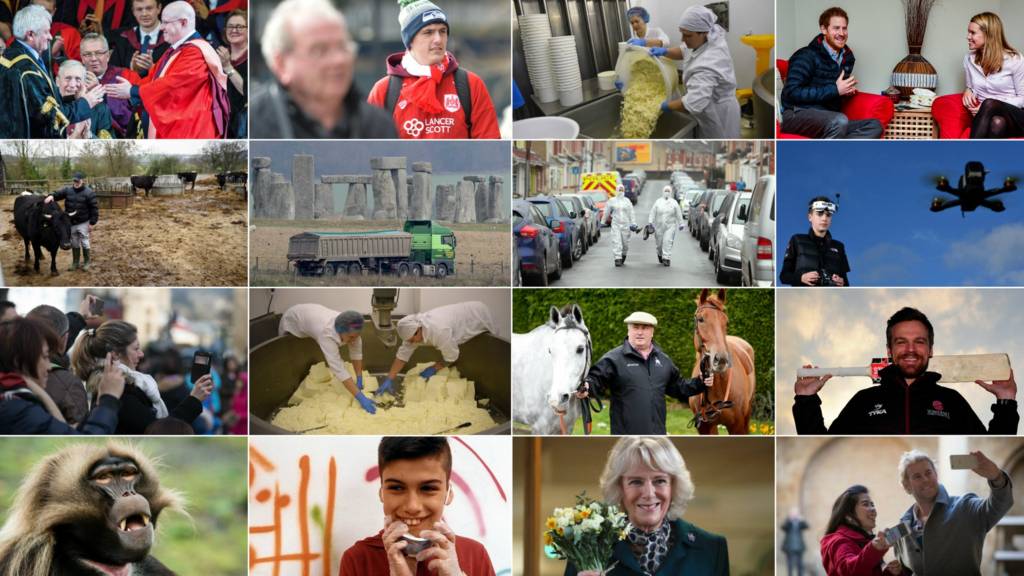 Summary
News, sport, travel and weather for the West of England on Tuesday, 16 May 2017
And it's good night from them too!

Get ready for wash-out Wednesday

That's it for today from your Local Live team in the West.

We'll be back tomorrow from 7am with all the latest news, travel, weather and sport.

Here's Ian Fergusson with tomorrow's somewhat damp forecast.

Student who finished essay in nightclub scores top mark

Copyright: Lawrence Kemp/PA

A student who was filmed finishing an essay for his university course in a nightclub has revealed he got a first for the assignment.

Lawrence Kemp, 21, a second year business management student at the University of Gloucestershire, was captured on Snapchat trying to finish the 2,000-word project before a night out.

He is filmed submitting the essay just one minute before the deadline and a Facebook video of his struggles has received more than 100,000 views on his page and millions more views elsewhere. 

Mr Kemp said: "I've only gone and got a first." 

Admitting he was "delighted" with his score of 81, he added: "To be perfectly honest, I had started a few days prior, but I left my last 750 words and editing to last minute. 

"I fully intended on going out as I hadn't been out in a while, but the assignment took longer than I thought. 

"So I was reluctant to join my mates until I finished, but I knew I was capable of editing work and enjoying the night."

Could new business levy help clean up central Bristol?

Businesses in the centre of Bristol could pay a new annual levy under plans to create a Business Improvement District (Bid).

Bids were introduced by the government as a way of boosting town centres and local economies, and have been introduced in Bath and Weston-super-Mare. 

The money is spent on things like improving cleaning and waste collection, working more closely with the police to reduce crime, and improving the overall visitor experience.

In order for the Bristol scheme to go ahead, traders would have to vote for it. If they did, it's estimated the scheme could raise £6m over five years.

Bath and West Show organisers say decision to cancel poultry event 'not taken lightly'

The Royal Bath and West Show says it will cancel poultry and waterfowl showing classes this year due to avian flu.

Defra lifted the event's Poultry Gathering ban on Monday but members were hesitant to push ahead with that part of the event.

Organisers say the decision was not taken lightly.   

Head of shows Alan Lyons said: "We have got responsibility for the whole poultry industry and pure breed exhibitors.

"We take our bio-security responsibility very seriously and would not want to risk being the catalyst for a wider outbreak across the South West."  

Army officer: 'Rape claims are malicious'

Mr Tomkins denies the charges against him. 

Mr Bradbury said: "He said the allegations were malicious and was made up by (the complainant) to avoid her own professional shortcomings."

The trial, in front of Judge Advocate General Jeff Blackett, is expected to head to Bulford, Wiltshire, on Monday after the prosecution's witnesses.

Army officer accused of rape was 'very aggressive', court martial hears

Mr Tomkins is alleged to have raped the woman following an African UN conference on 7 January 2015.

Timothy Bradbury, prosecuting, said: "It appears to have been very much a social function and one in which alcohol was freely available." 

The jury of seven British Army officers was told that by the end of the evening the junior officer was "very drunk" and Tomkins headed to her room after stopping by his own for a shower.

In a police interview played to court, the complainant said she was standing by her laptop when he approached and "instantly" began unzipping her dress. 

She said he became "very aggressive" and "took control" when she declined his advances and pushed him away. 

Quote Message: He came in, shut the door and pretty much walked straight over to me. There was no banter, no discussion that I recall. He did get much more aggressive and used some level of force to take things further. I just remember him being on my bed and looking at him on top of me having sex with me. The room was spinning, it was a very brief memory.

Breaking

Court martial: Married British Army officer accused of rape

A married Army officer from Bristol raped a junior colleague at a UN event, a court martial in America has heard.

Lieutenant Colonel Benedict Tomkins, 49, of Defence, Equipment and Support, attacked the woman in her room at the Sheraton Hotel in Kampala, Uganda, the trial in the US was told.  

Joint Base Andrews in Maryland heard on Tuesday that Tomkins, who is based at Abbey Wood, told investigators the sex was consensual but admitted "it wasn't rose petals or Cupid's arrows, it was fairly animal". 

It is the first ever court martial that will be held on both sides of the Atlantic, in a move that allows witnesses to give evidence in the US before the court resumes in the UK next week. 

Mr Tomkins denies the charges.

Arrest after man, 68, dies in crash on A40

A man has died and another has been arrested following a crash which has shut the A40 in Gloucestershire.

The 68-year-old man was pronounced dead at the scene of the crash near Andoversford, while his 72-year-old male passenger was seriously injured.

A 27-year-old man has been arrested on suspicion of causing death by dangerous driving.

The crash between a silver Peugeot Partner van and a white Peugeot 308 happened at 4pm today at the junction where the A40 meets the A436.

Police investigators are at the scene and the road remains closed with diversions in place.  

Don't forget the M32 is closed southbound tonight

The road closes from 9pm and reopens at 6am...

Appeal after £500k wishing well stolen from church

Burglars have raided a church in Cold Ashton, near Bath, stealing a bronze wishing well worth £500,000.

Two other statues worth about £25,000 each were also taken between 5pm on Sunday 7 May and 11am on Tuesday 9 May.

PC Simon McFall of Avon and Somerset police said the burglary was "well-planned" and the church had clearly been targeted.

"It would have taken a number of people to carry out this crime as the statues weigh a significant amount and would've required several people to lift them," he said.

"They are also of a considerable size and it is more than likely that a van or other large vehicle was used to transport them."

Fire service warning over heaters behind fatal Swindon fire

Copyright: Wiltshire Police

Image caption: Sharon Soares and Blaise Alvares were caught in the house fire on 6 November 2016

A senior fire officer has warned of the dangers of bio-fuel heaters following a house fire which killed two people in Swindon.

Yesterday we told you how an inquest into the deaths of Sharon Soares and Blaise Alvares ruled the blaze was probably caused by such a heater, which was being used in the property because the family could not afford central heating.

Quote Message: We will never know exactly what happened to cause this devastating fire, but we do know that the fuel used in these heaters is highly flammable and that they should never be left burning in an empty room. We welcome the assistant coroner's determination to highlight safety concerns regarding the use of such appliances in the home by writing to the Chief Fire Officers' Association, and we will give every support to any future research or campaign that results from that. from Mick Stead Assistant chief fire officer, Dorset and Wiltshire Fire and Rescue Service

Sentence extended for man jailed for toddler van assault

Adam Jinkerson

BBC Local Live

A paedophile who sexually abused a toddler in the back of a van has seen his 22-year sentence extended to 26 years after an appeal by the Attorney General's office.

Kristopher Jane, 31, from Bristol, assaulted the child while being filmed by a 17-year-old girl, from Wisbech, Cambridgeshire, who cannot be named for legal reasons.

Jane appeared before the Court of Appeal today after prosecutors considered his original sentence, given back in March, to be too lenient. He was sentenced to 18 years imprisonment with eight years on licence.

Copyright: John Allan/Geogrpah

The 17-year-old teenager, who was sentenced alongside Jane to four years' detention, saw her appeal dismissed.

The pair both previously pleaded guilty to a number of sexual offences involving children at Peterborough Crown Court on 10 January and were both sentenced in Cambridge on 17 March.

PC Yvonne Fletcher's family 'frustrated' at lack of prosecution

Copyright: Metropolitan Police

The Wiltshire family of murdered police officer PC Yvonne Fletcher say they are "deeply disappointed" and "frustrated" that a man suspected of killing her in 1984 will be freed.

Quote Message: We understand that some available evidence could not be used in court but are satisfied that the Metropolitan Police has left no stone unturned in its pursuit of justice in Yvonne's case. The family would like to thank the Met for its continued hard work and diligence, and also for always keeping us informed at every turn. We had hoped that the latest turn of events would finally lead to some closure for the family.

Look who's presenting Points West with Alex tonight!

Police confirm man found dead at scene of fire

A man in his 40s who died following a fire in a block of flats in Bristol was found dead at the scene, police have confirmed. 

The blaze broke out in a second floor flat at Rowan House in Bishport Avenue, Hartcliffe, yesterday at about midday.

Avon and Somerset police said it was currently treating his death as "unexplained" and was continuing inquiries on behalf of the coroner's office. 

Breaking

'National security' concerns lead to release of Yvonne Fletcher murder suspect

A man arrested on suspicion of conspiracy to murder PC Yvonne Fletcher outside the Libyan People's Bureau in 1984 has been released from police bail without charge because there is insufficient "admissible evidence" to charge him, Scotland Yard says. 

The Metropolitan Police has advised the family of Miss Fletcher, from the Wiltshire village of Semley, near Mere, about the development.

Quote Message: The work that the Met has carried out has resulted in a deeper understanding of the murder of WPC Fletcher... and the associated terrorist activity targeting Libyan dissidents in the UK and across Europe in the 1980s. We believe our investigation has identified enough material to identify those responsible for WPC Fletcher's murder if it could be presented to a court. However the key material has not been made available for use in court in evidential form for reasons of national security. from Metropolitan Police

Vinny the fox cub brings anti-hunting campaign to Bristol

The League Against Cruel Sports has visited Bristol to call on election candidates to "reject any weakening" on the hunting ban.

Theresa May has said MPs will get a free vote in Parliament on the issue if the Tories are elected in June.

Quote Message: Britain is meant to be a nation of animal lovers but right now a lot of animals are feeling unloved. There are moves to legalise the hunting of foxes, deer and hares, over 10 years after the nation recognised that it is nothing but a cruel sport. Dog fighting is happening right here on our streets; and those people who inflict cruelty on animals get barely a slap on the wrist.

A40 now closed in both directions

'Limited production' at factory due to strike over pensions

Workers at BMW plants across the country are striking over plans to close the company's final salary pension scheme.

Unite the union is leading the industrial action which involves workers at the Swindon factory.

Normal production is scheduled to resume tomorrow.