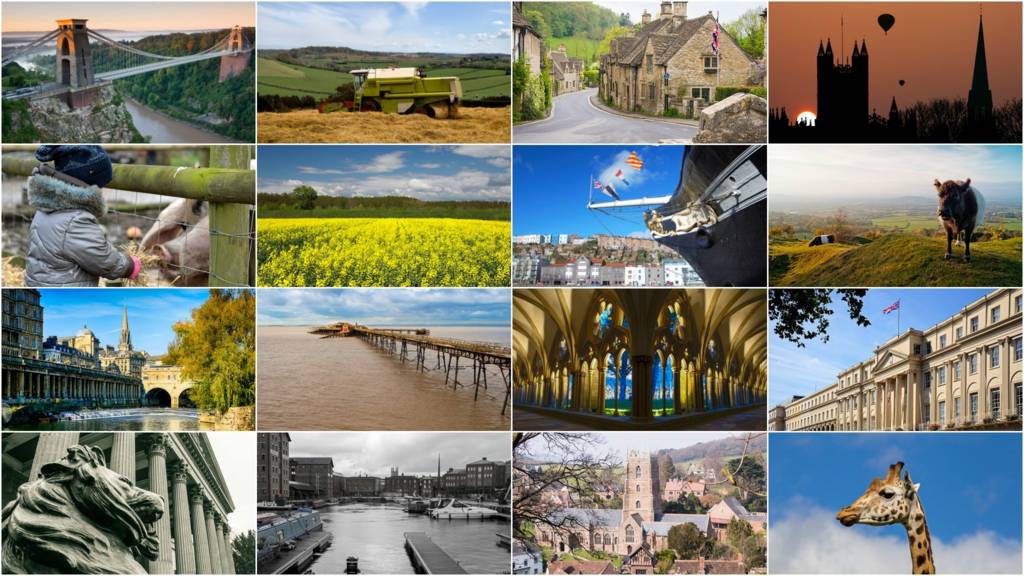 Goodnight from us and have a great weekend

That's all from BBC Local Live for this week.

If you spot any motorists who need help this weekend - do stop (see our earlier post)!

We'll be back with more live news, sport, travel and weather updates from 7am on Monday.

Until then have a great weekend. Here's the weather forecast:

Stranded elderly motorist 'ignored' at roadside

More than nine out of 10 drivers in Bristol ignored an elderly lady stranded at the roadside in a social experiment.

The survey of 2,006 UK adults found that only 9% would always offer assistance if they saw a driver needed help after an accident, with almost a quarter (23%) admitting they would never stop in those circumstances.

One in eight (12%) respondents felt they did not have the skills required to help, and 9% assumed everyone has a mobile phone and can call for support on their own.

The survey was carried out by a well-known insurance company.

Is it possible to hide from Wiltshire police's new drone?

This weekend Wiltshire Police will be showcasing its new drone at the Wiltshire Emergency Services Show.

But just how good is it?

We've been out on Salisbury Plain to find out.

We ran a simulation with it searching out our reporter Karen Gardner, to see just how effective the drone could be.

Police renew plea for help with Chard assault one month on

Avon and Somerset Police have against asked for the public's help with "a nasty assault in Chard", that took place a month ago today.

They are looking for two people in particular. Police CCTV images of them are here.

The incident happened at around 4pm on Friday August 4 near to the reservoir off Chaffcombe Road in Chard when a woman was walking her dog near to a stream and bridge.

Other dog walkers in the area heard a scream, before the woman stumbled towards them with serious head injuries.

Police are also keen to talk to 18-20 year old man with blonde hair, wearing a cream 'hoodie' and carrying a rucksack, who was in the area on the day.

And a white man, in a black hoody and black trousers, riding a dark coloured mountain bike. He had a carrier bag over his handlebars.

They have re-issued an e-fit of a man they have been unable to identify, who was seen running away from the area - below.

He is described as white; about 20-years-old, 6ft tall, of medium build with a protruding stomach. His face was round, very red, and he had blonde hair with a side fringe that went partially across his left eye. He was wearing a black hoodie and black trousers.

Anyone with information should call 101 and ask to speak to DS Lee Jones Yeovil Investigations quoting reference number 5217178432 or call Crimestoppers on 0800 555 111.

Image caption: Police e-fit impression of a man who might be able to help

Quote Message: This was a nasty unprovoked assault for which the motive is still unclear. We would like anyone who was in the area at the time to come forward as they may have key information. Forensic work is ongoing... we have over 120 lines of enquiry." from Detective Sergeant Less Jones Avon and Somerset Police

Like a puppet on a screen

The Bristol Festival of Puppetry started today, running until 10 September, as the city strengthens its claim to be the UK hub of puppetry.

Attracting puppeteers from around the world, the festivals aims to celebrate "puppetry and animation in all its forms on stage and on screen".

We've been to see Puppet Place, set up to provide resources and training in puppetry to artists in the South West.

David and Goliath local derby show-down

It's David v Goliath as Hartpury College take on Bristol Rugby on Sunday, in the opening weekend of the Championship rugby season.

You won't find a bigger contrast than the match between Bristol, owned by billionaire Steve Lansdown, and Hartpury College, a team predominantly made up of students, in Gloucestershire.

Here's how they match up:

Wanted: Somewhere to store full-size wooden tank

Copyright: Peter Mountain

A Bristol artist is looking for somewhere to store his life-size wooden tank.

The full-size tank sculpture was created by Peter Mountain out of hundreds of broken pallets.

It has been on display across the country but will soon need a new home - either an exhibition space or in storage.

Despite taking years to create, the artist has threatened on Facebook that if he "cant find anywhere to store it once it has finished its tour" it will be burnt.

"My bonfire designing and building knowledge has influenced my sculpting in this piece," he said.

Another unexploded bomb - to be detonated tomorrow morning

A fourth unexploded device has been found by divers off Hinkley Point, just two days after officials at the energy company developing Hinkley C told us "there will be more".

This time a 250lb bomb has been found 1000 metres offshore.

The Royal Navy says it intends to carry out a detonation at 1100 BST tomorrow, when the tides will ensure the bomb is in enough depth of water to be safe - at 9 metres below the surface.

Copyright: Watchet Coastguard

'Lots more toilets' at Downs Festival

Image caption: Guy Garvey and Pete Turner of the band Elbow will headline this year's festival

Up to 25-thousand people are expected to descend on the Downs Festival in Bristol this weekend.

Organisers say they've made some changes to how the one-day event is managed this year.

It follows complaints about long queues for drinks and not enough toilet facilities for Massive Attack's gig on the site last year.

Organiser Tom Payne says this year they've got "lots more" bar staff, tills and toilets.

"So we're really confident that we've got the space and the facilities to accommodate everyone," he said.

Elbow are due to headline the event on Durdham Downs along with Seasick Steve, De La Soul, Soul II Soul and American rock band The Districts.

Bristol Parkway closed from tomorrow

Rail commuters who use Bristol Parkway station are being reminded that, from tomorrow, trains won't be stopping there for the next 2 weeks.

It's due to electrification work on the line between London and South Wales.

Passengers will need to get off at Patchway station instead:

British troops will 'help defeat' Islamic State

Troops from 5 Armoured Engineer Squadron, 22 Engineer Regiment, in Tidworth, Somerset are being deployed to the international Al Asad air base in Iraq.

The engineers will help to build and re-build infrastructure.

Defence Secretary Michael Fallon said last night the deployment of more British troops to Iraq would help to speed up the victory over so-called Islamic State.

Quote Message: We are stepping up our contribution to the fight against Daesh and fulfilling Britain's role as a key player in the global coalition. Daesh is being defeated. Iraqi forces, backed by coalition airstrikes, have now liberated 70% of the territory Daesh held and the victims of its barbarism are being helped by our humanitarian support. These extra troops will help support operations to bring the defeat of Daesh a step closer. from Michael Fallon Defence Secretary

Green laser beam shone at plane over Tewkesbury

Police are investigating reports of a green laser beam shone into the path of a plane over Tewkesbury.

They were alerted to the incident by London air traffic control.

The aircraft affected was a commercial flight travelling into Birmingham Airport at about 1.20am on 27 August.

Gloucestershire Police said it was "extremely dangerous" and "the person responsible hasn't been traced as yet".

Uni chief responds to row over her salary

The university Vice Chancellor, at the centre of a row over how much she is paid, said there are "lessons to be learned" from the experience.

Bath University's Prof Dame Glynis Breakwell earns £451,000 a year and is the highest paid vice-chancellor in the country.

Four MPs have recently quit roles at the school in protest over her salary.

Prof Breakwell said she hopes it does not "overshadow" the "esteem in which the university is rightfully held".

The Higher Education Funding Council for England (HEFCE) watchdog is currently investigating whether the way pay is awarded is sufficiently transparent.

In a statement, Prof Breakwell confirmed the university is conducting its own review, including a "detailed evaluation" of the remuneration committee which sets her pay.

.

Quote Message: The university is committed to the highest standards of governance and treats very seriously any complaint made. We are also committed to confronting any issues or shortcomings in a transparent and direct manner that reflects the importance of this institution to every member of our university community. from Prof Breakwell Vice-chancellor University of Bath

Severe disruption: M32 Bristol northbound

BBC News Travel

M32 Bristol northbound severe disruption, between J1 for A4174 Bristol Ring Road and M4 J19.

M32 Bristol - One lane closed and slow traffic on M32 outbound between J1, A4174 (Hambrook) and M4 J19, Bristol, because of a broken down vehicle.

To report traffic and travel incidents dial 0330 123 0184 at any time

Funeral held for meningitis victim George Zographou

The funeral of a Bristol teenager who died after contracting meningitis has been held this afternoon.

More than 400 people packed St Mary Redcliffe Church to celebrate the life of George Zographou.

The 18-year-old, who was a student at St Brendan's Sixth Form College, fell ill at the Boardmasters Surf and Music Festival in Newquay in August.

Hundreds of 'swan bags' donated to charity

Hundreds of Ikea bags have been donated to a Somerset wildlife rescue centre, to transport swans.

An appeal for the large blue bags was put out on social media by Secret World Wildlife Rescue, last week.

Within days a box of 300 bags was sent to the charity by the Swedish flatpack furniture giant along with a note saying how "great" it was the bags were being used to rescue swans.

David Foulds, from Secret World, said they were "delighted to receive this donation" and "really touched by the team's handwritten note."

Water back on in Westbury

Around 1,400 customers were affected by loss of their water supply, when a water pipe burst overnight.

Wessex Water say 65,000 litres of bottled water were made available and distributed to customers with specific needs.

Ashlea Lane, director of water supply, said: "The burst water main affected a large part of the Westbury area and our engineers have been working throughout the night to carry out repairs.

"We apologise to customers in the area who have been affected and thank everyone for their patience and understanding."

Wessex Water said there is a possibility that some customers may experience discoloured water and if this occurs to run the tap for a short while until it clears.

Image caption: 65,000 litres of bottled water were made available to customers without water today

Gloucestershire teen becomes Japanese celebrity after winning Haiku competition

Image caption: Gracie Starkey

A Gloucestershire teenager has become the first non-Japanese person to win a Haiku - Japanese poetry - competition.

Gracie Starkey beat 18,248 entrants to win the English category in a competition which attracted almost two million competitors.

The 14-year-old, from Stroud, was flown to Tokyo for the announcement of the winners.

"Everyone was taking pictures and there were at least 20 camera crews and photographers. It was amazing," she said.

Her winning Haiku 'Freshly mown grass clinging to my shoes my muddled thoughts' will now go on millions of bottles of green tea drinks, complete with her name, in English and Japanese.

Image caption: Gracie's winning submission was: Freshly mown grass clinging to my shoes my muddled thoughts.