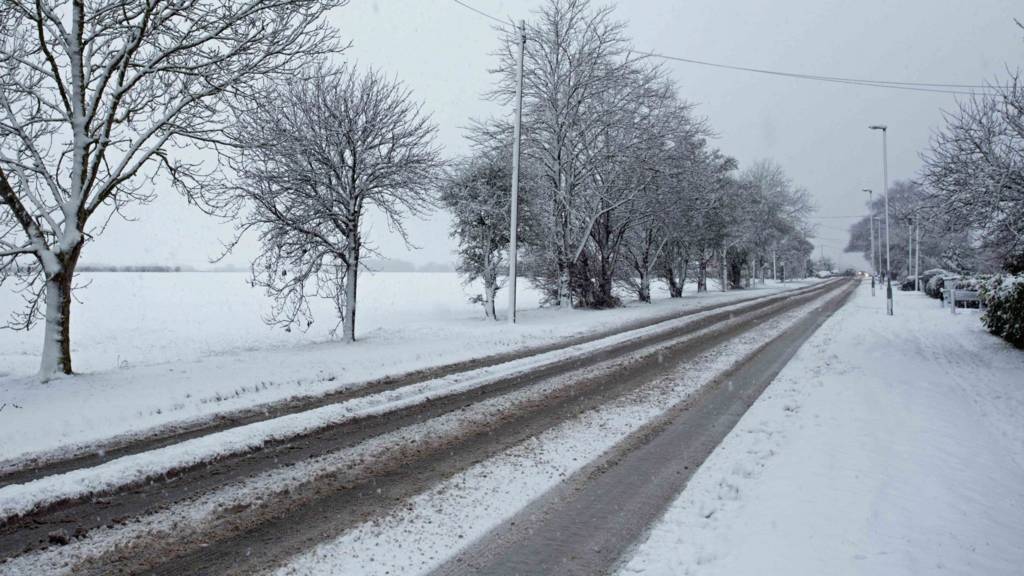 BBC Local Live: Cambridgeshire
Severe accident: B1514 Cambridgeshire westbound

BBC News Travel

B1514 Cambridgeshire westbound severe accident, between Primrose Lane and B1044 affecting A141.

B1514 Cambridgeshire - B1514 Hartford Road in Huntingdon blocked and queuing traffic westbound between the Primrose Lane junction and the B1044 junction, because of an accident involving two vehicles. Congestion to the A141 junction.

To report traffic and travel incidents dial 0330 123 0184 at any time

Three injured in car and lorry crash

Three people have been injured after a lorry and car crashed at the Haddon Services on the A1 near Peterborough.

One person had to be cut free from the wreckage by firefighters after the accident at about 12:10.

East of England Ambulance Service said one patient had a suspected broken leg, one had a head injury and another had chest pain.

All three were taken to Peterborough City Hospital.

Body of mutilated swan found

The body of a mutilated swan has been found dumped in a carrier bag.

A member of the public made the grim discovery in an Ikea bag at the side of the M11 at Trumpington on Thursday, Cambridgeshire Police says.

The wings had been cut off the dead bird, a spokeswoman said.

The bird had been shot dead, according to the Cambridge News, although police were unable to confirm this.

The spokeswoman said as there was "no requirement for police action at this time", officers had informed the Wildlife and Wetland Trust at Welney - which is home to a number of swans - and Countryside Watch - an organisation that works closely with the police to monitor and reduce rural crime.

Is Peacock strutting towards another title?

Two-time Paralympic champion Jonnie Peacock is one of 12 nominees for the title of the BBC Sports Personality 2017.

The 24-year-old sprinter from Doddington, near March, had his right leg amputated below the knee as a five-year-old after contracting meningitis.

Peacock also became the first disabled contestant in the BBC's Strictly Come Dancing show.

You can read more here about his achievements as part of BBC Sport's profiles of all the sporting personalities vying for this year's title.

The winner will be announced on BBC One, Radio 5 live and the BBC Sport website on Sunday at 18:45.

Woman, in 80s, shot with pellet gun in Haslingfield

A woman in her 80s was shot in the leg with a pellet gun on Tuesday afternoon.

The victim was walking in Church Street, Haslingfield at about 15:40 when she was shot by two men driving past in a van, Cambridgeshire Police say.

Officers are treating it as an isolated incident.

There are no details of the woman's injuries as yet.

Severe accident: A10 Cambridgeshire both ways

BBC News Travel

A10 Cambridgeshire both ways severe accident, between A1123 Wilburton Road and A142 Angel Drove.

A10 Cambridgeshire - A10 Cambridge Road in Little Thetford closed and slow traffic in both directions between the A1123 Wilburton Road junction and the A142 Angel Drove junction, because of a serious multi-vehicle accident.

To report traffic and travel incidents dial 0330 123 0184 at any time

Woman dies after Cherry Hinton bungalow fire

A woman has died after a fire in a bungalow in Cambridge.

The blaze happened in Teversham Drift in Cherry Hinton at about 08:15, as the Cambridge News reported.

Cambridgeshire Fire & Rescue Service tells us crews got the woman out of the property, but she died after being taken to hospital.

It took several hours to bring the fire under control.

The woman's death is being treated by police as unexplained and the cause of the fire is still being investigated by the fire service.

Transport secretary launches East West Rail Company

The Transport Secretary Chris Gayling visited Bletchley Station today to launch the East West Rail Company.

The line will create a direct link between Oxford and Cambridge, travelling through Winslow, Bletchley, Woburn Sands, Ridgmont, Bedford.

It involves re-opening lines which are either out of use or used by freight trains only, and upgrading them to passenger lines.

Copyright: East West Rail

Mr Grayling said: "This route should never have been closed in the first place.

"It's a really exciting project which will make a real difference to communities all around the area."

It's hoped the line will save passengers having to travel into London, to travel back out again.

The western section of the route, from Bicester Village to Bedford is due to open in 2022, while the route connecting Milton Keynes and Aylesbury is due to open in 2024.

East MPs among Brexit vote rebels

A number of MPs in the east of England were among 11 Tory rebels who voted against the government, defeating a key Brexit vote.

The backbench revolt in the Commons last night resulted in the first significant defeat for Theresa May's Brexit legislation.

Eleven Conservatives - including South Cambridgeshire's Heidi Allen, Huntingdon's Jonathan Djanogly, Beaconsfield MP Dominic Grieve and North East Hertfordshire's Sir Oliver Heald - chose to side with Labour in demanding that MPs be given a vote on any Brexit deal before it is finalised.

Warboys woman dies after car plunges into Ramsey ditch

A woman has died when her car plunged in to a water-filled ditch in the Fens.

Madeleine Parnwell, 68, of First Turf Fen Road, Warboys, was driving a green Volvo Torslanda along Puddock Road in Ramsey at about 21:30 on Wednesday when the accident happened, Cambridgeshire Police say.

She was pronounced dead at the scene.

Cambridge pranksters put up Star Wars spoiler posters

Cambridge Star Wars fans were left more than a little disgruntled, after one kill-joy posted spoilers about the new film - The Last Jedi - on lamp posts in a Cambridge street, the Cambridge News is reporting.

Mistletoe and (how much?) wine - new Cambridge research

"Wine will no doubt be a feature of some merry Christmas nights, but when it comes to how much we drink, wine glass size probably does matter," say researchers at Cambridge University.

The capacity of wine glasses has increased seven-fold over the past 300 years, and most steeply in the last two decades as wine consumption has risen, according to scientists who've been taking the subject very seriously as the festive season of "mistletoe and wine" approaches.

They found that wine glass capacity increased from 66ml in the 1700s to 417ml in the 2000s, with the mean average wine glass size in 2016-17 being 449ml.

"In the first study to examine the impact of larger wine glasses on sales we found that serving wine (usually a 175ml measure) in larger wine glasses increased sales by almost 10% when compared with smaller glasses," says Professor Theresa Marteau.

If you want to find out more, uncork the latest research here.

Gritters out from 19:00 tonight across the county

The council gritters will be out in force across Cambridgeshire later, as the temperatures drop after a wet and cold day.

Temperatures are expected to drop to 0C (32F) tonight.