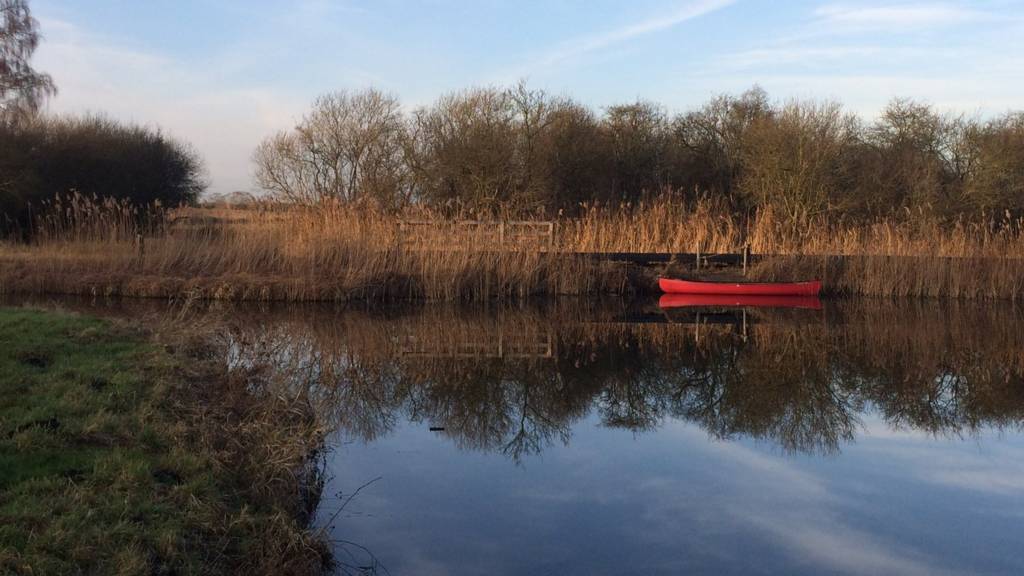 Cambridgeshire: Latest updates
Officers concerned for missing teenager

Police say they're trying to find this teenager who's gone missing from Peterborough but could be in West Yorkshire.

Copyright: Cambridgeshire Police

Taybah Khan, 13, was last seen at about 22:30 last night in Bretton, but is from Bradford.

She was visiting family in Peterborough but officers say she could have returned to West Yorkshire.

The teenager was last seen wearing black leggings with a black sweatshirt and grey and white Adidas trainers.

Quote Message: We are growing increasingly concerned for her welfare and are urging Taybah to get in touch to confirm she is okay." from Cambridgeshire Police

Last chance for your own cup glory!

#FAPeoplesCup

The deadline to get involved in the 2018 FA People's Cup is midnight THIS Sunday - so get your entry in now.

It's FREE
There are 18 different categories
You get the chance to play at St George's Park and go to the FA Cup final

What have you got to lose?

Find out all the details and how to sign up here.

Family land included in Central Beds 'call for sites'

Friday fluff: Cop dogs salute their Chinese year

To celebrate the Chinese New Year, police have put together a parade of pooches.

Friday marks the start of the Year of the Dog, so what better excuse to look at pictures of "man's best friend"?

There are more than 40 dogs in the joint police unit covering Bedfordshire, Cambridgeshire and Hertfordshire.

They're a skilled lot, doing everything from tracking suspects to sniffing out drugs and cash.

Happy pooch year to you all.

Woman treated after Godmanchester house fire

A woman had to be treated for the effects of breathing in smoke after a house fire on Wednesday night.

It broke out on the first floor of the house in The Avenue in Godmanchester at about 21:00.

The woman was already out of the building by the time crews from Cambridgeshire Fire and Rescue Service arrived.

A spokesman said the cause of the fire was accidental.

Firefighters tackle 300-tyre fire near Peterborough

Cambridgeshire Fire and Rescue said crews were called out at about 17:00 yesterday to the tyre fire at Chesterton near Peterborough.

A spokesman said they worked with the "farmer to ensure the fire burned out safely".

He added: "Crews have since returned to reinspect the fire and have now left it to the farmer."

Oxbridge outreach programme to grow

Image caption: Oxford and Cambridge are increasing their support for Target Oxbridge

A programme to help more black students win places at Oxford and Cambridge is to almost treble in size.

Oxford and Cambridge have increased support for Target Oxbridge which helps black students with university visits, mentoring and advice.

It follows criticism of both universities over the low number of offers made to working class and non-white applicants.

Target Oxbridge said the backing meant 160 funded places can run next year.

Cambridge museum gets into Valentine's spirit - with cake

Staff at the Scott Polar Museum in Cambridge are getting into the spirit of Valentine's Day by hauling out a chunk of old cake.

But it's not just any old cake - it's a 110-year-old slice of polar explorer Capt Scott's wedding cake.

They're feeling all loved-up over some of the more unusual artefacts kept at the museum, and although this one has been well-documented, its story never fails to enthrall.

The slice of aged sponge belonged to Edward Wilson, who died with Scott in Antarctica - and who accidentally sat on the cake after popping it in his jacket pocket.

You can read more about the "romantic" adventures of this cake here.

Always the bridesmaid: Streets fail in 'most romantic name' bid

Two streets in the east of England in the running to be crowned as having the "most romantic name"... have failed to top a public poll.

Fourteen streets across the UK were shortlisted by charity Living streets - among them Trueloves Lane in Ingatestone, Essex, and Sweetpea Way in Orchard Park, Cambridge.

Image caption: Truelove's Lane in Ingatestone was in the running for romantic street names...

Image caption: ...As was Cambridge's Sweetpea Way

While both sound very romantic - and more than 1,200 people took part in the poll - they failed to beat the loved-up Love Street in Paisley, Scotland, which came out on top.

Trueloves lane, however managed second place with 159 votes - only five fewer than the winner, while Sweetpea Way came in sixth place with 126 votes.

Union Street in Manchester came in last, with only 28 votes.

Cambridgeshire's libraries to charge for computer use

People who want to use computers in Cambridgeshire's libraries are to be charged £1 per hour in a bid to bring in about £110,000 a year to help support the service.

The county council runs 32 libraries and four mobile libraries, and says it main one - Central Library in Cambridge - is the fourth busiest in the country.

As it looks to bolster its funding to continue the service, the council agreed to introduce the charge from the end of April at a meeting on Tuesday.

Users over 18 will be charged £1 an hour - although an initial 30 minutes' use will be free. Council and government websites will also remain free to access.

Mathew Shuter, chair of the community infrastructure committee on the council, said there was evidence some people spent "many hours" on the libraries' computers, effectively "blocking" others from using them.