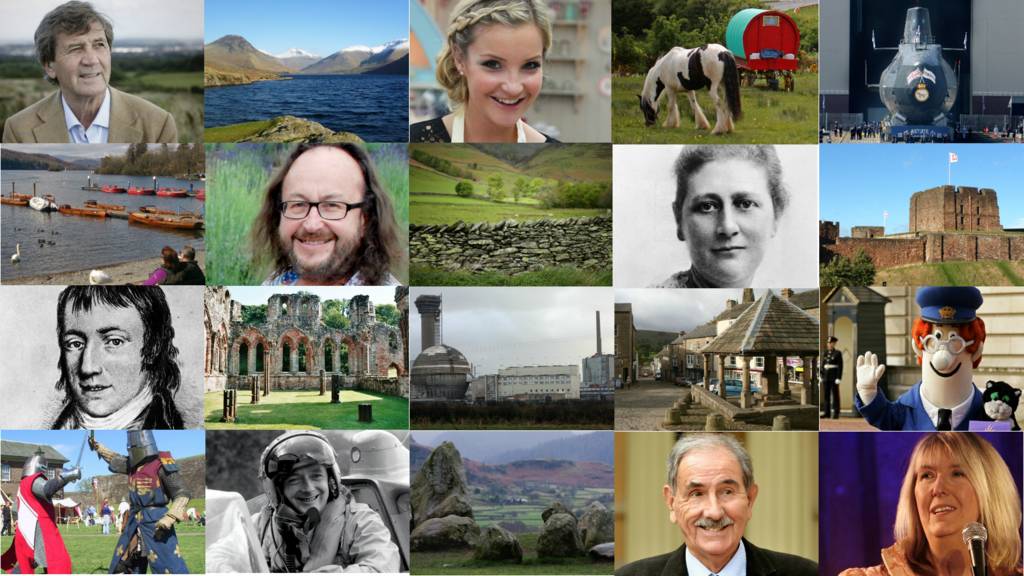 Through the day: BBC Cumbria Live

We've now finished posting news, travel reports and a regular weather forecast, interspersed with other things that catch our eye around the county, for today. A reminder:

We'll be back from 08:00 tomorrow to do it all again.  

As always, if you have a photograph you'd like to share or you have news you think we should know, you can  email us ,   tweet us  or get in touch  through our Facebook page . 

Have a very good evening.

Do not approach this man wanted by police

Police are trying to trace Mark Blamire, from Cleator Moor, who's being recalled to prison after breaching his release conditions.

Copyright: Cumbria Police

He's said to be 5ft 11in tall, and of medium build.  Police say he should not be approached.

'Prolific' thief sentenced for handling burglary haul

A criminal described as a "prolific shoplifter" was caught with cash and belongings in a burglary the previous night. 

Simon Highmore, 27, from Priory Road in Carlisle, admitted handling stolen goods, although it was stressed he'd not been responsible for the break-in, the city's crown court heard. 

Judge Tony Lancaster was told Highmore had a record of 74 offences but had recently kicked a drug addiction.

The judge suspended a four month prison sentence for a year, and ordered Highmore to cpmplete 200 hours of unpaid work and a rehabilitation requirement. 

Heart attack casualty revived at roadside

A man who collapsed with a cardiac arrest at the side of a Windermere road was saved by an ambulance crew with CPR before being flown to hospital in Carlisle.

The medical crew on the Great North Air Ambulance put the man into an induced coma and he was said to be seriously ill but stable on arrival.

BT says sorry to 'crossed wires' customers

BT engineers have apologised to customers in a Lake District valley, after some of their wires were crossed while a fault was being repaired.

The overhead cable into Kentmere was found to be faulty while a new customer was being reconnected, and a spokeswoman said the wires were crossed while a new line was installed.

"We've been putting these lines right and hope to have all of them working again by the end of the week. We apologise for the inconvenience this has caused."

She added that around 18 customers were still affected this afternoon.

Penrith floods charity 'close to folding'

A Cumbrian charity set up to help flood victims says it's on the verge of closing if it can't find more funding. 

 Hundreds of people were helped with furniture and home goods by the Community Emergency Response Team , which was previously known as Eden Flood Volunteers. 

It's now trying to help people in other crises like homelessness or domestic violence, but Sue Dust from the charity says its existing funding will run out in April.

Male abuse victims 'don't speak up'

Cumbria's weather: A fine dry night

It should be a fine evening and dry night with long clear spells and light southwest winds. There'll be a minimum temperature of 5C (41F).

You can find the latest weather forecast for where you are, here .

Your pictures: Spring lambs check out Westie Jock

Spring is now sufficiently sprung to have lambs in the Lake District and Elizabeth Halsall introduced these to her Westie, Jock, at Keswick.

Copyright: Elizabeth Halsall

Our thanks to Elizabeth for sending it in;  if you have a photograph you'd like to share or you have news you think we should know, you can  email us ,  tweet us  or get in touch  through our Facebook page  . 

National park 'relies on commercial income'

Missing commercial targets could cost the Lake District National Park hundreds of thousands of pounds, according to this year's budget report .

The authority's government grants have been steadily reduced in recent years, and the papers going before a meeting next week says the £11m a year spending plans rely on income from sources such as car parks and the Brockhole visitor centre for £4.3m a year.

The park will be steadily reducing its spending from around £11.5m this year to £10.1m in 2020.

Farmers get more time to take over pumping schemes

Landowners have been given more time before they have to take over major flood prevention schemes in two parts of Cumbria.

The Environment Agency is stopping funding drainage of agricultural land, which means farmers in the Lyth Valley in South Cumbria , and the Waver and Wampool valleys in North Cumbria , have to take over the costs of pumps, dykes and ditches or see their land flooded for months in the winter.

Copyright: Environment Agency

Originally the landowners should have taken over the drainage systems in 2015, but government officials now say new legislation may be needed to set up what are called Internal Drainage Boards.

To allow time for this, successive delays have been announced and the agency has now confirmed the Lyth scheme won't be handed over until 2020 and the Waver and Wampool drainage in 2018.

Cumbrian rescue volunteers' sadness after helicopter crash

The world of search and rescue is a small one and Cumbrian volunteers have been shocked  by a crash involving an Irish coastguard helicopter .

The pilot of the helicopter died following the crash off the coast of Mayo. 

The aircraft lost contact at about 01:00 local time as it was coming in to refuel during a rescue operation.

A search is continuing for the pilot's three colleagues who are still missing.

Curle demands better as Carlisle slide again

Carlisle United manager Keith Curle says he "will not accept" another performance like Saturday's 3-0 defeat against Cambridge, when Carlisle host promotion-rivals Luton tonight. 

United dropped to fifth in League Two following their fourth defeat on the trot at the weekend.   

Police probe fire in historic square

Police say they're treating a car fire in the centre of Cartmel as arson.

Emergency services were called to the Square at about 19:00 on Sunday, and firefighters say the vehicle was well alight.

Police say they'd like to hear from anyone who has information on the fire.

Cumbria researcher seeks 'abused men' for study

Men, who are, or have been, the victims of domestic abuse, are being asked to contribute to research by a lecturer at the University of Cumbria. 

Copyright: University of Cumbria

Dr Liz Bates is starting her research this week; she says that while  some statistics suggest one in three victims of domestic abuse are men , their experiences are "not as well understood".

Her project includes a n online questionnaire that men can fill in anonymously .

Darts row man sentenced for injuring player's back

A boat skipper from Workington was so annoyed at being knocked out of a darts competition that he attacked another player, breaking a bone in his back.

Carlisle Crown Court heard today that Ryan Bracken, 22, from Wesley Street, could be seen on CCTV punching a bystander and then attacking Mathew Smith in the town's Royal George pub.

Mr Smith was crushed against a wall, suffering a broken vertebra that left the bricklayer in agony and off work for weeks.

Judge Peter Davies suspended a 12-month prison term for two years, ordering Bracken to complete 300 hours unpaid work and pay Mr Smith £2,000 in compensation.

Cumbria's weather: Sunny, breezy and mild

It'll be a dry afternoon with sunny spells, fresh westerly winds and a maximum temperature of 14C (57F).

You can find the weather latest forecast for where you are, here .

Hello, yew - the Cumbrian tree that sounds uncannily like Brian Blessed

It was the job the famous actor Brian Blesssed said he "couldn't refuse".

Brian's voice has been used by the Woodland Trust to educate visitors to Great Knott Wood, near Ulverston, about ancient woodlands.

What he has to say can be heard by anyone who visits the yew tree (but you can get a preview by clicking on the link above).

Windermere 'accident' was medical incident, police say

Police now say the incident which closed the A591 at Windermere this morning was not an accident, but that the road was closed to allow an air ambulance to land after a man collapsed by the road.

The man was flown to the Cumberland Infirmary at Carlisle and the road has now been reopened.