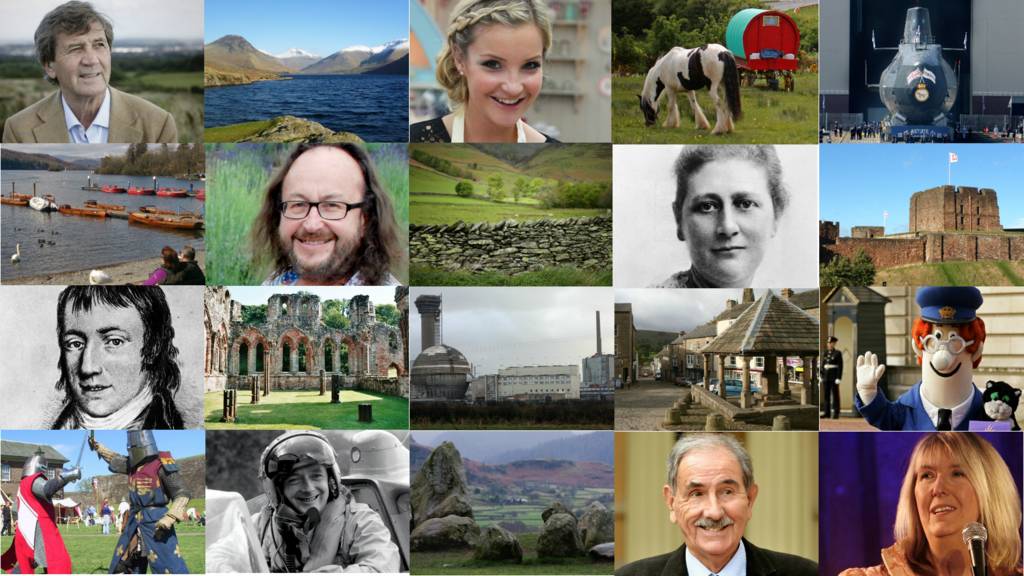 Summary
Updates on Tuesday 20 June 2017
Our live coverage across the day

Our updates have now ended for the day.

We'll be back tomorrow from 08:00 with the latest news, sport, weather and travel.

If you've got any stories or photos to share in the meantime, let us know by sending us an email or getting in touch via Facebook or Twitter.

Lamb rescued from disused Cumbrian quarry tunnel

A lamb that became stuck 40ft down a quarry tunnel near Coniston has been rescued by the RSPCA and volunteers from Coniston Mountain Rescue.

The animal had been spotted by a geology student doing fieldwork at Ash Ghyll quarry, who called the RSPCA.

They decided mountain rescue specialists were needed to get it out from such a deep and hazardous location.

After wading through an old tunnel to reach the lamb, they caught it and hoisted it up the quarry walls, then carried it back to its owner at Highground Farm.

And there's a happy ending, because after a check it was found to have suffered no injuries.

Cumbrian man admits driving and drug offences after police chase through Workington

A Workington man who was chased by police through the town at the weekend has admitted possessing drugs and driving offences.

Colin Berry, 25, told Workington magistrates he lives on Needham Drive, from where Cumbria police say they pursued him driving a Volvo to Moorclose Road just before 10:30 on Sunday.

Berry pleaded guilty yesterday to driving dangerously, without insurance, and while disqualified, as well as committing criminal damage and possessing heroin, amphetamine and temazepam.

He was remanded in custody and he'll be sentenced at Carlisle Crown Court on 21 July.

High court considers issues raised by Cumbrian peer's child refugee campaign

Campaigners have begun a High Court challenge over the number of unaccompanied child refugees accepted into the UK under the so-called 'Dubs' scheme.

The Cumbrian Labour peer, Lord Dubs, sponsored the amendment to the Immigration Act, which requires the government to relocate unaccompanied refugee children from other countries in Europe.

The charity, Help Refugees, claims the consultation process used by the Home Secretary to calculate that only 480 should be accepted, was "fundamentally flawed".

Lord Dubs, who himself arrived in the UK in 1939 as a six-year-old refugee from Nazi-occupied Czechoslovakia, says there are children living in desperate conditions in Northern France, and in camps in Greece and in Italy.

Quote Message: These children are vulnerable, they're suffering from abuse, they're living in appalling conditions, and any child we can bring over is a child's life worth saving. Now, if we win the judicial review, the government will have to open up consultation, local authorities we know are willing to step up to the mark, and more children will be able to come here, to a decent life and to safety. That's why it's important." from Lord Dubs Labour peer and campaigner for child refugees

Survey hopes to improve traffic flow in South Cumbria.

Drivers in the Kendal area could be asked about their journeys as part of efforts to improve the flow of traffic.

Cumbria County Council says on four days next month, car and lorry drivers could be asked to stop and answer questions.

Each interview is due to take less than three minutes.

The information that's gathered will be used to plan future investment in the local transport system.

Cumbrian man jailed for sexually abusing girl

A man from Carlisle who sexually abused a young girl has been jailed.

Robert Ferguson, 60, from Warwick Road, had denied causing or inciting a child under 13 to engage in sexual activity, but was found guilty last month on a majority verdict.

The abuse had come to light after concerns were raised about a picture the child had drawn.

At Carlisle Crown Court today, Ferguson was jailed for four years.

He must also must sign the sex offenders' register, and comply with a sexual harm prevention order, both for an indefinite period.

Cumbrian steam engine to go on show in the county after restoration

The restoration of a rare Cumbrian steam engine will now go ahead thanks to a donation of almost a million pounds from the Heritage Lottery Fund.

The money will be spent on the Victorian locomotive, the Stainmore Survivor, which was built in 1889. It's the last example of its type.

It'll go on show in Kirkby Stephen and it's expected to be in steam for 21 days each year.

It's shown here in the 1960s:

Toby Watkins, from the Locomotive and Conservation Learning Trust, says it has an interesting history and was threatened twice with being scrapped:

Quote Message: The first was in 1939 and of course, the Second World War starts, and the country desperately needs steam engines. (It was) withdrawn again in 1962, and one of the chaps who was responsible for setting up the Beamish Museum actually hid it from British Railways for a while so he could find the money to actually save it himself."

Footbridge to rejoin Cumbrian town split by floods

An important pedestrian bridge destroyed during Storm Desmond, is finally due to be reinstated.

Knightsbridge, in Keswick's Fitz Park, was washed away in December 2015 during the devastating floods which crippled the county.

All good things must come to an end? Warning of thundery downpours

The Met Office is warning that heavy rain may affect parts of Cumbria in the early hours of tomorrow.

The Yellow warning, in force from 03:00, says bouts of rain, heavy and thundery at times, will move in from the West.

Then, from late tomorrow afternoon into tomorrow night, torrential downpours are expected, along with lightning, hail - and the possibility of localised flooding.

However, the Met Office says many areas may escape the worst of the weather and stay dry and sunny.

Fashion designer Vivienne Westwood talking to Cumbrian students

One of the UK's best known fashion designers is giving a talk to students at the University of Cumbria today.

Vivienne Westwood is telling students at the Ambleside Campus how she makes fashion and environmental activisim work together.

The talk, called Exploring and Challenging Ideas on Sustainable Leadership, Climate and Social Change, coincides with the university's 10-year anniversary.

Hot weather leads to rise in ambulance calls

The ambulance service covering Cumbria says it has been dealing with an increase in calls prompted by the hot weather.

The North West Ambulance Service says one of its call-outs yesterday was to a reservoir near Rochdale in Greater Manchester, where a teenage boy drowned while swimming with friends.

And, to ensure it is able to attend such incidents, the service is reminding people only to dial 999 for genuine emergencies. It says people who simply need advice on coping with the high temperatures should talk to their pharmacist.

Lorry driver denies dangerous driving after van driver's death

The trial has begun of a Cumbrian HGV driver who's accused of causing the death of a van driver near Wigton.

David Mitchell, 53, died after hitting the trailer of a lorry in November 2015.

Carlisle Crown Court heard that Nigel Stevens, 55, had been on the B5305 attempting to reverse his lorry into Greenrigg Farm.

The tractor unit of the HGV had been on the correct side of the road whilst the trailer, loaded with potatoes, was across both carriageways.

It was then that the David Mitchell's van hit the trailer at 30mph to 40mph, where he suffered fatal head injuries.

Stevens, from Greenrigg Cottages, admits causing the death of David Mitchell by careless driving, but denies dangerous driving. The trial continues.

Cumbria's weather: hot and dry until the early hours

Another hot and dry day, with plenty of sunshine but slightly more cloud than yesterday.

After a sunny, warm evening, most places will stay dry and rather warm overnight, although cloud will increase and heavy showers are likely after midnight.

Here's the expected hourly forecast for Ambleside:

Beautiful sunset from Cumbrian coast

On another fine warm morning, but with a little more cloud than recently, Mal Walker sent this stunning shot of the sunset from Whitehaven harbour, to show how amazing the light's been at the end of the day.

As well as the gradations of colour, you can get a sense of scale from the figures of people fishing on the harbour wall.

Cumbrian mountain rescuers kept busy

Volunteers from the Cockermouth Mountain Rescue Team say they've been busy, after dealing with three call-outs in four days.

Yesterday they helped a woman from Australia who injured her ankle on Gamlin End above Buttermere while walking the coast to coast route.

The North West Air Ambulance landed on top of High Crag and flew her to hospital in Whitehaven.

On Friday the team was called out twice; once to two walkers and dogs who became cragfast on Haystacks, near Buttermere, and simultaneously to help locate a woman in Ennerdale who was lost in mist and well off her intended route.

Severe disruption: M6 Cumbria northbound

BBC News Travel

M6 Cumbria northbound severe disruption, at J40 for A66.

M6 Cumbria - One lane closed on M6 northbound at J40, A66 (Penrith), because of a broken down vehicle. Traffic is coping well.

To report traffic and travel incidents dial 0330 123 0184 at any time

Australian tourist airlifted to hospital from Lake District fell

Council staff redeployed to deal with roadside litter

About 120 bags of rubbish have been cleared from a section of the A595 in west Cumbria.

Copeland Borough Council says five members of staff had to be taken off other duties to deal with the mess beside the dual carriageway.

Copyright: Copeland Borough Council

Highways England says litter collection puts workers at risk because they're so close to fast-moving traffic, and can also create risks to other motorists, threaten wildlife and increase the chance of flooding.