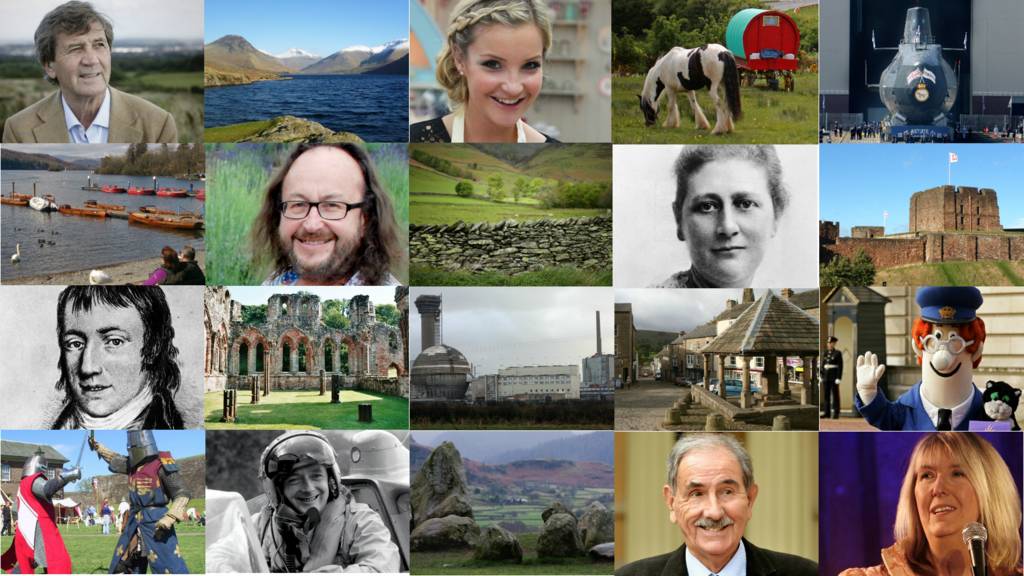 Our live coverage across the day

We've now finished posting news, travel updates, a regular weather forecast and the odd other nugget, for today. Here's a reminder:

We'll be back to do it again tomorrow from 08:00.

If there's news you think we should know or you want to share a photo you've taken in the county, let us know by sending an email, on Facebook or on Twitter.

Have a very good evening.

Star of The A Word welcomes plans for autism school in West Cumbria

Campaign starts to preserve historic hat factory

There's a campaign for the former Kangol Hat factory in Cleator to be restored.

Sydney Linfoot, who lives near the site, started his campaign having heard a story about protecting heritage buildings on BBC Radio Cumbria.

The factory, which had made hats for 71 years including through World War two, closed in 2009 and has been derelict since then.

Quote Message: It's a marvellous building for the area and the community, it would be something for generations to come, it's our industrial heritage." from Sydney Linfoot

Carlisle City councillors debate reducing numbers

Bob Cooper

Political reporter, BBC Cumbria

Carlisle city councillors are discussing whether some of them should lose their seats at a meeting this evening.

Currently there are 52 elected members on the authority, but a report going before the meeting suggests it should be cut to 45.

Conservative opposition councillors say it should be cut even further, to 39.

If tonight's meeting decides to go ahead with a reduction, a report will be sent to the Local Government Boundary Commission for England.

Half a dozen pups now on the Walney shoreline

There's great excitement today at Cumbria Wildlife Trust's South Walney nature reserve with another two seal pups born today.

More arrivals are expected on what the trust is now confident is an established breeding site for grey seals.

Prosecutors welcome verdict in M6 death crash trial

The Crown Prosecution Service says Peter Morrison, convicted today of causing the death of one Highways England traffic officer on the M6 near Tebay, had failed to heed variable speed limit signs warning drivers of an accident ahead.

In a statement, Robert Smith, a senior crown prosecutor, said:

Quote Message: This is a tragic case where two highways officers who were making the road safe for other people were hit by an out-of-control car.

Quote Message: Morrison was using his mobile phone while driving at dangerously high speeds for the road conditions at the time."

Cumbria's weather: Clearing to a frosty night

It will be a dry night, with clearing skies, and a fairly widespread frost inland.

However, there may be the odd shower around coastal areas.

Lowest temperatures will be around 0C (32F).

You can find the latest BBC weather forecast for where you are, here.

M6 crash victim's partner speaks of her family's loss

Julie Labbett, whose husband was killed by a dangerous driver on the M6, has described her husband as a man who loved the outdoors and who was a "fantastic dad" to their son, Matthew.

She was speaking after Peter Morrison was found guilty of causing the death of her husband, Adam Gibb by dangerous driving, when he lost control of his Mercedes on the M6 near Tebay.

Mr Gibb, a Highways England traffic officer from Penrith, was helping clear wreckage from an earlier accident.

A colleague, Paul Holroyd, from Kirkby Stephen, was also struck and paralysed from the chest down.

Northern trains hit by new strike

Northern train services in Cumbria will be affected by another strike tomorrow.

The company says that across the region it hopes to run about 65% of services, and some bus replacement services.

The strike involves members of the RMT union, in their long-running dispute over the role of guards.

Passengers are advised to check before travelling.

Police commissioner proposes second rise in council tax

Cumbria's Police and Crime Commissioner says he needs to increase the constabulary's share of the council tax again.

Peter McCall has started a round of consultation about an increase of just under 2%, equivalent to £4.23 a year for a Band D property, taking effect from April next year.

The police precept, as it is called, on the council tax, was increased by an almost identical amount this year.

Mr McCall said the "modest" increase would enable him to maintain police services.

You can see the consultation documents here.

Child abuse images pensioner jailed again

A pensioner who downloaded hundreds of illegal images of children, including babies, has been jailed for the second time.

Michael Smallbone, 69, from Hartington Place, Carlisle, admitted three charges of making indecent picture of children, and one charge of possessing them.

Carlisle Crown Court was told that 160 of the stills and videos were in the most serious category, and that Smallbone had been sent to prison in 2003 for similar offences.

Judge Peter Davies jailed him for 16 months, saying: "You are a determined offender."

Cumbria's weather: Rain clearing, then cooler

Rain will clear through during the early afternoon, with winds then easing and some sunny spells following.

It will turn cooler. Highest temperatures will be about 11C (52F).

You can find the latest BBC weather forecast for where you are, here.

M6 driver 'faces substantial sentence'

The football agent Peter Morrison has been found guilty of causing death and serious injury by dangerous driving on the M6.

Morrison, 37, of The Warke in Worsley, Salford, had admitted a less serious charge but was convicted by a unanimous decision after a week-long trial.

He had lost control of his speeding Mercedes near Tebay, killing Adam Gibb from Penrith, and leaving Paul Holroyd from Kirkby Stephen paralysed from the chest down.

Adjourning sentencing until 23 November, Judge Peter Davies released Morrison on bail as an "act of mercy".

In an address to the judge, defence lawyer John Dye said Morrison had been told the "inevitable outcome of the jury's verdict is that he will receive a substantial custodial sentence".

Revealed: How Catharine brought joy to poet

New research in a BBC Radio 4 documentary concludes that one of William Wordsworth's children had Down's Syndrome.

Copyright: Wordsworth Trust

Catharine died before her fourth birthday, four decades before the condition was first recognised by doctors.

Wordsworth described her as his "heart's best treasure", and her death as his "most grievous loss".

Quote Message: The poems that Wordsworth wrote, he wrote two particularly about Catharine, are such heartfelt, moving poems, one about her life, about the joy she gave, and then the terrible sadness of her early death." from Jeff Cowton Curator, Wordsworth Trust

You can listen to the programme, The Little Chinese Maiden, here.

Ulverston doctor heads for highest marathon

A doctor from Cumbria is heading out to Nepal tomorrow to provide medical support for what's been described at the highest marathon in the world.

Mike Sawrey from Ulverston is one of four doctors volunteering to support some 60 runners in the Everest Marathon, which raises money for Nepalese charities.

The medics and runners will spend two-and-a-half weeks at Everest base camp acclimatising to the altitude before running the marathon.

The route starts close to Base Camp, and descends to the town of Namche Bazaar.

Copyright: Everest Marathon

Quote Message: You're actually going downhill, it's physically impossible to run up because of the altitude." from Mike Sawrey

Football agent guilty of dangerous driving in death crash

Football agent Peter Morrison has been found guilty of causing the death of a Highways England officer, and causing crippling injury to another man by dangerous driving on the M6.

Morrison, 37, from the Warke, Worsley, in Salford, had admitted driving carelessly on the day in February 2016 when he lost control of his Mercedes 4X4 at Tebay, but denied the more serious charge.

Copyright: Craig McGlasson

A week-long trial at Carlisle Crown Court heard that Morrison had averaged more than 80mph before the accident, and communicated by text with a number of people including at least one footballer, in what other drivers described as "horrible" weather.

He will be sentenced later this month.

Cumbrian autism drama returns to screens

A new series of the A Word, a TV drama filmed in Cumbria, begins on BBC One tonight.

It tells the story of an autistic child called Joe, and his family, as they struggle to deal with his condition in the isolation of the Lake District.

Episode one of the second series starts at 21:00.