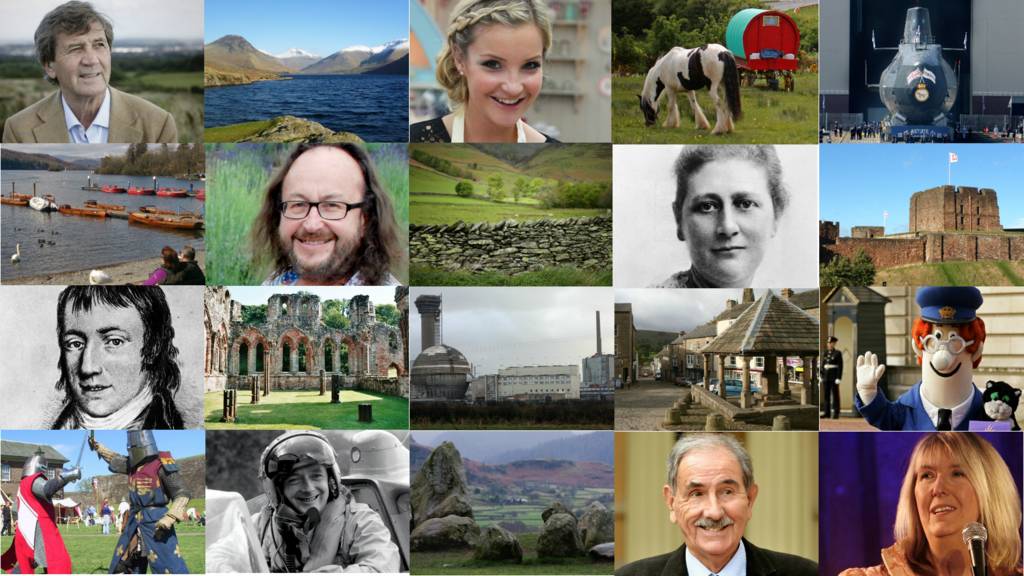 Summary
Updates on Friday 5 January 2018
League Two side Carlisle earn an FA Cup third-round replay at Championship club Sheffield Wednesday after a goalless draw.
Read more
Our live coverage across the day

Hunt for Penrith knife-point robber aged 13
Police in Penrith have revealed that a girl aged 13 was robbed at knifepoint by a boy thought to be of the same age in the town last month.
The crime happened in Wordsworth street near the Methodist Church on 12 December, at about 20:00, and officers have now appealed for witnesses.
The boy is said to be about 5ft 5ins tall and of chubby build; he was wearing a black Puffa-style jacket, grey tracksuit bottoms and black Nike trainers.
Cumbria's weather: Rain passing over, then colder

It will be a cold but increasingly cloudy night as a band of more persistent rain and possible hill snow edges slowly south.
This will clear south by dawn with colder, clearer conditions following, perhaps some frost, and a brisk breeze developing, and temperatures down to 2C (36F).
Boyfriend who stole knickers for his girl fined
A thief who stole three pairs of knickers from the M&S store in Workington to give his girlfriend as a peace-offering has been fined £150 at Carlisle Crown Court.
William James Bawn, 22, of Main Street, Frizington, admitted theft, which was in breach of a suspended 20-month prison sentence for a number of offences imposed last August.
The court was told Bawn wanted to give his girlfriend a present after she complained about the way he treated her.
Recorder Philip Curran decided not to activate the prison sentence, and he instead handed down a £150 fine for the theft.
Farron to highlight cancer travel times in debate
The Cumbrian MP Tim Farron's leading a debate in Parliament next Wednesday on the distances people have to travel to be treated for cancer.
It's part of a long-running campaign to have a radiotherapy unit built at the Westmorland General Hospital in Kendal, so patients are spared journeys of over an hour to Preston.
National guidelines say patients should have to travel no more than 45 minutes.
Westminster Hall debates enable MPs to raise issues and get a response from government ministers without waiting for time in the House of Commons.
Fire crews called to douse fire in sub under construction
The huge construction hall at Barrow's shipyard had to be evacuated for around an hour this morning because of a fire inside a submarine.
Cumbria Fire and Rescue say they were called to Devonshire Dock Hall at just before 11:00 this morning.
Two of its fire fighters, and two from the shipyard's fire service, put out the blaze in a hull known currently as boat five. The building was evacuated for nearly an hour.
As reported by south Cumbrian newspaper the Mail, the boat will be named Anson in service.
Tenants given apology over letters 'warning of demolition'
A housing association's apologised to hundreds of its tenants after sending a letter, in error, saying their houses might be demolished.
The notices were sent out by the Home Group to people living in Cleator Moor and nearby Wath Brow earlier this week.
Home Group later said the letters were not clear, adding they were at the start of a consultation process over regeneration plans for both areas that would take up to ten years to complete.
It says "no plans are in place" for any demolition at the moment.
Highways England: Why we send the traffic through Kendal
A Highways England emergency planner says engineers decided to send M6 traffic through Kendal after an overturned lorry blocked the southbound carriageway, to avoid causing delays to northbound traffic as well.
Chris Chadwick said it took a long time to recover the articulated truck because of the time it took to handle the 40-tonne cargo of cardboard.
We did explore cutting the barrier to removed trapped traffic but that would have impacted on the northbound carriageway, so the decision was made to keep it purely on the southbound."
MP says government is 'on fence' over Kendal bypass
The government is "sitting on the fence" over plans for a northern relief road for Kendal, according to the Cumbrian Liberal Democrat MP, Tim Farron.
Yesterday, the town, and surrounding roads, became gridlocked, when traffic was diverted off the M6 because a lorry had overturned.
Mr Farron says he asked the transport minister about this before Christmas, but didn't get a very positive response.
The Kendal development route is a no-brainer, it needs to happen and it's frustrating the government are dragging their feet."
Rail workers to strike on three days in guards campaign
Rail services operated by Northern will be affected by three days of strikes next week as members of the RMT union step up their campaign over the role of guards on trains.
The train company says it hopes to operate around 65% of services overall, between 07:00 and 19:00, and there will be replacement buses on some routes.
The union says the company's failed to negotiate properly over the work its members do; Northern says it wants to focus on the guards' on-board work with passengers.
You can check on the company's plans here.
Homes evacuated as fire crews deal with blaze
Several homes in Nelson Street, Carlisle, were evacuated at 02:16 this morning when fire crews called to deal with rubbish on fire, found a gas leak.
Residents were allowed home after gas engineers arrived.
Car found in search for missing Liverpool man
Police say they've now found a car belonging to a Liverpool man who's been missing from home since Wednesday.
Colin Bamber, 50, is said to be slim and 5ft 7in.
Police say they'd like to hear from him, or anyone who knows where he is, to make sure he is safe and well.
Cumbria's weather: Grey with isolated showers

It will be generally cloudy across Cumbria, although a few brighter spells are possible at times, with the odd shower which may fall as sleet or snow over the Lake District and other high ground.
The winds will lighter than of late and temperatures will reach about 6C (43F).
You can find the latest BBC weather forecast for where you are, here.
Pigs taken in night raid on farm
Police say 20 pigs were stolen on the night of 27 December.
The animals were taken from a farm at High Harrington, Workington.
Rail track sink hole 'very unusual'
A sink hole which has appeared next to the track of the Cumbria coastal line is "very unusual", Network Rail has said.
The 4ft by 2ft hole, at Harrington, is currently causing short delays to the service, but it is hoped that repairs will be complete by Sunday.
Phil James, from Network Rail, said: "We've got a big hole right by the tracks that we need to fill in.
"In theory running the railway is simple, but in practice, when you throw storms, wind, waves and sink holes into the mix, it gets more complicated."
The company has recorded only 50 such holes around all of Britain's rail network over the past 12 years.
Cumbrian firm says artificial intelligence is key
A West Cumbrian engineering firm that is creating swarming robots that learn from each other says artificial intelligence is a key area for future development.
Forth Engineering says AI allows it to cut costs, because building lots of small robots that do different jobs can be cheaper than creating one robot that does everything.
The company provides services to Sellafield, and the offshore oil and gas industry.
Police say Parton body part is not human
Police say an item found on a beach at Parton in West Cumbria is not part of a human body.
The object was found by a walker yesterday, and police were called.
Officers now say there is nothing suspicious about the item, although it has been sent for analysis as a precaution.
Engineers investigate hole beneath railway line
Network Rail engineers say they don't know what has caused a sink hole that has opened up next to the tracks at Harrington, between Workington and Whitehaven.
The hole has disrupted services on the Cumbrian coast line, but Network Rail hopes to have trains running as normal by Sunday.
We are trying to work out whether this one been caused by a collapsed culvert or sea erosion or both."
Robson talks up Carlisle prospects in cup tie

Carlisle face Sheffield Wednesday at Brunton Park tomorrow in the FA Cup Third Round with at least one former player optimistic about their prospects.
Matty Robson, who played for United and Sunderland at various times in his career, said teams like Carlisle always felt they had a point to prove against teams higher in the league.
Sheffield Wednesday are a massive club who will bring fantastic support with them, but also it's a tie where Carlisle will see an opportunity to progress."
Meanwhile, it's been confirmed that Millwall defender James Brown will stay with the Blues until the end of the season.
Future brighter for new n-plant, says business group
Plans for a nuclear power station at Moorside near Sellafield are looking more certain than they were at this time last year, according to the Cumbria Chamber of Commerce.
About 12 months ago, the main backer Toshiba, was in financial trouble, but at the end of 2017, the Korean company Kepco stepped in.
Julian Whittle from Cumbria Chamber of Commerce, says the government has been willing to put money in to secure another nuclear power scheme on Anglesey
If they do that there, they may well be prepared to do it for Moorside so that's another reason to be optimistic, I think.
Travel: Roadworks slow traffic in Kendal

Roadworks with temporary traffic lights are causing delays on the A65 Burton Road in Kendal
Carlisle sign striker Sam Cosgrove until the end of the season, while defender James Brown extends his loan from Millwall.
Read more
Farmers fear Gove's better environment could cost food
Cumbrian farmers are digesting a government minister's announcements about subsidy plans for the industry after Brexit, and their consequences for the county's landscape and agriculture.
Yesterday, the Environment Secretary Michael Gove, said the current system of EU subsides, which are mainly based on the area of land a farmer managers, will be replaced in England by payments for measures that promote environmental protection and wildlife.
You'd see a landscape that's a lot more flower rich, with a lot more birdsong, and you'd see a lot more trees."
I think our consumers deserve to have high quality, safe, traceable food produced in this country and the more we push ourselves into an environmental programme, the less opportunity there will be for that."
Weather on the fell tops: Cold with poor visibility
Temperatures at 3,000ft: Around 0C.
Winds: Light & variable, settling moderate northeasterly later.
Cloud: Variable amounts of cloud at 2,000ft, lowering to 1,000ft at times.
Visibility: Moderate or poor in rain and hill snow. Very poor in hill fog. Occasionally good in cloud breaks.
Freezing level: Around 2,000ft.
With that weather forecast, the rangers who compile the Lake District Weatherline report on fell top conditions say walkers will need a good sense of humour, as well as full winter equipment, if they're heading out today.
The British Mountaineering Council has also just connected a second sensor to guide ice climbers on what conditions are like for their sport. You can find the readings here.
Cumbria Police investigate report of a 'human foot' found on footpath

M6 closure brings new calls for Kendal northern bypass
There are renewed calls for a Kendal northern relief road, after motorway traffic was diverted through the town centre when the M6 was closed for about 10 hours yesterday.
The disruption was caused when a lorry overturned near junction 37, bringing a traffic queue 10 miles long on the A6 south from Shap into Kendal.
Councillors, taxi drivers and people living in Kendal are again stressing the need for a bypass.
This is not just about Kendal, it's about the resilience of the national road network and they've got to recognise that."
Cumbria's weather: Cloudy with a shower possible

It will be a rather cloudy day for all, although a few brighter spells are possible at times.
The odd shower is likely, which may bring a little sleet or snow over the hills.
The winds will be lighter than of late, and temperatures could reach 5C (41F).
You can find tthe latest BBC weather forecast for where you are, here.
Gas power station firm mulls appeal after planners' vote
The company hoping to build a gas-fired power station near Kendal says it will "almost definitely" appeal after being refused planning permission.
South Lakeland councillors went against advice from their own officers and and ruled that the application by Statera Energy for a power station and battery storage facility at Old Hutton would be out of place in the surrounding countryside.
The company had said it would not be prominent, next to an existing large substation.
If Statera does appeal, the council will now have to argue its case before an independent inspector.
Police get personal over parking

Police in Carlisle are clearly having a bit of a drive over traffic discipline.
Travel: Harrington landslip disrupts Cumbria coast trains

Northern train services between Barrow and Carlisle are delayed by up to 20 minutes after a landslip near Harrington.
Delays could continue until Saturday evening while Network Rail clears a blocked line.
Welcome to BBC Cumbria Live