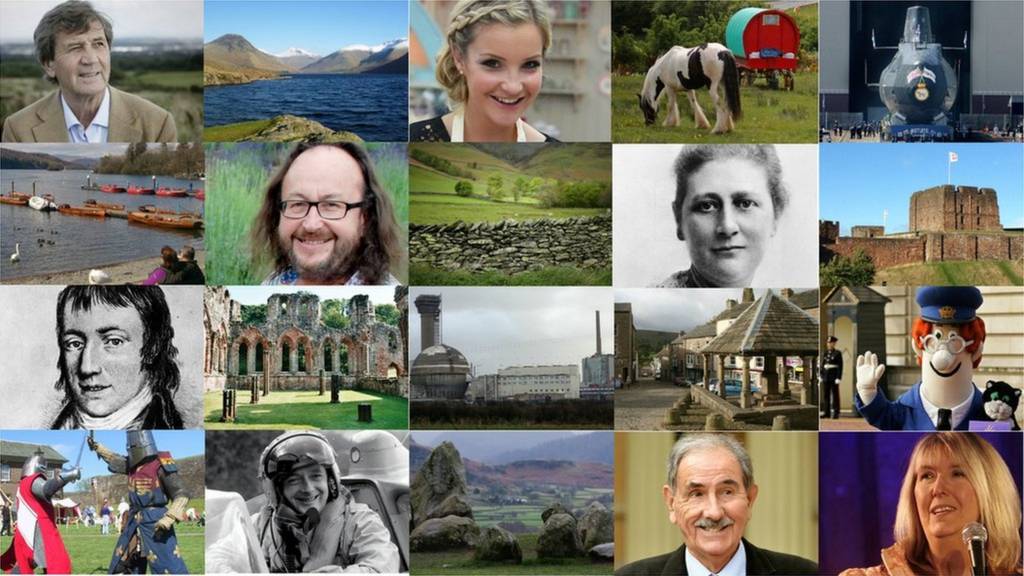 Our live coverage across the day

We've now finished posting the news and other information for Cumbria for today, and this week. Here's a reminder of the day's main developments:

We'll be back from 08:00 on Monday.

If there's news you think we should know or you want to share a photo you've taken in the county, let us know by sending an email, on Facebook, or on Twitter.

Have a very good weekend.

Appleby Fair 'becoming too big'

The committee that oversees Appleby Fair, which is currently gathering opinion about how this year went, is hearing claims that it has grown too big.

Although local authorities, emergency services and other bodies come together in a co-ordinating group, the difficulty has been that the fair has no organisation as such, but is simply a gathering.

The Traveller representative on the group, Billy Welch, has told several meetings that he believes it is getting out of hand, and locals in Appleby and a number of communities on the approach routes have agreed, after this year saw larger numbers and an increase in anti-social behaviour.

Liz Taylor, from Appleby, said publicity had attracted a new generation of visitors who had no respect for "the law, locals, traditions, true travellers or the ethos of the fair".

Quote Message: They come to Appleby and just think it's lawless and they can do what they want and behave how they want, it's just got to the point where Appleby Fair is so big." from Liz Taylor

Northern trains spells out how services will return

The train company Northern says services on the Lakes Line from Oxenholme to Windermere will be fully restored from 30 July.

On other lines, 75% of the services that were removed when the new timetables starting in May collapsed, will return on 30 July, with the rest being restored during September.

David Brown, the managing director of Northern, said: "We introduced an interim timetable on a number of routes from 4 June, and that has enabled us to accelerate our driver training, stabilise service levels, improve performance and significantly reduce last-minute cancellations."

Quote Message: A phased introduction is the right approach to ensure a more stable and reliable service for customers." from David Brown Managing director of Northern

Sellafield plutonium charge to be heard at Carlisle Crown Court

A charge against Sellafield Ltd of allowing a worker to be exposed to plutonium will be heard at Carlisle Crown Court.

A district judge sitting in Workington Magistrates' Court today sent the case to the higher court for a hearing on 17 August.

Craig Morris, prosecuting on behalf of the Office for Nuclear Regulation (ONR), did not go into the details of the allegation under health and safety legislation, but the charge sheet said the company had failed to ensure so far as reasonably possible the safety of workers including Jonathan Greggain, in relation "to the risks arising from hand-working within gloveboxes".

Adam Taylor, representing Sellafield Ltd, said no plea was being indicated at this stage to the charge, which carries a maximum penalty of an unlimited fine.

Cumbria's weather: Cloudy with drizzle in places

This evening and tonight will be mostly cloudy with some drizzle, mist and areas of fog forming through the night. Minimum temperatures will be from 9C to 12C (48F to 54F).

You can find a BBC weather forecast fr where you are, here.

Jeff's tattoo tribute to Wiltshire school fundraiser

A football fan from Barrow has had a child's drawing of Gareth Southgate tattooed on his arm after losing a bet.

The drawing was done as part of a fund-raising project in which the children at Flax Bourton Primary School in Wiltshire produced their own Panini World Cup sticker album and sold it at auction.

Copyright: Flax Bourton Primary School/Jeff Holt

Jeff Holt said he would have the Southgate drawing tattooed on his arm if the album raised more than £2,000, and it sold for £2,100.

"My son Jasper is five and has mitochondrial disease so we've had help from our local community," he said.

Quote Message: I just thought it was an amazing project to get behind and it just inspired me to do it." from Jeff Holt

Peers' committee puts out call for rural comments

The challenges facing rural communities are being discussed by a new House of Lords select committee, which has asked people from areas like Cumbria to get involved..

It hopes to cover a wide range of subjects, including local services, broadband speeds, housing, transport, employment and demographic change, asking how the government is performing.

Members of the public can contribute using an online form, until 16:00 on Monday 10 September.

Dangerous driver flouted court orders twice

A man convicted of dangerous driving has been given a chance to avoid jail after twice flouting a rehabilitation order.

John Rumney, 23, of Eden Road, Silloth, was originally handed a suspended prison term, unpaid work and ordered to undergo rehabilitation after his faulty Citroen, which he was driving on the wrong side of the road, collided with a car carrying a family of five. Some of them suffered slight injuries.

Rumney was back in court last December for failing to comply, and again today, where probation officers said he had "demonstrated a blatant disregard for court orders".

But after hearing Rumney had a chance of a job, Recorder Kevin Grice adjourned the case until 7 September, telling the defendant it was up to him whether or not the suspended sentence came into effect.

MP Woodcock: No, I won't resign and fight a by-election

The Labour MP for Barrow and Furness John Woodcock, who resigned from the Labour Party earlier this week, has said he won't resign and fight a by-election.

The MP left the party earlier this week saying it had been taken over by the hard left, and since has been challenged by the party and some voters to stand down and seek re-election as an independent.

Speaking to BBC Radio Cumbria, Mr Woodcock said he was proud to represent the constituency and would stay in his job.

Quote Message: I have got a job to do representing the people of Barrow and Furness, they elected me to stand up on their behalf in Parliament.

Quote Message: That's what I've always done and what I'm going to carry on doing for as long as those people want me." from John Woodcock MP for Barrow and Furness

Helicopter crew praised for waterfall rescue

A coastguard helicopter crew carried out what mountain rescue volunteers describe as a "difficult" operation to winch a man out of a deep ravine after he fell 5m (16ft) down a waterfall near Ullswater yesterday.

Copyright: Patterdale MRT

Volunteers from the Patterdale team were called at the man, who suffered a broken ankle, after he fell into Swarth beck, a deep ravine on the east shore of the lake.

Because of the position he was in, a coastguard helicopter was called to winch the man out.

A team spokesman said: "With some impressive flying and a difficult winch the casualty was flow to Carlisle for further treatment."

Egremont to get £1.6m flood prevention scheme

A flood defence scheme in Egremont is getting £1.6m from the government.

Skirting Beck is included on the list of projects that will get a share of a £40m package of schemes.

The Environment Agency says it will pay for three new flood storage areas, and large culverts, reducing the risk of flooding to 22 homes.

Cumbria's weather: Cooler with showery rain

It will be a cooler and mostly cloudy this afternoon with showery outbreaks of rain, which could be heavy at times.

The rain is expected to become increasingly light and patchy towards the end of the day, with maximum temperatures from 14 to 17°C (57 to 63°F).

You can find the latest BBC weather forecast for where you are, here.

Maureen Waldorf has returned to dancing at the age of 65.

Trial of former football coach hears more claims of abuse

The trial of a former Lake District football coach has heard more allegations that he sexually assaulted young players more than 30 years ago.

Anthony Pickering, 56, formerly of Claife Avenue, Windermere, has denied 11 charges at Carlisle Crown Court.

Today the jury has seen video of police interviews with men who allege that as under 14-year-olds, they were assaulted.

One said that aged about 11, he was assaulted by Pickering who then threatened to accuse him of theft if he told anyone. The trial continues.

US captain visits Whitehaven scene of famous battle

A senior member of the United States Navy will visit Whitehevan today, to learn more about the town's historic links with America.

Captain Rudesill, the Naval attache to London, will visit the Beacon Museum to learn more about an attack on Whitehaven by the American navy during the War of Independence 240 years ago.

In 1778 John Paul Jones attacked the harbour with two boats and thirty men, in an action still celebrated in US history.

In 1999, Jones was pardoned and the US Navy was given the honour of the Freedom of Whitehaven harbour, the only time this has been awarded.

Town 'not complacent' against League One's big losers

Workington Town's opponents in League One tomorrow, West Wales Raiders, have lost all 16 games this season, often conceding more than 100 points.

But the Town assistant coach, Craig McDiwell, says the team will not be complacent.

The messy and just forgetful keep M6 litterpickers busy

Contractors from Kier find all sorts of things apart from rubbish when they do a monthly litterpick on slip roads, and an annual clean along the whole length of the motorway.

Quote Message: You can pick up money, wallets, purses, we get a lot of driving licences." from Ivan Savage Kier motorway maintenance worker

Quote Message: I think a lot of drivers either pull into the services or take a rest break, maybe buy something, put their wallet on top of the car while they're putting it in the boot or strapping the kids in and then set off. they do seem to be within a mile or two of services." from Phil Cueto Kier motorway maintenance worker

You can hear Belinda Artingstoll's report from the hard shoulder for Mike Zeller at Breakfast on BBC Radio Cumbria here.