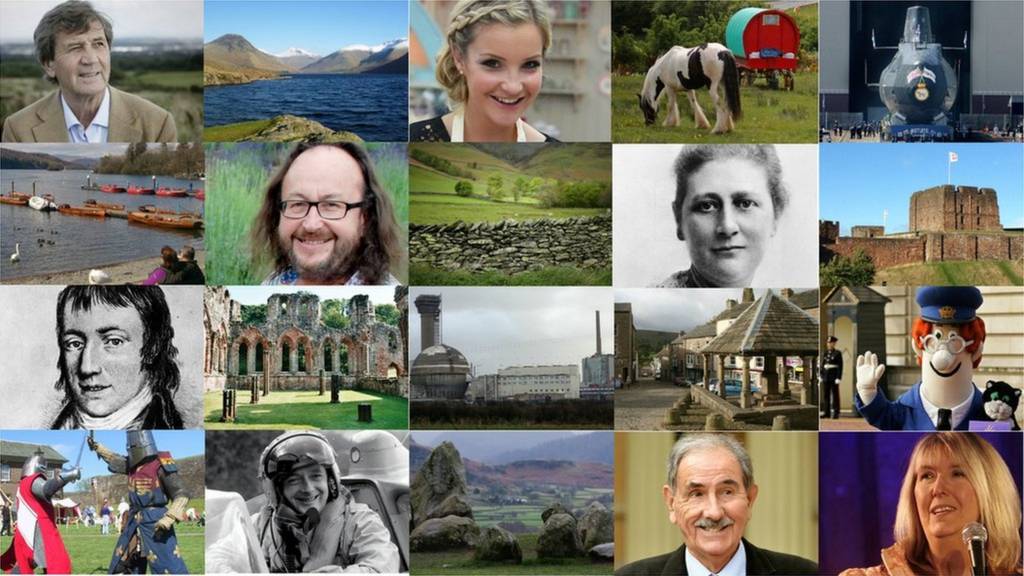 Our live coverage across the day

Lee Macaulay

Journalist, BBC Cumbria

Our updates for the week have now come to an end.

Here's a recap of today:

If you've got a story or you would like to send us a photo you've taken in Cumbria to share, let us know by sending an email, on our Facebook page, or using Twitter.

We'll be back on Monday morning to do it all again.

Former Cumbrian school teacher banned from profession for two years

A woman who was convicted over a drunken assault has been banned from teaching for two years.

Kathryn Barton, 27 and from Durham, had been a teacher at St James Church of England Infant School in Whitehaven, but resigned in October 2017 after committing battery.

Her case was also considered by a professional conduct panel of the Teaching Regulation Agency, on behalf of the Secretary of State for Education.

At a hearing in her absence in Coventry, it decided to ban her from the teaching profession for a minimum of two years.

The panel ruled that she may apply for the ban to be lifted from August 2020.

Severe accident: A66 Cumbria both ways

BBC News Travel

A66 Cumbria both ways severe accident, from Embleton to Embleton.

A66 Cumbria - A66 in Bassenthwaite closed and queuing traffic in both directions from the Embleton junction to the Embleton junction, because of an accident. Diversion in operation - Embleton, Old A66 (Eastbound) and Dubwath, old A66 (Westbound).

To report traffic and travel incidents dial 0330 123 0184 at any time

Injured seal pup saved by volunteers

A sick and injured seal pup has been rescued on Walney Island.

Two volunteer marine mammal medics from British Divers Marine Life Rescue, Emily Jenkins and Emily Baxter took the baby common seal from where it was found near the South End Caravan Park to the South Lakes Veterinary Centre in Ulverston for treatment.

The common seal is not normally found in Cumbrian waters, but there is a breeding colony of the species on the Isle of Man.

The pup was found to be less than half its healthy weight, with a high temperature and a number of bite wounds.

After treatment, the pup was taken to the Stapeley Grange Wildlife Centre for rehabilitation.

Weather: Cloudy and breezy with drizzle

A cloudy breezy night with some light rain and drizzle at times.

Some mist or fog over high ground too.

Mild with lows of 13C.

Carlisle United chief exec: New EWM debt not a barrier to takeover

The chief executive of Carlisle United says that the club's lending from Edinburgh Woollen Mill isn't creating a further barrier to a takeover from new owners.

Carlisle United are understood to have borrowed well over £1m from the retail chain owned by Cumbrian businessman Philip Day.

Chief executive Nigel Clibbins says that whether a potential new owner would need to pay this money back is "all speculation":

Quote Message: You'd negotiate with people in the same way that you'd have to negotiate and deal with the club's overdraft, and other debts and mortgages that it's got around the place."

Travel: Plastic slide cleared from M6

A plastic slide which had been blown onto the M6 southbound carriageway near J40 A66 (Penrith) has now been cleared.

Travel: One lane blocked by plastic slide on M6 southbound

There's heavy traffic and one lane is blocked due to a plastic slide on road on M6 Southbound near J40 A66 (Penrith).

The third lane is blocked by the slide.

Cumbrian teacher shares mental health story and asks others to do same

A north Cumbrian teacher is sharing his own mental health story to try and encourage people to seek help, while raising money for charity.

Ben Morgan from Cockermouth was diagnosed with an anxiety disorder in 2014.

However, he then spent nearly four years denying he had a problem.

He is now raising money for the charity MIND after coming to terms with his mental health.

Quote Message: I realised when I started having my therapy that anxiety is part of me. It's something that probably will never leave me, which is something I've come to accept."

Cumbrian justice minister gives £10m to most challenging prisons

More on the news that Cumbrian MP and prisons minister Rory Stewart has revealed plans for £10 million pounds to be spent across 10 prisons to tackle drugs and violence.

The prisons in Yorkshire, Nottinghamshire and London will be equipped with X-ray scanners to find drug packages which have been hidden inside offender's bodies.

More sniffer dogs will also be used, including some which have been tried to detect the psychoactive substance Spice.

Quote Message: Grabbing hold of those drugs; stopping them getting in, in the first place, is absolutely vital if we're to turn around violence in prisons. And unless we turn around violence in prisons, you can't get prisons into education; if you can't get them into education work, you can't turn their lives around; if you can't turn their lives around, you can't protect the public." from Rory Stewart Prisons minister and MP for Penrith and the Border

Jail for Carlisle woman who had disguised stun gun

A grandmother has been given a 27-month jail term after police found a working stun gun disguised as a torch while searching her home for drugs.

Carlisle Crown Court had heard how police officers found the illegal item inside Kelly Dargue's Carlisle home along with cannabis and amphetamine.

Dargue, 48, claimed not to own the non-lethal stun gun, but admitted that she knew it was illegal.

She added that she had given herself a shock during the short time it had been inside her home after someone else left it there.

Dargue, from Dixon Court, Shaddongate, Carlisle, admitted possession of a disguised firearm, an offence with a minimum sentence of five years.

However, Judge Barbara Forrester concluded that there were exceptional circumstances to reduce the length of her sentence.

Dargue was fined for illegal possession of cannabis and amphetamine during a previous court hearing

Copyright: Cumbria Police

Cumbrian footballer in Under-20 World Cup semi-final

Barrow midfielder Georgia Stanway will try and help England reach the semi-finals in the Under-20 World Cup today.

They face The Netherlands at 15:00 GMT.

Breaking

Stokes to play for England in third Test

Ben Stokes will make his England return in the third Test against India on Saturday - four days after being cleared of affray.

Union says it will hold Cumbrian minister to prisons promise

More on the Cumbrian MP and Prisons minister Rory Stewart's promise to resign in a year's time if the rate of drugs and violence in prisons hasn't decreased.

The Prison Officers Association, which represents uniformed staff in prisons and staff working in secure forensic psychiatric care, says it will hold the MP for Penrith and the Border to his promise.

Dave Todd is the association's national vice-chair:

Quote Message: For the past three years at least, violence in prisons has been at an all time high. The past two years there's been under-reporting at 15 per cent and ten per cent respectively. So it's a very bold statement and I'm sure that my Union will be reminding Rory of his statement in 12 months time if violence hasn't come down."

Bluebird team ends Scottish trials

The engineers who restored the shattered wreckage of Donald Campbell's Bluebird and have spent the past 10 days proving it on the Isle of Bute are returning to their workshop in North Shields.

It has been rebuilt after being recovered from the bottom of Coniston Water in 2001, following Campbell's fatal crash in 1967.

The 45-year-old died trying to break his own water speed record when the Bluebird K7 flipped and crashed.

The work on Loch Fad has proved the hydroplane can still top 100mph with ease.

Weather: Breezy with rain

A cloudy, breezy day with outbreaks of rain that could be persistent in some places.

There could be an odd bright spell or two in some areas through the day.

Top temperatures of 16C (61F).

Visiting still suspended at Carlisle hospital

The Cumberland Infirmary in Carlisle says that visiting hours are still suspended because of an outbreak of norovirus.

The stomach bug, which causes vomiting and diarrhoea, was found earlier this week on Willow C ward.