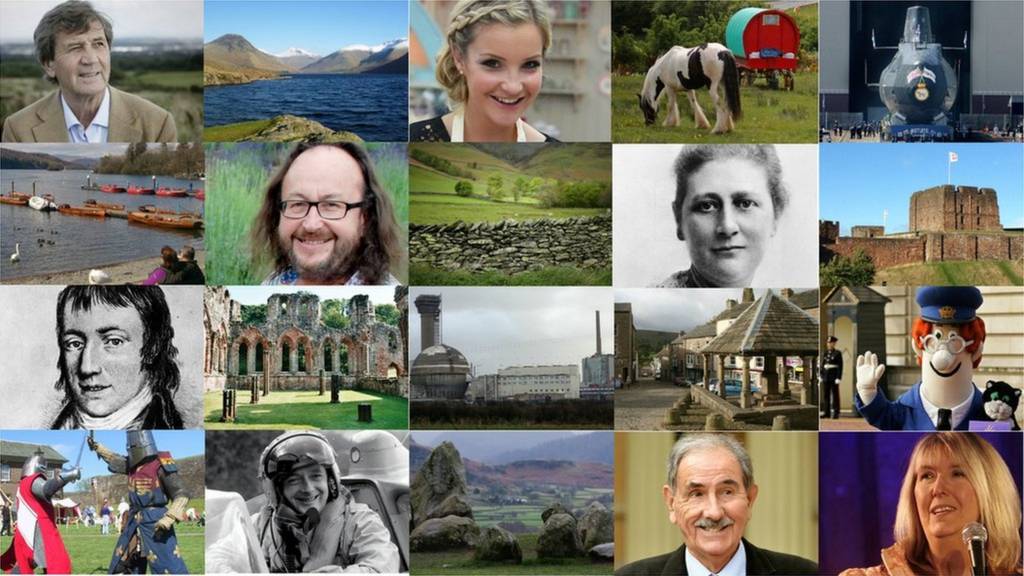 Through the day: BBC Cumbria Live

We've now finished posting the news and other useful or interesting items from Cumbria for today, and this week.

Here's a reminder of some of today's developments:

We'll be back from 08:00 on Monday to do it again. If there's news you think we should know or you want to share a photo you've taken in the county, let us know by sending an email, on Facebook, or on Twitter.

Have a very good weekend.

One-council plan 'dead in the water' says Copeland Mayor

Local Democracy Reporting Service

John Connell

The Mayor of Copeland has said plans for a single county council running all Cumbria's public services are "dead in the water".

But Mike Starkie (pictured) said a "combined" authority, with the six district councils working together with a single elected mayor, would overcome the current complexities of having a county council running some services and the districts running others.

The lengthy debate over what sort of local government would suit Cumbria has seen a single council promoted by the county but opposed by the districts, with the county's MPs mostly opposing the single unitary authority as unsuitable for such a large rural shire.

The Government now looks set to issue a formal invitation to councils across Cumbria to thrash out their own proposals, potentially allowing the combined authority proposals to be brought to the table.

Cumbria's weather: Rain clearing with showers later

Rain will clear this evening to leave some broken cloud but with showers too.

Some of the showers on high ground could be wintry, with lowest temperatures from -1C to 2C (30F to 36F).

You can always find the latest BBC weather forecast for where you are, here.

Police seek teenagers who broke into Cleator Moor hall

Police are trying to trace four teenagers who broke into Cleator Moor Civic Hall, broke four CCTV cameras and assaulted a 70-year-old man.

Two girls are both said to be white and between 13 and 15, one with long black hair in a pony tail and the other with dark curly hair, also tied up.

One of the boys is described as white, with short light brown hair.

The pensioner who was assaulted was not injured.

More parking tickets slapped on cars in Barrow

Local Democracy Reporting Service

More than 3,000 motorists in Barrow have been hit with parking fines in less than a year, a county council local committee meeting today was told.

Parking close to schools is a major issue in the town, while spotting "blue badge abuse" has also been high on the radar for county council civil enforcement officers, said a report.

For Cumbria as a whole, more than 37,000 parking tickets were issued in 2017-18, an increase of more than 6,000 tickets on the year before.

The parking service generated more than £1m but it costs the county council more than that to run it, and in 2017-18 it made a £65,000 loss.

Family pays tribute to man who died on Furness line train

Transport police say a man who died on a Preston to Barrow train last Saturday was David Clark, 56, from Grange over Sands,

Mr Clark's family said he had been a popular man in the community.

Copyright: Jonathan Hutchins/Geograph

After Mr Clark's death, at Silverdale station, a 22-year-old woman from Flookburgh and a 32-year-old man from Grange, were arrested on suspicion of manslaughter.

Both have been released on police bail and officers have renewed an appeal for anyone who was on the 20:45 Northern service to come forward.

A taste of the Middle Ages: Chef recreates monastery pie

Jennie Dennett

BBC Cumbria

A pie which was eaten hundreds of years ago by Cumbrian monks has been recreated to celebrate British Pie Week.

The chicken and crumbled bacon pie, seasoned with saffron, was served by the monks at Furness Abbey in Barrow on special occasions during the Middle Ages.

Now Ashley Wood, head chef at the Abbey House Hotel, near the monastic ruins, has recreated the pie and says saffron is still one of the most expensive spices available.

Quote Message: This pie used to be used as a celebration when they had high visitors to the abbey." from Ashley Wood

Cumbrian team could be saved from drop by Colwyn quitting

Kendal Town or Workington could be in line for a boost in their fight against relegation this season.

The Reds are currently six points adrift in the Evo-Stik Premier relegation zone, while Kendal are four away from safety in Evo-Stik West.

But Colwyn Bay's decision to resign from English football could have a positive impact for one of the Cumbrian teams, if if the Evo-Stik league decides to relegate one fewer team from either their top or bottom division.

The league say they'll make no comment until they've received Colwyn Bay's formal resignation, which would have to be by the end of this month.

Suspended jail for man with 'stun' device

A man who gave an electric shock to a woman with a stun device and was also involved in two dangerous driving crimes, has been spared immediate prison after a psychiatrist told the court he was clinically depressed.

Copyright: Craig McGlasson

Johnny Ian Noble, 22, of Grove Court, Penrith admitted possessing a firearm with intent to cause fear, and two charges of dangerous driving, having no insurance and no MOT.

The court was told of an occasion when he drove in a supermarket car park with his girlfriend on the bonnet, although she was not hurt when she fell off, and another where he led police on a chase through Penrith at up to 70mph.

In May last year, Noble activated a 'stun' device in the street, and "delivered a shock" to a woman's back, although there was no lasting injury.

After hearing of Noble's mental state, Recorder Kevin Grice suspended a 22-month jail term for two years, imposing rehabilitation, supervision, unpaid work and a driving ban, along with £200 compensation for the shock victim.

Property firm buys a townhouse square of council offices

Cumbria County Council has sold 13 former town houses around Portland Square in Carlisle, which it had used as offices until its new headquarters opened in Botchergate two years ago.

The price has not yet been disclosed but the buyer is Burge Halston Ltd, which is based locally and has already regenerated parts of Warwick Road in Carlisle and the Halston Hotel.

It is a major step in Cumbria County Council's plan, outlined almost 10 years ago, to reduce the number of buildings it occupied in the city from 19 to two.

The authority will save about £1m a year on the cost of maintaining the buildings, while Burge Halston already has planning consent to return the listed buildings to their former purpose, of high-end homes.

Barrow flats 'licence' dropped as welfare projects succeed

Local Democracy Reporting Service

Ellis Butcher

Plans for a special licence for landlords of troubled Barrow tenements in the Egerton Court area have been dropped after various projects to reduce crime and anti-social behaviour showed signs of success.

Barrow borough councillors had opted for a "selective licensing" policy amid spiralling crime rates and a high number of drug deaths.

It would mean that the owners would have to draw up anti-social behaviour plans for tenants, and take other measures.

But the council's executive director, Phil Huck, said a landlords forum had been set up, and a welfare hub offering people access to advice and drug and alcohol services had also helped reduce problems, so there were no longer grounds to introduce the licensing scheme.

Quote Message: The actual numbers of anti-social behaviour on Egerton Court have come down significantly." from Phil Huck

Cumbria's weather: Cloud thickening from west, rain later

Cloud will thicken from the west, bringing some rain during this afternoon.

It will be rather breezy, with highest temperatures from 6C to 9C (43F to 48F).

You can always find the latest BBC weather forecast for where you are here.

Wall is stolen, stone, by stone, by stone

Police are trying to trace thieves who have been stealing a dry stone wall from High Lorton, near Cockermouth...very slowly.

Officers say about 8m (26ft) of the wall have disappeared, the most being taken between 3 March and 8 March.

They are appealing for information.

Women shipyard engineers head East to inspire

Three female engineers at the Barrow shipyard are hoping to inspire Girl Guides in the far east that engineering isn't just a career for boys.

The three, Sophie Dent, Lauren Eastburn and Beth Howarth-Henry, (pictured left to right) travel to Singapore tomorrow to launch She Solves - a series of activities around technology and computing.

The engineers want to pass on their enthusiasm and change perceptions about the industry.

The charity that helps women step off motherhood cycle

A charity called Pause is working to help the dozens of women who have had successive children taken into care in west Cumbria.

Its staff say all the 23 mothers they are helping in Cumbria have suffered domestic abuse and most have other problems such as mental health issues or misusing drugs or alcohol.

Quote Message: We are learning an awful lot about women who are suffering isolation in rural areas, particularly in Cumbria, we have some other practices in rural areas where we are seeing the same thing." from Jules Hillier Pause

Quote Message: We are also finding that some of the practices that have coastal areas have particular challenges for the women."

The charity encourages women to take a pause between pregnancies to explore the possibilities of training or finding a job, over at least 18 months.

Quote Message: Women who have got into this horrible cycle of repeated pregnancy and removals, and don't really have the support and resources within them to prevent it, we are helping them to take that pause." from Jules Hillier

Quote Message: We're not saying they should never have children, we're not saying they should never get pregnant again, we're saying they should take 18 months just to focus on themselves."

Ash tree fungus 'spreading faster than predicted'

Experts believe a fungus that's deadly to Ash trees is spreading "more quickly and lethally" throughout Britain than originally predicted.

Ash Dieback was first confirmed in the UK in 2012 and in Cumbria the National Trust believes the disease could claim 95% of the county's ash trees.

Copyright: Peter Llewellyn/Getty Images

Weather on the fells: Gales and low cloud later

Temperatures at 3,000ft (900m): -2C (28F) rising slowly to 0C (32F) by evening
Winds: Southwesterly winds, freshening later becoming strong to gale force by afternoon, gusts up to 55mph later
Cloud: Clear skies initially. High cloud mid-morning with extensive low cloud arriving around midday with a base of 1,600ft (500m) dropping to 1,000ft (300m)
Visibility: Excellent in the morning, becoming poor in hill fog
Freezing level: Around 2,000ft (600m), rising slowly to 3,000ft (900m).

The assessors who compile the Weatherline reports say the highest summits are now back in full winter condition, so equipment like crampons and an ice axe, and goggles, are essential.

Quote Message: Wet snow over grass on all flanks makes a terrifyingly good sliding surface so an ice axe is essential to quickly stop a slip becoming something far more serious." from Weatherline report

Police call for knives to be handed in anonymously

Cumbria's police have joined a national drive to get people to hand in knives to police stations in a week long "surrender", starting on Monday.

Copyright: Cumbria Police

The last time a similar operation was run, last year, 113 blades were handed in, including a Samurai sword, throwing stars and machetes.

Supt Mark Pannone said: "Fortunately, in Cumbria we do not have a specific knife crime culture and we continue to see a lower number of incidents than in other areas of the UK."

Last year the number of incidents in which a knife was used was down from 157 to 153, but the number of prosecutions for carrying a bladed instrument was up, from 114 to 146.