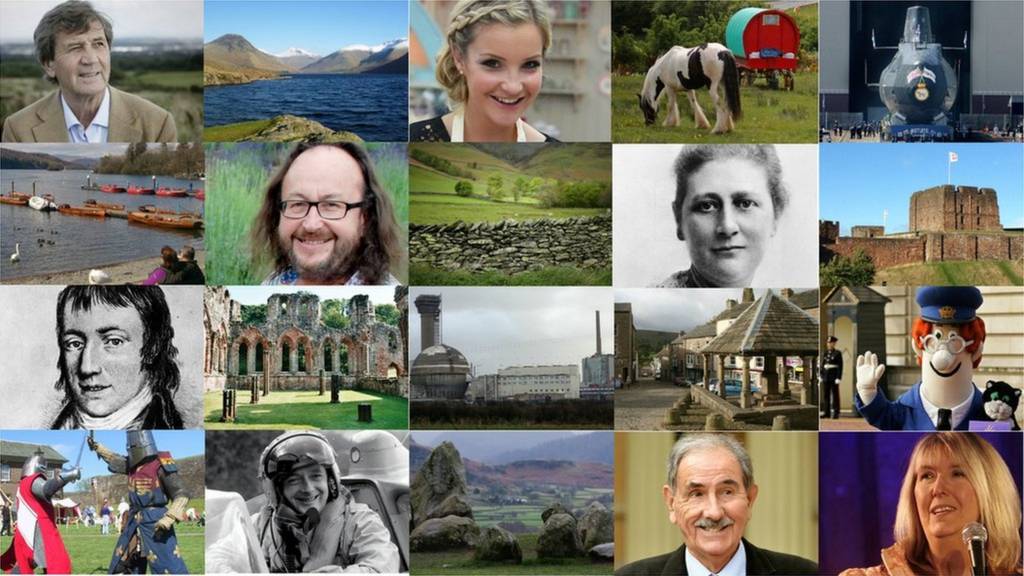 Reality Check team

BBC News

Across the day: BBC Cumbria Live

We've now finished posting news and other useful or interesting items about Cumbria for today, and this week.

Here's a reminder of some of today's developments:

Questions were raised about whether the Northern Powerhouse initiative to develop the economy at this end of England was running into the ground, although one leading figure in Cumbria pointed out that Carlisle Airport had benefited
The MP Rory Stewart, having recovered from his ejection from the Conservative leadership race, said he would carry on touring the country and talking to people, something that if nothing else has won him a huge following on social networks and, when he lost, more than 6,000 nice messages
And we also saw the son of the Cumbrian former MP Dale, now Lord, Campbell-Savours, Markus, continue following his father into politics with election to Keswick Parish Council to add to a seat on Allerdale Borough.

We'll be back from 08:00 on Monday. If there's news you think we should know or you want to share a photo you've taken in the county, let us know by sending an email, on Facebook, or on Twitter.

Have a very good weekend.

'Nuclear laundry' told to apply for planning permission

Local Democracy Reporting Service

John Connell

A laundry operating on a Workington industrial estate will need to apply for planning permission to address "some issues".

Allerdale council launched an investigation into the Energy Coast Laundry site at Lillyhall following a complaint from environmental pressure group Radiation Free Lakeland that it needed permission to open and deal with clothing from the nuclear industry.

A subsequent inspection of the site by planning officers revealed that original permission for general industrial use had indeed been changed before it opened as a laundry.

This means the company will now need to apply to bring it back into line with planning rules, although separate public safety concerns raised by Radiation Free Lakeland are not a planning issue and are regulated by the Environment Agency.

Council leader Marion Fitzgerald wrote to the campaign group, saying: "My visit assured me that stringent checks are in place both at Sellafield and at the laundry itself to ensure that there is no danger to employees or to the general public."

Quote Message: The materials handled at the laundry are, as above stated, at negligible risk of exposure to radiation and would be held on site at Sellafield if above normal background levels were ever detected." from Marion Fitzgerald in letter to Marianne Birkby of Radiation Free Lakeland

Ramblers roll out a barrel around the Lakes breweries

Outdoors writers Beth and Steve Pipe are setting off tomorrow to travel around the Lake District carrying a beer barrel to raise money for the area's mountain rescue teams.

The two will walk much of the way, covering more than 100 miles, but they will also canoe and swim some legs of the 23-day trip, apart from two days when they will travel by train.

You can follow them on Twitter, where Steve is @fellrambler, and Beth, @CumbrianRambler, or the hashtag, #brewersloop.

Cumbria's weather: Dry, clear and cool

It will be dry tonight, with largely clear skies, light winds and perhaps one or two mist patches, with lowest temperatures from 3C to 6C (37F to 43F).

You can always find the latest detailed BBC weather forecast for where you are, here.

There is a yellow Met Office weather warning for scattered thunderstorms and heavy showers from 15:00 on Sunday, although the worst are expected on Monday.

Stefan Scougall signs for another year at Brunton Park

Midfielder Stefan Scougall's signed a new contract to stay at Carlisle United for another year.

The 26-year-old played 15 times for United after joining from Scottish Premiership side St Johnstone in January.

The club also announced today that Eric Kinder, who was head of youth from 2006 to 2013, is returning to manage the academy.

Fells legend Joss aims to finish race he abandoned in 1962

One of Cumbria's best-known fell runners, Joss Naylor, is running part of a race on 20 July to finish a route he was forced to abandon in 1962.

Joss, now 83, has entered every Lake District Mountain Trail since 1960 apart from one, when he was injured just before, and he has finished every one he started apart from 1962.

That year, awful weather stopped all but one of the 55 competitors, only the late George Brass crossed the finishing line, and Joss will complete the route in his memory.

Brought to a halt all those years ago by the weather and cramp, Joss will start at Kirkstone Pass to run a circuitous route via Stoney Cove and High Street before returning to Patterdale.

Your pictures: The long and winding way down Coledale

With some better weather, the rain has left the Cumbrian fells very green if you are out this weekend.

Christine Duff from Tynemouth was kind enough to send in this view of the whole valley, with Blencathra and Skiddaw in the background.

Copyright: Christine Duff

If there's news you think we should know or you want to share a photo you've taken in the county, let us know by sending an email, or on Twitter.

Police try to trace car after man, 18, attacked

Police are trying to trace the people who were in a blue Ford Fiesta after a man was attacked and left badly injured in Central Avenue, Carlisle.

The 18-year-old is now in the Royal Victoria Infirmary in Newcastle where his condition is said to be stable, but still critical.

The attack happened at about 19:15 on Wednesday evening.

Highways staff take over shop to show off city road plan

Cumbria highways engineers and officials have taken over an empty shop unit in the Lanes in Carlisle to explain more about plans for a southern relief road for the city.

Copyright: Cumbria County Council

They will be there until 17:00 this afternoon and all day tomorrow.

MP's son heads list of Keswick parish councillors elected

Markus Dale Campbell-Savours, who is the son of Keswick's former MP, Dale Campbell-Savours, has been voted onto the town's parish council in an election that was delayed by the death of another candidate.

Mr Campbell-Savours, who earlier this year won a seat on Allerdale council, was one of three Labour members elected for Keswick East, along with four independents.

The election was to be held on 2 May, but was postponed after the death of Martin Pugmire, one of the candidates.

Cumbria's weather: Continuing mostly dry and sunny

There will be a good deal of dry weather with sunny spells today, with just a small chance of one or two light showers too and highest temperatures from 13C to 16C (55F to 61F).

There are severe weather warnings for thunderstorms from 15:00 on Sunday.

You can always find the latest BBC weather forecast for where you are, here.

Thunderstorm warning lifted from part of county

School outdoors centre gets go-ahead for extension

Local Democracy Reporting Service

Ellis Butcher

A centre near Appleby providing holidays in rural Eden for children from Liverpool has been given the nod for a £300,000 expansion plan, despite noise concerns from neighbours.

Knowsley Enterprise Academy, based at Kirkby, provides outdoor adventure holidays for primary children at the former Ormside Station building, catering for 700 children a year.

Copyright: Phase 8 Development Company

Steve Dumbell from the development company said the extension would increase the centre's capacity from 32 to 49 beds and also means people with disabilities can be welcomed to the site for the first time.

The parish council objected and 15 neighbouring residents wrote to the council, but none appeared at the planning meeting and Mr Dumbell said the noise might have come from a nearby campsite.

Police link west Cumbria 'distraction' burglaries

Police in west Cumbria say incidents in Bootle and Millom are probably the latest in a series of burglaries where criminals are targeting elderly people with unsecured homes.

Det Sgt Sam Johnson said: "Offenders are actively targeting properties or using methods of distraction to steal from vulnerable members of the community."

Police have issued a list of precautions and asked people to look out for anyone acting suspiciously.

Copyright: Cumbria Police

Man, 28, in Barrow court on murder charge

A man from Barrow has appeared in court accused of murder.

Jonathan Macmillan, 28, faces the charge following an incident in Provincial Street on Tuesday evening.

Barrow magistrates were told that he is accused of murdering 70-year-old John MacMillan, who's also from the town.

Jonathan McMillan spoke only to confirm his personal details, and he was remanded to Preston Crown Court, where he will appear for a bail hearing on Monday.