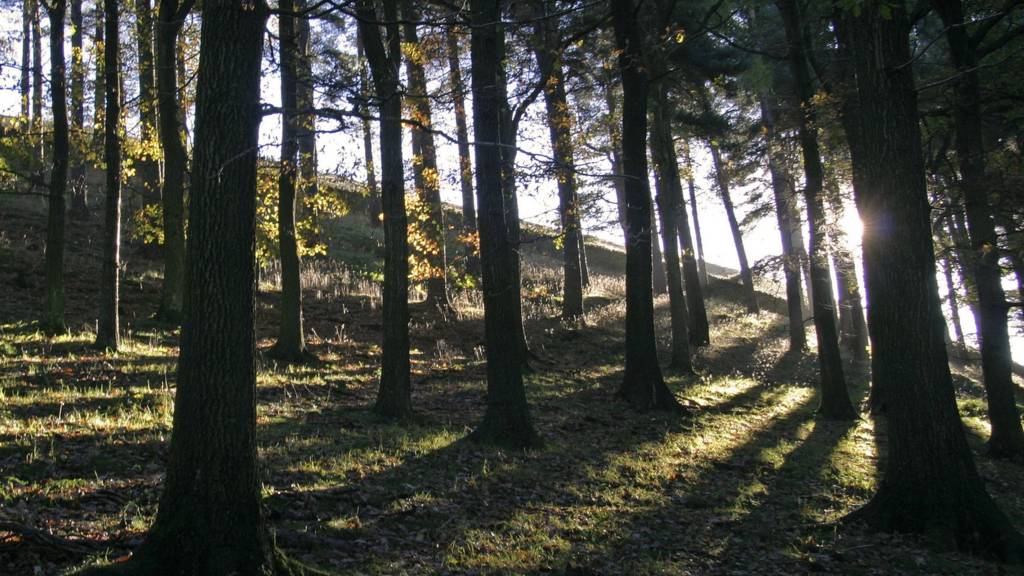 BBC Local Live: Derbyshire
Summary
Updates from Tuesday 25 November 2014
More news, sport, travel and weather from 08:00 on Wednesday
Tuesday's Local Live updates have now finished. We will be back with more from 08:00 on Wednesday.

Kaye Forster

Weather Presenter, BBC East Midlands Today

Staying cloudy for the rest of the day and overnight with some patchy outbreaks of rain. Lows of 3C (37F).

Simpson welcomes competition

Derby County's first team coach Paul Simpson says the competition for first team places should keep standards high over the coming months.

The Rams bench at Watford on Saturday contained players with hundreds of league appearances between them and Simpson says the squad's quality in depth can help the Rams stay at the top of the table.

Ice crash road 'not gritted'

Leisure centre foundations laid

Work has begun to build the foundations for Chesterfield's new Queen's Park Sports Centre.

Copyright: Chesterfield Borough Council

The £8.5m facility is being built close to the site of the existing centre and is due to open in early 2016.

Gavin Bevis

BBC Local Live

Van driver stabbed during robbery

The driver of a cash delivery van was stabbed during a robbery in Long Eaton early this morning.

Three men stole a case of money from the vehicle while it was parked outside Santander, on High Street, but the cash was recovered later after being discarded by the robbers.

Martyn Williams

Newsreader

A man's been stabbed during the attempted robbery of a cash delivery van in Long Eaton.

You can hear more on this in my 17:00 bulletin on BBC Radio Derby.

Chris Doidge

BBC Radio Derby political reporter

Another trip to Westminster. Businesses from the East Midlands are here to tell MPs what they want from the 2015 election.

Derby City Council tweets: The Big Tree Plant will take place at Mackworth Park in Derby on 29 November at 10am to 3pm get involved: socsi.in/SANGr

Dean Pepall

BBC Radio Derby presenter

Just after 17:00, Det Ch Insp Nick Lamb, from Derbyshire Police, will be talking us through this morning's attempted robbery and stabbing in Long Eaton. Listen live.

Do you know these men? Police want to speak to them after wine was stolen from Tesco in Allestree.

Copyright: Derbyshire Police

Anyone with information is asked to call Derbyshire Police on 101.

Martyn Williams

Newsreader, BBC Radio Derby

The driver of a cash delivery van was stabbed during an attempted robbery in Long Eaton in the early hours of this morning.

Find out more in my 16:00 bulletin.

Full Street regeneration continues

Nigel Cash

BBC Radio Derby reporter

While recording a piece at the top of Derby Cathedral earlier, I took this photo of building work at the site of the former police station on Full Street.

A new office building and hotel is due to be built at the site over the coming months.

With exactly one month to go until Christmas Day, the Derby Telegraph has a guide to festive fun happening locally between now and 25 December.

Geeta Pendse

Reporter, BBC East Midlands Today

I just met the lovely Jack O'Connell ahead of the London premiere of his new movie, Unbroken.

He's a proud Derby man and mentioned the Rams several times.

Chesterfield Borough Council has introduced a policy guaranteeing staff on variable hours contracts the same rights as other employees.

The rights include holiday entitlement, access to training courses and sick pay arrangements.

Martyn Williams

Newsreader, BBC Radio Derby

Our top story at 15:00, the driver of a van delivering cash to a bank in Long Eaton has been discharged from hospital after being treated for stab wounds.

Listen live here.

Webcams monitoring Derby Cathedral's peregrine falcons have been named among the best bird-cams in the country by the BBC's Countryfile magazine.

The cameras have been viewed by wildlife fans from about 70 different countries since being set up by Derbyshire Wildlife Trust in 2007.

Two expensive mountain bikes - one of them limited edition - have been stolen from a home in Ilkeston.

Copyright: Derbyshire Police

Police say the pair were taken from the Cantelupe Road property at some point between yesterday afternoon and this morning.

Ed Dawes

BBC Radio Derby Sport

I'm having a great time listening to some class commentary from Graham Richards as I put together Friday's DAB-exclusive Leeds v Derby preview programme.

Gavin Bevis

BBC Local Live

Martyn Williams

Newsreader, BBC Radio Derby

In my 14:00 bulletin, I'll bring you details of an attempted robbery in Long Eaton.

Council to launch car club

The government has given Derby City Council £75,000 to start a car club.

The cash will fund 10 low carbon vehicles that can be leased to businesses and individuals on a pay-as-you-go basis, often by the hour.

WW1 medal returned to family

A World War One medal has been returned to its recipient's descendants after being found in a skip.

The Victory Medal went missing five decades ago but was discovered by Bob Manners (pictured right), who put out an appeal last week to trace the soldier's family.

Shots 'fired at passers-by'

Simon Ward

Presenter, BBC East Midlands Today

On BBC One at 13:30, a family is reunited with a World War One medal that was lost in rubbish 15 years ago.

Martyn Williams

Newsreader, BBC Radio Derby

In my 13:00 news bulletin, East Staffordshire Borough Council asks people in Burton for their views on the future Burton's annual statutes fair.

Former Derby County teenager Lee Holmes has joined Portsmouth on loan.

The 27-year-old midfielder is being loaned to the League Two side by Preston North End, who he joined from Southampton in 2012.

Derby City Council tweets: London Road Bridge will open to traffic this Thursday (27 Nov) Please remember - it won't open to traffic until 12pm socsi.in/NdcGP

Your photos: Impressive sunrise

Tweet @bbcderby

Gavin Bevis

BBC Local Live

Chris Doidge

BBC Radio Derby political reporter

There is about 4,000 tonnes of grit stacked up, ready to be used on Derby's roads.

The council has upgraded its systems and new thermal mapping tells drivers which roads are likely to be coldest.

Sally Swinfen

Newsreader, BBC Radio Derby

Wessington residents want changes made to the sewage system because their homes have been flooded with sewage in cases dating back 30 years.

I'll bring you the details in my 12:00 bulletin.

'Obnoxious' odour complaints

Gardens flooded with sewage

Gardens in Wessington were flooded with sewage at the weekend - and it isn't the first time it has happened.

Severn Trent Water said sewers had overflowed after being blocked by people flushing sanitary products down the toilet, but residents have called for wider pipes to be installed.

Here's how BBC Weather sees conditions developing this afternoon.

Sally Swinfen

Newsreader, BBC Radio Derby

In my 11:00 bulletin, people living in the Derbyshire village of Wessington demand action after their gardens are flooded with sewage,

Firm wins Scottish contract

JCB has signed a £2.5m deal to supply 35 machines to a Scottish plant hire firm.

The Rocester-based company said while many global markets, such as India and Russia, had declined this year, the UK construction sector had "grown substantially".

'Never thought I'd be shortlisted'

Swimmer Adam Peaty has been shortlisted for this year's BBC Sports Personality of the Year.

He said: "It's one of those things I never thought I'd actually be on, but my performances this year have enabled me to get nominated into the final 10."

Icy conditions are making driving difficult on the A61 Unstone-Dronfield bypass, warns BBC Travel.

Derby's road gritting fleet has been upgraded, making it one of the most technologically advanced in the country.

Satellite technology controls when the grit is released and the salt has been coated with a by-product of sugar to prevent it from bouncing off the road.

Sally Swinfen

Newsreader, BBC Radio Derby

In my 10:00 bulletin, Derby swimmer Adam Peaty gives his reaction to being nominated for BBC Sports Personality of the Year.

Owen Bradley

BBC Radio Derby Sport

Derby County forward Jamie Ward only has a "slim" chance of being fit to face Leeds United this weekend.

Ward hasn't played since limping off with a thigh injury during Derby's win at Reading in mid-October.

Views sought on Burton fair

People in Burton are being asked for their views on the future of the town's annual Statutes Fair.

The fair is held in the town centre every October but some businesses have complained they suffer a drop in trade when it's on.

Robbers were local, say police

Police in Derby believe three men who held up a convenience store at gunpoint live locally to the shop.

Copyright: Derbyshire Police

Sally Swinfen

Newsreader, BBC Radio Derby

The family of a young boy from Uttoxeter are close to reaching their fundraising target which will enable him to get life-changing surgery in America.

I'll bring you the details in my 09:00 bulletin.

Uttoxeter's Adam Peaty has made the 10-person shortlist for the BBC Sports Personality Of The Year.

The 19-year-old City Of Derby swimmer is recognised for winning two golds and a silver at the Commonwealth Games in Glasgow.

The family of a five-year-old Uttoxeter boy who has cerebral palsy are close to reaching their £65,000 target to fund life-changing surgery in the US.

Sasha O'Regan said she hoped the treatment would leave Kyreigh pain free and able to walk unaided.

Greece death accused 'face no more action'

Four men accused of killing a teenager on a Greek island six years ago will not face further legal action, his father has said.

Matthew Cryer's family believe the 17-year-old, from Killamarsh, was attacked by up to four staff outside a club in Zante in 2008.

Once the early fog has lifted, we should see some bright spells followed by a more cloudy afternoon with the chance of a little light rain. Highs of 6C (43F).

BBC Travel reports the A61 northbound is blocked between Whittington and Unstone Green following an accident.

Gavin Bevis

BBC Local Live

Good morning. I'm going to be bringing you all of today's news, sport, travel and weather updates for Derbyshire and east Staffordshire

If you'd like to share a picture, comment or question on any topic, email or send us a tweet.