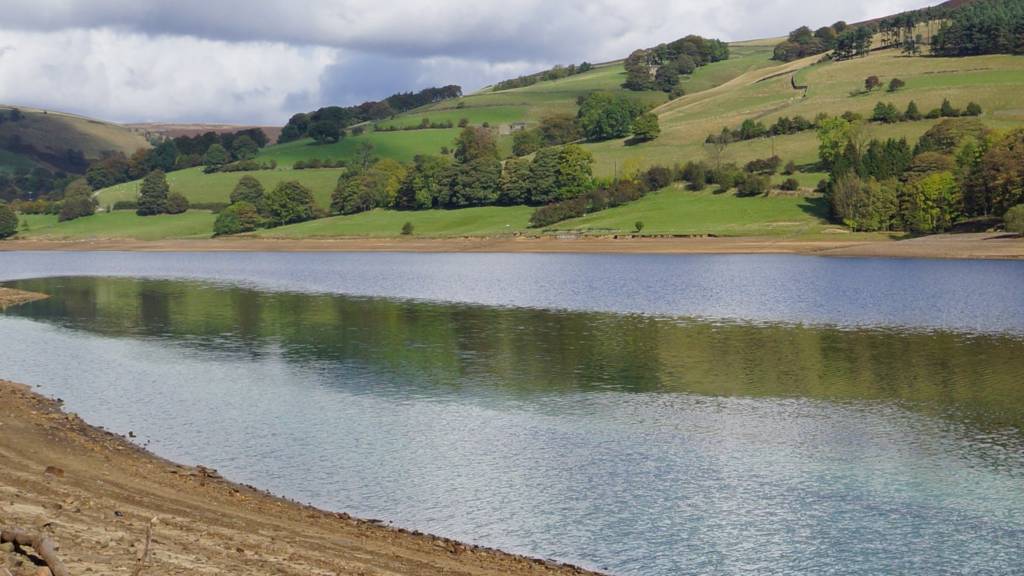 BBC Local Live: Derbyshire
Summary
Updates from Wednesday 26 November 2014
More news, sport, travel and weather from 08:00 on Thursday
Our Local Live updates have finished for today. The service will start again at 08:00 on Thursday.

It'll stay cloudy with mist and fog into this evening and then further outbreaks of rain overnight. Lows of 7C (45F).

Boxer arrives home with medal

Derby boxer Sandy Ryan is back home after winning a silver medal at the AIBA Women's World Boxing Championships in South Korea.

She's told BBC Radio Derby: "I was a big underdog going into this competition. A lot of people thought I was just going to get the experience but I've come away with a medal."

Coming up on East Midlands Today

Derby actor Jack O'Connell took centre stage at the UK premiere of his new film, Unbroken last night.

Watch BBC One at 18:30 to see what he had to say.

Police boss: 'No council tax rise'

Derbyshire's Police and Crime Commissioner Alan Charles has said he will not be looking to raise the council tax precept in the county to help pay for the shortfall in police funding.

Gavin Bevis

BBC Local Live

Former Derby County midfielder Tomasz Cywka has joined Rochdale on loan.

Since leaving the Rams in January 2012, the 26-year-old has had spells with Reading, Barnsley and Blackpool.

Wesley Mallin

Newsreader, BBC Derby

Two World War One statues have been unveiled at Derby's Sikh Museum today by Home Secretary Theresa May.

You can hear more on this and today's other main stories in my 17:00 bulletin.

Your photos: Surprise View

Gavin Bevis

BBC Local Live

Forward-thinking defender

Chesterfield entrepreneur James Hill has arguably been the most entertaining candidate on the current series of The Apprentice and he features in this preview clip for tonight's Country Show episode.

You can watch the full episode on BBC One at 21:00 or on iPlayer at any time afterwards.

Wesley Mallin

Newsreader, BBC Derby

In my 16:00 bulletin, we hear from Home Secretary Theresa May after she unveiled two statues in Derby commemorating Sikh soldiers killed in World War One.

Sikh WW1 soldiers remembered

The Home Secretary Theresa May visited Derby's National Sikh Heritage Centre today to see a new World War One exhibition.

Theresa May unveiled two new statues of Sikh soldiers at the Friar Gate site along with plaques in Punjabi and English paying tribute to those who've given their lives.

Online anxiety pill killed teen

Wesley Mallin

Newsreader, BBC Derby

In the news at 15:00: The Home Secretary Theresa may has unveiled a plaque and a pair of statues at Derby's Sikh Museum this afternoon.

Sikh volunteers are 'legends'

Mark Pickard got in touch after watching our video about a group of young Sikhs who cook meals for the homeless, calling them a "bunch of legends".

'Bigger job than expected'

Anita Spencer, manager of Bakewell's Old House Museum said extra volunteers had been recruited to help staff freeze and thaw out 1,400 items to kill off a carpet beetle infestation.

She said: "We thought it would be a big job but it's turned out to be even bigger than we expected."

Business leaders pen manifesto

Chris Doidge

BBC Radio Derby political reporter

Businesses from Derbyshire have been to Parliament to tell MPs what they want from Westminster.

The region's chamber of commerce has put together its own "business manifesto", spelling out ways politicians can help the economy to grow.

Gavin Bevis

BBC Local Live

Wesley Mallin

Newsreader, BBC Derby

Police are still looking for a third person suspected of carrying out an armed robbery at a shop in Derby.

Find out more in my 14:00 bulletin.

Attempted robber absconds

Police say a man who was jailed for an attempted robbery in which he used a BB gun, has absconded from HMP Sudbury in Derbyshire..

Daniel Charles Leech, 26, left the open prison on Tuesday.

He is white, about 6ft tall, of slim build, with blue eyes and short, brown hair and has tattoos of "RIP Danny" on his left arm and a St George flag on his right.

A Derby bridge, which has been closed since August 2012, will reopen to traffic on Thursday, the city council says.

Copyright: Derby City Council

Work on the bridge will not be complete but will have reached a stage to allow two-way traffic on London Road.

Geeta Pendse

Reporter, BBC East Midlands Today

Editing a piece on the Unbroken premiere last night. Find out why Angelina Jolie picked Derby's Jack O'Connell as her lead.

More on East Midlands Today at 13:30 GMT.

Wesley Mallin

Newsreader, BBC Derby

In the news at 13:00 hear about the Ripley teacher selected to represent the UK in a world-wide project commemorating 70 years since people were freed from Auschwitz.

Hundreds of items at Bakewell's Old House Museum are being frozen and thawed in a bid to combat an infestation of carpet beetles.

Museum manager Anita Spencer says thousands of garments have been given the treatment so far with a further 400 still to go.

Andy Potter

Presenter, BBC Radio Derby

My show from 13:00 includes my interview with Margaret Mountford, back on our screens soon in a new show about the problem of litter. Listen live.

Sally Swinfen

Newsreader, BBC Radio Derby

In the news at 12:00 hear why Home Secretary Theresa May is in Derby this lunchtime.

Sally Pepper

Presenter, BBC Radio Derby

It's Water Week, where we go behind-the-scenes to look at how our most important global resource water is looked after by Severn Trent Water.

Today you can hear how I got on with the team designated to spot and solve leaks.

In a statement, Derbyshire County Council says a rise in complaints over the past year is "perhaps not surprising when you consider we're now operating with fewer staff to help meet the £157m Government cuts we need to make".

It adds: "The largest number of complaints in the children and younger adults service is related to social care issues and we've already improved communication between workers and families to address this issue."

Man tried to eat passport

A judge slammed a fraudster who tried to use a fake passport to take a British citizenship test in Normanton and then tried to eat it when he was challenged.

Sally Swinfen

Newsreader, BBC Radio Derby

In the news at 11:00, a teacher from Ripley is flying to Auschwitz to help put together a website featuring Holocaust survivors' testimonies.

Post update

Teens arrested over robbery

BBC News Online has more on two teenagers arrested on suspicion of committing an armed robbery at a Derby convenience store.

Copyright: Derbyshire Police

CCTV footage was released by Derbyshire Police after the raid on Saturday.

Xmas decorations to beat 'doom and gloom'

Peter Clay, owner of The Angel pub in Ripley, says he first started going over the top with Christmas decorations to cheer people up during the recession.

Peter told BBC Radio Derby: "It was all doom and gloom and we wanted to make people think, 'it's Christmas and things are going to get better'."

BBC Radio Derby commentator and former New Zealand bowler Iain O'Brien has written an ESPN column defending the role of "bouncers" in cricket.

It comes after Australian batsman Phil Hughes (pictured above) was seriously injured when a short-pitched delivery hit him on the head.

Mick and Mairead Philpott, both in prison for killing six children in a house fire in Derby, are divorcing.

Sally Swinfen

Newsreader, BBC Radio Derby

In my 10:00 bulletin, I'll have more on two people being arrested over Saturday's armed robbery at a shop in Derby.

Shop robbery: Two arrested

Two people have been arrested on suspicion of carrying out an armed robbery at a shop in Derby.

A 19-year-old man is being questioned along with a 17-year-old male after a store assistant was threatened with a gun at the Goodcheers shop on Arthur Street on Saturday.

Video: Sikhs feed homeless

Thousands of people have been watching a clip posted on BBC East Midlands Today's Facebook page about a group of young Sikh people in Derby who hand out food to the homeless.

Now the full report on The Guru Nanak Dev Mission can be watched here.

No comeback date for keeper

Owen Bradley

BBC Radio Derby Sport

Burton Albion goalkeeper Dean Lyness says it's too early to know when he'll be fit to return to the side.

The 23-year-old is recovering from a broken leg suffered in new manager Jimmy Floyd Hasselbaink's first training session.

Sally Swinfen

Newsreader, BBC Radio Derby

A Conservative councillor says having fewer staff is no excuse for a rise in complaints to Derbyshire County Council.

I'll bring you the full story in my 09:00 bulletin.

Gavin Bevis

BBC Local Live

A pub in Ripley says it is aiming to become the most decorated in England this Christmas.

Staff at The Angel have spent the past few days putting up 60 Christmas trees at the venue after the owner decided he "wanted to make it stand out".

A Derby charity is to receive thousands of pounds in compensation for being wrongly sold financial protection.

The Direct Help and Advice charity says it had to make redundancies after losing money when it signed up to an Interest Rate Hedge Fund. The Royal Bank of Scotland has now admitted it was at fault.

The A516 is partially blocked at the Uttoxeter Old Road junction in Derby following an accident, warns BBC Travel.

Complaints about Derbyshire County's Council's children and younger adults service have risen by almost a third over the past year.

Other departments have also seen a rise. The authority said the figures were "disappointing".

A rather cloudy and murky day is forecast with widespread hill fog and outbreaks of rain. Highs of 9C (48F).

Gavin Bevis

BBC Local Live

Hi everyone. I'm here with today's news, sport, travel and weather updates for Derbyshire and east Staffordshire

If you'd like to share a picture, comment or question on any topic, email or send us a tweet.