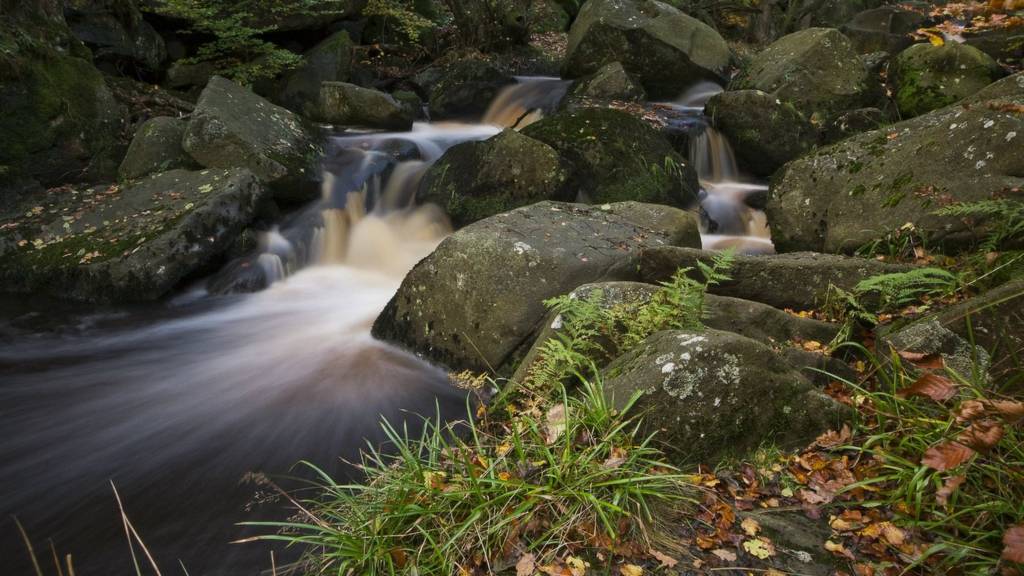 BBC Local Live: Derbyshire
Summary
Updates for Friday 27 February 2015
News, sport, travel and weather updates resume at 08:00 Monday
Today's Local Live updates have now finished. We will be back with more on Monday at 08:00.

Tonight: Breezy, cloudy and chilly

We're expecting a dry and chilly evening followed by an increasingly cloudy and breezy night with outbreaks of patchy rain and lows of 3C (37F).

Sinfin assault: attempted murder charge

A man has been charged with attempted murder after a woman was found with serious head injuries at a house in Sinfin yesterday.

Christopher Magee, 29, from Derby, was also charged with causing actual bodily harm and will appear before magistrates tomorrow.

Pet poisonings 'on the rise'

The PDSA in Derby says the discovery of poisoned dog treats in Stanley Common this week is part of a wider problem.

The charity says it's seen an increasing number of reports of attempts to poison pets in the county in recent years.

Stadium charity event off

Simon Hare

Reporter, BBC East Midlands Today

The Comic Relief zip wire event due to take place at the iPro Stadium tomorrow has been cancelled due to a lack of participants.

Investigators are monitoring the environmental impact of a fire in Grindleford that involved 4,000 litres of fuel oil.

Paul Reeves, from the Environment Agency, said: "My current concern is focused on the risk to groundwater and the potential impact to the drinking water borehole on site."

Wesley Mallin

Newsreader, BBC Derby

A 29-year-old man from Derby has been charged with attempted murder and causing actual bodily harm after an assualt in Sinfin yesterday morning.

You can hear more on this in my 17:00 bulletin on BBC Radio Derby.

Gavin Bevis

BBC Local Live

Gavin Bevis

BBC Local Live

Srihari Yarlagadda's photo of red skies over Chester Green is our latest Facebook cover photo.

Copyright: Srihari Yarlagadda

If you'd like to nominate one of your pics as a future cover image, send it to derby.locallive@bbc.co.uk

Andy Giddings

BBC Radio Sheffield Sport

Chesterfield FC boss Paul Cook says he has no plans to add loan players to his squad because he's backing the players he already has.

You can listen to my interview with him here.

Mid Derbyshire MP backs call for CPR training in schools

Mid Derbyshire MP Pauline Latham has joined the British Heart Foundation to deliver a petition calling for life-saving cardiopulmonary resuscitation taught in schools.

The BHF is calling on the Government and education authorities to help create a Nation of Lifesavers and make CPR a mandatory part of secondary education.

Wesley Mallin

Newsreader, BBC Derby

In my 16:00 bulletin you can hear more on a Derby charity's concern about a recent rise in pet poisoning incidents.

Former Derby County skipper Robbie Savage was caught driving his luxury hand-built Bentley at 99mph - and was just 1mph away from getting banned.

Close vote on Mickleover homes

Plans to build more than 400 new homes in Mickleover were rejected by six votes to five at a council meeting last night.

The decision came after more than 140 residents registered their objections to the developments.

Young dog dumped outside shelter

The RSPCA is trying to find a new home for a young dog that was left outside its shelter in Derby with a backpack and a note.

Suki, a one-year-old crossbreed, is described as a "loving and affectionate girl" who loves being around people.

Wesley Mallin

Newsreader, BBC Derby

An animal rescue charity in Derby says poison-laced dog treats found in Erewash are part of an increasing trend.

Find out more in my 15:00 bulletin.

Today's BBC Sport football gossip column features speculation former Derby County loanee Jordon Ibe could be about to sign a new big money deal at Liverpool.

Vehicles hit in police chase

A driver hit ten other vehicles while trying to escape police in a stolen car in Amber Valley.

The Mercedes had been taken from its female owner in a Ripley car park on Monday afternoon.

Police eventually stopped the car in Swanwick and a 33-year-old man was charged with robbery and driving offences.

BBC Weather have shared this graphic summarising the coming weekend's changeable conditions.

Plans to build more than 400 homes on the edge of Mickleover have been turned down.

I'll bring you the details in my 14:00 bulletin.

Show cancelled after ladder fall

Derby's Shakespeare Theatre Company has had to cancel a show for the first time in 107 years after an actor fell off a ladder at home and broke his pelvis.

The group said it had improved impossible to find a replacement to take his role in the forthcoming production of Henry IV.

Donor plea after teen's death

Wesley Mallin

Newsreader, BBC Derby

An animal rescue charity says poison-laced dog treats found in Erewash are part of an increasing trend in similar incidents. More in the news at 13:00.

Highways Agency tweets: "A50 is now open westbound btwn #A518 and #A522 nr #Uttoxeter, following an earlier accident. Moderate delays remain."

Burton Albion's newly assembled squad is ready for the race for automatic promotion, says manager Jimmy Floyd Hasselbaink.

Burton Albion have defender Kelvin Maynard (hip) available and midfielder Matty Palmer is also back in training after a knee problem.

But the League Two leaders, who lost at Accrington in midweek, are without defender Stefan Maletic (hamstring).

Aleena Naylor

BBC Radio Derby presenter

I've just had an interview with a lovely gentleman for the Radio Times feature Face Behind The Voice.

It should be appearing in the magazine in the near future.

Chris Doidge

BBC Radio Derby political reporter

UKIP is switching its parliamentary candidate in Derby North from John Charlesworth to Tilly Ward.

In a statement issued by the party, Mr Charlesworth says he is "happy to stand aside" for the 34-year-old.

Kelly Smith

Newsreader, BBC Radio Derby

In my 12:00 bulletin, a Derby vet says incidents like the attempt to poison dogs in Stanley Common appear to be on the increase.

Copyright: Erewash borough council

Ed Dawes

BBC Radio Derby Sport

Burton Albion manager Jimmy Floyd Hasselbaink says Matty Palmer could have a big part to play in the remaining 13 games of the League Two season.

The midfielder has missed the previous five matches since twisting his knee at York last month but could return to face Newport County tomorrow.

Gavin Bevis

BBC Local Live

Planning councillors have rejected plans for hundreds of new homes in Mickleover.

You can hear more on this in my 11:00 news bulletin on BBC Radio Derby.

Nappy run leads to prison

Woman injured in Sinfin assault

Police found a 23-year-old woman with serious head and facial injuries at a house in Sinfin yesterday morning.

A 29-year-old man was arrested on suspicion of committing grievous bodily harm following the assault, on Bramblehedge Drive.

Investigations have begun into two separate crashes that have shut the A50 in both directions in Uttoxeter.

Insp Mark Churton, from Staffordshire Police, said: "We can't quite work out at this moment in time what's caused either accident."

Stay up to date with the latest details here.

Kelly Smith

Newsreader, BBC Radio Derby

In my 10:00 bulletin, plans to build 400 new homes in Mickleover are turned down.

Special events planned for velodrome opening

Gavin Bevis

BBC Local Live

Derby Arena is to hold a series of special events after it opens to the public on 20 March, council bosses say.

The new venue had been due to open in December but council bosses said they wanted to "get things right" before allowing people to use it.

Poppy artist's palace date

The Derby artist behind the Tower of London WW1 poppy installation admits this week's trip to Buckingham Palace to receive his MBE took him out of his comfort zone.

Paul Cummins said: "I don't usually wear a suit at all, I'm horrendously messy. I even had to comb my hair.

"You have to walk in a certain way, put your feet on the braid of a gold carpet and not cross it."

Colin appeal hits £11,000

More than £11,000 has been raised for the Colin Bloomfield Melanoma Appeal so far.

The campaign was launched by the presenter, who has stage four melanoma, a fortnight ago and aims to teach schoolchildren in Derbyshire and East Staffordshire how to stay "sun safe".

Kelly Smith

Newsreader, BBC Radio Derby

Planning councillors have said no to plans for more than 400 homes in Mickleover.

I'll bring you the details in my 09:00 news bulletin.

There are delays on both sides of the A50 near Uttoxeter following two separate crashes.

Both collisions involved heavy goods vehicles, with two drivers sustaining injuries.

Ed Dawes

BBC Radio Derby Sport

George Thorne's return to Derby County's starting eleven will offer leadership and a sense of calm, according to head coach Steve McClaren.

Thorne, who has played twice since returning from a long-term knee injury is expected to start at Fulham tomorrow and McClaren says it is a huge bonus to have him back.

Mickleover homes plan blocked

Plans to build 400 new homes in Mickleover have been rejected by the city council.

Developer Miller Homes had put in applications for two developments at Hackwood Farm, which also featured a new school and shops, but both were turned down at a meeting last night.

Charlie Slater

BBC Weather

A bright and sunny start to the day but it'll also be very cold.

Temperatures will eventually reach 7C (45F) on a dry day with plenty of sunshine throughout.

Gavin Bevis

BBC Local Live

Hi everyone. I'll be bringing you all of Friday's news, sport, travel and weather for Derbyshire and East Staffordshire.

I'd really like to hear from you too, so email derby.locallive@bbc.co.uk or tweet us at @bbcderby with your photos and comments.