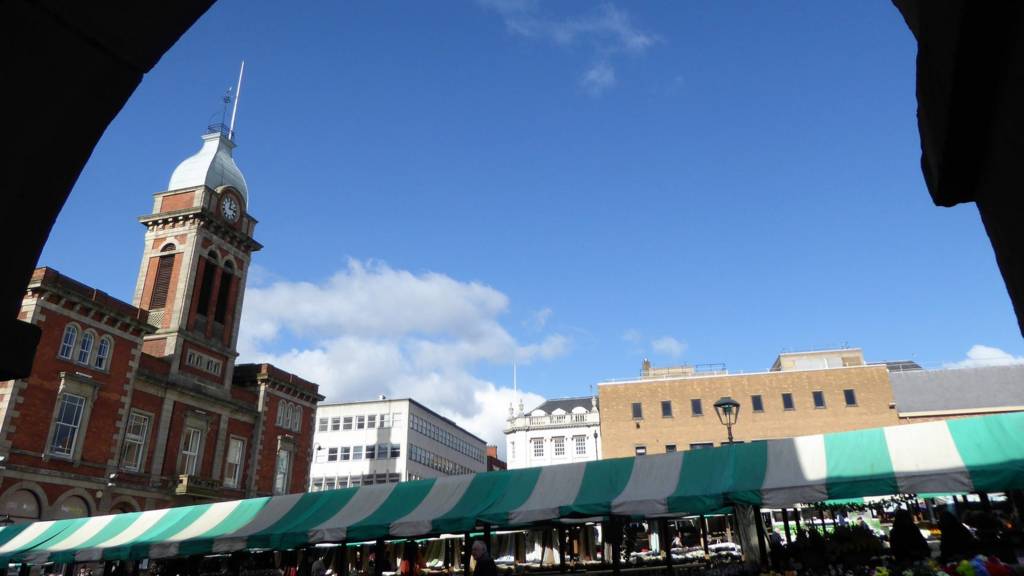 Latest updates: Derbyshire Live
Our live coverage across the day

Today's Local Live coverage has now finished. We'll be back at 08:00 on Wednesday.

Weather: Evening showers expected

It'll be cloudy with scattered showers in the first half of the night. Skies will be clearer in the early hours. 

Rural spots will be cooler than towns and cities with the chance of frost or icy patches forming.

Countdown to Blackburn v Rams

BBC Radio Derby's Rams commentator sounds up for it...

Blackburn v Derby: Keogh set to miss out

Rams captain Richard Keogh is a doubt ahead of the trip to Ewood Park .

The Republic of Ireland international was withdrawn with a calf injury early in the second half of the defeat at Aston Villa on Saturday.

Centre-half Jason Shackell missed Saturday's game with a back problem, but midfielder Bradley Johnson, absent against Villa due to personal reasons. will be back in the squad.  

Shrovetide Football: River action

Gavin Bevis

BBC Local Live

This was taken a little earlier - must be blooming cold in that water!

Headlines for Derbyshire and East Staffordshire

Gavin Bevis

BBC Local Live

Here's a final reminder of our top stories:

Family of Chaddesden's Scott Chalkley pays tribute as six-week inquest into Tunisia terror attacks finishes
Play is under way in Ashbourne's Royal Shrovetide Football
Derby County face relegation strugglers Blackburn Rovers at Ewood Park tonight

Ashbourne Shrovetide: No second game today

Gavin Bevis

BBC Local Live

The deadline has now passed for the first game to conclude and a second to begin so we'll definitely only see the ball goaled once today (if at all). Players have until 22:00.

Ashbourne Shrovetide: Second Tuesday game 'looking unlikely'

Gavin Bevis

BBC Local Live

In case you're confused, 17:30 is the deadline for starting a second game today. If the ball is goaled after that point, that'll be the end of today's action.

Shrovetide Football latest

Gavin Bevis

BBC Local Live

Excitement levels rising...

Tunisia inquest: Family pays tribute

Gavin Bevis

BBC Local Live

The family of Chaddesden's Scott Chalkley has given out a statement following the conclusion of the six-week inquest for 30 Britons killed in the Tunisian terror attack.

Copyright: Sue Davey and Chloe Fulford

It said: "What is perhaps the saddest is that Scott was taken when he had found true happiness with his partner Sue.

"We have been robbed of a future that held promise and laughter of a wonderful man so needlessly and heartlessly snatched from our lives."

Council company take over rubbish collections across the border

Lee Thomas

Newsreader, BBC Radio Stoke

The waste collection company run by Cheshire East Council is to collect rubbish on behalf of Staffordshire Moorlands and High Peak councils. 

The authority says its firm, Ansa, will help save the two councils money, and all existing employees will be transferred to a new partnership arrangement.

Copyright: Cheshire East Council

Say hello to my little friend

Gavin Bevis

BBC Local Live

Thanks to Joan Jackson for getting in touch with this photo of her new grandchild who arrived early this morning "just in time for Shrovetide".

Peaty MBE postponed due to training

Peter Spencer

Reporter, BBC Radio Derby

Olympic gold medal-winning City of Derby swimmer Adam Peaty had been due to be made an MBE at Buckingham Palace today, but we've been told by his mother that it's had to be postponed because he's currently training in the US.

Shrovetide Football: Game getting dirty

Gavin Bevis

BBC Local Live

Plenty of rain in recent weeks means it's even more muddy than usual this year...

Shrovetide Football: Up'ards attempt water breakaway

Gavin Bevis

BBC Local Live

Gavin Bevis

BBC Local Live

Don't forget to wish former Derby County star Lee Carsley a happy birthday if you bump into him later - he's 43 today!

Work starts on £400m Peak Resort

Gavin Bevis

BBC Local Live

Truly joyous scenes earlier as work got underway on the new £400m Peak Resort in Chesterfield.

Copyright: Chesterfield Borough Council

The tourist development is due to open in two years.

Man has heart attack in hospital car park

Your photos: Snow in Derbyshire

Snowyowl writes: "Looking towards Butterton and Grindon from Upper Elkstone. Snow turning to sleet now."  

Shrovetide Football: Ball no longer in the water

Gavin Bevis

BBC Local Live

Looks like they're out of the river now.