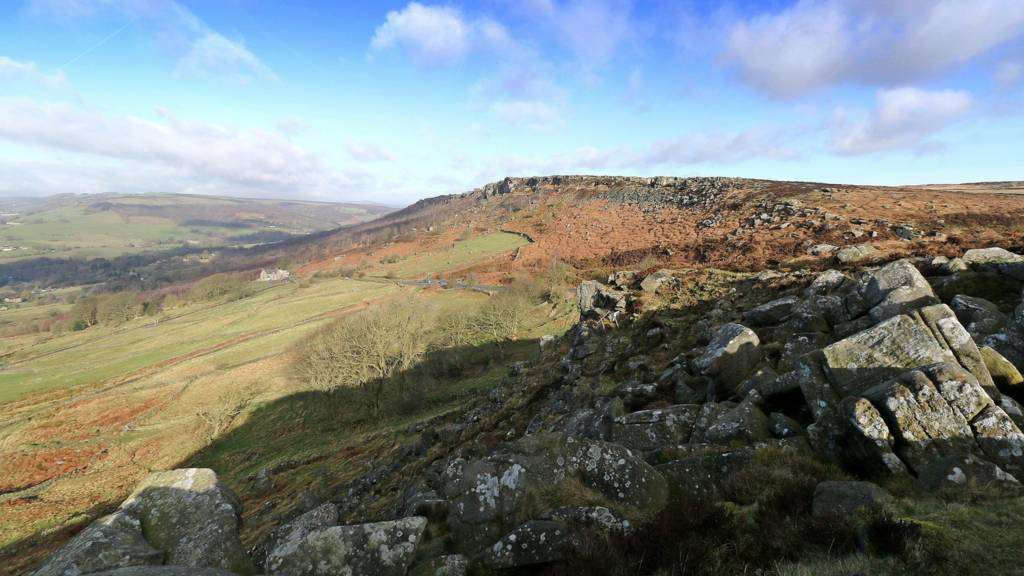 Latest updates: Derbyshire Live
Summary
Updates for Wednesday 8 March 2017
Picture of alleged murder victim released
Appeal to count Peak District hen harriers
"Frustration" over lack of honesty box theft arrests
Northern rail strike timetables released
Rams draw against Preston
Burton draw against Sheffield Wednesday
News, sport, travel and weather updates resume at 08:00 Thursday
Our live coverage across the day

That's all from Local Live today.

Join us again tomorrow.

Weather: Breezy, dry night

A dry night with clear spells. Remaining breezy.

Minimum temperature: 7C (45F).

Your pictures: Skies clear

We're back to blue skies to end the day.

Here's New Mills...

Man wanted over travel agent robbery

Police have released a picture of a man they want to speak to in connection with a robbery at a Co-op Travel in Glossop.

Staff were allegedly threatened by two men and assaulted and a large amount of cash was stolen in July last year.

Copyright: Derbyshire Police

Ian Cunningham, 37, from Stalybridge, is currently wanted in connection with the robbery.

He has connections to Derbyshire, Manchester, Staffordshire and Cheshire and is also wanted on recall to prison.

Anyone with information is asked to call police on 101.

Five people have been charged over the robbery on 29 July, including a 41-year-old man from Stalybridge, who's charged with robbery.

He's due to appear at Stockport Magistrates' Court on 20 March, alongside a 38-year-old man, from Hattersley, who's charged with assisting an offender, a 35-year-old woman, from Stalybridge and a 23-year-old woman from Mottram, both charged with Proceeds of Crime Act offences.

A 39-year-old man from Hyde was charegd with robbery and is due for a trial at Manchester Crown Court on 5 June.

The A5111 southbound is very congested this rush hour
Look out for delays on the A453 southbound approaching J24 of the M1
Congestion also getting on to the M1 northbound at J24A from the A50

Flats owner sentenced for having no fire alarms

The owner of two blocks of flats, which had no working fire alarms, put his tenants' lives at risks, a court heard.

Fire inspectors visited Brookview Court in Nottingham Road in 2015 after a tenant complained, Derby Crown Court heard yesterday.

They found there had been no working fire alarm system in the flats or common areas since 2007, there was defective emergency lighting and neither repairs nor a risk assessment were carried out after the visit.

Robert Reilly, 66, of Much Wenlock in Shropshire, admitted four fire regulation breaches and was sentenced to four months, suspended for two years, and ordered to pay costs of £3,000 at Derby Crown Court yesterday,  according to the fire service.

Area manager, Alex Johnson, said: "If a fire had broken out in any of the flats, due to the lack of a functioning alarm system, no alarm would have been raised. 

"Anyone discovering the fire would only have been able to raise the alarm by knocking on doors or pressing doorbells to rouse residents, by that time, any fire could have developed to prevent their escape down the only staircase."

Mummy takes 'cat nap' after tour

Ever seen a cat mummy?

I'd wager you can't unsee it now.  

Amber Valley MP 'nervous' over Midlands Engine

Tony Roe

BBC East Midlands political editor

Hard to call it an "austerity budget", when public spending has increased by 4%, Amber Valley's Nigel Mills has said in the Budget debate.

And on the Midlands Engine, the Conservative MP said he feels "a bit nervous when I hear 'Midlands'" and hopes a fair proportion of strategy finds its way to the east of the region.  

O'Neil happy with Alfreton Town progress

The Reds manager says they've done well in his opening six matches.

Modern slavery arrests in Burton

Two arrests have been made in the Burton area this morning as part of a nationwide investigation into human trafficking. 

It's being led by officers from Avon and Somerset who are concerned about possible modern slavery offences in nail bars.

They said they've identified four victims of the crime.

Electoral fraud accused in court

A man's appeared before magistrates in Derby this morning charged with 16 counts of electoral fraud. 

Chris Fernandez, 59, from Chaddesden, is accused of making false signatures on nomination forms during last year's local elections in the city, where he stood as a candidate for the Trade Unionist and Socialist Coalition. 

The Labour candidate was elected in the Darley ward , in which Mr Fernandez stood, receiving just 45 votes.

He made no plea and has been bailed to appear at Derby Crown Court on 5 April.

Cannabis farm found in Mickleover

Rory Gallimore

BBC Radio Derby

Police in Mickleover have arrested two men, after finding a suspected cannabis farm. 

Officers arrived at a house on Crystal Close at around 12:50 where they found a "large amount" of the drug. 

A 26-year-old and a 28-year-old were arrested.

Inquest told of medication problems at prison

The jury at an inquest into the death of a Foston Hall prisoner has been told it's easy to conceal medication at the jail. 

Karen Morris died after taking pills there in January 2015.

Copyright: West Midlands Police

A prisoner who knew the 33-year-old said prison staff get distracted when they're supposed to be monitoring pill taking as they have so many prisoners to see in a short space of time.

Derby Coroners Court also heard that Miss Morris never said she wanted to die and only took high levels of medication to get a "buzz". 

She died from high levels of the painkiller Tramadol. The inquest continues.

Brewers: 'A valuable point' - Irvine

Burton Albion's captain scored a screamer in the Sheffield Wednesday 1-1 draw.

Rams: 'Frustrating we didn't get second goal' - Vydra

The Rams striker scored his third goal of the season but Rams could only draw with Preston.

Weather: Brighter spells later

Charlie Slater

BBC Weather presenter

Staying mainly dry and cloudy this afternoon with a few brighter and sunnier spells developing.

Just the risk of an isolated shower across southern parts later.  

Top temperatures of 12C (54F).

Clot retrieval 'first' at PMQs

Tony Roe

BBC East Midlands political editor

In the House of Commons earlier, Erewash MP Maggie Throup raises the serious issue of stroke treatment. 

Must be a first that the phrase "mechanical clot retrieval" has been used at Prime Minister's Questions...

Budget: Pub rates discount 'rise not cut'

Shadow pubs minister (yes, a real thing) Toby Perkins has also been reacting to the news that the Chancellor is giving 90% of local pubs a £1,000 discount on their business rates bill.