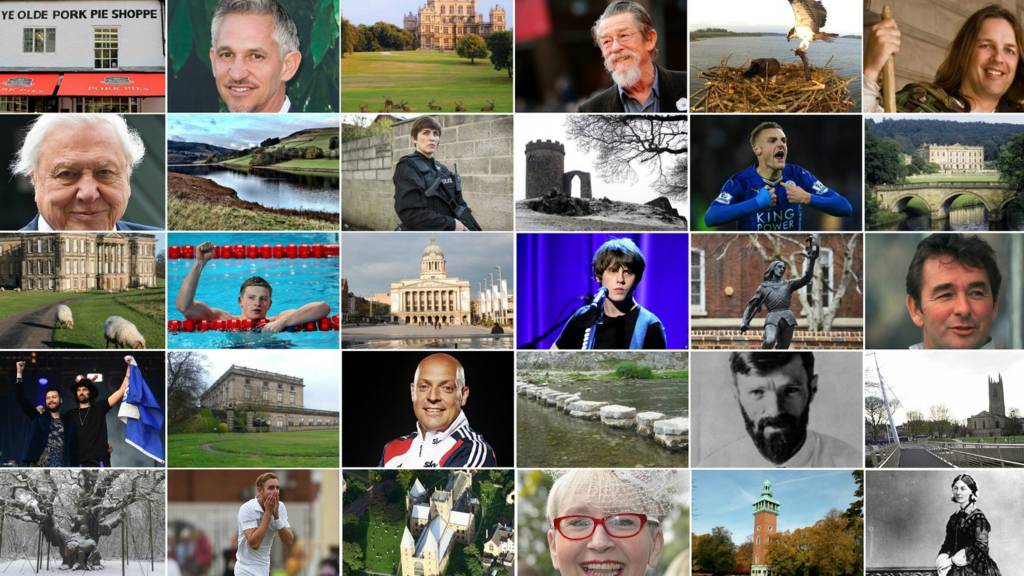 Summary
Updates for Tuesday 30 May 2017
Police name woman whose body was found in Derby house
Boots clue in Nottingham noise mystery
Supermarket staff injured in robbery
Appeal after adult store 'sex assault'
Row over mystery water leak in Sherwood
News, sport, travel and weather updates resume at 08:00 Wednesday
Our live coverage across the day

Our live updates have now ended but we are returning with a special election debate live page at about 22:30 tonight. Normal service will resume at 8:00 tomorrow.

Maryam Qaiser

BBC Local Live

Officers are appealing for information on missing man Paul Mincher.

Paul, 39, was last seen at 8.30am on Saturday in Mansfield.

Copyright: Nottinghamshire Police

He is described as being 6ft 3ins, of a slim build and has brown hair with bits of green in it.

When he was last seen he was unshaven, wearing a black and green striped polo shirt with black joggers and gold trainers.

Weather: Cooler and less humid tonight

Alexandra Hamilton

BBC weather presenter

There'll be some clear spells tonight. It'll feel noticeably cooler and less humid with lows of 9C (48F).

It'll be a bright day tomorrow with plenty of sunshine. Scattered cloud will slowly build over the course of the day. Highs of 21C (70F)

BBC Election Panel: Your thoughts on care for the elderly

Maryam Qaiser

BBC Local Live

The BBC is running an election panel, asking voters for their thoughts ahead of 8 June

We asked:

How should we ensure that the elderly are properly cared for? What should we do about pensions? Which party do you think has the best policies to support us in our later life?

Richard, Derby: Make in clear how pensions work. Offer better incentives to save towards a pension.

Dwain, Leicester: We should keep them at high interest rates and let the banks pay for care homes.

Wayne Nottingham: Probably Labour, although there is always the worry about how they would pay for them. Remove tv fee licenses and winter fuel payments from those who have larger incomes.

Linda, Derby: By making people take out health insurance

Tess, Nottingham: I believe that the NHS and social care should be cross party, so not used as political football and should be run by health professionals, patient reps as well as politicians with budgets set for long term

Maryam Qaiser

BBC Local Live

A dog had to be rescued from a hot car by police who broke into the vehicle.

Nottinghamshire Police said they tried to find the owner but were left with no choice but to force entry to the car in Lowdham.

Copyright: Nottinghamshire Police

A spokesman for the force said: "With the temperature set to increase this week, please do not leave dogs in cars – even for a few minutes.

"Temperatures inside cars can increase rapidly, which often makes dogs extremely distressed."

Group booted off plane in 'offensive T-shirts' row

Gavin Bevis

BBC Local Live

Jet2 has confirmed a group of people were stopped from flying from East Midlands Airport to Majorca this morning after refusing "numerous requests" to change or cover up T-shirts featuring offensive language.

An airline spokesperson said: "Once in the cabin, and in the presence of families and young children, several members of the group decided to ignore these repeated warnings, at which point our crew took the decision to remove them from the flight.

"The flight has departed, and we apologise to all other customers for the delay and inconvenience that this caused at the start of their holiday.

"However as a family friendly airline that carries millions of holidaymakers, including families with young children, we will not allow people on board if they are using or displaying offensive language, or if they fail to comply with the instructions of our crew."

The firm refused to confirm it was a group of 18 women, as reported in the Nottingham Post, or the nature of the language on the T-shirt.

Children's choir reach Britain's Got Talent semi-finals

Maryam Qaiser

BBC Local Live

A group of children from Derbyshire have made it through to the semi-finals of ITV's Britain's Got Talent.

Perfect Pitch Creation is a choir made up of youngsters, aged 8 to 14, based in Longstone village.

Copyright: Perfect Pitch Creation

Emma Hopkins, who leads the group, said if they win, half the prize money would go to #ChallengeDerbyshire which supports three end of life charities.

Emma said: "The charities are close to our hearts as many of the families in the choir have used these very special charities."

Severe accident: A638 Nottinghamshire both ways

BBC News Travel

A638 Nottinghamshire both ways severe accident, at A614.

A638 Nottinghamshire - A638 Great North Road in Scrooby closed in both directions at the A614 junction, because of an accident involving van and motorbike. Traffic is coping well.

To report traffic and travel incidents dial 0330 123 0184 at any time

Relief over 'dead swans' false alarm

Gavin Bevis

BBC Local Live

Police were called to a river in Hathersage, Derbyshire earlier after a member of the public reported seeing swans that were in distress and possibly even dead.

The force's dedicated wildlife officer rushed to the scene and found it was actually two plastic swans. He told us the swans had now been put back in position on the riverbank.

Copyright: Derbyshire Police

Splash of colour added to Southwell to celebrate music festival

Maryam Qaiser

BBC Local Live

Gates, fences and doors have been decorated in Southwell ahead of this year's Gate to Southwell.

The annual, four-day event, is now in its 11th year and will take place from 8 June to 11 June.

Copyright: Gate to Southwell

A splash of colour has been added to the town to celebrate the festival which will see 50 artists performing, including headliners Kate Rusby and Jon Boden.

There will also be crafts, poetry, family entertainment and a beer and cider festival.

Copyright: Gate to Southwell

Live coverage of East Midlands general election debate from 22:30

Calum McKenzie

BBC Local Live

Here's a friendly reminder we've got an extra live page for you later this evening, to tie in with the BBC East Midlands general election debate at 22:45 on BBC One.

You'll hear from Nicky Morgan (Conservatives), Chris Williamson (Labour), Kat Boettge (Green), Barry Holliday (Lib Dems) and Roger Helmer (UKIP).

The debate is being hosted by BBC East Midlands Today presenter Geeta Pendse.

You can share your comments later using the Twitter hashtag #ge17eastmids or getting in touch via Facebook.

So grab your slippers and a mug of cocoa and I'll see you later on...

Gavin Bevis

BBC Local Live

Leicester hit by power cut

Gavin Bevis

BBC Local Live

There's a power cut affecting people living in the LE3 postcode area of Leicester. Western Power Distribution says it hopes to have supplies restored by 18:00.

Severe disruption: M1 Derbyshire northbound

BBC News Travel

M1 Derbyshire northbound severe disruption, at J25 for A52 Brian Clough Way Nottingham affecting J24A for A50 Derby.

M1 Derbyshire - M1 entry slip road closed and heavy traffic northbound at J25, A52 (Nottingham), because of a vehicle fire. Congestion to J24a, A50 (Derby).

To report traffic and travel incidents dial 0330 123 0184 at any time

Mahrez set for Foxes exit?

The Midlands correspondent for Sky Sports tweets...

Fatal pub attack victim named by police

Gavin Bevis

BBC Local Live

Police have named a 68-year-old man who died after being assaulted in a pub car park.

Graham Hollis, from Scraptoft on the outskirts of Leicester, died in hospital following the attack outside The White House, also in Scraptoft, on Friday night.

Police said a 23-year-old man arrested over the incident has been released on bail pending further inquiries.