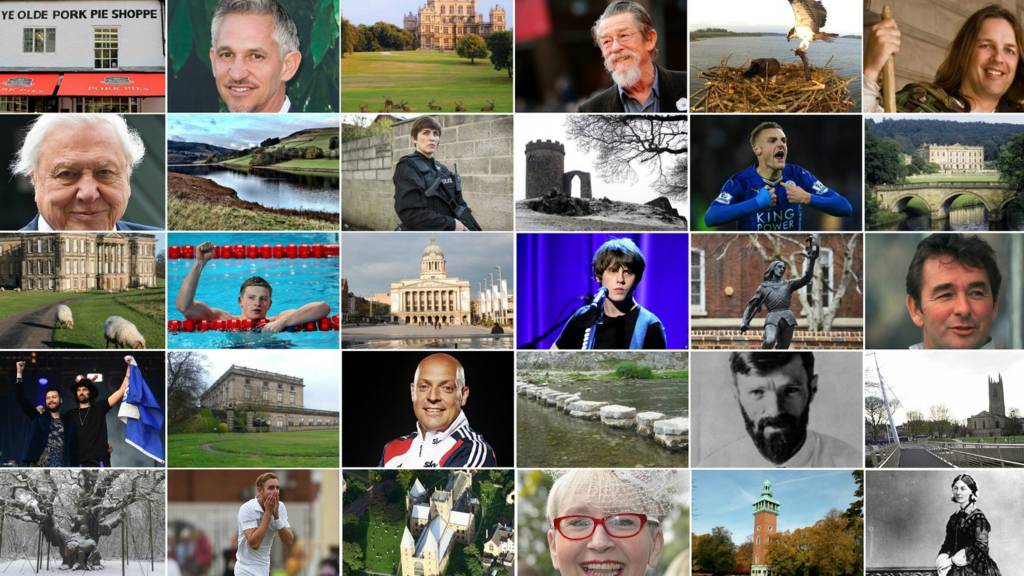 Summary
Nottingham student accommodation fails fire safety checks
Man jailed for drink-drive garage smash
BBC pay reveal a 'disgrace,' says Soubry
Staging Richard III play at cathedral a 'deliberate humiliation'
Hospital closure consultation branded 'a waste of time'
Foxes win pre-season opener in Hong Kong
Live updates for Wednesday 19 July 2017
Severe disruption: A594 Leicestershire both ways

BBC News Travel

A594 Leicestershire both ways severe disruption, between Highcross Street and A47 St Nicholas Circle.

A594 Leicestershire - A594 Vaughan Way in Leicester closed in both directions between the Highcross Street junction and the A47 St Nicholas Circle junction. Traffic is coping well.

To report traffic and travel incidents dial 0330 123 0184 at any time

A badger pops through a cat flap in Nottingham.

Our live coverage across the day

That's the end of our live coverage for today. We'll be back tomorrow at 08:00.

Who's been eating from my bowl?

Heather Burman

Journalist, BBC News Online

A cat got a surprise when a badger popped through its cat flap.

Its owner has rigged up a camera to catch the visits to the house in Nottingham.

Weather: Humid night with the chance of some thunderstorms

Anna Church

BBC East Midlands Today weather presenter

For most it will be a dry end to the day although there is the risk of an isolated thunderstorm.

It will be another humid night. Cloud will increase with some light and patchy rain arriving from the west by dawn.

Minimum temperatures of 15C (59F).

Severe accident: M1 Leicestershire northbound

BBC News Travel

M1 Leicestershire northbound severe accident, between J21 for M69 and J21A for A46 Leicester North.

M1 Leicestershire - Two lanes closed and queuing traffic on M1 northbound between J21, M69 (Leicester) and J21a, A46 (Leicester North), because of an accident involving two vehicles. Travel time is 20 minutes.

To report traffic and travel incidents dial 0330 123 0184 at any time

Burton's MP named beer drinker of the year

Aleena Naylor

BBC Radio Derby newsreader

It's a title previously held by Andrew Flintoff and Prince Charles, but now the MP for Burton and Uttoxeter has been named Beer Drinker of the year.

The title's been bestowed on Andrew Griffith by the All-Party Parliamentary Beer Group - which he's also been made an honorary life president of.

Copyright: Conservative Party

Hannah Pearson killing: Man guilty of manslaughter

Greig Watson

Reporter, BBC News Online

A man has been cleared of murdering a 16-year-old girl but found guilty of her manslaughter.

James Morton, 23, had met Hannah Pearson on 23 July 2016 and she went to his house in Newark, Nottinghamshire.

He told the trial at Nottingham Crown Court he had been giving her a massage and she had agreed to him putting pressure on her neck.

Morton, who denied murder, saying he had no reason to want Ms Pearson dead, will be sentenced on Thursday.

Weather warning for rain still in place

Anna Church

BBC East Midlands Today weather presenter

Before I get to the main forecast, here is a reminder that there is a yellow warning for rain still in place until 23:55 this evening.

Please keep an eye on the BBC Weather website for the most up-to-date information.

BBC salary exposure 'an absolute outrage,' quips Lineker

Calum McKenzie

BBC Local Live

Match of the Day presenter Gary Lineker has feigned outrage at the revelation that Chris Evans is paid more than him by the BBC.

The pair's salaries, up to £1.79m and £2.25m respectively, were released for the first time as part of the BBC's Annual Report.

Following the disclosure, former Leicester striker Lineker wrote on Twitter: "This whole BBC salary exposure business is an absolute outrage...I mean how can @achrisevans be on more than me?"

He had tweeted earlier this morning he would have his "tin hat" ready for after the salary release.

Foxes to face Reds in Asia Trophy final

Gavin Bevis

BBC Local Live

Leicester City will take on Liverpool in the final of the Premier League Asia Trophy in Hong Kong on Saturday.

The Reds eased past Crystal Palace with a 2-0 win after the Foxes beat West Brom on penalties earlier.

Pieces from yarn bomb project disappear

Maryam Qaiser

BBC Local Live

Do you remember the yarn bomb project in Arnold?

Well the group behind it says some of the pieces have gone missing today.

Two blankets and a squirrel have disappeared from the Market Place.

The Robin Hood style decorations were created by the ladies from the Button Moon craft shop to brighten up the area.