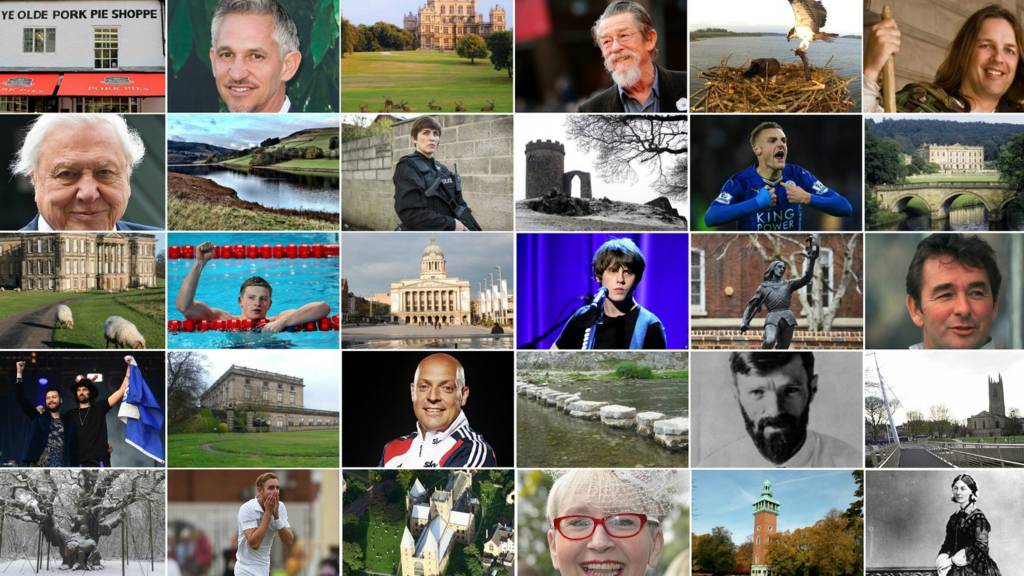 Summary
Live updates for Friday 21 July 2017
Derby murder: House-to-house enquiries continue
Shocking CCTV footage of cyclist hit and run
Opposition to farm for 220,000 chickens
Bulldog puppies stolen in robbery
Our live coverage across the day

Today's live updates have now finished. They'll resume again at 08:00 on Monday.

Anna Church

Weather Presenter, BBC East Midlands Today

Dry to start the evening however it will turn increasingly unsettled overnight with rain arriving from the West.

The rain will be heavy at times but it should clear by dawn. Minimum temperature 13C (55F)

Cyclist hurt in tractor crash

Wesley Mallin

Reporter, BBC Radio Derby

A cyclist has been airlifted to hospital after he got trapped under a tractor trailer in Marchington.

The incident happened on Stubby Lane earlier this afternoon.

The man's been taken to the Royal Stoke University Hospital with serious injuries.

Spondon traveller eviction almost complete

Gavin Bevis

BBC Local Live

A police operation to evict a group of travellers who have been parked on a park in Spondon since earlier this week is almost complete.

Derbyshire Police said the group, which had been served with an eviction notice by the city council, have mostly left but officers were staying at the site to make sure the last few vehicles leave.

Copyright: Derbyshire Police

Insp Lauren Woods, who leads policing in the area, said: "The city council served the eviction notice, which is the proper course of action when travellers arrive on public land.

"However we noticed that there was an increase in the waste being left by the group and so we decided quickly to use section 61.

"This is available to us in certain circumstances and on this occasion, waste being strewn across the fields meant we could evict them using these powers."

Uttoxeter's Adam Peaty on medals, tattoos and legacy

Nick Hope

BBC Sport Olympic sports reporter

As Adam Peaty prepares to defend his 100m breaststroke gold at the World Championships in Hungary, BBC Sport's been given wide-ranging access to his training camps in Thailand and Tokyo.

We've spoken to the 22-year-old from Uttoxeter about the scale of his achievements so far including the world record and Olympic gold.

Plus why he has a giant tattoo off a lion on his left bicep and just what his 'Project 56' is all about.

Traffic warning as start of holiday season clashes with truck show

Gavin Bevis

BBC Local Live

Something to bear in mind if you're jetting off this weekend.

Would-be robber handed gun threat note to cashier

Gavin Bevis

BBC Local Live

A would-be bank robber who passed a note to a cashier threatening to "start shooting" unless she handed over cash has been jailed.

Danny Powell, of no fixed address, queued up in the Lloyds branch in Market Street, Eckington, before handing over the folded piece of paper, Derbyshire police said.

The hand-written note said he had a gun and would start shooting unless he was given "all the cash".

However, no firearm was seen and he left the branch empty-handed a short time later, leaving his note behind.

Derbyshire Police said the botched raid took place on 27 March - two days before he used the same trick at a bank in Kent and left with some money.

He was arrested in June by Kent Police and was last week at Canterbury Crown Court he was jailed for four-and-a-half years after pleading guilty to robbery and attempted robbery.

Watch: Countdown to Leicestershire v Northants

Gavin Bevis

BBC Local Live

Here's how the Grace Road pitch looks ahead of tonight's T20 Blast encounter.

Watch: Tips for avoiding summer traffic jams

Traffic jams are an unavoidable feature of any British holiday - or are they?

These tips might help you reach your destination more quickly.

Rams head to Germany for friendly

Gavin Bevis

BBC Local Live

Derby County continue their pre-season preparations with a friendly against Kaiserslautern tomorrow afternoon.

The former German champions now play in their country's second flight and finished 13th last season.

Gary Rowett's side then travel to Northampton Town on Tuesday ahead of the start of the new season two weeks today.

Severe accident: A46 Nottinghamshire both ways

BBC News Travel

A46 Nottinghamshire both ways severe accident, at B6166 Farndon Road affecting Lodge Lane.

A46 Nottinghamshire - Queuing traffic on A46 in both directions in Farndon at the B6166 Farndon Road junction, because of an accident earlier on. All lanes have been re-opened. Congestion to the Lodge Lane junction.

To report traffic and travel incidents dial 0330 123 0184 at any time

Cash machine raid ends in failure

Gavin Bevis

BBC Local Live

Thieves tried to use a car to break in to a cash machine at a shop in Mountsorrel last night - but ended up leaving empty-handed.

Police said a Toyota 4x4 was used to pull the cash machine from its position at the shop in Granite Way shortly before 23:30 - but the thieves were then unable to open the machine to access the money.

Anyone who saw the attempted raid or a dark coloured Audi near the scene has been asked to call Leicestershire Police on 101.

Ex-social worker not guilty of care home abuse

A former social worker at a Nottingham children's home has been acquitted of historical child sex offences, police have said.

Lewis Castillo, of Stapleford, was charged with five counts of indecently assaulting a child in August last year.

The 53-year-old denied the offences, which were alleged to have taken place against one victim at the Redtiles home in Bestwood, between 1989 and 1990.

He was found not guilty today after a trial at Nottingham Crown Court.

Your photos: Summer in Derbyshire

This is what we like to see - lovely blue skies in Clowne, Thanks to fluffyduckweb for the pic.

Watch: Mum's Facebook friends raise £2,000 for IVF

It doesn't get much more heartwarming than this...

Marisha Chaplin and Jon Hibbs, from Cotgrave in Nottinghamshire, say they are overwhelmed by a £2,000 donation from Facebook friends to help them get IVF treatment.

About 75 women in the May Babies 2016 Facebook group raised the money.

The pair already have a daughter, one-year-old Evie, as a result of IVF but couldn't afford a second round of treatment.

Travel: Woman cut from car on A1

Rail firm merger talks near end

Chris Doidge

BBC Radio Derby, political reporter

Reuters reports Bombardier and Siemens are in the final stages of talks about merging their rail operations.

Reuters' sources say the companies have offered extensive guarantees on jobs.

Bombardier is a big employer in Derby, while Siemens has locations in Nottingham and Ashby-de-la-Zouch.