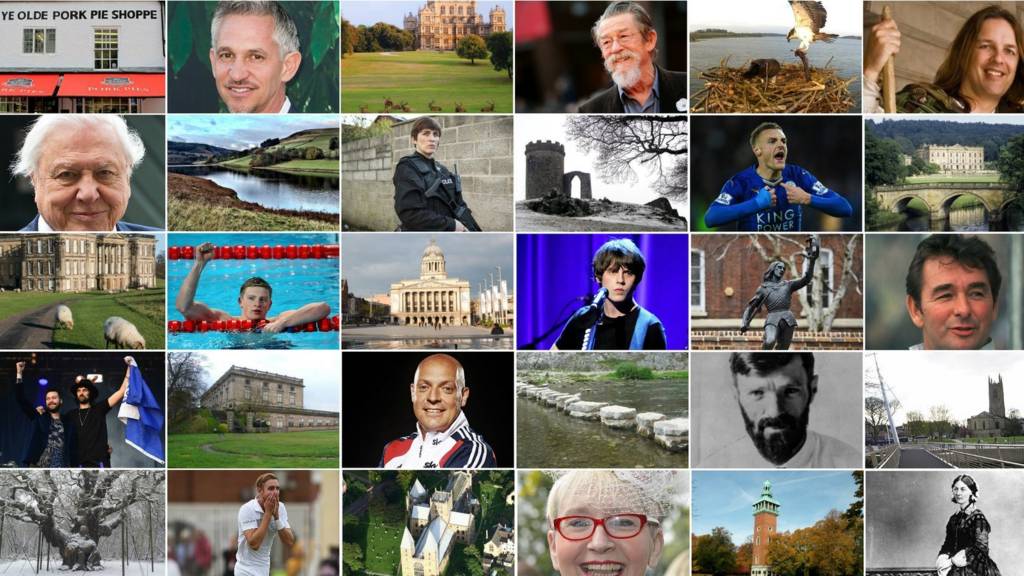 Latest updates: East Midlands Live
Listen live to your BBC local radio station in Derbyshire, Leicestershire and Nottingham.
By Shamoon Hafez

BBC Sport

Our live coverage across the day

Today's Local Live updates have now finished. We'll be back at 08:00 on Friday.

Weather: Cloudy with some fog tonight

Anna Church

Weather Presenter, BBC East Midlands Today

It will remain dry to end the day but it will become increasingly cloudy overnight and although for most it will be a dry night there could be a few spots of rain.

A few pockets of fog possible.

Tomorrow will start cloudy and for some the cloud will prove stubborn.

However some bright or sunny spells are possible.

It should stay dry through the evening with maximum temperatures reaching 12C (54F).

Severe disruption: M1 South Yorkshire southbound

BBC News Travel

M1 South Yorkshire southbound severe disruption, between J31 for A57 Sheffield and J30 for A616.

M1 South Yorkshire - One lane closed and slow traffic on M1 southbound between J31, A57 (Sheffield) and J30, A616 (Worksop), because of a broken down vehicle.

To report traffic and travel incidents dial 0330 123 0184 at any time

Maguire feeling proud after England call-up

Gavin Bevis

BBC Local Live

Nice use of emojis from Leicester City's latest England international.

Woman died after swallowing 8in table knife

Samantha Fisher

BBC News Online

A woman in a mental health hospital died after swallowing an 8in (20cm) table knife, an inquest has heard.

Suzanne Johnston told staff at the Sturdee Community Hospital in Eyres Monsell, Leicester, she had swallowed a knife on 4 January.

However, the inquest heard her risk level remained low because she showed "no signs of pain or discomfort".

The 41-year-old died two months later.

A Leicester Coroner's Court jury found Ms Johnston died by misadventure.

They were told the blade had been in her stomach too long for surgery to be successful and she eventually died on 9 March.

The cause of death was given in court as multi-organ failure caused by sepsis due to a perforated gastric wall.

Two people injured in Etwall Road crash

Gavin Bevis

BBC Local Live

A man and a woman have been taken to hospital following a crash between a car and a lorry near Etwall this afternoon.

All three emergency services were needed to deal with the crash, which happened on the A516 Etwall Road at about 14:10.

A section of the road remains closed between the new roundabout near Mickleover Court Hotel and the A50 roundabout.

Probe into acid leak at Walkers factory in Leicester

Gavin Bevis

BBC Local Live

The Environment Agency has started an investigation after 200 litres of acid leaked at the Walkers factory in Leicester yesterday.

The spillage involved peracetic acid, a chemical used for cleaning at many food and drink production sites.

No workers at the Beaumont Leys plant were harmed by the leak.

A Walkers spokesperson said: "We are aware of spillage of about 200 litres that occurred at our Leicester manufacturing site yesterday.

"We have informed the Environment Agency and we are carrying out a full investigation into the incident."

The Environment Agency said: "We have received notification of a leakage of up to 200 litres of peracetic acid at a site in Leicester.

"The company has taken remedial measures and has employed contractors to clean up the spillage.

"Our officers will be checking this has been carried out sufficiently as well as looking into the circumstances surrounding the leak."

Bank cards stolen from woman, 72, on tram

Maryam Qaiser

BBC Local Live

A CCTV image has been released of a couple police want to speak to after a 72-year-old woman's bank cards were stolen on a tram.

Nottinghamshire Police said the woman's cards were taken recently on a tram at Hucknall, without the victim knowing.

Copyright: Nottinghamshire Police

Officers say the cards were then used in Bulwell town centre on 25 October.

Have you seen Oren Widdison?

Maryam Qaiser

BBC Local Live

Officers are concerned for the safety of missing teenager Oren Widdison.

The 15-year-old was reported missing from Nottingham yesterday.

Copyright: Nottinghamshire Police

Nottinghamshire Police said Oren was last seen wearing a grey sports jacket, dark tracksuit bottoms or dark skinny jeans and white Nike high-top trainers.

Beer tribute for legendary Leicester bobby

A new beer has been produced dedicated to a famous policeman from Leicester.

Tubby, made by Leicestershire brewer Everards, commemorates PC John 'Tubby' Stephens, who some claim was the inspiration behind the music hall track The Laughing Policeman.

Five pence from every pint sold will go to a charity that supports families of killed officers.

Leicestershire Police's Chief Constable Simon Cole said: "Tubby was an iconic Leicestershire police officer who patrolled the clock tower in the late 1800's into the early 1900's. He weighed 24 stone and was a famous figure in Leicester.

"People traveling to the city would know about Tubby and seek him out on duty, where he often had a crowd following him around.

"10,000 people attended his funeral – he was absolutely legendary and a real popular figure in the city of Leicester."

Sherwood Forest longbow theft was 'targeted'

The World at One

BBC Radio 4

A traditional longbow maker based in Sherwood Forest has had almost his entire stock stolen in a theft he believes may have been planned by someone within the archery community.

Peter Bakewell has been handmaking bows for more than 50 years, creating some of the sport's most respected designs.

He told the World at One "we're estimating there's about £10,000 worth gone".

Police step up patrols after stabbing

Maryam Qaiser

BBC Local Live

Officers have stepped up patrols after a stabbing in Lenton.

Nottinghamshire Police are also re-appealing for witnesses who may have any information after a man was stabbed in the chest in Albert Grove yesterday at about 06:00.

The 19-year-old is still in a critical condition in hospital.

Chf Insp Mark Stanley said: "We have stepped up patrols in the area to provide reassurance and we are doing everything we can to keep people safe.

"Incidents like this where the victim has sustained such serious injuries are incredibly rare."

A38 surface being checked after lorry fire

Gavin Bevis

BBC Local Live

As rush hour approaches, a lane is still closed on the A38 northbound near Little Eaton after a lorry carrying loft insulation materials caught fire earlier this afternoon.

Highways England said specialists were assessing damage to the road caused by the fire.

Copyright: Derbyshire Roads Police

Watch: Tuilagi calls plan to extend season 'ridiculous'

Leicester Tigers centre Manu Tuilagi says he disagrees with Premiership Rugby's "ridiculous" plans to extend the domestic season.

The England star is currently sidelined with a knee injury picked up during Leicester's Premiership opener against Bath in September.

Limited success for acoustic shield

Gavin Bevis

BBC Local Live

Spotted by BBC Radio Derby's political reporter on St Peter's Street this afternoon.

Road closed after head-on crash

Wesley Mallin

Reporter, BBC Radio Derby

Emergency services are dealing with a head-on collision involving two vehicles on Etwall Road between Mickleover and Etwall.

Fire crews have been working to free a woman trapped in her car and a man stuck in the cab of his lorry. An air ambulance is also there.

The crash happened just after 14:00. Derbyshire Fire and Rescue Service has warned the road could be shut for some time.

Burglar who targeted vulnerable jailed

Maryam Qaiser

BBC Local Live

A burglar who targeted elderly and vulnerable people in Ordsall and Retford has been jailed.

Jason Ramsdale, 26, stole thousands of pounds worth of jewellery and cash between March and July.

He initially denied the charges but pleaded guilty when his DNA was found at one of the houses he'd burgled, Nottinghamshire Police said.

Copyright: Nottinghamshire Police

Nottingham Crown Court heard further investigations were carried out which identified 14 more burglaries which he was linked to.

Ramsdale of Brecks Road, Ordsall, pleaded guilty to seven burglaries and six counts of handling stolen goods and was jailed for three years and four months.

Gavin Bevis

BBC Local Live

Something to be aware of if you're in the Littleover area.