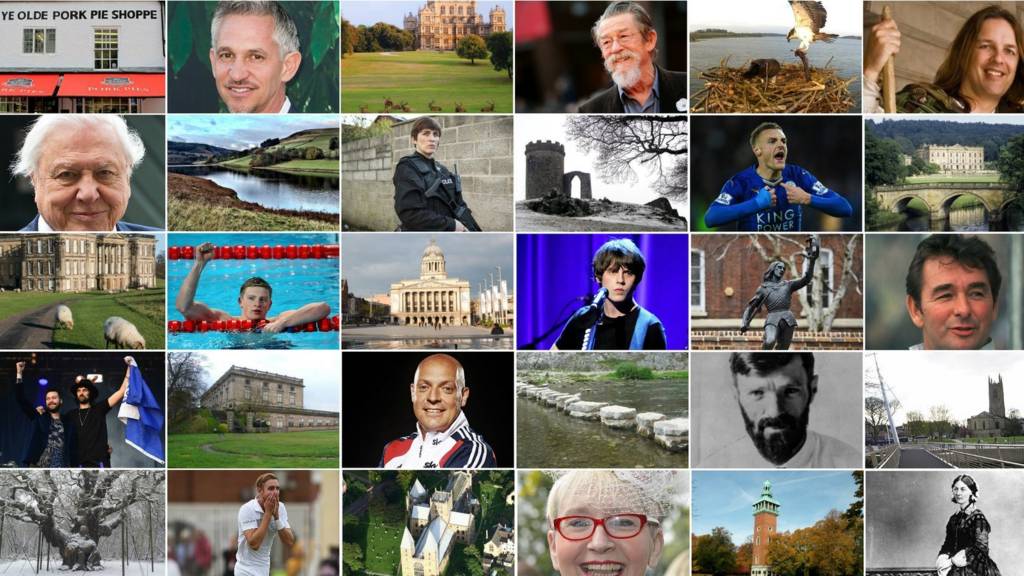 By Shamoon Hafez

BBC Sport

Our live coverage across the day

Our live updates have now finished. They will start again at 08:00 on Monday.

Weather: Rainy night ahead

After a dry start with some clear spells, thickening cloud will bring outbreaks of rain across the region by midnight. Rain will become persistent and locally heavy by Saturday morning.

Salesmen jailed for selling 'dangerous' cars

Amy Woodfield

BBC Local Live

Three men have been sentenced for a scam where dangerous cars were sold to hundreds of people across the East Midlands.

The businesses based in Leicester went by 16 different names during the five years between 2011 and 2016. Among them were Abbey Car Sales, The Car Shop Leicester, Affordable Used Cars and Quality Used Cars.

Vehicles were sold with serious mechanical failings like problems with brakes, steering, exhaust systems, body work and engines. In some instances, cars sold were completely un-roadworthy.

In court, Paul Hanna, on the left, was described as the "driving force" behind the companies. The 51-year-old from Braunstone Close was jailed for three and a half years at Leicester Crown Court earlier.

Jingesh Manani, pictured in the middle, from Abbey Lane was "the most forceful, conniving and deceitful of those who dealt directly with customers", according to the prosecution. The 33-year-old was jailed for two years.

Justin John was "not a senior figure" and was involved in duties like valeting, sales and administration. Despite this the judge said the 34-year-old from Deacon Street was fully aware that the company was defrauding customers and was handed a 120 hour community order.

Basketball: Riders look 'sharp' ahead of Plymouth clash

Owynn Atkin

BBC Radio Leicester Sport

The Leicester Riders are back in BBL Championship action tonight at the Leicester Arena.

They host the Plymouth Raiders where they'll welcome back former Rider, Neil Watson.

The Riders will be looking to avoid a third straight defeat, after being beaten by the Glasgow Rocks and the London Lions.

Managing director Russell Levenstone has said the squad had a good week of practice and are looking sharp ahead of the clash.

You can keep up to date with all the action on the BBC Leicester Sport Twitter page. Tip off is at 19:30.

Sexual assault reported in Coalville

Amy Woodfield

BBC Local Live

A woman in her 40s has reported being sexually assaulted in Coalville last weekend.

She left a pub on London Road early on Sunday morning and walked towards Forest Road - about two hours later she was found on a path.

Police said the woman flagged a taxi down, which took her back to her home address. They want to speak to the taxi driver as well as anyone who was in the London Road / Forest Road area early on Sunday morning.

Low-flying aircraft 'kill' owls and hawks

Sarah Teale

Reporter, East Midlands Today

An owl and hawk trainer claims 30 of his birds have died in the past ten years because of low-flying military aircraft.

James McKay has been rearing birds for years and trains some of them for TV programmes and films, including the Harry Potter series, in Ashover, Derbyshire.

"We bought this place specifically for training... but then the MoD started using it as a low fly area and in particular the Red Arrows and Battle of Britain flight use this as a short cut back to their base and come over at a couple of hundred feet," James said.

"That petrifies the birds and they end up injuring themselves or very often killing themselves."

The Ministry of Defence said it takes the issue very seriously and appreciates it is not always popular but it is an essential part of operational training.

Train disruption continues after lorry hits bridge

Gavin Bevis

BBC Local Live

East Midlands Trains says services around Chesterfield are being delayed by up to 40 minutes due to a lorry hitting a bridge near Dronfield.

Network Rail has now declared the bridge safe for trains to cross but delays are expected to continue until 19:30.

Copyright: East Midlands Trains

Broadmarsh demolition gets under way

Gavin Bevis

BBC Local Live

Work has started to demolish the Broadmarsh car park and bus station in Nottingham.

It's replacement should start to take shape next year and is due to open in late 2019.

Train strikes herd of cows

Amy Woodfield

BBC Local Live

Rail services have been disrupted by a herd of cows - not these two - on the line at Barrow upon Soar.

Many East Midlands Trains services between Lincoln Central and Leicester have been cancelled and replacement buses are being provided.

Teenager accused of interfering with hit-and-run probe

Gavin Bevis

BBC Local Live

A woman has been charged with perverting the course of justice after a man was allegedly deliberately hit with a car in an attempt to murder him.

The 27-year-old man was left with life-changing injuries when he was struck by an Audi in Derby Road, Ripley on 21 August.

A 22-year-old man from Heage was charged with attempted murder last week and remanded into custody.

His younger sister, also from Heage, has been charged after allegedly making threats to people involved with the investigation.

The 19-year-old appeared before magistrates and was also remanded into custody.

Derbyshire Police said they were still keen to hear from anyone with information that could help their investigation.

Watch: Protest to save bus service

Amy Woodfield

BBC Local Live

Campaigners stood outside the Arriva depot in Thurmaston earlier in protest over losing the Number 6 bus service.

The route between Syston, Thurmaston and Leicester will end tomorrow.

Over 2,000 signed a petition to save it.

Bus operator Arriva has apologised to users but said not enough people use the service to cover the cost of running it.

Trains disrupted after lorry hits bridge

Gavin Bevis

BBC Local Live

Man found guilty of murdering teenager in bike row

Eric Simpson

BBC News Online

A 21-year-old drug dealer has been found guilty of murder after a teenager was stabbed to death in a dispute over a bike.

Nathan Towsey (pictured below) of Braunton Crescent in Gedling, stabbed Matthew Rothery, 18, at his home in Mapperley on 14 April.

A jury at Nottingham Crown Court found him guilty after deliberating for five hours.

Copyright: Nottinghamshire Police

Notts Police said Towsey took out a knife and stabbed Mr Rothery (pictured below) in the knee and arm at his home as they argued about a borrowed bike.

The teenager was taken to hospital in Nottingham but died shortly afterwards.

Towsey will be sentenced on Tuesday.

Copyright: Nottinghamshire Police

Your comments: Cash machine raids 'getting silly now'

On Facebook you've been commenting on the latest cash machine ram raid in Leicestershire.

Early this morning a 4x4 was used to get inside the Aldi store in Ashby de la Zouch. A lot of damage was caused but those involved failed to steal any money.

It's the 22nd time a cash machine has been targeted in the county in the last 18 months - the fourth just this week.

Elaine Hutcheson said: "Just getting silly now, inconveniencing everyone. Must be affecting all these companies insurance. We'll just end up being able to get cash back at till soon as no shops will want these machines."

Andrew Tennant said: "Obviously quite a lucrative pursuit. Making hay while the sun shines and before they are hopefully caught."

Kevin Ault said: "It's about time they beefed up security. Make the notes unusable after a raid or something."