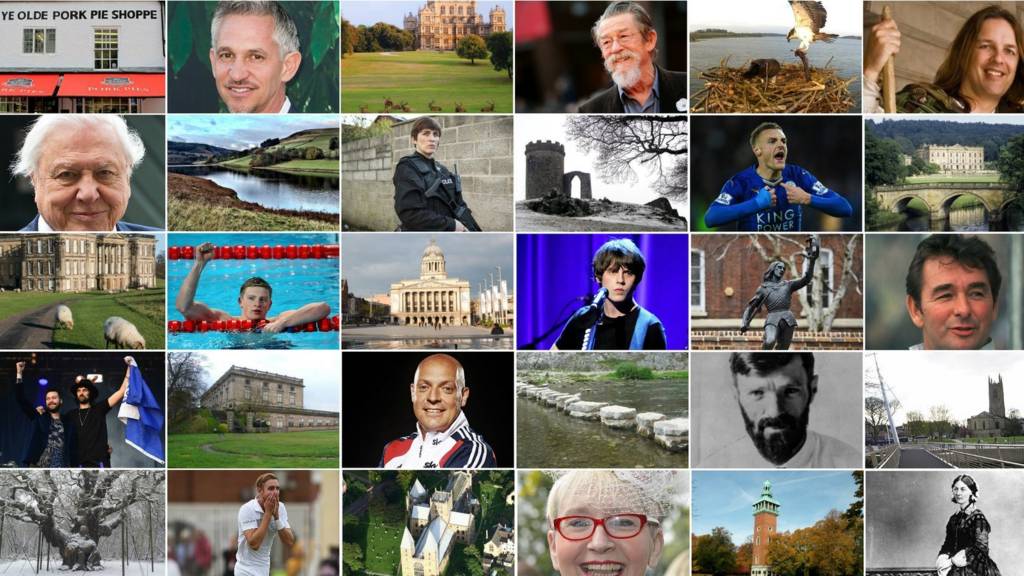 By Caroline Lowbridge

BBC News

By Katherine Sellgren

BBC News education reporter

Our live coverage across the day

Dedicated live coverage has ended for today but some breaking news, sport and travel will continue to appear through the night. We will be back again tomorrow at 08:00.

Weather: A dry night with clear spells

It is expected to be dry through tonight with some long clear spells.

It has potential to turn rather cold with the risk of some frost developing too.

Minimum temperatures of -2 to 1C (28-34F).

Thousands of fake cigarettes found in raids

Thousands of fake cigarettes have been found in raids on four shops in Burton.

Copyright: Staffordshire County Council

Trading standards offices with sniffer dogs went to the stores on Saturday and found 43,500 illicit cigarettes and 10kg of hand-rolling tobacco.

Staffordshire County Council says two foreign nationals were arrested in the raids and handed over to immigration enforcement officers.

Severe disruption: M1 South Yorkshire southbound

BBC News Travel

M1 South Yorkshire southbound severe disruption, between J31 for A57 Sheffield and J30 for A616.

M1 South Yorkshire - Two lanes closed and slow traffic on M1 southbound between J31, A57 (Sheffield) and J30, A616 (Worksop), because of a broken down vehicle.

To report traffic and travel incidents dial 0330 123 0184 at any time

Nottingham building up for design awards

One of Nottingham's newest buildings has been shortlisted for three leading design awards.

The BioCity Discovery centre on Pennyfoot Street was completed last year and cost about £30m.

It's in the Commercial, Design and Regeneration categories of the awards run by the Royal Institution of Chartered Surveyors.

Man jailed over machete robbery

A 39-year-old man has been sentenced to seven-and-a-half years in prison after threatening a couple with a machete in their home.

Copyright: Derbyshire Constabulary

John Quinn, formerly of Derby, and now of Burnaby Road, Stoke, broke into the house on Browning Street in Sunny Hill in September and demanded cash before running upstairs and ransacking a bedroom.

He admitted attempted robbery and possession of an offensive weapon at Derby Crown Court.

The court was told how his previous 97 offences included robberies in Derby going back to the 90s.

Severe disruption: M1 Leicestershire northbound

BBC News Travel

M1 Leicestershire northbound severe disruption, at J23A for A42 affecting J23 for A512.

M1 Leicestershire - M1 lane closed on entry slip road and very slow traffic northbound at J23a A42. Congestion to J23, A512 (Loughborough).

To report traffic and travel incidents dial 0330 123 0184 at any time

Broken-down van moved from M1

Better news for those heading north on the M1.

By Caroline Lowbridge

BBC News

Lane closed on M1 after van breaks down

Here's the broken-down van that's closed a lane on the M1 northbound between J24a and J25.

It looks like the recovery operation is well under way, so hopefully things should return to normal soon.

Copyright: Highways England

Severe disruption: M1 Leicestershire northbound

BBC News Travel

M1 Leicestershire northbound severe disruption, between J24A for A50 Derby and J25 for A52 Brian Clough Way Nottingham.

M1 Leicestershire - Heavy traffic and one lane closed on M1 northbound between J24a, A50 (Derby) and J25, A52 (Nottingham), because of a broken down van.

To report traffic and travel incidents dial 0330 123 0184 at any time

Newspaper jobs under threat as websites renamed

Almost 50 print jobs are under threat as publisher Trinity Mirror rolls out its "Live" online brand to seven of its regional dailies, reports journalism news website Hold the Front Page.

The shake-up will see the Derby Telegraph, Nottingham Post and Leicester Mercury websites rebranded as Derbyshire Live, Nottinghamshire Live and Leicestershire Live.

Copyright: Trinity Mirror

Fish photo earns major award

A Leicestershire photographer has won an award for an image he took under water.

Tony Stephenson's shot of pike, taken at diving site Stoney Cove, near Sapcote, was among 11 images honoured at the Underwater Photographer of the Year awards.

Copyright: Tony Stephenson

He picked up the gong for Most Promising British Underwater Photographer.

Watch: National Express driver 'drags woman' from bus

Here's footage of a National Express driver trying to drag a woman from a bus in Nottingham.

Witnesses said the woman was "visibly distraught" during the altercation which was reportedly over an e-ticket.

The company said it couldn't comment on the reason behind the incident but apologised for the driver's actions. He has since been suspended.

Photo appeal after 'hate crime' on train

Police want to speak to this man after a woman was allegedly racially abused on a train between Doncaster and Newark Northgate.

The woman told officers she was verbally assaulted in a quiet carriage after asking a man to stop being so loud.

Copyright: British Transport Police

It happened at about 18:00 on 3 February, British Transport Police said.

Man admits raping elderly woman in her home

A man has pleaded guilty to raping an elderly woman at her home in Wigston.

Police said Shyhiem Frances-Myers, 21, knocked on the woman's door and forced his way in before attacking her and stealing a bank card.

At Leicester Crown Court, Frances-Myers, from Wigston, pleaded guilty to two counts of rape, two counts of sexual assault and one count of theft. He's due to be sentenced on 9 April.