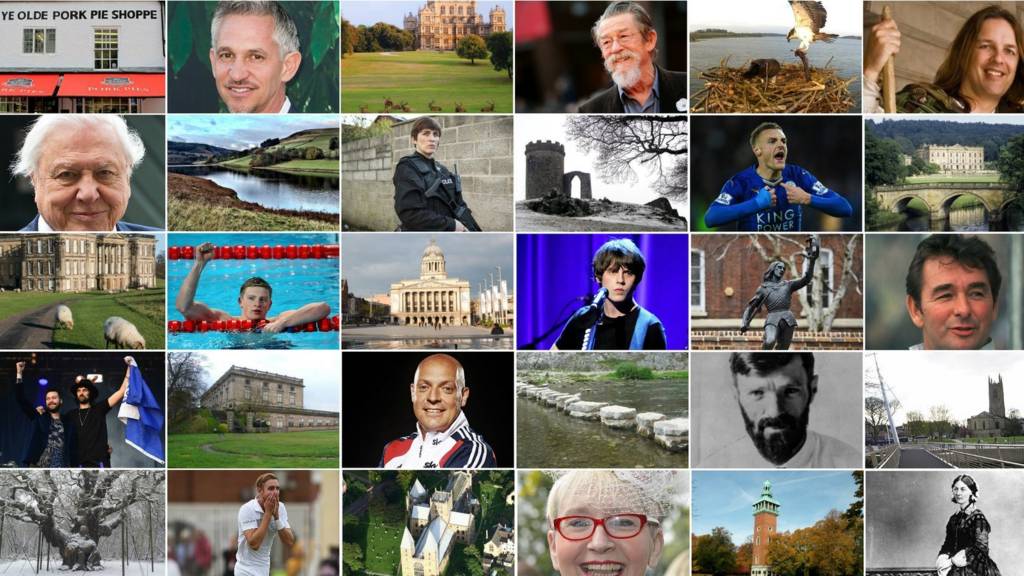 Latest updates: East Midlands Live
Listen live to your BBC local station in Derbyshire, Nottinghamshire and Leicestershire.
Our live coverage across the day

Thanks for joining us for today's live coverage. We'll be back with more news, sport, travel and weather from 08:00 tomorrow.

Tonight's weather: Cloudy and misty night expected

Plenty of cloud will linger overnight although some clearer breaks are possible as well. There will be some mist and fog developing too with just a gentle breeze.

Police say 20-year-old Ashley Andrews has been found safe after being reported missing from the Mansfield area this morning.

Your photos: Misty Derbyshire

We like what Michael Hardy's done with this atmospheric shot of White Edge Lodge at Longshaw, taken at about 15:30 today.

Police swoop on wanted man in Ilkeston

In case you wondered what this afternoon's police operation in Ilkeston town centre was all about...

Mansfield man's disappearance prompts police appeal

Police say they're concerned about the safety of a 20-year-old Mansfield man who's gone missing.

Ashley Andrews, who disappeared at about 09:30 today, is thought to be wearing a green coat, a red t-shirt and black jeans.

Copyright: Nottinghamshire Police

Anyone who's seen him is asked to contact Nottinghamshire Police.

Shop blast trial: Jury sent home

The jury at the trial of three men accused of killing five people in a shop explosion in Leicester has been sent home for the night.

Aram Kurd, Hawkar Hassan and Arkan Ali have denied five charges of murder, five charges of manslaughter and a charge of conspiracy to commit fraud by false representation following the blast in Hinckley Road in February.

The jury is due to resume its deliberations at Leicester Crown Court tomorrow.

Female cyclist hurt as man jumps on tricycle

A female cyclist needed hospital treatment for injuries to her side after a man jumped on the back of her tricycle and made it topple over.

Police said it happened in St Peter's Street, Derby, at about 23:00 on Thursday 20 December.

Photos have now been released of a man officers want to speak to.

Copyright: Derbyshire Police

Copyright: Derbyshire Police

E-fit released after woman hurt during robbery attempt

Police have released an e-fit image of a man they want to speak to after a woman was injured during an attempted robbery in Leicestershire.

The victim told police a man grabbed her and demanded cash as she arrived at an address in Springfield Close, Broughton Astley, at about 01:15 on 29 October.

Copyright: Leicestershire Police

The man left when he realised she didn't have any cash. The woman required medical treatment for a minor injury. Police have asked anyone who recognises the man to get in touch.

Police boss fears Brexit could hamper crime-fighting

Derbyshire's chief constable says he's "very worried" about the potential impact of Brexit.

Peter Goodman said he fears losing current agreements with other EU countries, such as the European Arrest Warrant, would have a "significant impact" on tackling cross-border crime.

He said: "If we don't maintain a deal that enables us to access intelligence, work together and access evidence from other countries, and get hold of people in other countries, that's a significant impact on our ability to combat serious and organised crime."

Mr Goodman added the force had already drawn up wide-ranging contingency plans for Brexit.

The Home Office said: "The continued safety and security of both UK and EU citizens remains our top priority.

"That is why we are preparing for all eventualities - including a no deal scenario, in which the current mechanisms we use to co-operate with EU Member States would not be available when we exit the EU in March 2019."

Man charged with attacking police on Christmas day

A 29-year-old man has been charged with assaulting two police officers in Leicester on Christmas Day.

The pair were allegedly attacked after being called to a property in Churchill Close, Oadby, at about 12:30 to investigate reports of an assault.

The suspect, from County Durham, was charged with two counts of assaulting an emergency worker, one count of making threats to kill and a further assault against a person at the property.

Leicestershire Police said he had been remanded into custody and is due before magistrates later.

Nun remains set to move from Wales to Nottingham

Local Democracy Reporting Service

A group of nuns that are relocating from rural Wales to Nottingham is hoping to exhume 18 former members of their congregation and rebury them in the East Midlands.

The nuns, who were based at the Poor Clare Colettine Monastery in Flintshire, have decided to join members of their order in Bulwell due to mounting maintenance costs.

They have auctioned off their posessions and lodged an application with the Home Office to move the remains.

Christmas in hospital for pensioner hit by van

A 76-year-old woman spent Christmas in hospital after being hit by a van in Chesterfield.

Derbyshire Police said the pedestrian suffered serious injuries when she was struck at the junction of Newbold Road and Dunston Road at about 17:20 on 18 December.

Nobody has been arrested in relation to the crash.

Police have appealed for witnesses and dashcam footage.

Autistic girl's dog companion goes missing

A Derbyshire family has said Christmas was "miserable" this year because an important member of the family was missing.

Chance the border collie ran off while on a walk over fields, near Draycott, on Friday 22 December.

Owner Jilly-anne Ray said he was off the lead when he got spooked.

Copyright: Jilly-anne Ray

Chance is more than just a family pet - he's a companion for an 11-year-old autistic girl.

Jilly-anne said her sister, who speaks through an iPad, has been asking for him since he disappeared.

The two-and-a-half-year-old dog has also spent his entire life with the family who also own his mother.

A reward is being offered by the family.

Stabbed police dog receives tasty Christmas gift

Surely nobody would begrudge Derbyshire police dog Axle this tasty present, sent in by a member of the public.

Copyright: Derbyshire Police

The brave canine was stabbed several times during an arrest in Riddings earlier this year but went on to make a full recovery and has returned to police duties.

Looks like he really enjoyed his biscuits!

Copyright: Derbyshire Police

Have you seen missing man, Phillip Corpe?

Police are looking for this man who has been missing since Monday 17 December.

Copyright: Derbyshire Police

Phillip Corpe, from Ilkeston, is believed to be in the Dunkirk area of Nottingham.

The 40-year-old was seen on CCTV at the Post Office in Montpelier Road on Christmas Eve.