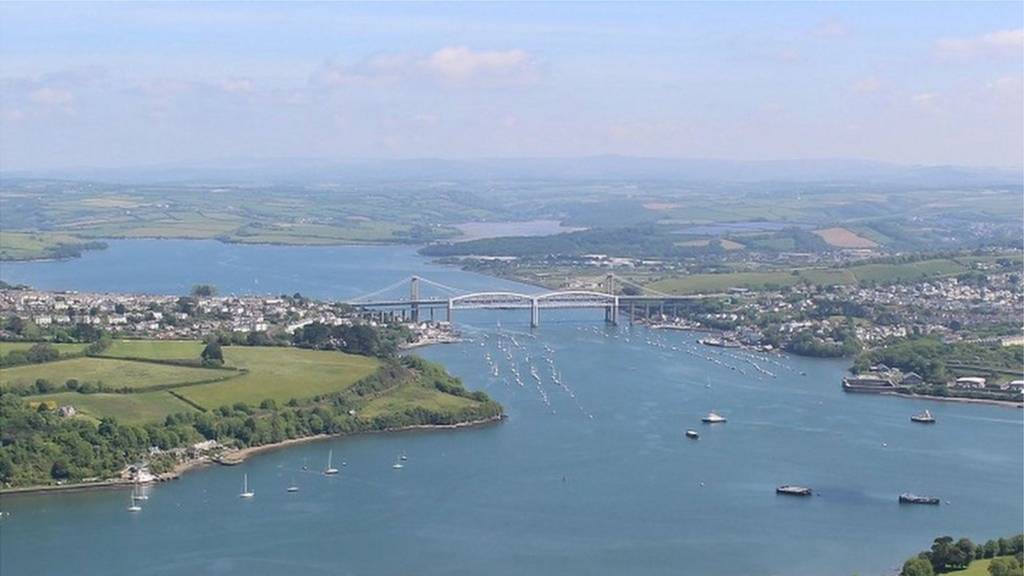 Coronavirus in Devon and Cornwall - latest updates
This heartfelt tribute to NHS workers has appeared outside Trewoon's Post Office.

'We've all got a role to play'

"Your actions count, we're all in this together and we've all got a role to play", said Devon and Cornwall Police Assistant Chief Constable Glen Mayhew on policing the lockdown.

The force issued 703 Covid-19 penalty notices between 10 April and 6 May.

Sir Tom Jones postpones tour till 2021

Claire Gilbody-Dickerson

BBC News

Sir Tom Jones has postponed his upcoming tour to summer 2021.

The 79-year-old 'Sex Bomb' singer said in a Twitter post he is "really sorry" to have to inform his fans that his performances have been put off due to coronavirus.

He had been due to perform on Plymouth Hoe next month.

"You all know how much I love performing but everybody's safety must come first," he said.

All tickets purchased for this year's shows will be valid for next year's, the post says.

Care home resident has surprise 100th birthday party

Claire Gilbody-Dickerson

BBC News

A woman who turned 100 was surprised with a social distanced party outside her care home in Plympton.

Vera Stephen can be seen shaking her head in disbelief as dozens gathered to sing her happy birthday in the courtyard of her care home The Rise.

Local people baked cupcakes for Mrs Stephen and handed her cards, her daughter Sue told the BBC, while some members of the fire and rescue service also went round to applaud her.

Blood donations cancelled for antibody trial

Blood and platelet donors in Plymouth might have their appointment cancelled over the next few weeks to free up space for a clinical trial into coronavirus antibodies, the NHS said.

The service said it is beginning to collect plasma from people who have recovered from Covid-19 to support vital national research.

The plasma trial will investigate whether transfusions of antibody rich plasma from people who have recovered could help people who are still unwell, the service confirmed.

To free up appointments in donor centres, some blood and platelet donation appointments in Plymouth are being cancelled and rescheduled.

There will be no impact on supplies of blood and platelet, as stocks are "already above average" thanks to the "fantastic response of our donors during the coronavirus pandemic", the NHS said.

The NHS confirmed it was still taking donations and asked people to "keep making appointments" and encouraged anyone who has their appointment cancelled to rebook by calling 0300 123 23 23, visiting blood.co.uk or using the NHSGiveBlood app.

"This new trial is part of the national research effort against the coronavirus and we hope people understand if we make any changes to your appointment," the service added.

Protection for south west from too many tourists

Resources should be available to help regions like the South West of England in case they're swamped with tourists after the lockdown ends, the government said.

Concerns were raised at Wednesday's Downing Street briefing that if the lockdown was lifted region by region, the region could be overwhelmed with visitors.

Communities Secretary Robert Jenrick said they were "providing additional funding" to police forces.

Mr Jenrick said: "The home secretary is speaking with national police chiefs to ensure they have the right guidance and consistent messaging they can use to enforce the lockdown rules."

Barratt Homes sites due to restart construction

Andrew Segal

BBC South West

House builders Barratt Homes and David Wilson Homes are set to start a phased reopening of their construction sites in the South West from Monday 11 May, bosses say.

Barratt Developments said the sites in Devon and Cornwall would be reopened "with work being prioritised on already sold plots at advanced stages of construction".

It added that, in line with lockdown retail regulations, the company was not reopening sales centres or show homes, but would "continue to look after its customers remotely".

For staff on sites, the company said a "detailed set of working practices" had been developed "in line with the latest guidance from government, public health authorities and the construction leadership council".

This included changes to signage, site welfare facilities and compounds, changes to site access and walkways, and the use of social distancing marshals, it said.

The planned reopenings include sites in Launceston in Cornwall, plus Barnstaple, Ivybridge, Tavistock, Tiverton and Yelland in Devon.

Cornwall Council business support 'one of the best'

Cornwall Council was praised by the government for the speed it has managed to get more than £200m worth of support money to local businesses.

Speaking at the Downing Street daily press briefing on Wednesday, Communities Secretary Robert Jenrick said the council had been "one of the best in the country" at supporting local business.

The council has already paid out more than £202m worth of grants to nearly 18,000 companies.

When asked what more the government will be doing to support the thousands of businesses in the Cornwall that rely on tourism, Mr Jenrick said if further intervention is needed it would be considered.

Plans for 400th Mayflower anniversary could be postponed

Andrew Segal

BBC South West

Plans to mark the 400th anniversary of the sailing of the Mayflower from Plymouth to America World could be put off until next year.

A number of events have already been called off with a decision being made next month about whether to reschedule things until 2021.

All events planned for May have been cancelled due to Covid-19 restrictions.

A major public gathering for VE Day planned for Plymouth Hoe on Friday has also had to be scrapped, and the 2020 National Fireworks Championships in August are also in doubt.

Deputy council leader Pete Smith told an online city council meeting that putting off the Mayflower programme for a year was being considered, with an idea to tie it in with commemorations of the first Thanksgiving in America.

Mr Smith also told councillors assessments were being made about what might be possible when some lockdown restrictions are relaxed.

Opening of Plymouth cultural centre The Box postponed

Plymouth's new cultural centre, The Box, does not have a new opening date after the coronavirus crisis forced it to postpone its planned launch on 16 May.

City council leader Tudor Evans said managers were still focused on the £42m museum and gallery space being the most significant UK cultural attraction to open in 2020.

In the meantime, the arts and heritage centre said it was supporting care homes by live-streaming activities.

Image caption: The Box, pictured here before the coronavirus lockdown, was due to officially open on 16 May

Coronavirus: Two more deaths in South West hospitals

There have been two further deaths in South West hospitals of people infected with coronavirus, NHS England has announced.

The deaths took place in the Royal Devon & Exeter Hospital, and in the Northern Devon Healthcare Trust.

It brings the total number of coronavirus-related deaths in hospitals in the South West to 327.

This includes 83 deaths in Cornwall and 155 in Devon.

Animal lover Ben, nine, raises £1,000 for Dartmoor Zoo

Nine-year-old Ben Greenslade has raised more than a £1,000 for cash-starved Dartmoor Zoo by running the equivalent of two-and-a-half marathons over 20 days.

Copyright: Family picture

Animal lover Ben, from Exeter, is a huge fan of the zoo and when he heard about its plight in the lockdown he was moved to act.

Moved to run 100km, in fact, smashing his fund-raising target of £250 with £1,090 at the last count.

It took Ben about 11 hours to run the distance in his bid to raise money for the zoo near Plymouth.

Quote Message: I love animals and I was really sad to hear that the zoo was struggling. It has really hard and I've got a few blisters but it was worth every step." from Ben Greenslade

The zoo previously said it had an "ongoing funding target" of £11,500 per week during lockdown.

Financial hardship fund launched in Devon

Johanna Carr

BBC News Online

People in financial hardship due to coronavirus could be helped by a £1m support fund launched by Devon County Council.

The council said the aim of the fund, which will be made available to Devon local authorities, is to provide direct support to applicants to meet their immediate need for basic essentials.

East Devon has been allocated £181,487 and it will be administered by staff working in revenues and benefits.

There will be eligibility criteria that an applicant must meet and all applicants will have a telephone interview to discuss needs.

Applications for the fund can be made for people in East Devon made for people in East Devon online.

Devon County Council leader John Hart said: "The impact of the coronavirus outbreak is putting a huge financial strain on some people, with work and income changing overnight as a result of the lockdown.

"If you're worried about money and how to pay in the short-term for basic essentials, there is immediate help available through this fund.

"By working together with our district council colleagues, we can make sure this vital financial support reaches the vulnerable people in our communities who need it most at this difficult and uncertain time."

Wildlife 'reclaiming spaces' during coronavirus lockdown

Charley Adams

BBC News Online

Much of modern life has ground to a halt as people observe the coronavirus lockdown.

But with quieter roads and less people around, it seems wildlife not often seen is becoming more visible.

Top midwife urges expectant mums to attend appointments

There is concern pregnant women may not be attending routine appointments due to fear of contracting coronavirus, health officials have said.

NHS chief midwifery officer, Prof Jacqueline Dunkley-Bent said the NHS had "gone to great lengths" to ensure expectant mums' safety, and if an individual has been asked to come for a planned or urgent check it was "vital" women did so.

Ms Dunkley-Bent also praised midwifery colleagues, who are thought to have helped deliver an estimated 158,000 babies during the pandemic since January 30.

Ms Dunkley-Bent said video consultations and online clinics are among the "innovative ways" midwifery teams are using to provide "high quality care" during the outbreak.

Teams have also rearranged appointments to ensure they are separated from services which may be dealing with the virus, such as antenatal services being moved to Aston Villa Football Club's stadium in Birmingham.

"If you're worried about your health or that of your baby, contact your midwife just as you always would," Ms Dunkley-Bent added.

"Some things have had to change temporarily for the safety of mums, babies and staff, such as fewer visitors during labour, and they will change back to normal when it is safe to do so."

Exeter businesses call for more government help

Hamish Marshall

BBC Spotlight

Businesses in Exeter have called on the government for more help and certainty for the future as it prepares to announce plans for the next stage of the fight against coronavirus.

There has been a welcome for help already, such as Bounce Back loans and the government's furlough scheme, which have been widely taken up.

But a survey of 140 businesses showed 60% feared closure within six months if lockdown continued.

The survey, by the Exeter Chamber of Commerce and Trade, found two-thirds of respondents were feeling a "severe" impact.

Nearly 75% had furloughed staff and 60% anticipated their business would face closure within six months if the current lockdown restrictions continued.

Chancellor Rishi Sunak said the government would help UK business deal with the effects of the pandemic.

Devon Air Ambulance resumes air operations

Johanna Carr

BBC News Online

Copyright: Devon Air Ambulance

The Devon Air Ambulance has resumed air operations after modifying its helicopters to help protect staff and patients.

It said on 30 March it made the "very difficult decision" to stand down aircraft to protect crews.

Bosses said a new separation screen had been installed between the front and rear sections of the aircraft, which partitioned the pilot cockpit from the patient treatment area.

Aircrew would also use newly-designed throat microphones, which are attached to the neck, when they needed to wear respirator masks in-flight, which would improve internal and external communication, they said.

A new bracket has also been designed, enabling a full-face visor to be worn on aviation safety helmets.

Flight operations director Ian Payne said the resuming of flights marked "the culmination of lots of hard work by our teams to address the challenges that led us to ground the aircraft".

Quote Message: These new modifications have been rapidly developed in collaboration with industry partners and approved for use by EU and UK aviation authorities, which demonstrates how we are all working together to collaborate and innovate during these difficult times." from Ian Payne Flight operations director, Devon Air Ambulance

Police 'looking forward to not seeing you on Dartmoor'

Weeks, months, even a year - we look at the factors that can affect the time taken to get better.

Holiday businesses 'may go under because of watchdog'

One of Cornwall's MPs is warning many small local holiday businesses could go under because of a government watchdog investigation.

The Competition and Markets Authority said four out of five complaints it was currently getting was in relation to cancellations and refunds, and it was prioritising holiday cancellation policies to protect consumer rights.

But MP Derek Thomas, whose constituency covers west Cornwall and the Isles of Scilly, said he was asking the CMA to consider the possible catastrophic consequences to tourism businesses.

He said that, if they were forced to pay cash refunds immediately, instead of giving time to pay back or offer a holiday deferral, "some will go bust".