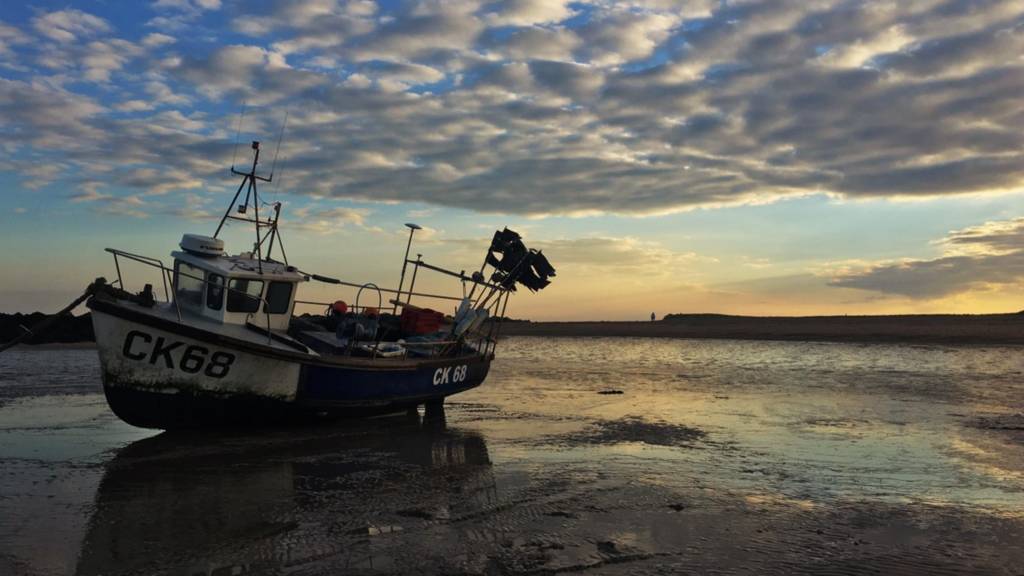 Summary
Updates on Friday, 30 June 2017
Mother goes missing with two children without guardian's permission
Fatal crash driver who 'ploughed into car' jailed for four years
Trans-continental journey by girl raised £2,500 for cancer aid
Fraudster who preyed on older people jailed for 20 months
Villagers give ex-firefighter with motor neurone disease DIY SOS treatment
Warning over 'violent' bogus pothole repair gang
Our live coverage across the day

That's it from the Essex Live team on Friday, so goodbye and have a good weekend rest.

We'll be back from 08:00 on Monday bringing you the news, sport, travel and weather updates as they happen.

These are some of the stories we've covered today:

A former firefighter with motor-neurone disease is looking forward to getting out and about in his Tollesbury garden after villagers rally round to make it wheelchair friendly.
Harlow MP Robert Halfon suggests using the international aid budget to bolster wages for public sector workers and earns a rebuke from Oxfam.
Essex county cricketers are celebrating after going to the top of Division One with a crushing win over Middlesex.

For more on these and other stories just scroll down the page.

See you again next week.

Weather: Cloudy with some showers expected

Dan Holley

BBC Look East weather

Cloudy with outbreaks of showery rain but becoming drier later with a few clear intervals.

Temperatures will only fall to 12C (54F) in a strengthening northwesterly wind but Saturday may start cloudy.

Any patchy rain will soon clear to leave a mostly dry day with sunny spells and areas of cloud but just the small chance of an isolated light shower.

Maximum Temperature 23C (73F).

More details from BBC Weather.

Nurse struck off over abuse to dementia patient

A nurse who dragged a heavy dementia patient out of her bed at an Essex nursing home has been struck off after a review of allegations of abuse.

Alagie Badjie worked at the Admiral's Reach Residential and Nursing Home, in Ridgewell Avenue, Chelmsford.

The patient was too heavy for him to lift alone and his hands ended up slipping so they were under her armpits, the Nursing and Midwifery Council heard.

She suffered other incidents of abuse and two other patients reported having rough treatment while being fed. Mr Badjie was suspended by the Nursing and Midwifery Council (NMC) after four charges of abuse against him were proved in 2015.

A disciplinary panel reviewing his case has now decided he should be struck off altogether. The panel concluded he had made no attempt to engage with the nursing watchdog, or to address his misconduct.

He didn't attend the hearing and panel chair Timothy Cole said: "We considered that Mr Badjie's persistent lack of engagement with his regulator, lack of insight and failure to provide any evidence of remediation of his failings is now fundamentally incompatible with him remaining on the register.

"We concluded that a striking-off order is the only appropriate and proportionate order in these particular circumstances."

Fraudster who preyed on older people jailed for 20 months

A fraudster who targeted elderly, vulnerable people in Southend, Westcliff and Leigh-on-Sea has been jailed for 20 months.

Hamit Hamit, 34, formerly of Croydon, stole thousands of pounds from eight people in April and May last year.

Unknown accomplices of Hamit posed as bank workers who told victims they needed to return their bank cards so they could be re-issued, and that a courier would come and collect them.

The victims were also asked for personal details and PINs.

Hamit was the courier who collected the cards and later withdrew thousands of pounds from accounts. His victims were aged between 77 and 95.

He was arrested on 4 May 2016 and later charged with 14 counts of fraud by false representation.

Hamit pleaded guilty to all the charges at Basildon Magistrates' Court and was was sentenced today at crown court to a total of 20 months for each of the 14 charges, to run concurrently.

Trans-continental journey by girl raised £2,500 for cancer aid

A 10-year-old girl travelling by road with her grandparents from Mumbai to London across 18 countries, visiting more than 100 cities and going through eight time zones, taking 72 days, has raised more than £2,500 in sponsorship for the head and neck cancer service at Mid Essex Hospital NHS Trust.

Nishi Randive, the daughter of two consultant anaesthetists at Broomfield Hospital, embarked on the 13,000-mile adventure to help raise money for the rehabilitation of patients suffering from cancer.

Parents Seema and Nilesh Randive said she was inspired by hearing about the cancer work from her father and raised the money through sponsorship.

"My most exciting day was the day when I got stuck on a zip-wire with a 3,000 foot drop in India, and my most monotonous day was sitting in the car with nothing to see but the numerous sandy plains in Kazakhstan," Nishi, pictured on the Great Wall of China, said.

"I have managed to raise £2,863.07 and I am really pleased with this amount."

Plans for waste incinerator discussed at 'drop-in' meeting

The Environment Agency is hosting a special meeting in Coggeshall this afternoon to discuss plans for an energy from waste incinerator near Witham.

A specialist company, Gent Fairhead, is hoping to operate the facility at Rivenhall.

No formal deal has yet been agreed and the "drop-in" session for people to talk about proposals is taking place at Christ Church between now and 20:00.

Arcade leading to Roman temple open to public at coffee shop

The remnants of a Roman arcade discovered while excavating foundations for a coffee shop in Colchester have been officially opened to the public.

The shop is called Claudius Gateway by owners the Flying Trade Group and it is built around the archaeological ruins of an an arcade which led to the Temple of Claudius built in 58AD.

Copyright: Flying Trade Group

The ruins are lit up and visible behind a suspended glass floor.

The arcade was a series of 28 arches with a giant gateway in the middle and it was used as a meeting place.

Visitors can now enjoy a coffee and transport themselves back to Roman times via the archaeology and displays.

Suki Dulai, Flying Trade Group CEO, said: "When we discovered the historic importance of the Temple of Claudius and its impressive Arcade the decision was made to immortalise the ruins and preserve an important part of UK history.

"We are incredibly proud of the finished result which has been greatly supported by Colchester Archaeological Trust, who have helped us fully extract and share the fascinating history of this unique site, as well as Colchester Borough Council."

How far could you go in one of these?

#GetInspired

Rob Groves, 61, is getting ready to handcycle 2,500 miles around the coast of England and Wales, starting off in Brighton this Sunday, 2 July and finishing in London on Friday, 28 July.

Read all about Rob's former life as a bodybuilder, his journey into handcycling, his aims for the ride and how you can keep up with it here.

Severe accident: M25 Greater London clockwise

BBC News Travel

M25 Greater London clockwise severe accident, between J25 for A10 and J26 for A121.

M25 Greater London - One lane blocked and queuing traffic on M25 clockwise between J25, A10 (Enfield) and J26, A121 (Waltham Abbey), because of an accident involving three cars.

To report traffic and travel incidents dial 0330 123 0184 at any time

Weather: Sunny spells with odd showers

This afternoon will be bright and dry for most people but showers are possible in places.

It will be warm in the sunshine and this is attracting pollinators and other insects to plants in the countryside as our BBC Weather Watchers' pictures show.

It will be warm in the sunshine.

Maximum Temperature: 22C (72F)

More details from BBC Weather:

Villagers to turn limbo garden in to place for MND sufferer to enjoy

Plans are under way to transform a garden for a former firefighter diagnosed with motor neurone disease.

Darren Black, who has run 11 marathons, was diagnosed with the condition in January and feels he has been left in limbo.

He cannot even get around his garden in Tollesbury near Maldon to enjoy it in the sunshine although he has a very robust wheelchair.

A group of villagers motivated by Sara Carter will remedy that this weekend and this is what they are going to do.

Listen to Mura Masa and Damon's new track

On Thursday's MNL we shared with you Mura Masa's new collab with Christine and the Queens dubbed the Hottest Record by none other than Radio 1's Annie Mac.

Well, Mura must be in a generous mood as he's only gone and released another track, this time working with Gorillaz and Blur frontman Damon Albarn.

You can listen below to the stripped back track...

Celebrations as county goes 29 points clear in Championship

Celebrations are continuing for the Essex County cricket squad who are topping the table after a huge win.

All-rounder and former England player Ravi Bopara said the County Championship defeat of Middlesex at Chelmsford was the club's best ever.

The team took four wickets in the final four overs to beat Middlesex by an innings and 34 runs.

Essex are now 29 points clear at the top of Division One.

It's time to celebrate cricket!

#GetInspired

With the return of live cricket to the BBC TV in 21 years, why not find out how YOU can get involved with game.

We've got all you need to know with our Get Inspired guide or, if you have/know any five- to eight-year-olds who would like to try the game then the All Stars Cricket might be for them.

Just ask England bowler Stuart Broad.....

Rebuke for MP over using aid budget to bolster public sector pay

A suggestion by Harlow MP Robert Halfon to use the British overseas aid budget to boost the wages of lower-income public sector workers has brought a sharp rebuke from a large fundraising organisation dealing with disasters throughout the world.

"Britain can afford to give our teachers and nurses a decent pay rise without taking money from the poorest people on the planet," Oxfam's head of UK policy, Richard Pyle, said.

"Too many people in the poorest countries still die for the lack of basic healthcare and British aid provides a vital lifeline of which we can all be proud."

Use overseas aid budget to boost public sector wages, MP says

The overseas aid budget should be diverted to give a pay rise for public sector workers, a former Conservative minister has suggested.

MP for Harlow Robert Halfon, who was sacked from his frontbench role by Theresa May after the General Election, said the 1% cap should be scrapped for lower-paid public sector workers.

"People recognise that many public sector workers have had to struggle over the past few years," Mr Halfon told BBC Radio 4's Today programme.

"I think we have to look, potentially, at sacred cows. What I'm suggesting is that we look at some of the overseas aid budget, which is going to be over £13 billion in the coming year."

The UK has a commitment to spend 0.7% of national income on overseas development but the target is controversial in the Tory ranks.

Home owner turns to social media to get a good selling price

Shanty Helim from Rayleigh, who is selling her house, has produced a film about its features and has posted it on social media in a bid to get a good price.

She aims to be the first person in Britain to sell their home on Facebook Live.