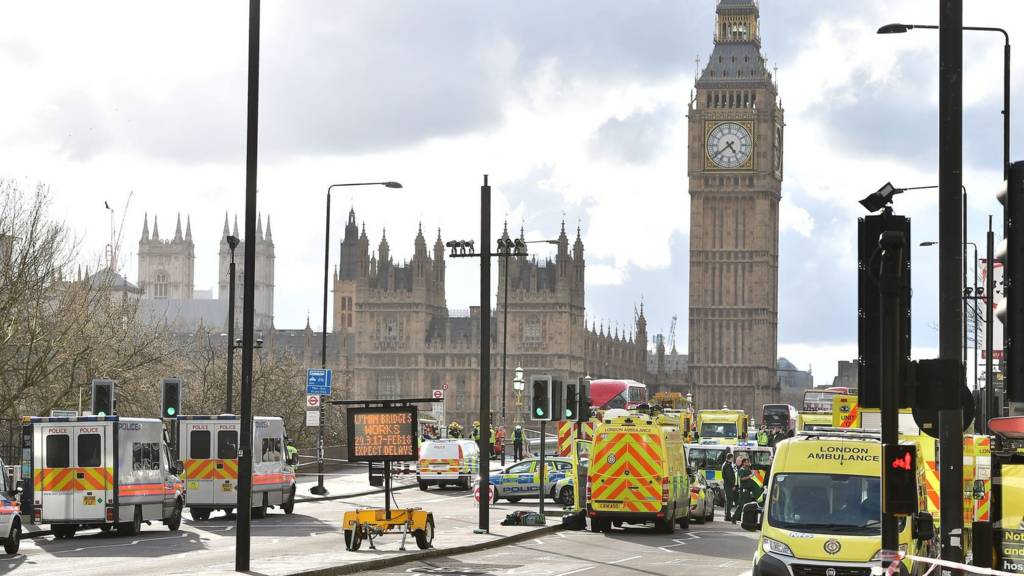 MP 'tried to resuscitate victim' in parliament shooting
You can get in touch by email, on our Hampshire and Dorset Facebook pages or on Twitter @BBC_Hampshire and @BBCDorset.
That's all for today from the BBC Live service for Hampshire, the Isle of Wight and Dorset.

The service will return will all the latest news, sport and weather on Thursday at 08:00.

You can get in touch by  email , on our  Hampshire  and  Dorset  Facebook pages or on Twitter  @BBC_Hampshire   and  @BBCDorset .  

Southampton MP tells of the scene in Westminster

Southampton Itchen Royston Smith MP has just been speaking to BBC South's Sally Taylor.

He said: "I was walking between the Palace and Portcullis House. I saw what I now know to be the attacker lying near the gate of the Palace of Westminster. 

"I was initially struck by how many police there were. There was a lot of noise and commotion and police were telling people to get inside and get out of the way."

The Conservative MP said members are still in lockdown. 

"I still don't know if we're being cleared to be released but it is a crime scene outside", he added.

Latest news headlines: Bournemouth MP tried to resuscitate Westminster attack injured police officer

Sport headlines: Southampton's Redmond 'ready to make England debut'

Nathan Redmond says he's ready to make his England debut if he's given the chance tonight - the winger is one of four Southampton players that could feature for Gareth Southgate's side in a friendly against Germany
Bournemouth midfielder Sam Matthews believes his loan spell at Eastleigh will prove to be an important part of his footballing education
Havant and Waterlooville can move back to the top of the Isthmian Premier League with a win at Dulwich Hamlet tonight
Poole Pirates opened their doors to the press and public today ahead of the new Speedway season which begins next week - all seven riders were formally introduced at the club's Wimborne Road home

'Sexist' Hampshire library bookmarks criticised

Two bookmarks promoting male and female-only novels have been criticised as "sexist" by a Hampshire author.

Copyright: Lucy Cruickshanks

One of the county council-produced bookmarks features the words "Male Lit" and the names of 18 male authors, while the "Chick Lit" bookmark only mentions female writers. 

Author Lucy Cruickshanks, who found the bookmarks at Eastleigh Library, said: "Everything about them wound me up". 

Hampshire Libraries said they were being withdrawn.

Poole Swash Channel Wreck rudder set for public display

The rudder of a shipwrecked 17th Century merchant vessel which was raised from the seabed off the Dorset coast has returned to Poole ready to go on public display. 

The so-called Swash Channel Wreck was discovered in a sand and shingle bank outside Poole Harbour. 

Its 8.4m (28ft) rudder, carved with the image of a man's face, has been undergoing conservation work in York since it was raised in 2013 . 

It is due to go on show with other recovered artefacts in Poole Museum tomorrow. 

The ship is thought to have been a Dutch merchant vessel which foundered in a storm.

Copyright: Bournemouth University

Copyright: Bournemouth University

Copyright: Bournemouth University

Elderly man attacked in Popley

An elderly man suffered broken bones when he was attacked by a man in Basingstoke.

The 75-year-old suffered a broken collar bone and wrist and cuts to his head after he was pushed from behind in Abbey Road, Popley, on Monday morning.

Police said, before the attack, the victim had shouted at a dog that had barked at him. He then became aware of a man following him and shouting in anger. The victim started to run but was pushed over and lost consciousness.

The assailant is described as being in his late teens to early 20s, with black hair and of slim build.  

'Ryan's death will haunt me'

A businessman cleared of manslaughter by gross negligence after his friend was killed in a powerboat crash has said the incident will "haunt" him for ever.

Following his acquittal, a statement from Mr Brown read outside the court said: "Ryan McKinlay was a friend I had known for more than 20 years.

"Ryan's death will haunt me for the rest of my life but I know that nothing will compare with his family's loss.

"My thoughts are, and always have been, with them." 

Travel latest: Waterloo station 'open as normal'

Winchester pupils safe following London attack

This from BBC South's Peter Henley:

Breaking

Four die in terror attack, police say

Police have confirmed four people have now died in the London attack.

London attack: Statement from House of Commons

Westminster attack: Bournemouth MP Tobias Ellwood 'had a mission in mind'

Windsor MP Adam Afriyie described being 30 metres away from the attacker in Palace Yard next to "good friend" Bournemouth MP Tobias Ellwood who had "a mission in mind". 

He also said: "We need to show parliament will never be cowered by situations like this".

Mr Ellwood is understood to have tried to resuscitate an injured police officer, who has since died.

Breaking

Police officer dies following stabbing

The BBC understands that a police officer who was stabbed in Parliament earlier on Wednesday has died.  

MP helped victim at the scene

Tobias Ellwood was seen trying to help one of the victims of the incident outside the House of Commons this afternoon.

A Press Association photographer captured these images of the Bournemouth MP.

Westminster attack: Bournemouth MP Ellwood hailed 'hero'

Westminster attack: MPs being moved from chamber

Hannah Bewley

BBC Hampshire political reporter

New Forest West MP Desmond Swayne, Portsmouth South MP Flick Drummond, North East Hampshire Ranil Jayawardena, Southampton MP Royston Smith and Winchester MP Steve Brine are all in the chamber at the House of Commons with armed police outside the door. 

They are being moved in groups of 20, according to Desmond Swayne. 

He doesn't know where they are going. 

MPs in lockdown following shooting at parliament

Some of the MPs from across Hampshire, Dorset and the Isle of Wight have tweeted following this afternoon's shooting.